Amazon.co.jp is looking for "Best of Bishoujo Character 2010"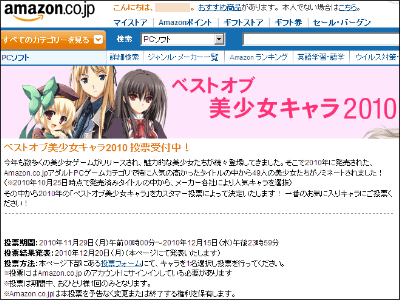 A major mail-order site "Amazon.co.jp" is "Best of Bishojo Character 2010We began recruitment of.

49 people have been nominated in a very ridiculous project of choosing the best character of adult beauty game for adult who was popular this year how ah what this year.

Details are as below.
According to the special page of Amazon.co.jp, from the girl game released this year from 00:00 am on Monday, November 29, 2010 (Wednesday, 15th December 2010) at 23:59 pm "Best of Bishoujo Character 2010" which picks the most popular character character is being carried out.
Best of Bishojo Characters 2010 voting reception in progress! | Amazon.co.jp Message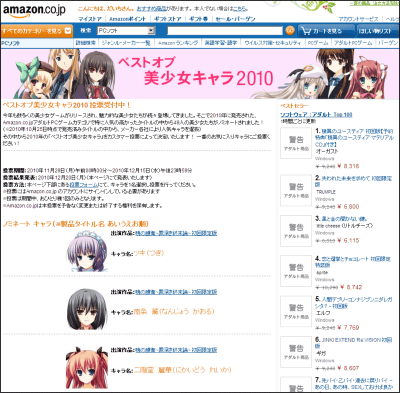 The targeted work is the title that has been released as of October 25, 2010, and 49 nominated popular characters selected by manufacturers. Voting is supposed to be done only once per user, and results will be announced on Monday, December 20, 2010.

The name of the work and the characters nominated below.

■ Akatsuki escort ~ sinful eschatological argument ~
Tsuki (with)
Kaoru Namba Kaoru Nanjo
Nikaido Reika (Hiroaki Reika)

It is my sister. ~ My older sister 's prepared "younger brother" summer is coming! ~
Naka Sakura (Sakura Nanaka)
Sakura Hana (Sakura Momoka)
Ayaka Sakura (Ayaka Sakura)

■ Battle Goddess VERITA
Celica Sylphil (Sakira · Shirafuiru)

■ Evo Limit
Ichizuki Shizuku (Ichigo Shizuku)
Kazuna Takabashi (Kazura Takaboshi)
Leitier · von · Ehrhart (Rio · ia · フ ェ · · · え あ あ っ と と)

■ Virginity is two elder who is in love with your sister
Chihaya Rina (only Kisaki and Chihaya)
Nanahara Kaoruko (Naraha Kaoruko)

■ The six sister of Countess Kiritani
Kiriya Kurea (Kirino)
Ai Kiritani (Kiriya Ai)
Peony of Kiritani (Kiriya Botan)

■ Kud Wafter
Noumi Kudryavka (Umi Kudakafaka)
Himuro Maki (Hiro Hiro)
A-chan senior (a-chan senpai)

■ Kura ☆ Classy ☆ Cranberry's
Kusunoki Miu (Musashino Kusunoki)
Hanamsanin Purple (Kanai Yukari)
Honda Genro (Honda Shiru)

■ Koi to election and chocolate
Chisato Sumiyoshi (Sumiyoshi Chisato)
Shinmonome Tsuki (Shinano Nozome)
Morishita no mori (Morita Michiru)

■ True · Koihime Musou ~ Moeguo ~
Son and Soul / Renka (Senkan / Renfa)
Cao / Hallorin (Oh yeah / Karin)
Kanu / Aisa (Kanji / Aisha)
Ma Ultra / Midori (bicycle)
Liu Bei / Momoka (dragonfly)
Zhang Li Rong / Shuri (Shoshidori / Shuri)

■ Sukuu Mu 2
Shiko Fujita (Yuiko Fujita)

■ Wonderful days ~ Discontinuous existence ~
Yuki Mizukami (Yuki Minakami)
Mamiya Hasaki (Mamiya Haruka)
Mitsuka Tachibana (Tachibana ni kimi)

■ The most NG love in the world
Masako Yosaka (Mr. Hinasaka)
Mamako Kano (Asami of this kind)
Amagi Summer Night (Akagi Kaya)

■ Senki Hime 2 - The World of War, the Growing Storm Like a Storm ~
Takeda Shingen (Takezen Shinken)
Uesugi Kenshin (Uesugi Kenshin)
Masamune Date (Masamune)

■ BUNNYBLACK
Ekate (Ekae)
Rakia (Lucky)
Fourze Lotte (ふ ぁ ー ぜ ろ っ て)

■ BALDRSKY DiveX "DREAM WORLD"
Kirishima Rain (Kirishima rei)
Mizukazuki sky (Minato Sora)
Rokujo Chris (Rokujyo Kurisu)

■ WHITE ALBUM 2 - introductory chapter -
Ogiso Yukina (Otshiba Sessa)
Kazusa winter horse (Kanzasa douma)

■ Real
Ai (love)

You can also check the details of each work from the special page, but since age restriction is basically applied, caution is required for browsing the page.