Adobe acquires EC platform Magento at about 190 billion yen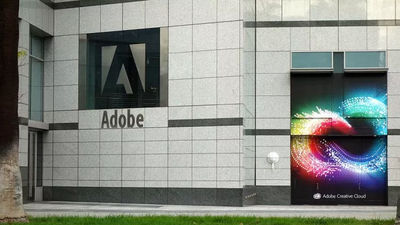 Adobe, which develops and sells various software that can be said to be indispensable to creators such as Photoshop and Illustrator,MagentoWe acquired. The purchase amount is 1.68 billion dollars (about 190 billion yen).

Adobe to Acquire Magento Commerce | Adobe Newsroom
http://news.adobe.com/press-release/corporate/adobe-acquire-magento-commerce

Adobe to acquire Magento for $ 1.68B | TechCrunch
https://techcrunch.com/2018/05/21/adobe-to-acquire-magento-for-1-6-b/

Announced that Adobe acquired Magento, an EC site building platform, for 1.68 billion dollars. TechCrunch of overseas media wrote, "Adobe will get an e-commerce platform that will run on B2B and B2C, which I have lacked so far, and it will fit in with the company's cloud service." In addition, TechCrunch points out that the acquisition of Magento will bring much meaning to combat Adobe 's competing service such as cloud - based CRM platform - Salesforce and others.

Brent Leary, who also owns CRM Essentials, which also develops the CRM platform, said Magento's acquisitionAdobe Cloud PlatformHe says that he may fill the holes he lacked.

In addition, Mr. Leary also mentioned the relationship between Adobe and Microsoft, which expanded its alliance in 2017. "More interesting is how Adobe and Microsoft develop relationships, in their partnership Adobe has finally got it because the missing part is an e-commerce engagement platform, "Adobe is able to build closer cooperation with Microsoft in the market competition with Salesforce It suggests sex.

Notice that Adobe bought Magento was displayed on Magento's official page acquired by Adobe.

eCommerce Platforms | Best eCommerce Software for Selling Online | Magento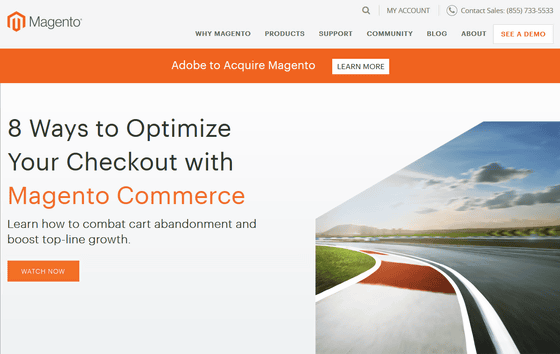 Clearly there is competition with Salesforce behind Adobe's acquisition of Magento. That salesforce is a remarkable growth service as a CRM platform, such as revenues from cloud services exceeding $ 8 billion (about 890 billion yen) in 2017. In addition, Salesforce cited "long-term goal of $ 60 billion (about 6.7 trillion yen)" as the long-term goal until 2034, with a glimpse of the size of the company's ambitions to keep pushing hard by the momentum of the bamboo bamboo I will.

Magento acquired by Adobe has narrowed the customer target to small and medium-sized companies so far, but since it is clear that Adobe will deploy services targeting larger companies, the acquisition is not necessarily a perfect deal "Leary pointed out. However, Cindy Zhou, vice president of analysis firm Constellation Research, said, "There are many large companies and small and medium enterprises including Coca-Cola in Magento's customers, and for these companies Magento is the best e-commerce It is a platform, "suggesting that Magento's existing customers could be a big advantage for Adobe.

It is not the first time that Magento was acquired. Established in 2008, Magento has been acquired by eBay in 2011 for $ 180 million (about 20 billion yen). After that, by paying about 200 million dollars (about 22 billion yen) in 2015 againIndependenceIt was Magento that was supposed to be, but it was decided to be acquired by Adobe again in 2018.