"Lifefaker" where you can get plenty of pictures that you can direct "sense of rear" by posting on SNS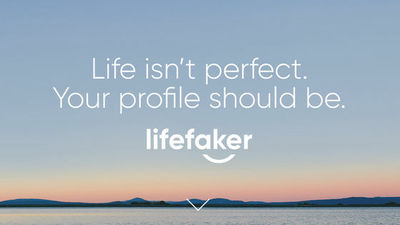 When I look at SNS in my spare time, I may be caught by the thought that "everyone other than me is enriching my life and living happily everyday". In the meantime, from the idea of ​​"Is it OK if it seems like it is sending a fulfilling life only in SNS because most people are connected only with SNS?" Site offering free images full of feeling "rear"lifefaker"Has appeared.

lifefaker
http://lifefaker.com/

The introduction movie of lifefaker can be seen from the following.

Lifefaker.com makes faking perfection easy


"It is prevalent to share a delicious meal with SNS, but I can not cook, it is impossible to cook at this time," a woman says.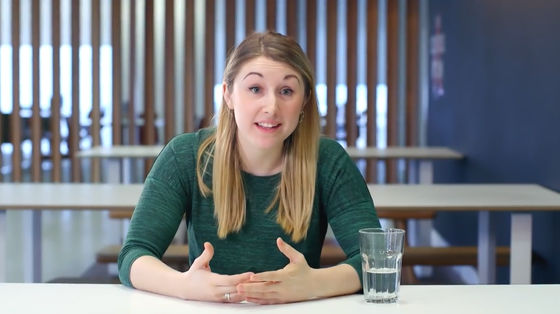 This woman seems to be blessed with encounter with opposite sex for a while. "But my friends got married more and more, and there are people who were born a baby," he said, suffering from the difference in living with the surrounding friends.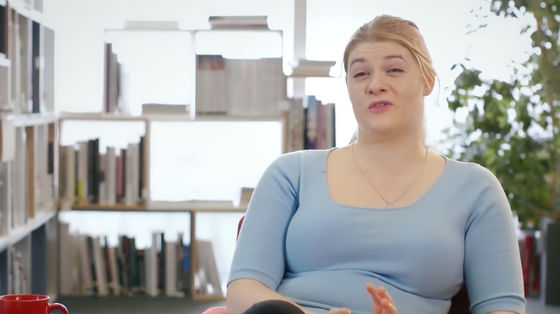 "I am 22 years old but I can not swim in fact, but a man who confesses that I have never seen a man who can not swim in SNS."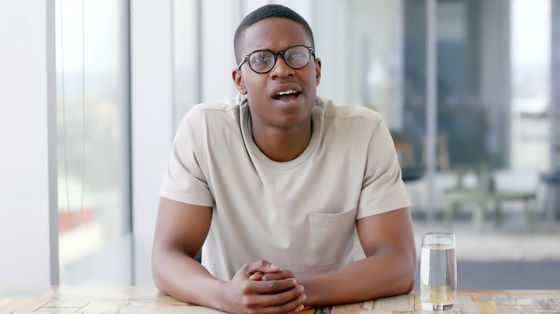 For lifefaker.com, you can get the ideal lunch picture for yourself.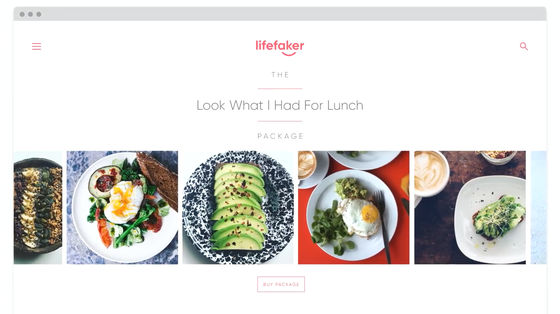 For women who are afflicted with being unable to get married, they offer photographs that are just like "You can get a picture instead of getting an engagement ring."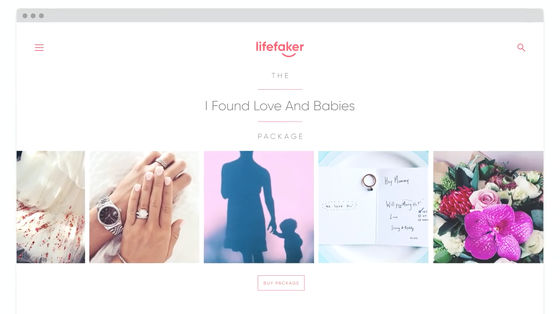 A woman who speaks with laughter "I have a wonderful hobby and I am supposed to have a child like an angel of 3 years old."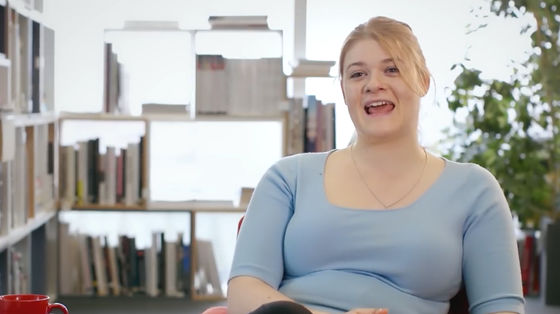 A man who was suffering from not being able to swim said, "I went to Thailand and decided to take the elephant's back and I was confident in myself."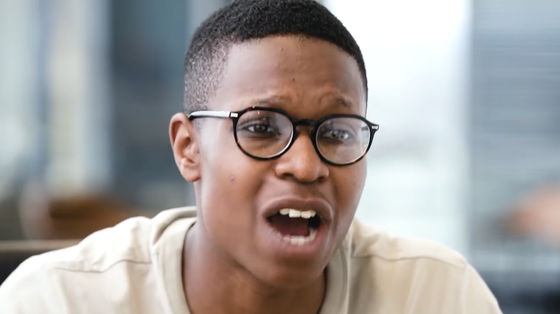 "In the SNS, I am eating and making a hand-roasted granola by myself, I feel like I was born value," she says with a smile.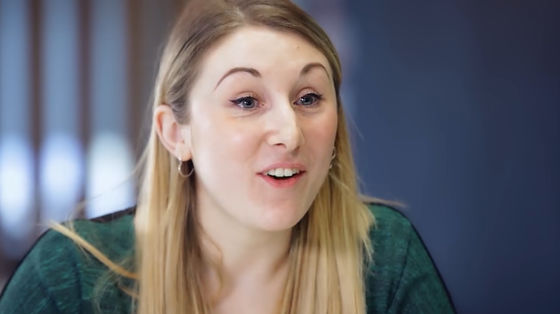 Even though it is difficult to make life perfect, it is the concept of lifefaker that it is possible to pretend to be "perfect life" only in SNS.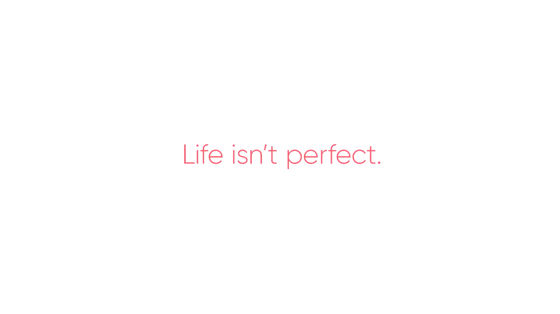 Lifefaker has all sorts of images that are "various people who are full of realism". An image of sightseeing spots in the world like going on long vacation ......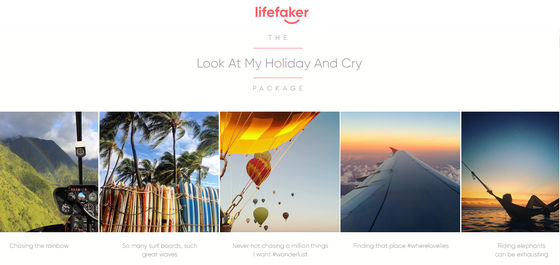 "Wind" images that are spending time with dating relationships are available in each package.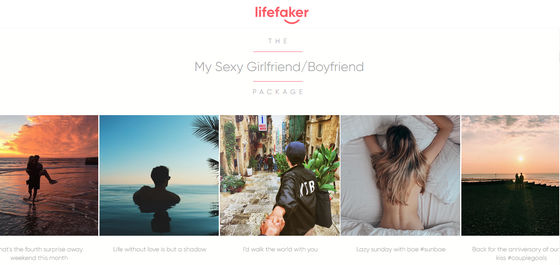 In addition to that, in the image of the feeling that "I am trying to decorate the interior in my private life, I live in a fashionable room" ......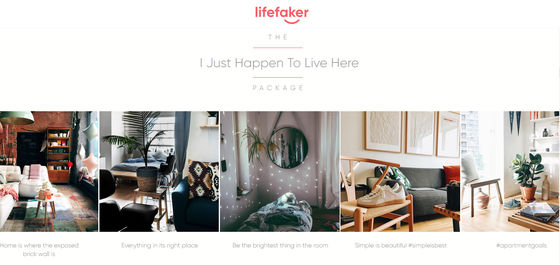 There are also images that you may get "nice" when you post with words of feeling such as "It was a nice atmosphere.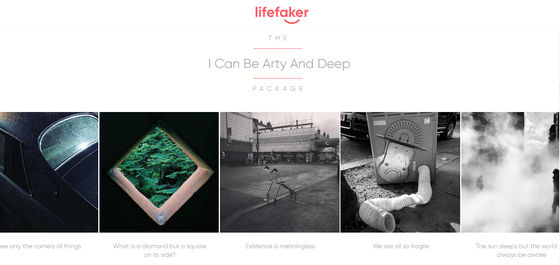 Using a picture of a nice body with exquisitely hidden faces, it seems to be able to pretend to be "maintaining an ideal body line by moderately strengthening".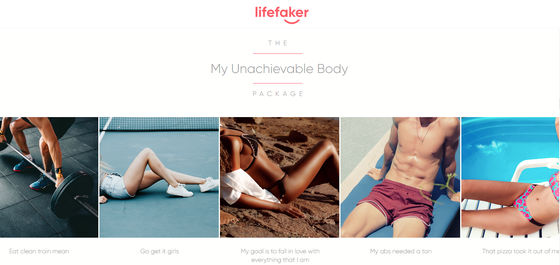 Also, even in single living, "I am blessed with my family and I am building a happy family", but I can smell it, but various kinds of images are also prepared which makes it hard for me to feel disgusted.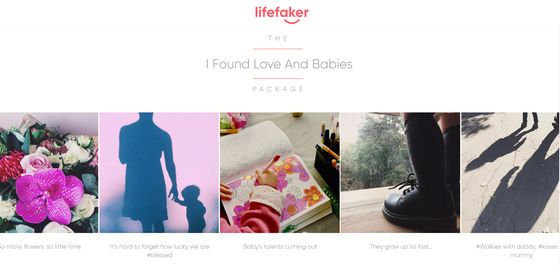 Even though I did not show myself so much, there was also a picture like "a weekend feels modest happiness for my life-size myself."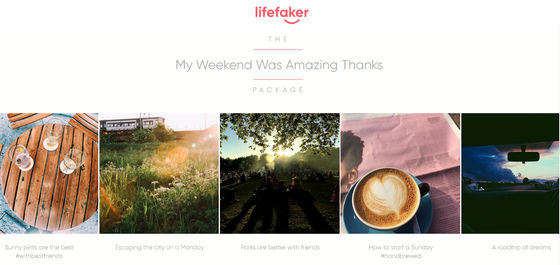 Of course it looks tasty for lunch ... ...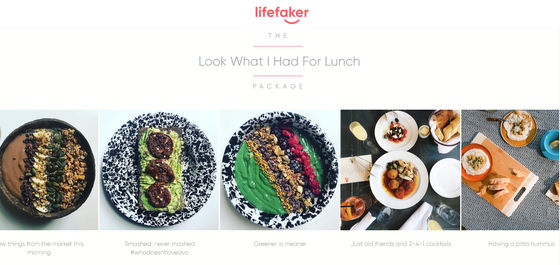 "っ ぽ い" photograph which is enjoying with the friends who can not care is also available.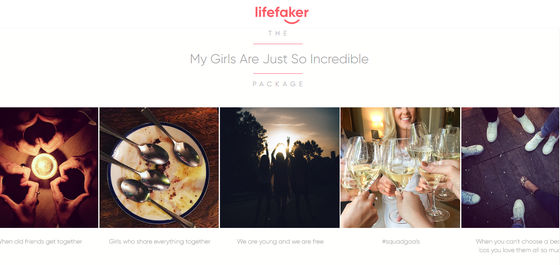 There was also an image that seemed to have adorable pets. The usage fee of lifefaker is only 1 dollar (about 110 yen) per month for each package, "It is not necessary to order 5 dollars (about 550 yen) coffee to produce your life," says lifefaker It is. People who say "compare your environment with other people by themselves, feel memorable of inferiority ..." may feel relieved if you try to realize yourself in lifefaker only in the SNS. Click on the image ......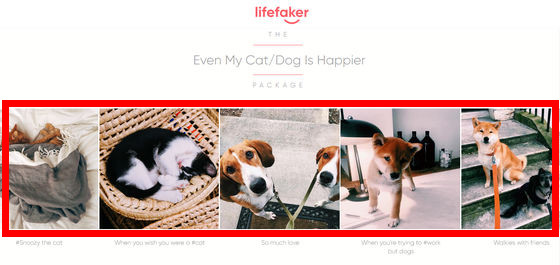 Display of "Have you ever felt pressured by social media?" Will appear. Actually this lifefaker does not exist in reality,SanctusA fictitious site created by a startup company.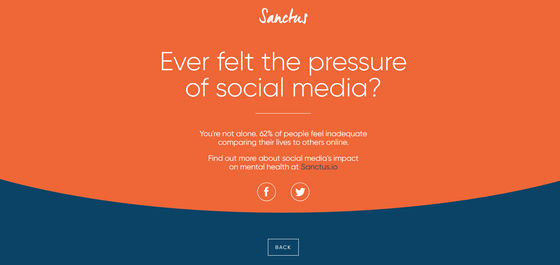 According to Sunctus.io, Lifefaker was created to spot the negative aspects of SNS and it shows that it represents the unhealthiness to produce a fulfilling life on SNS until you get a picture of fake . According to the survey by Sunctus.io, 91% of the young people aged 16 to 24 are using SNS, and it is understood that 70% of people are remembered SNSs in fact when they are over 25 years old It is.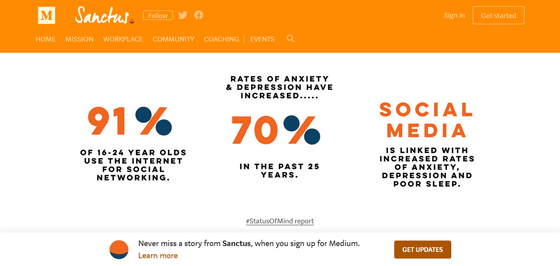 While SNS can deepen people's connections, it is important for SNSIt also has an adverse effect on life. "People who use SNS should be aware of not only the positive aspects that improve their feelings by connecting to various people but also the negative aspects that compromise their self-esteem by comparing their lives with others' lives." And Sunctus.io insist.