It turned out that Amazon had invested about 2.5 trillion yen in total research and development expenditure in 2017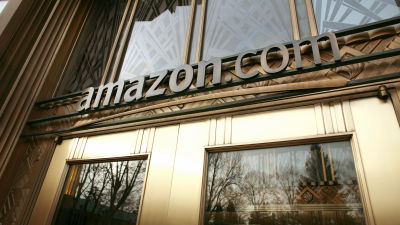 ByRobert Scoble

Amazon ranked companies in the order of high investment in research and development expenditure in the US in 2017, Amazon gave a huge investment that is about 23 billion dollars (about 2.5 trillion yen) at the top, far apart the second place or less It was clear that it was.

Amazon spent nearly $ 23 billion on R & amp; D last year - Recode
https://www.recode.net/2018/4/9/17204004/amazon-research-development-rd

Until now Amazon says "despite not paying taxes,United States Postal ServiceIt is being used as a target of attack on Twitter from President Donald · Trump. However, investment in Amazon R & D expenses shown this time can be expected not only for our own company but also for the domestic market, which is considered to contribute greatly to the GDP of the United States.

The graph in which the companies in the United States invested in R & D in 2017 is shown below, with the red graph representing the technology company, the gray graph representing the other companies. Amazon ranked first with about $ 23 billion (about 2.5 trillion yen), followed by Google's parent Alphabet, about $ 17 billion (about 1.8 trillion yen), followed by Intel, Microsoft and Apple.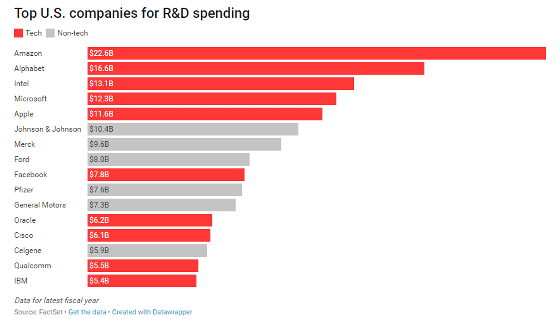 The research and development expenditure in 2017 invested by Amazon has increased by about 41% compared with the investment amount in 2016. In 2016, it was top in the country. We invested huge amounts in the research and development department,AWSYaAmazon AlexaBy using technology such as,Amazon's no-cash register convenience store "Amazon Go"We are focusing on realizing the concept of expanding the number of stores.
in Note, Posted by darkhorse_log