A farmer "to agriculture to relieve agriculture" (in game) "appeared, talk about the difference between real agriculture and agricultural simulation game" Stardew Valley "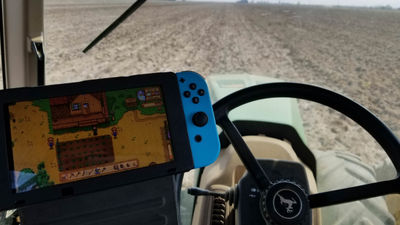 Automation of agricultural machinery (agricultural machinery) is promoting efficiency and automation of agricultural work. That does not mean that all of the farm work is done by the machine, Tim, who works as a farmer in the north of California, USA, is engaged in agriculture using a small amount of pesticides and chemical fertilizers as much as possible using machines and hands And that. Tim said that while agricultural machines are being driven automatically, the agricultural simulation game "Stardewalleley(Star Dew Valley) "so I reported that this is" agriculture in agriculture "on Reddit on the overseas bulletin board site, it is supposed to attract a lot of people's attention I will.

Farming while farming.: Stardewalley
https://www.reddit.com/r/StardewValley/comments/89qall/farming_while_farming/



Farmer Uses Stardew Valley As An Escape
https://kotaku.com/farmer-uses-stardew-valley-as-an-escape-1825024143

Tim, a farmer who is managing three hundred thousand acres (about 8.1 million square meters) of vast land. We are carrying out agricultural work using automated agricultural machines to cover a vast land, and although there is a need to manage agricultural machines, there seems to be a lot of time. "The distance that I travel on an agricultural machine in one hour is probably about 6 miles (about 9.7 km). The farmers who use agricultural machines equipped with autosteering are boring (like their own) I think we are bringing books etc. into agricultural machines to kill time, "Tim said. Indeed, it seems that time seems to be particularly time-consuming for the current season when sowing agricultural crops using agricultural machines, so it seems that there will be plenty of time to study, play games and check Reddit in agricultural machines.

Tim said, "I am in the tractorThe Legend of Zelda Breath of the Wild"We have revealed what we have been killing time in the game during farm work. Recently he seems to be addicted to Maincraft and Star Dew Valley, "Star Dew Valley can relax more than actual agriculture and can tinker freely,Farming SimulatorIt is better to escape from reality than real things like. " In addition, Tim is playing both the PC version of Star Due Valley and the Nintendo Switch version, and the play time seems to have already exceeded 200 hours.

Stardew Valley [Nintendo Direct mini 2018.1.11] - YouTube


Although farm working life in the game does not manage the vast land as Tim, "The life in the rural area is pretty real". Tim said, "I am coming out of the local town with my wife and my dog, and I am living like a game," "It seems like my community center will collapse even now like my community center. A lot of high-rise buildings were lining up, but unfortunately, I will make everyone happy by fixing everythingJunimoThere was no such thing like "I lamented that while living like a Star Dew Valley, in the real world there is no magical presence in Star Die Valley.

It seems that Tim's farm grows mainly almonds, rice, cotton and corn, but if you think to go to Pierre grocery store (you can have crops purchased in the game) and buy rice What if you are told that the price has dropped? What if the price of rice brought up over the course of the year falls, that is, if income decreases? "In reality and in the game there is a big difference in agricultural life Pointed out to come.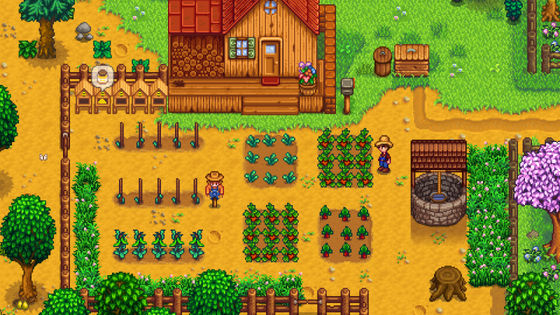 Also, on Reddit Tim is comparing the harshness of agriculture to a casino, "Although it may be fun to listen to the life of playing the game 10 hours a day in the tractor, in fact it is from a simple life It is far from the end ".

When asked if there are favorite items among the characters appearing in Star Dew Valley, TimShaneIs cited. The reason is "Since depression in alcoholism has part to link with myself, especially after I retired from the army, I was like Shane very much." The living and lifestyle as a farmer seemed to be perfect for Tim. After working as a farmer, I became involved in the community of the area more and joined the local firefighting team That's right.

In addition, to the question "Which is fun as an actual farmer and which is fun?", "Since the temperature in the day is 46 degrees and the month and a half do not have a day off, so Star Dew Valley "I am the first," he said, "But even after harvesting the field crops deeply, we sighed deeply, tweeting" Wow, one year is over ", muttery, return home and go with my wife and a dog There is nothing better than the moment of drinking red wine, "the moment when farmers' joy surpasses the game certainly exists.