Ethnic cup noodle "Cup noodle ethnic series" which added "Black pepper club" of thick soup with crab flavor, I tried all three items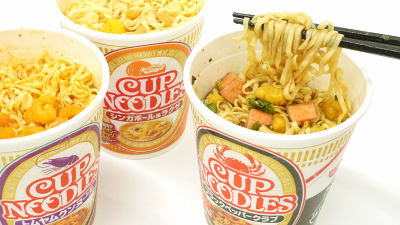 In "Ethnic series" which reproduced the taste of ethnic dishes with Nissin cup noodles on April 2 (Monday) 2018, "Black pepper club"Newly appeared on April 2, 2018 (Monday), and at the same time"Tom yum cunnoodle"When,"Singaporean Laxa"Has been renewed.
The newly appeared black pepper club is based on Singapore's popular crab dish. I tried to eat because I was concerned about the finish of all three ethnic cup noodles.

"Cup noodle ethnic series" 3 items (released on April 2) | Nissin Food Group
https://www.nissin.com/jp/news/6847


Cup noodle 's "ethnic series"
A new "Black Pepper Club"
Joining and renewing!

A flashy CM of cup noodles
While I start, I can not let it flow on TV at all
Ethnic series campaign also
It will start from tomorrow! looking forward to! !# Cup Noodle Ethnicpic.twitter.com/F6UkgudkNO

- Cup noodles (@ cupnoodle_en)April 2, 2018

I bought a cup noodle ethnic series "cup noodle black pepper club", "tom yum cun noodle", and "singapore style laxa" (194 yen including tax).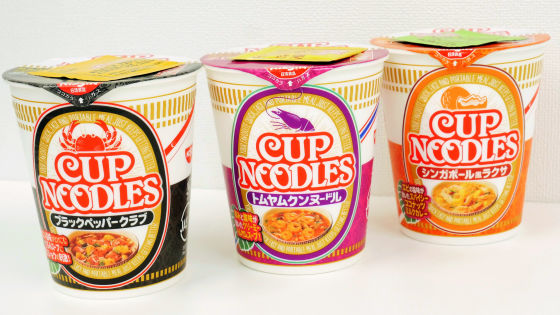 Of the three types in the Cup Noodle ethnic series became, "Tom Yum Goong noodle" and "Singapore-style laksa" than what had already been lineup, this time has been renewed review the main coriander. In addition, Singapore-style laksa before the renewal earlier, in GIGAZINEReviewI have done it, it is a spicy spicy soup containing coconut milk, this time it is expected that such finish.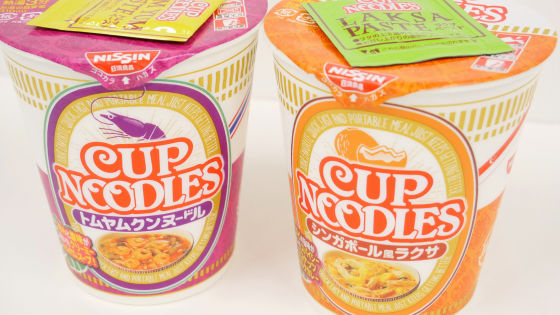 Black pepper club is a cup noodle of a new taste that appeared from this time.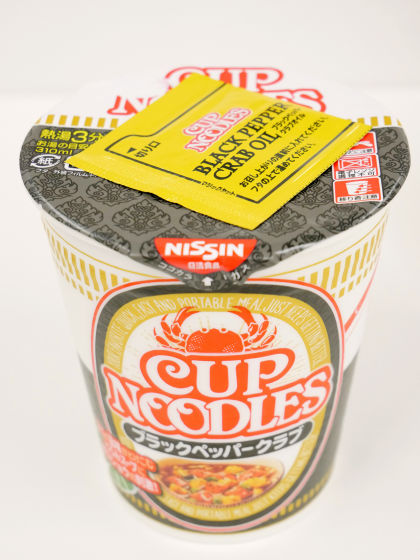 There is a seasoning attached separately on the top of the lid.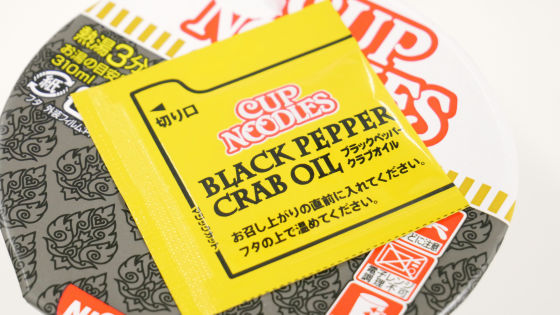 In addition, oil and paste etc. are included as a seasoning according to each cup noodles. Put boiling water in the cup during cooking, then place it on the lid and warm it, put it just before eating.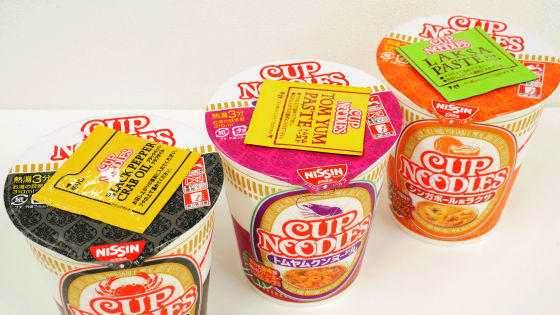 On the back of the cup are commentaries on ethnic dishes that became models of each taste.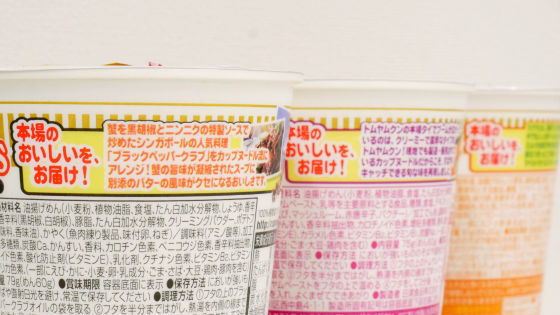 The newly appeared black pepper club tastes based on Singaporean cuisine, crabs, black pepper, garlic and the like are the decisive factors of taste.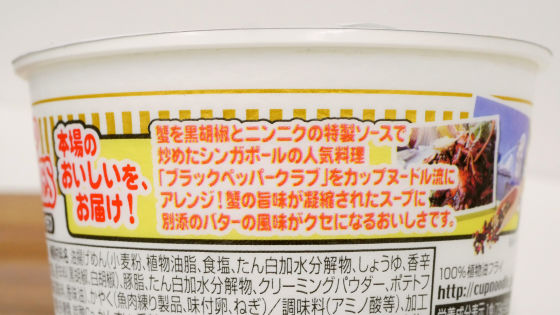 The ingredients include black pepper and other seasonings as explained. Fish meat paste products are contained quickly and there seems to be no crab body.



Contents amount is 79 grams, heat quantity is 370 cal.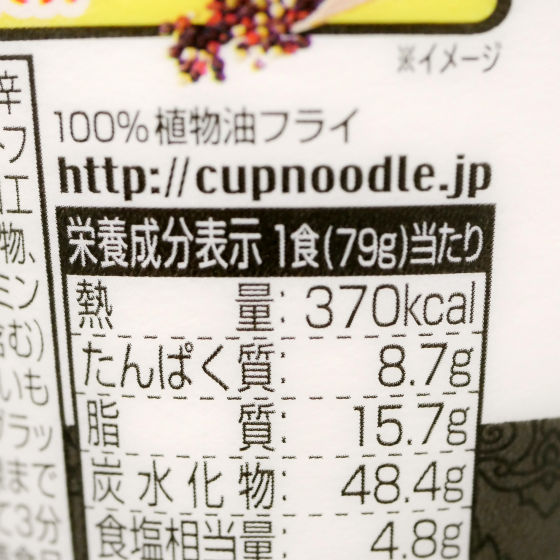 Cooking time is common cup noodle 3 minutes. In addition, the other cooking noodles of the other ethnic series are the same cooking time.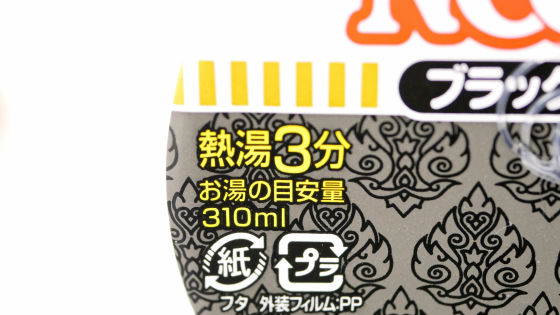 When peeling off lid, crab flavor kamaboko and crab eggs such as eggs appeared. "Fish meat paste product" of the raw material was the crab flavor kamaboko.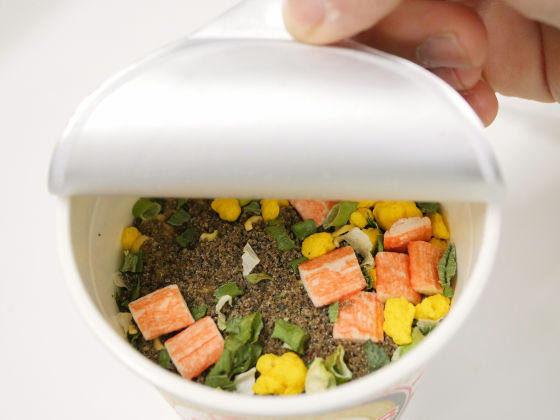 Tomyamukunnoodle of the renewal group and Singaporean laksa also cooked at the same time. As a milk, Tom Yam Kung Noodle contains shrimp, Singapore style laksa as well as fried and chicken as before before renewal.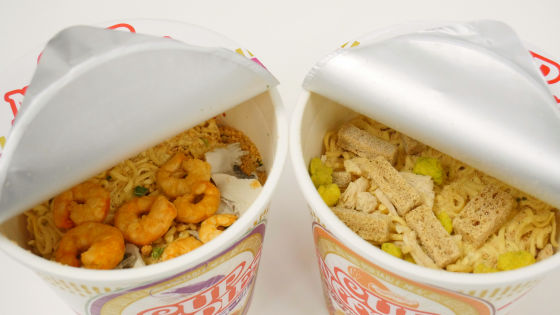 Pour hot water, warm up the attached seasoning on the lid and wait for 3 minutes.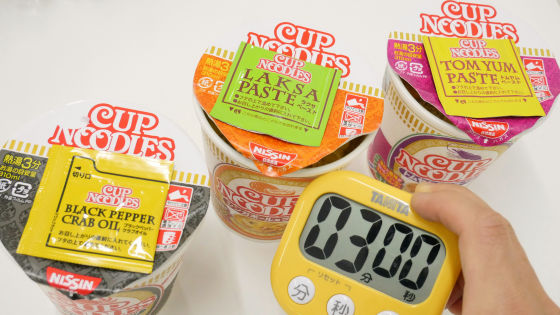 After 3 minutes, put the warmed seasoning on the lid.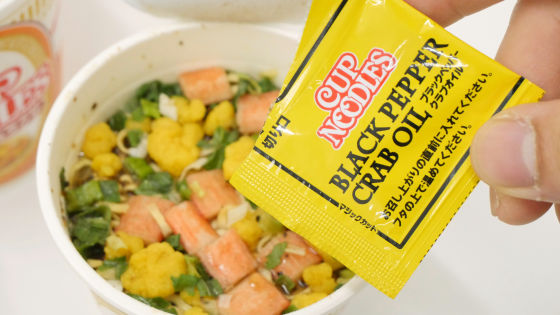 All three cup noodle ethnic series are completed.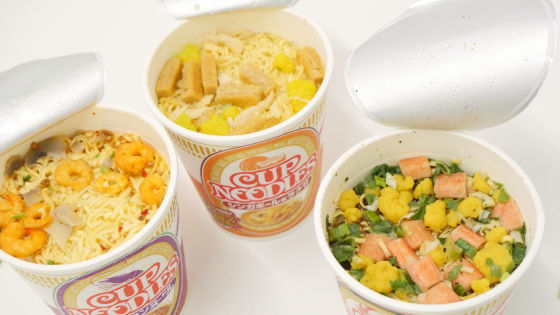 I'll eat it from the black pepper club. When I drink soup, it is sweet with a thick soy sauce based soup, ethnic dishes are a motif, but the impression is close to that of Chinese style soup. Although I do not feel the presence of black pepper at first, I will insist on my existence with a bitter spicy.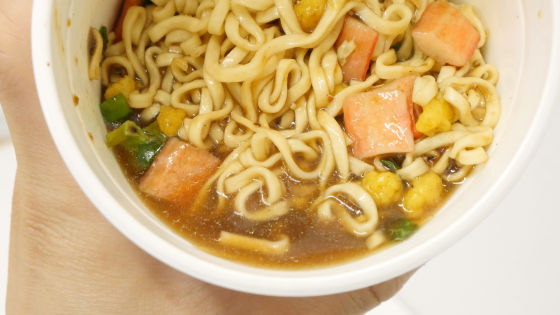 Noodles are crimped noodles that are used for usual cup noodles, and are often entangled with thick soup.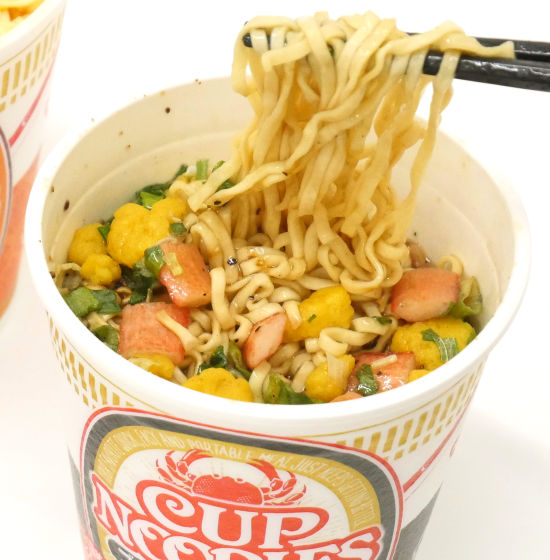 Next, I will eat the renewed Tom Yum Cun noodle.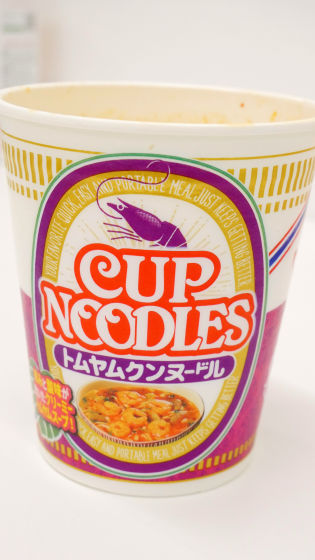 There is plenty of shrimp and the soup like the tom yum cheon feels the sour and spicy fragrance of lemon grass and lime leaf. Because it smells sour like shrimp and lemon and the fragrance of sourness is strong, I could not feel the fragrance of pakuti very much.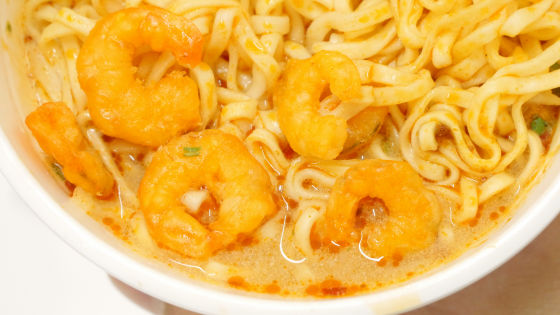 Finally, I will eat Singapore style laksa.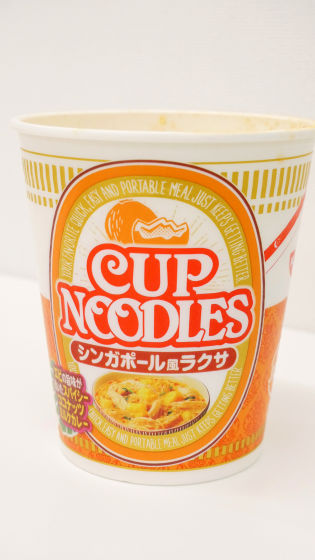 When I tried it, I had a creamy taste of coconut milk, I felt sweetest among the three cup noodles, but I also felt a hint of bitterness. I feel the smell of fresh Pakuchi that the spicyness is weak, or that it was reviewed.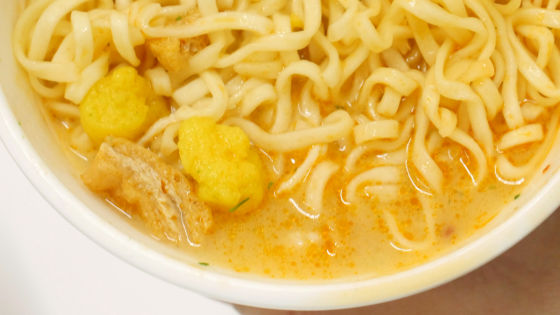 The Black Pepper Club of the Cup Noodle Ethnic Series, Tom Yum Cun Noodle and Singaporean Laxa are nationwide retail stores or,Nissin online storeAvailable for purchase. On Amazon it is free shipping, Tom yum cunnoodle and Singapore style laksa are available for purchase at 12,333 yen including tax.

Amazon | Nissin Cup Noodle Tom Yum Cun Noodle 75 g × 12 pieces | Cup noodle | Ramen mail order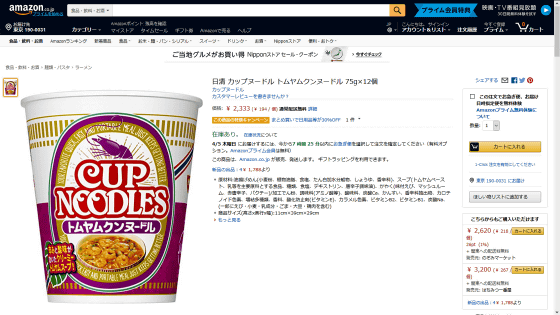 Amazon | Nissin Cup Noodle Singapore style Lacca 81 g × 12 pieces | Cup noodles | Ramen mail order