Mr. Bezos said "We will use wealth built at Amazon to realize space travel business"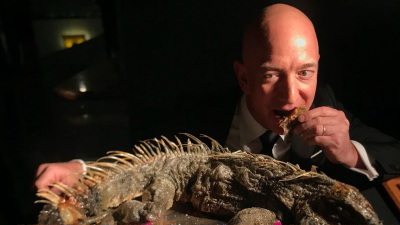 He is an Amazon founder,The world's top asset ownerMr. Jeff Bezos who just shined told the intention to invest in private property to develop space to make space travel that is still expensive now still familiar.

Bezos Says He'll Spend 'Amazon Lottery Winnings' on Space Travel - Bloomberg
https://www.bloomberg.com/news/articles/2018-03-12/bezos-says-he-ll-spend-amazon-lottery-winnings-on-space-travel

Jeff Bezos ate iguana, wants his mom to go to space, more: Report
https://www.usatoday.com/story/tech/talkingtech/2018/03/12/jeff-bezos-explorers-club-dinner/416258002/

Mr. Bezos, who was also the founder of the aerospace company "Blue Origin", was held in New York on March 10, 2018The Explorers ClubWe won the "Buzz Aldrin Space Exploration Award" at the annual meeting of This prize is awarded to "a person who achieved results in the exploration of the outer space and embodied the spirit of the space explorer Buzz Aldrin" and Mr. Bezos's past activities have been appreciated.

In the award-winning speech, Mr. Bezos said in a nuance that goes on vacation with the theme park "It is very expensive to enter the universe, now I am using the prize money that I got from Amazon Lottery, It is in the process of lowering entrance fees and making it possible for everyone to go to explore the solar system. " In fact, Mr. Bez is clearly a policy to sell Amazon's shares equivalent to 1 billion dollars (about 106 billion yen) from its own assets over the course of a year and to fund it for Blue Origin I am doing it. At the time of writing the article, Mr. Bezos' total asset is $ 13.1 billion (about 13.9 trillion yen), of which Amazon's shares account for $ 125 billion (about 13.3 trillion yen). Moreover, according to Mr. Bezos' mother Jackie Bezos, the asset value of Amazon shares is "increasing," and it is certain that we have assets that only provide 100 billion yen of money It is a pattern.

Mr. Bezos takes care of his mother Jackie who has been accompanied by hardships and she seems to have a wish to take her mother to the universe. Mr. Jackie has already participated in Mr. Bezos' space-related efforts, and the rocket engine used in the Apollo plan "F-1 rocket engineIt was said that he accompanied the ship when he pulled up from the ocean floor.

Amazon's CEOs used in the Apollo program salvage from the deep sea - GIGAZINE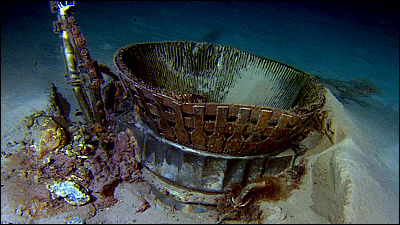 Mr. Bezos said he did not make a statement about how much personal property will be invested, but according to one of the participants in the awards ceremony, all the "enough money to look after the mother" is used It seems that he talked about that it was good.

In 2017, Mr. Bezos had posted a tweet that "I got a lottery with my mother, thankfully anything for everything, Mom" ​​together with the old photos.

I won the lottery with my mom. Thanks for literally everything, Mom.pic.twitter.com/gEuVgxotdw

- Jeff Bezos (@ Jeff Bezos)May 14, 2017

Participants said that "I want the space to be important, but I also want the attention to be directed to the Earth's ocean" was also raised. Mr. Bezos seems to be interested also about the earth, "We have sent numerous explorers to the planets of the solar system, but believe me, the earth is the best star. This world where we live is definitely a treasure. " Also, it is said that "turning to the destroyed Earth" is not "motivating" about looking to the universe, "I want the world to be a world that its grandchild's grandchildren can live in." Also, I want to be a world, I am not interested in being stationary, and this star is limited. "

Bloomberg has tweeted Mr. Bezos' mouth which talks about iguana cuisine, as unusual dishes were served at this annual meeting.

Jeff Bezos accepts award, eats iguana at Explorers Club galahttps://t.co/ZNaUYT4Iwopic.twitter.com/3WiX5AkezJ

- Bloomberg (@ business)March 12, 2018
in Note, Posted by darkhorse_log