Clearly with e-mails when "iTunes LP" ends in 2018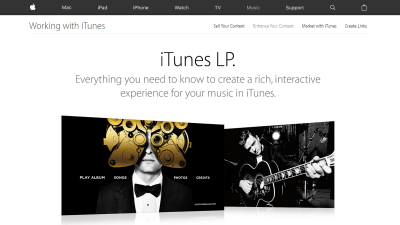 For users who download music albums from iTunes, in addition to music filesLiner notesAnd lyrics, and can experience the same experience as actually purchasing an album CD "iTunes LPIt started in 2009. However, according to the British media "Metro", it was revealed from Apple that the e-mail specified that "iTunes LP will end in 2018" was sent to music people.

'End of iTunes?': Leaked Apple email spells end of music downloads | Metro News
http://metro.co.uk/2018/03/06/end-itunes-leaked-apple-email-sparks-fears-future-music-downloads-7365412/

Leaked Apple email hints at the possible end of iTunes | Cult of Mac
https://www.cultofmac.com/532813/apple-end-of-itunes-email/

According to Metro, Apple sent e-mail titled "End of iTunes LP" to music people around late February. The source address is "The iTunes Store", and it is clarified that there was also a signature of "The Apple Music Team".

In the e-mail, "Apple will terminate the new reception of iTunes LP since March 2018. Also, the download sales of existing LP will be abolished in 2018. The person who purchased the album before will continue even after the end It is written that "It is possible to download it." It is said that "iTunes LP" was clearly ended in 2018.

According to a music official who leaked this mail to Metro, "Apple will end the music download service on the iTunes Store in the future and will completely shift to Apple Music, a monthly music streaming service," He seems to be talking.


Byfreestocks.org

It is a German statistics siteStatistaAccording to the company, the number of users subscribing to Apple Music is expected to exceed 220 million by 2020 and is expected to overtake Spotify in the summer of 2018.

Also,According to the Wall Street Journal's report, Apple Music is reportedly growing at a rate of 5% per monthIf this momentum continues, the possibility that Apple will abolish music download sales at "iTunes Store" in the near future is considered to be realistic.