"Old Japanese music" was discovered overseas by automatic play on YouTube and it exceeds 1 million playback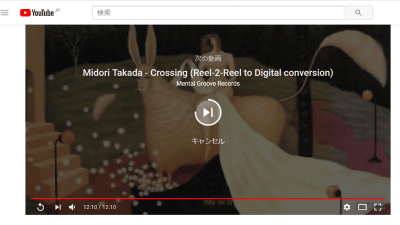 Due to YouTube's automatic playback function, songs of records released in Japan in 1983 have been sent all over the world beyond languages ​​and era, the number of playbacks exceeding 1 million times is occurring.

How YouTube autoplay gave a lost Japanese classic new life
http://www.dazeddigital.com/music/article/35465/1/midori-takada-through-the-looking-glass-interview

The songs spread by YouTube's automatic playing function are songs of minimal music recorded on his first solo album "Beyond the Mirror" by Midori Takada, a composer / percussionist who released in 1981 as a record is.

Midori Takada - Mr Henri Rousseau's Dream (Reel - 2 - Reel to Digital conversion) - YouTube


The beginning of thing was that blogger Jackamo Brown who uploaded old songs recorded in Japan and other countries' records etc. to YouTube by 2013 published this song without permission. Detailed algorithms of YouTube's automatic playback function are not disclosed, but because Jackamo Brown uploaded songs over a number of genres, I'm interested in minimal music which is the music genre "across the mirror" As for "not recommended", this song was displayed and played as "Recommended". After that, although the movie uploaded by Mr. Jackamo Brown has been deleted due to copyright infringement complaint, it seems that the number of playbacks exceeded 1 million as of November 6, 2016.


Midori Takada Solo Works "Beyond the Mirror" https://t.co/6mCibv55tZ

- Muroya Ne (@ Nei Muroya)November 6, 2016

The strange things that this song collector and YouTube has caused have not progressed for a while despite a large number of views. However, the album "Beyond the Mirror" and "Luna Cruise" released in 2017 by Midori Takada in the past were published by two overseas music labels, Palto Flats in New York and WRWTFWW record in Geneva, Switzerland It was re-released as a CD. In Japan, the first album "Beyond the Mirror" is being re-released with high-quality CD format BSCD. As a result of these re-releases, Mr. Takada 's music expanded steadily.

Amazon | Beyond the Mirror [Blu-spec CD 2] | Midori Takada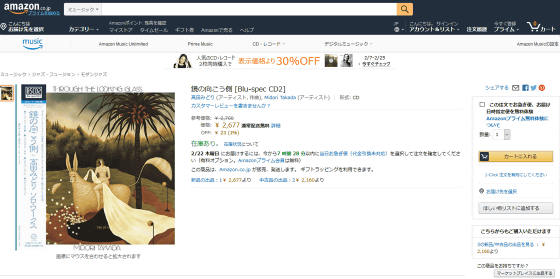 Mr. Takada was born in Tokyo in 1951, learned the piano from a young age and begins to play percussion instruments from the age of 13. After that, I entered Tokyo National University of Fine Arts and enrolled in progressive rock and free jazz around abroad in order to hone the minimal music technique while studying abroad. In 1978 he will debut as a percussionist of the German Berlin Philharmonic Orchestra.

Mr. Takada says about the music in a mail interview by a music label Palto Flats, "Music is also a reality and unreality, opposition to common sense and common sense, consciousness and unconscious.The music I made previously is now in the mirror It is like superimposing the phantasmal reflections. " Takada commented on the Berlin Orchestra era "With time I began to like traditional music other than Western classical music."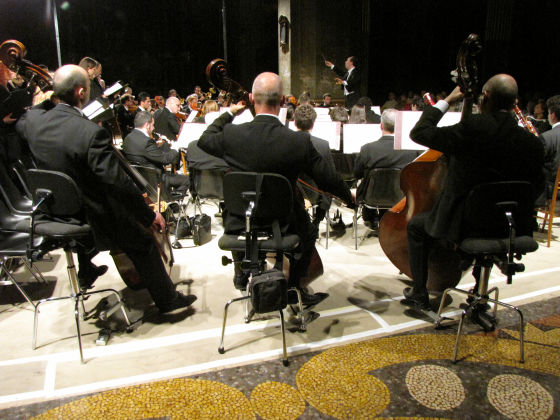 ByLorenzo Gaudenzi

After that, Ms. Takada worked with artists in other fields such as dance, theater and performance, and after working with Ms. Lisa Lion of female bodybuilder, I gained experience in France in Paris for studying music I will pile up. Mr. Takada commented that "Music does not evolve independently, and has always been affected by many things."

Takada who was interested in traditional music at the time in Japan at that time was difficult to obtain information such as music of Africa so that when professional musicians came to Japan, I will cooperate so that you can record to. The request was accepted by Mr. Kakraba Lobi of the gyar of Ghana in Africa, Lamine Kont of Glio who is a storytelling part that conveys poetry and stories with Senegalese music, and Korean musician Mr. Naruko Iko.

The instrument of the image below is Gyan's xylophone (gyil).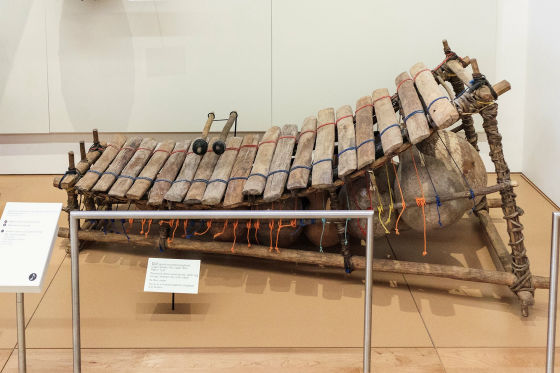 ByBehrouz Far

About this incident Ms. Takada says, "These experiences were very valuable to me, I think that there will not be any more musicians like them, I got a lot of things from them." I am talking. Also, paying attention to the fact that the rhythm composition of traditional Korean music has been influenced much more by Yin, "As I began to understand this, I became more aware of the importance of keeping balance" And that.

Here is the Korean instruments Kayakko used by Mr. Naruko Ike as a musical instrument of the image.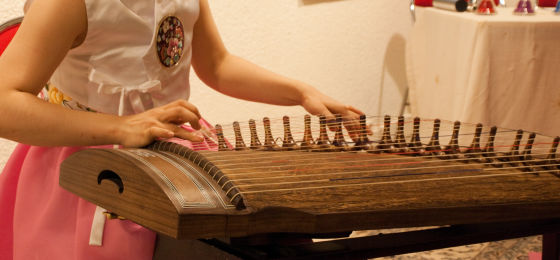 ByTonio Vega

After that he worked as a team of music "Mukuwa · Ensemble" which integrated minimal music and drum performance of traditional African music, and in 1981 produced by Mr. Joe Hisaishi who also produced a number of movie music such as Ghibli work, We released 2 records "Mukuwa" and "Tree / Motion". That song is evaluated as a pioneering work of Japanese minimal music.

However, after that the group stopped working for economic reasons. Takada says, "Some members have jobs outside Tokyo and it has become more difficult to act as a group, at that time, I began thinking about solo activities," he said. .

Amazon | Mukuwa First MKWAJU | Mukuwa Ensemble MKWAJU ENSEMBLE | J - Jazz | Music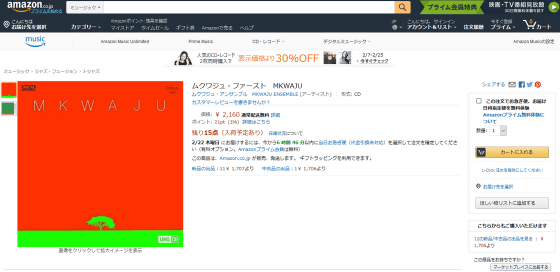 And in 1983 when Ms. Takada was 32 years old, I will do the recording on the other side of the mirror as the first step of solo activity. In the studio in Tokyo, I spent two days intensive recording and I made 4 songs recorded in the album using percussion instruments, chimes, recorder, reed organ, and piano. About recording Takada says, "The composition of each song is in my head, laying the sound like painting over painting.It was necessary to concentrate and concentrate a lot of energy on this.This album I think that my challenging music was not acknowledged at all in the era when I made it, when I was suggested to re-release from overseas, I was surprised at the beginning. "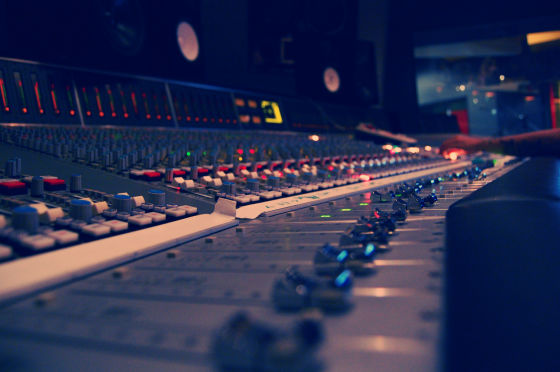 ByJustin De La Ornellas

Olivier Ducret, co-founder of WRWTFWW record, an overseas music label that re-released the other side of the mirror, the first time I heard the songs included in the album was the theme of songs in the early 1990's It is a listening session that I made. Mr. Ducret recalls, "It is a strange memory, but as I listen to it, it seems like a dream, music is unique and remembered."

Regarding the other international music label Palto Flats, the club music scene is involved. UK popular DJ Optimo introduced the album "Utakata no Hira" released in 1983 as a recommendation on the net by Japanese music production group "Mariah" who was producing stigmatized vocals, ethnic sounds in 2008 . Since then, it gained popularity with the record song festival "Crate Diggers" and gained popularity in the club scene, "Utakata no Hibari" will be re-released by Palto Flats in the USA. Through this series of flows, "The other side of the mirror" will stay in the eyes of Mr. Gorchov, owner of Palto Flats who was studying record of stateless music of the 1980's, will be re-released in 2015 .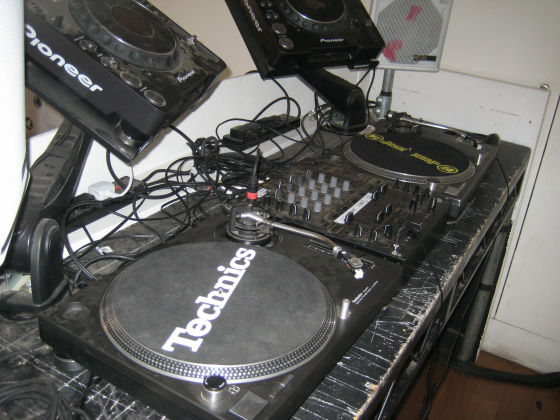 ByAndy Roberts

Following the re-release of the album in 2016, concert tours around the world such as London, Paris, Berlin, and Tokyo were held, and the tickets were sold out in various places.

The following movie is a performance at the festival held in Germany.

Radio Azja: Midori Takada w Warszawie - YouTube


British media The Guardian and music specialty sitePitchforkIt was taken up largely by, and received praise.

Ambient pioneer Midori Takada: 'Everything on this earth has a sound' | Music | The Guardian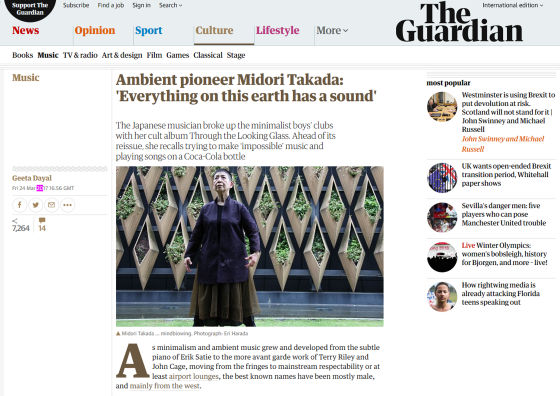 When I stayed in Geneva, Switzerland for a concert in November 2017, I have been interviewed with a founder of WRWTFWW record on a news release program of the Swiss public broadcasting (RTS).

【Percussionist / Takada Midori】 Swiss public broadcasting introduced - YouTube


In this interview Takada commented that "This is truly a miracle" about the fact that the first album is sold again and a concert is being held.