"Guess record that has not been defeated for the longest time in the world" also became Guinness record is deleted as unreachable record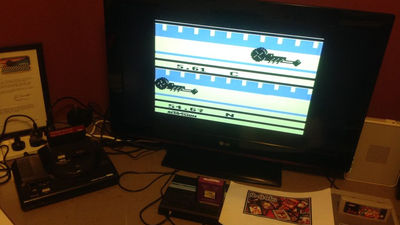 It is a record keeping site of the game and it is also the official source of the Guinness world recordTwin GalaxiesHowever, it deleted the record that the record 35 years ago which was the oldest thing among the world record of the game and also became Guinness record is "unachievable thing".

Longest-standing video game record declared 'impossible,' thrown out after 35 years - Polygon
https://www.polygon.com/2018/1/29/16944736/atari-dragster-game-world-record-banned

Records were invalidated in the 1980s by game companiesActivisionOf game players who got many world records in the game ofTodd RogersMr. Rogers is a simple racing game for Atari 2600Dragster"I set a world record 35 years ago, but it is concluded that it is" theoretically impossible "at the end of the forum discussion.

Rogers will submit a score of "5.51 seconds" as Dragster's world record to the official newsletter of Activision in 1982. This record was certified as an official record by Activision confirming it with printed matter and sending a medal honoring Rogers' record. Then, Twin of Mr. Rogers of the record is registered in the Galaxies than that of 2001, it continues to reign as a high score that will not be broken even 35 years once since put out a record, finally in April 2017 " Guinness will be certified as the world's longest unbreakable game record ".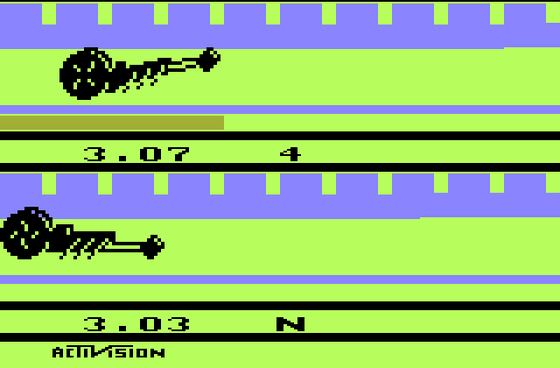 But Twin Galaxies says, "Based on the discussion on the thread and the perfect evidence presented, remove all Rogers' records and join the competitive leaderboard (page where the score of the superior is recorded) We unanimously decided to prohibit "decisionAnnouncementDid. Rogers never showed evidence that the score of "5.51 seconds" which has been regarded as the world record of Dragster so far is authentic, but his ownwebsiteA brief commentary on how the high score was recorded was written in.

The reason why Rogers' record was to be reviewed is that Twin Galaxies will record a score in July 2017Introduced a new systemBecause it was. In addition to the meaning of confirming this new system, some users will be challenging Rogers' record just after the Guinness record in April of the same year. As a result, the suspicion that "Record is impossible to achieve?" Is raised, and in August 2017 several community members will start posting reviews of Rogers' world record. After that, even on Twin Galaxies, discussion about the world record of Rogers rolled up, about 3000 posts are posted on the thread, and about 300 pages of discussion will be rolled up.

Dispute: Dick Moreland - Atari 2600 / VCS - Dragster - NTSC - Game 1, Difficulty B [Fastest Time] - Player: Todd Rogers - Score: 05.51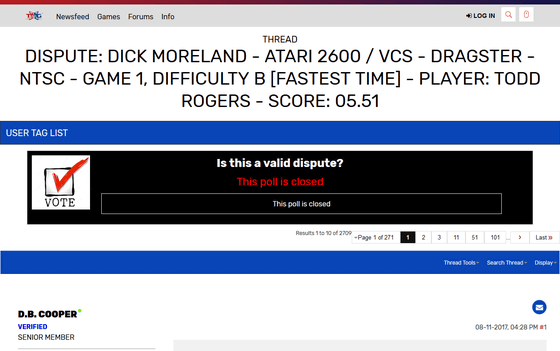 And as we use tools and analyze code, we finally conclude that Mr. Rogers' record is "unachievable". "There seems to be several witnesses in this record, but when I analyzed the code of the game, I do not think it will be possible to cut off 5.54 seconds in the game.Needless to say, 5.51 seconds is not achievable Omnigamer who analyzed the code of the game saidRedditIt's on the thread of the thread. A movie that summarizes Rogers' world record "Why is it impossible to achieve?" Is also released. This movie has already been played more than 1.9 million times at the time of article creation, and it can be seen that a series of problems over Rogers' score has brought about a big impact on the game related community.

Why Can not This World Record Be Beaten? "The Impossible Speedrun" - YouTube


While seeing these data, Mr. Jaise Hall, owner of Twin Galaxies, continued to dismiss voice coming up from the community for several months. To that, Mr. David Crane who was a game designer for Dragster said, "There is no doubt about the world record of Mr. Rogers"AssertionWhat I was doing is also relevant.

The dignified debate that involved a lot of intellectuals can be continued for several months, but eventually it will be by Mr. MruczekLast postDecided that Twin Galaxies decided that Rogers' world record is invalid. The record is deleted from the leader board.

The world's fastest record of Dragster recorded on Twin Galaxies at the time of article creation has been rewritten to "5.57 seconds".