Code that suggests that a Face ID will be loaded on the iPad can be found, the next iPad will adopt a bezelless design abolished from the home button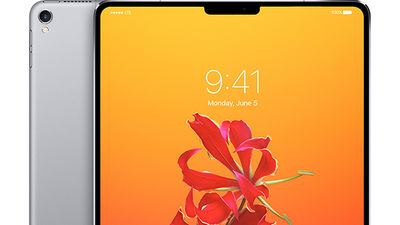 Mr. Minchi Kuo of KGI Securities Known for Apple Related Leak Information, as of October 2017 "Next iPad Pro adopts Face ID as face ID same as iPhone X"As I said, a character string that suggests that" iPad adopts Face ID "in the newly released iOS 11.3 beta firmware has been found and has become a hot topic.

iOS 11.3 Firmware Subtly Hints at iPad With Face ID - Mac Rumors
https://www.macrumors.com/2018/01/25/ipad-pro-face-id-ios-11-3-strings/

iHelp BRWork on editing atFilipe EspósitoHas just releasedDeveloper beta for iOS 11.3I found the string "Modern iPad" in the firmware.

Yep, there's definitely some references to a "Modern iPad" inside iOS 11.3.pic.twitter.com/JHHone 2 R1 D

- Filipe Espósito  (@filipekids)January 25, 2018

Before iPhone X was launched, the text string "Modern iPhone" was found in iOS firmware in the same way and it is thought that this pointed to iPhone X, so the character of "Modern iPad" was " Is it referring to the fact that Face ID is installed on the iPad? ", another developer pointed out.

"Modern iPhone" meant iPhone X. "Modern iPad" is probably an iPad with Face IDhttps://t.co/pbMAMj3QCe

- Guilherme Rambo (@ _ inside)January 25, 2018

Face ID is a face authentication function adopted only for iPhone X, which is also an authentication function adopted to abolish the Home button. As the face ID is installed on the iPad, the home button is inevitably unnecessary, so the next iPad is supposed to evolve into a bezelless design that eliminates the home button like the iPhone X.

In addition, it is unknown whether the design of the iPad equipped with Face ID will be concave on the top of the screen like iPhone X, or it will become a uniform bezel by having a certain width.