For the next iPad, the possibility that it corresponds to the face authentication system 'Face ID' becomes rich from the code contents of iOS 12

It has become clear that the face ID system "Face ID" that appeared on iPhone X is likely to be installed in a new iPad that is expected to appear within 2018.

The latest iOS 12 beta hints that the next iPad will have Face ID
https://mashable.com/2018/07/03/ios-12-face-id-ipad-hint-software/

This information was revealed by software developer Steve Trauton - Smith on Twitter. In the tweet, the captured image of the appearance that it is operating on the screen of iPad size where the "animation character" implemented by iPhone X is landscape is revealed.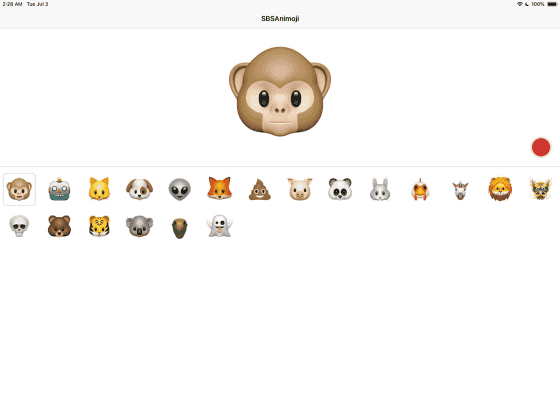 Mr. Trouton - Smith discovered that animation characters are now available on the iPad as we continue to develop in the iOS 12 environment. In order to realize animation characters, TrueDepth cameras that irradiate about 30,000 invisible dots to the face and capture the movement of the face by reading the appearance with a sensor, and the "AvatarKit" framework that uses it Because it is required, Trauton - Smith predicts that the face ID will be available on the next iPad like the iPhone X. Until now, AvatarKit was provided only with firmware for iPhone X.

Mr. Trauton - Smith said: "New features in iOS 12: AvatarKit will be available on iPad, but in order to track facial expressions you need a TrueDepth camera, that is," iPad with Face ID "is tweeted doing.

New in iOS 12: AvatarKit comes to iPad. Still requires a TrueDepth camera to do face tracking, though, ie an iPad with face ID pic.twitter.com/9TvP2vsP6X

- Steve Troughton - Smith (@ stroughtonsmith) July 3, 2018

For the new iPad with a rich appearance in the latter half of 2018, it is predicted that design with a bezel width narrower than before will be adopted, featuring face ID with the home button being abolished. Although Mr. Trauton - Smith 's clarified content will support this prediction, it is unclear whether the model on which the TrueDepth camera is installed will include the normal "iPad" or "iPad Pro" It is unknown.