The survey revealed that Nintendo Switch is becoming a better choice for developers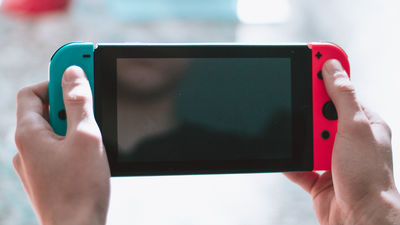 byCorey Motta

Appeared in March 2017,Nintendo made a strong start to record the highest sales volume everFinally in December the total worldwide sales volume isOver 10 million unitsdidNintendo Switch. It is clear that this Nintendo Switch is drawing attention not only by users but also by many game developers.

GDC State of the Game Industry 2018 - Free Report Download
http://reg.gdconf.com/GDC-State-of-Game-Industry-2018

The world's largest conference for game developers "GDC"The organizer of the game industry wrote in a glimpse of the report"GDC State of the Game Industry 2018"Has been released. This report contains the results of a questionnaire survey conducted on about 4000 game developers, and developers developing games for other platforms have a great interest in Nintendo Switch It is a content that you can understand well that it is.

The following graph shows what platform the developers who responded to the questionnaire was the last game developed. Just half of 50% are for PC, 32% for smartphone / tablet, 23% for PS 4, 19% for Xbox One, only 5% developers developed games for Nintendo Switch , For VR, Mac, Linux, and so on.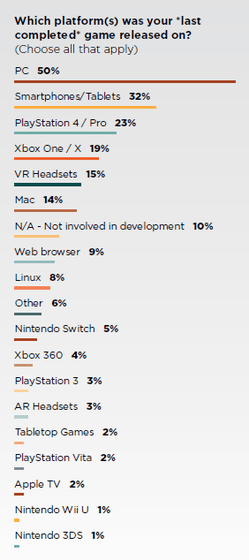 And here is the result of questioning what platform the currently developing game is for. The top for the PC is 60%, for smartphones and tablets 36%, PS 4 for 30% and Xbox One for 26%, but the top 12% developers are developing games for Nintendo Switch, .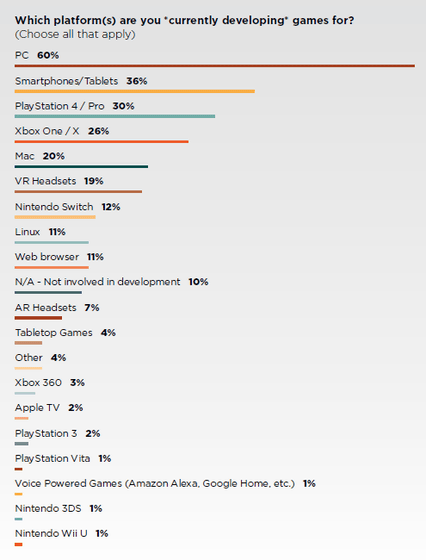 Furthermore, with the question "Which platform do you want to develop games for the next platform?", The number of developers citing Nintendo Switch has increased to 15% ... ...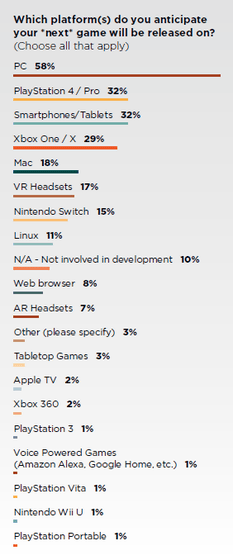 According to the question "What is the most interesting platform as a developer now?" 36% said Nintendo Switch, and it is clear that the interest in Nintendo Switch among developers is increasing It is.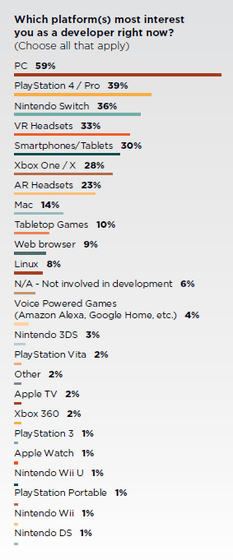 It is the third year in the report of 2018 that I asked about "the possibility that the VR / AR related business will last long" in GDC's report. In the FY 2017 report, 75% answered that it will last long, but it decreased slightly to 71% in FY 2018, which shows that the number of developers who feel negative about VR / AR related business has increased.

And, when asking developers who actually delivered games for Nintendo Switch, 33% answered "How about selling games delivered with Nintendo Switch compared to other platforms?", 33% delivered except for Nintendo Switch No answer for reasons such as not being answered, 28% sales are better than Nintendo Switch sales on other platforms, 23% sales equivalent to other platforms, 16% sales than other platforms Answer that it is bad. On the whole, the GDC wrote that Nintendo Switch can be said to be a platform that can be expected to have sales equal to or higher than that of other platforms.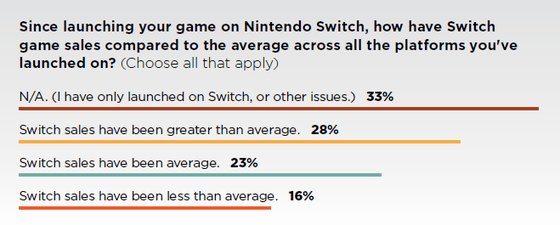 According to the report, in 2017A big problem in the game industryDespite becoming, one out of ten developers incorporate a root box (so-called pay Gacha) as part of the system in the game.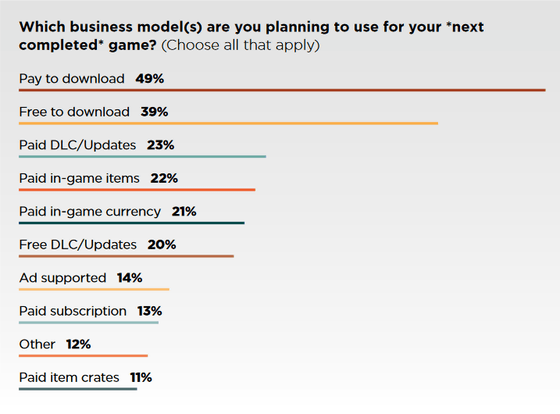 In addition, 73% of developers think that Nintendo Switch will exceed the sales volume of Wii U, which is the one in front of Nintendo's stationary game console. Since 50% answered "Over" by the same question in the previous year, it is obvious that there are an increasing number of developers feeling great potential in Nintendo Switch. Already in the first year of Nintendo Switch sale in 2017The cumulative sales volume is 14.6 million unitsThere is also a report that it became the fact that if this is the fact, it will have exceeded the cumulative sales volume of Wii U in just 10 months. Nintendo Switch "Household game machine selling at the fastest speed in America historyThere is also sales data that it is "sales data that Nintendo Switch's momentum continues, so it is a point where interest is not only for developers but also for general users.
in Game, Posted by logu_ii