I tried using "Pre Theater Menu" which makes dinner half price to keep meal expenses at traveling destination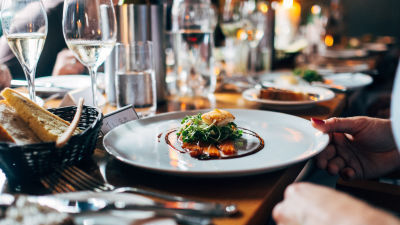 byJay Wennington

When eating out in Europe and the United States eating out sometimes the food expenses are somewhat overwhelming as compared with Japan. When you go to London you will also have to pay a fee of 20 pounds (3000 yen) as usual, and it is not uncommon to slightly exceed 5000 yen if you want to eat dinner at a proper restaurant, how can you manage food costs somehow ...... As a result of seeking that, at a certain time zone you can eat dishes at a reasonable price "Pre Theater / Post Theater MenuBecause it was that it existed, I actually tried it.

The pre-theater / post theater menu is a menu that is offered before and after the musical starts in Europe and the United States. The time zone to be offered and the type of dishes such as "until 18:30" and "after 21 o'clock are limited, but the price is set low. Many restaurants have 2 courses and 3 courses, 12.5 to 15 pounds (about 1900 yen to 2300 yen) in 2 courses and 15 to 18 pounds (about 2300 yen to 2700 yen) in 3 courses.

In the case of the UK, the pre-theater / post theater menu can be found on the following website.

Pre & amp; Post Theater Dining London & amp; Theater Restaurants | OpenTable
https://www.opentable.com/promo.aspx?pid=589&m=72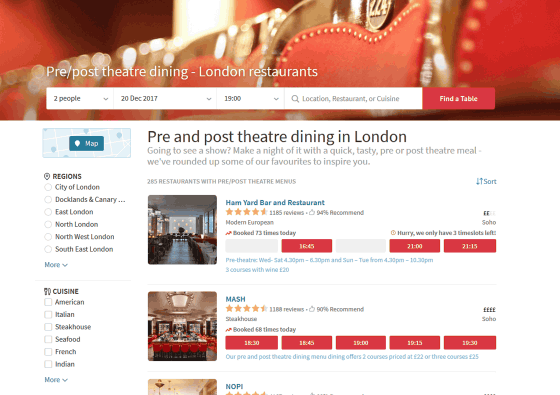 Pre-Theater Dinner in London
https://www.bookatable.co.uk/pre-theatre-dinner-london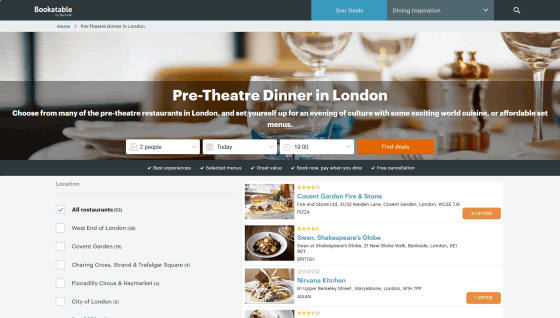 This time I tried searching for shops in "OpenTable". First, specify the number of people and the date and time at the top of the page and click "Find a Table".




If it is limited to the pre-theater / post theater in OpenTable, the following screen will appear. On the right side of each shop there is shown a price range with a pound mark, and depending on the shop, under the time that can be booked, "25.5 pounds (3800 yen) at two courses" "Post theater special There is a rough description of what menu is offered, including from 21:30.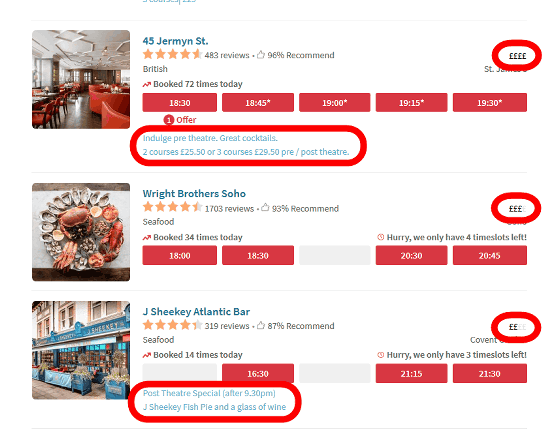 When I was looking for a cheap price point in a cheap price range, I found a place where the number of reviews is high and the price range is also low. I will try clicking "Le Garrick" whose 2 courses are written as 13.5 pounds (about 2000 yen).



Then the details of the store appeared. Because Le Garrick is a shop with a price range of approximately 25 pounds (roughly 3800 yen) per meal, it can be drunk at half price for the pre-theater menu.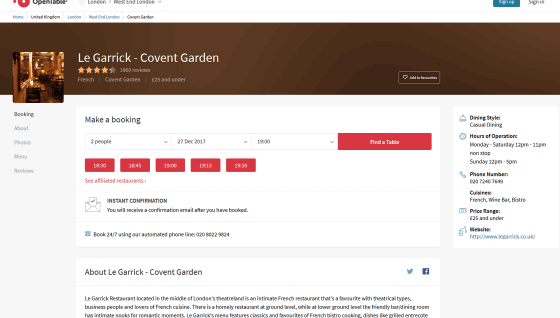 When you press a tab labeled "Pre & Post Theater", details of the course will come out ......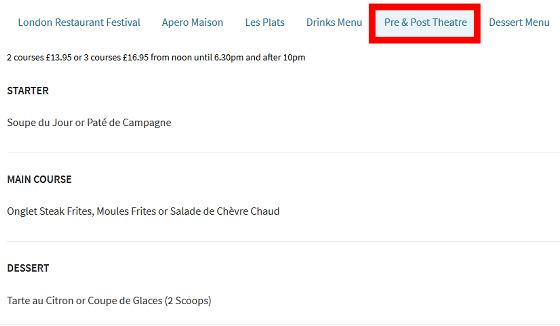 Just to be sure, I will also check on the website of the shop.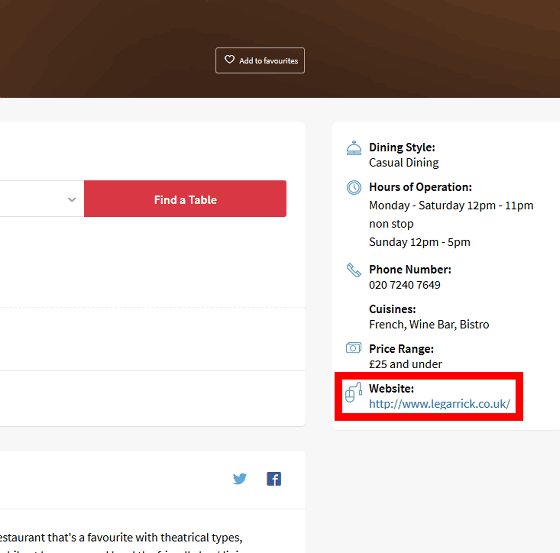 Looking at the menu page on the website of the store, the pre-theater / post theater is divided into "appetizer", "main" and "dessert", and appetizers include "soup of the day" and "country style putty", mainly "Pepper sauce of cow skirt" "fried mussels" "salad of goat's cheese", in dessert "lemon tart" "ice cream" were lined up. You order two items or three items out of these in any combination.

Pre & amp; Post Theater - Le Garrick
https://www.legarrick.co.uk/menu/pre-post-theatre-menu/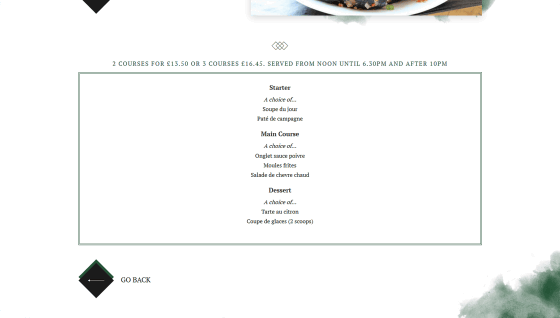 After checking the menu, return to OpenTable and select "18: 30". It is worth noting here that reservations from OpenTable are possible after 18:30, but after 18:30 you can not order pre-theater menus even if you go to a shop. So, it is better to reserve at 18:30, go to the shops a little earlier and place an order.




Enter your name, phone number and e-mail address, select "Receive mail directly from the store" or "Receive mail from OpenTable" and click "Complete Booking".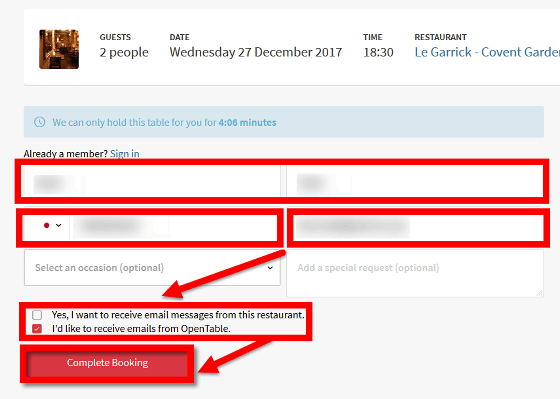 Do you want to create an account? You will be asked, but if you do not need it, click anywhere other than popup.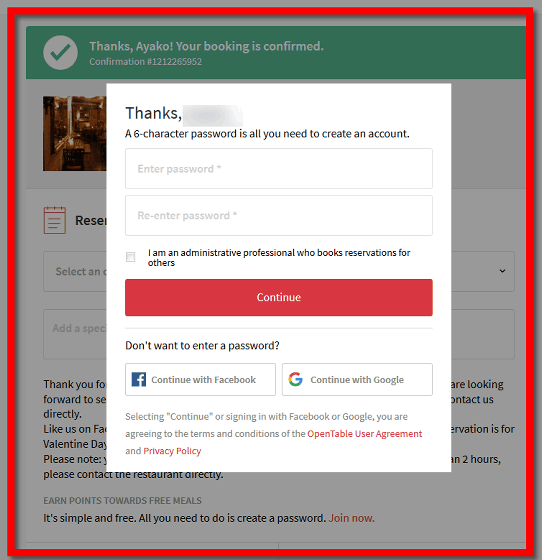 The reservation is completed. You can make crisp appointment without creating an account, you can change the date and time and cancel it with just a click.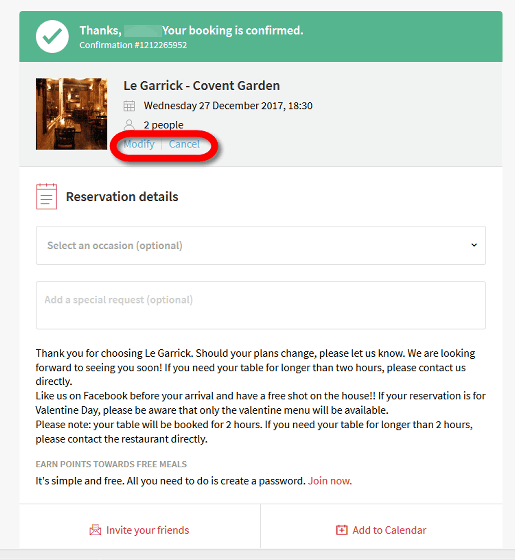 So I actually went to Le Garrick. It is commonplace to provide a pre-theater / post theater menu, but it is near the theater. Le Garrick has the Royal Opera HouseCovent GardenIt was located in.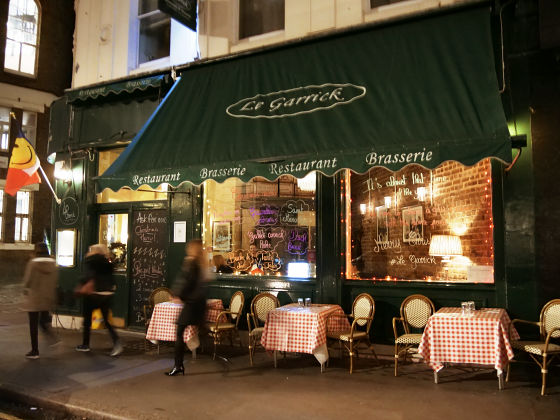 enter Shop. The atmosphere of the shop is like this, it is a casual French restaurant.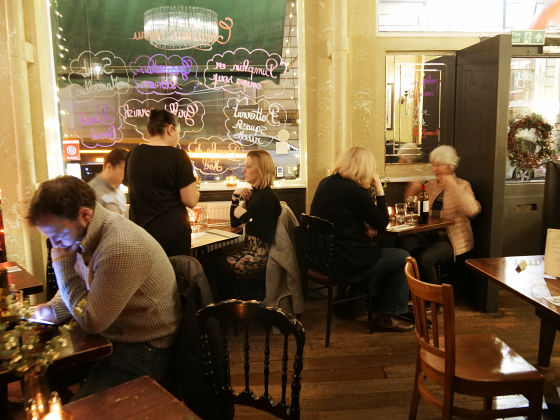 This time I ordered the pepper sauce of the cow skirt I checked on the website and the lemon tart recommended by the shop clerk.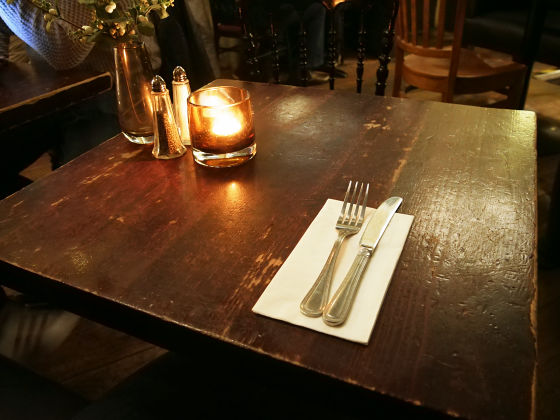 After waiting for about 10 minutes after ordering, a steak with sweet potatoes arrived.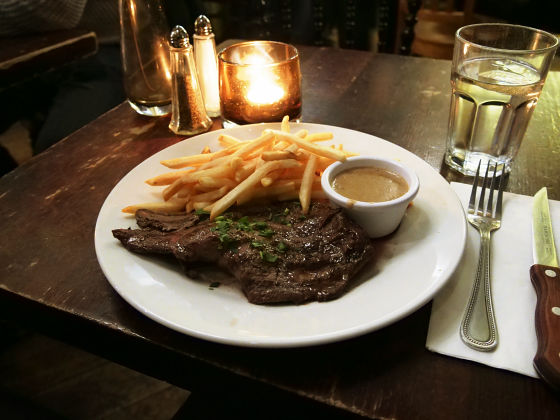 You can see that the size of the steak is bigger than the iPhone SE with a total length of 123.8 mm.



Morimori is also potato.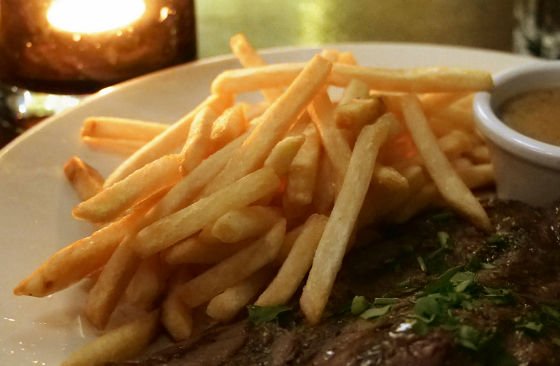 Pepper sauce is included and ......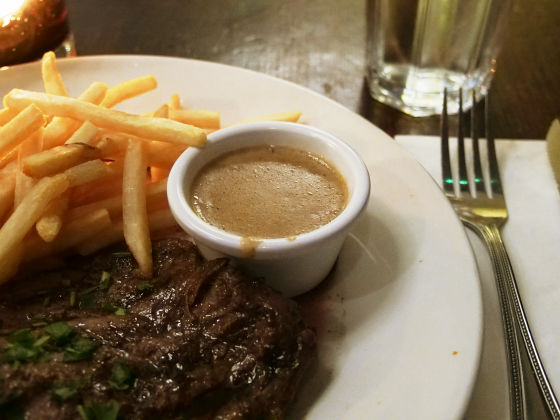 I will put it on the steak. The sauce sauce was mild, slightly sour, contrary to its name, pepper fruit sank below the bottom. The cow skirt was a lean meat, there was a response, and the amount of potatoes was too much, so I felt satisfied when I ate a dish.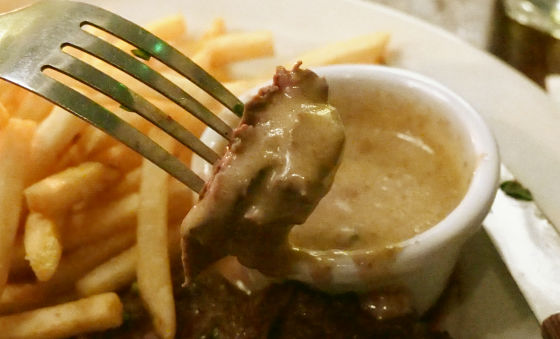 Dessert is a shop clerk recommended lemon tart.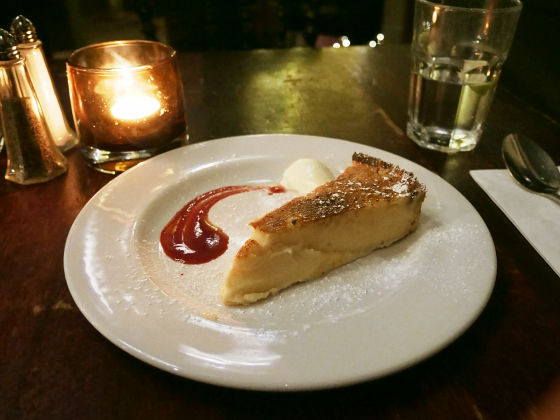 If this is also the image of a Japanese cafe or coffee shop, it is quite large.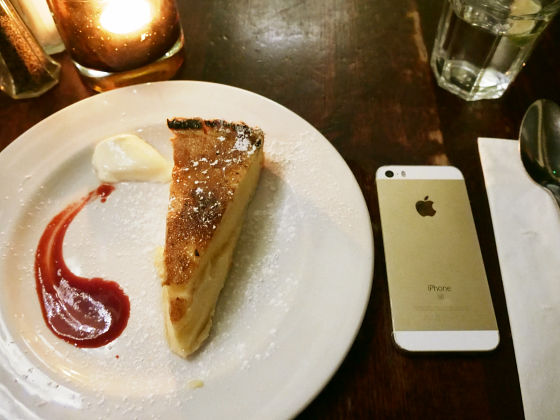 Pie cloth is laid under a lemon cream like smooth cheeks like a custard, the surface is lightly caramelized and fragrant, it is also a convincing finish that it is recommended. Because the sourness and aroma of lemon are not artificial, it is "just like lemon!", So anyone who wants to stick to desserts should be satisfied.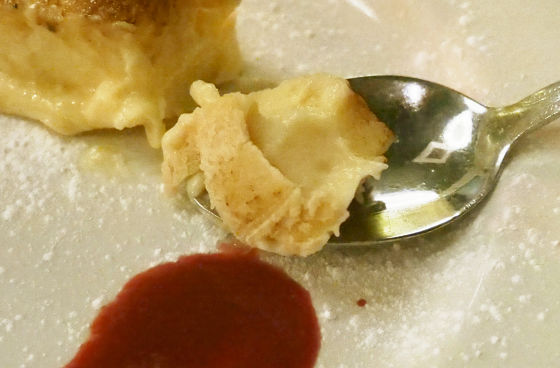 About 13.5 pounds (about 2000 yen) in the main and desert course, 12.5% ​​is charged as service fee here, so it's about 15 pounds (about 2300 yen). Service charge for each restaurant is about 12.5%. Of course, if you order drinks, the price will be higher, but the price of 2,300 yen was the impression that it will not be changed until the meal in Japan even if it sees from the contents. There are also people who are also asking for pre-theater menus that they are eating that they ordered the main and share appetizers and desserts, respectively. Since each item is larger and larger, it seemed like I could share enough if it was a woman who did not have much to eat.

When there is jet lag, the meal time is a little early, and it does not matter much, so reservations and orders that tend to be struggy when traveling abroad are also crispy completed, so when you travel in Europe or the United States you will not miss with the menu I can say that.