A project to capture the drones in the air using an eagle disrupted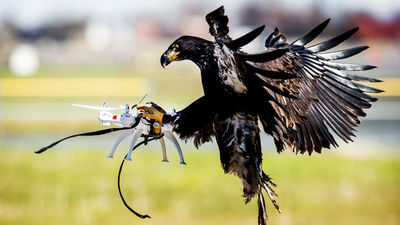 As the performance of consumer drones that can be purchased at affordable prices improves, thatDrone invades the White HouseOrAn accident occurred when Drone collided with an airlinerHowever, the fact that the existence of drones is regarded as an issue is increasing. with this,Drone gunYaDrone catcher,Anti-drone rifleDevices are being developed to capture suspicious drones such as. Like a drone capture device like this, a project to let Eagle capture a suspicious drones was being promoted in the Netherlands, but the project will be canceled here.

Politie stopt met anti-dronevogels en speurratten | NOS
https://nos.nl/artikel/2206271-politie-stopt-met-anti-dronevogels-en-speurratten.html

Dutch police will stop using drone-hunting eagles since they are not doing what they're told - The Verge
https://www.theverge.com/2017/12/12/16767000/police-netherlands-eagles-rogue-drones

If you try to shoot down a suspicious drone using a gun or the like in order to make it impossible to act, the drones may fall on the ground and cause danger instead. So the Dutch police trained a drone capture method to capture the drones in the air using an eagle and get them safely carried to the ground. You can find out more about the drone capture project using the eagle by the Dutch police by reading the following article.

The police are training the "Eagle" to catch the drones in the air - GIGAZINE



The moment the eagle captured the drones in the air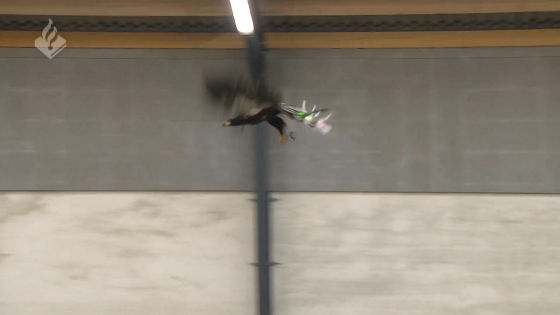 The project is progressing smoothly, and in May 2016 a test was also conducted at the airport.

Project to train eagle to capture suspicious drones in the air, conduct tests at the airfield - GIGAZINE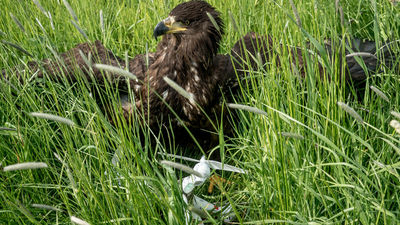 Pictures taken during the test. Since the Eagle is trained to catch the drone and return to the trainer, he can capture suspicious drones while minimizing the danger to the ground as much as possible.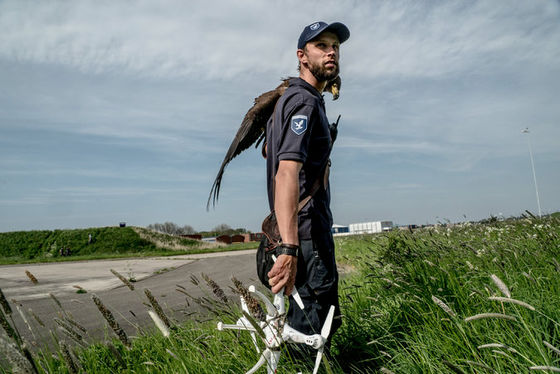 There was a possibility that the eagle could be hurt by the propeller when capturing a large drone, and problems were also pointed out that the place and time limitation arises inevitably in capturing with the eagle But it is clear that the project ended up getting frustrating because it required expensive cost more than expected for eagle training.

According to the report, it seemed as if the drone capture project using the eagle carried forward by the Dutch police was going smoothly, but in fact the eagle does not necessarily move according to the training and the cost of training etc. It seems that it came to the conclusion that it would not be worth paying in consideration. In addition, the Dutch police purchased four eagles in 2016 and is training.

Animal protection groups expressed concern when the Dutch police announced the drone capture project using eagles. Also, Mr. Robert Master, an eagle trainerNL TimesIn an interview, "If eagle was in a state where it can not capture prey, there is the possibility of getting frustrated and hunting things other than the prey. Eagle's claws are very powerful, if the head of a small child I can easily pierce it. "He pointed out the possibility of causing other dangers by causing Eagle to capture drones.

Although the Netherlands was the first country to try to capture the drones using the Eagle, currently the method using the eagle in the US Air Forcethe studyIt has been.