Acceleration of confrontation between two companies in the forcing of Google to cancel YouTube offering on Amazon's Fire TV and Echo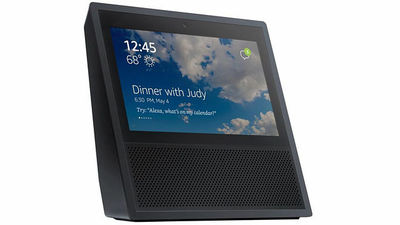 In September 2017, Google released Amazon's "Echo Show"soStop offering YouTube applicationDid. Immediately after that, Amazon will be using Google's smart home appliancesNestWe will stop handling some products sold by Amazon.com on Amazon.com. After that, temporarily at Echo ShowProvision of YouTube application resumedIt was thought that the relationship between Google and Amazon was improved, but the relationship between the two companies seems to enter a more serious condition.

Google is pulling YouTube off the Fire TV and Echo Show - The Verge
https://www.theverge.com/2017/12/5/16738748/google-amazon-feud-youtube-pulled-off-fire-tv-echo-show-nest-devices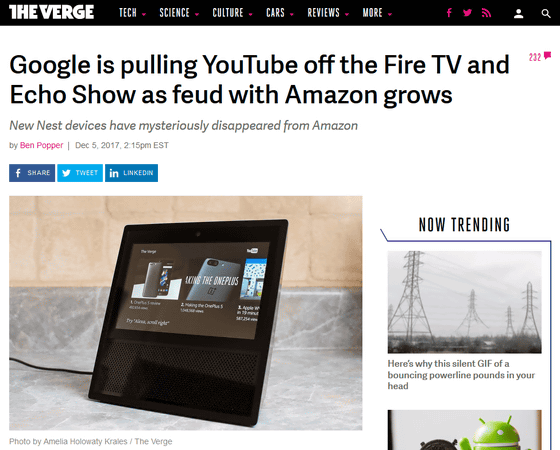 Google will pull YouTube support from Amazon Fire TVs in 2018 | Ars Technica
https://arstechnica.com/gadgets/2017/12/google-will-pull-youtube-support-from-amazon-fire-tvs-in-2018/

On 5th December 2017, YouTube spokesperson not only of Amazon's speech recognition terminal Echo Show, but also of streaming deviceFire TVBut announced that we will stop supporting YouTube. Speaking of Fire TV, like Google 's Chromecast, a device that will allow you to view streaming distribution services such as movies, dramas, and sports on the big screen of TV. You can not help saying that YouTube can not be played on such video viewing devices.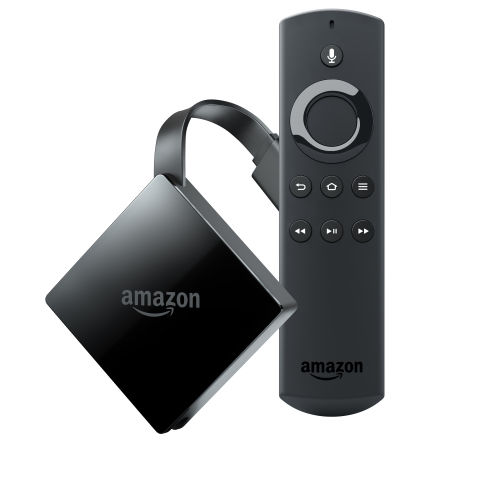 YouTube spokesperson said: "We have negotiated Amazon to negotiate Amazon with a contract that allows consumers to equalize each other's products and services, but Amazon does not accept Google as Chromecast or Google Home We are not dealing with products, Chromecast users continue to be unable to use Amazon's prime video, and even some of Nest's latest products have been suspended, and Amazon is supporting each other We decided to stop supporting YouTube on Echo Show and FireTV because of lack of awareness to do it, "says YouTube's support that unlawfully deals with Google products and services on Amazon.

However, he commented, "I hope these problems will resolve quickly and reach an agreement," and if Amazon is legitimately dealing with Google products and services, we are ready to resume YouTube support I also reveal some things. According to the announcement, the Echo Show has finished offering the YouTube application immediately, and it seems that the notification that "YouTube service will be unavailable from January 1, 2018 will be displayed" on Fire TV.

According to The Verge of foreign media, according to Alexa which is Amazon's speech recognition assistant, when talking to "I want to purchase a Chromecast", it is possible to recommend purchasing competing products such as Fire TV and Roku, the attitude of Amazon It seems to be quite deeply rooted.