Investing Amazon.com with over 500 billion yen in India and Bezos CEO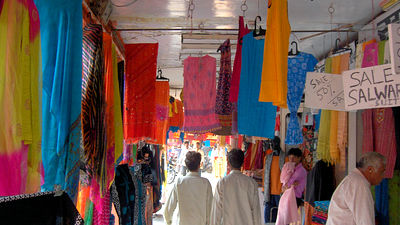 byJohn Haslam

Various things are required for the mail-order site, such as the breadth of the line-up, the price of the lineup, the quality, etc. However, the fact that the presence of a trader in India is at hand at Amazon.com "cheap and high quality" is available News site · postandcourier.com reports big things.

Amazon, in hunt for lower prices, recruits Indian merchants | Business | postandcourier.com
https://www.postandcourier.com/business/amazon-in-hunt-for-lower-prices-recruits-indian-merchants/article_7392d06c-d3af-11e7-8ef6-c3d41fea071a.html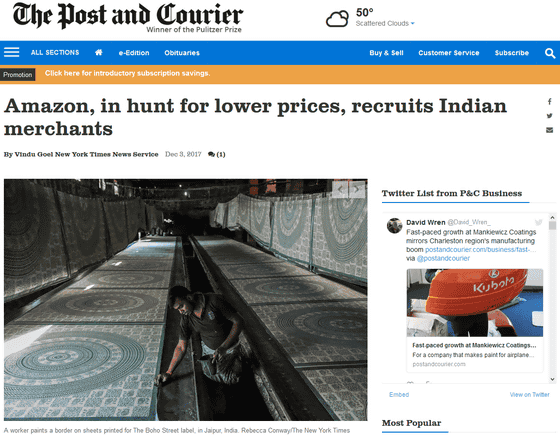 According to postandcourier.com, Amazon reached India two years ago. It seems that the number of sellers has increased to more than 27,000 now.

It is known as India's representative conglomerate that entered AmazonTata GroupWe will sell tapestries and homemade copper mugs etcThe Boho StreetVarious.

Until now, when I tried to purchase goods dealt with by an Indian contractor, costs were high due to the large number of importers being caught between them, but since the intermediate margin is sharply reduced at Amazon, consumers are cheap You can now get the goods.

On the other hand, Amazon can greatly expand its product lineup, as well as getting a large fee from vendors.

In addition, for merchants as well, since Amazon. Delivers goods to customers nationwide, there is a merit that sales can be increased by Amazon's handling of items.


by4ocima

One example is The Boho Street. Originally it is a platform devoted to "making things"EtsyThe Boho Street who had been selling such as, as a result of reviewing the scale and service content, switched the major sales destination to Amazon two years ago. As a result, in 2016Cyber ​​MondayIt has quadrupled sales and annual revenue of $ 1.9 million (about 214 million yen). In 2017Black FridayIt seems that we earned three times as much revenue as the previous day.

Aaron Sherry of Bain & Company, a management consulting firm, points out that the existence of these third-party distributors is important to Amazon. In the huge mail-order site like Amazon, the existence of niche products plays a role of attracting customers, and already there is a profit from the sale by a third-party seller rather than the profit when Amazon sold themselves It is said that the direction is getting bigger.

Jeff Bezos also understands the importance of India, announces that it will invest $ 2 billion in 2014 and an additional 3 billion investment in 2016,Total investment in the Indian market is $ 5 billion(About 564 billion yen) will also be seen to be.
in Note, Posted by logc_nt