A gun shooting incident occurred in the church in Texas state, at least 26 people died · Runners also died on their way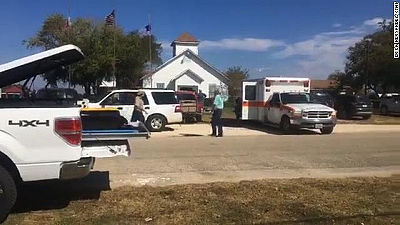 Monday, November 6, 2017 in Japan time, it is confirmed that at least 26 people died in a Christian church in the state of Texas in the United States, a man was shot by guns.

Texas shooting at First Baptist Church in Sutherland Springs leaves 26 dead - live stream, updates - CBS News
https://www.cbsnews.com/news/texas-church-shooting-sutherland-springs-first-baptist-church-live-stream-updates/

26 Killed In Texas Church Shooting, Gunman ID'ed as Devin Kelley - Breaking 911
http://breaking911.com/breaking-active-shooter-reported-texas-church-multiple-casualties/

Officials ID shooter after 26 killed in Sutherland Springs church - San Francisco Chronicle
http://www.sfchronicle.com/news/local/article/More-than-20-dead-after-shooting-at-Sutherland-12333530.php

The incident occurred in the church "First Baptist Church" in Sutherland Springs, southern Texas. Local time November 5 (Sun) morning, a man with a gun appeared during Sunday worship, shooting in the church. At the time of the article creation, 26 people lost their lives and 20 people injured, American media said.

It is a 26 year old man known as "Devin Patrick Kelly" from the identity card possessed that caused the case. According to the report of CBS news, Kelly belonged to the US Air Force from 2010 to 2014, but he was subjected to a military law meeting in 2014 and received disgraceful discharge

The authorities confirmed the identity of men on the night of local time 6th and announced that they are white men. According to the report, the suspect wore himself in a black clothing, wearing military equipment like a bulletproof vest, at 11:20 am on the day that the suspect appeared on a gas station near the site about. The suspect who got off the car then launched a firearm like the assault rifle "AR - 15" towards the church. Then he entered the church and continued his shooting.

Following the shooting, when the suspect escaped from the church local residents picked up weapons and chased. Later, the police have confirmed that Kelly was shot and shot dead in his car, but it is unknown whether he shot himself or was shot dead by another person ... apparently ...

WATCH: Official Says TX Church Shooter Was Confronted By Citizen Who Engaged Shooter In Gunfight, Chased Him Down -https://t.co/DuJM7KR7eppic.twitter.com/Cfh67Z0jun

- Breaking 911 (@ Breaking 911)November 6, 2017

It was 26 men and women including children, including the daughter of the church's pastor who was killed. Mother Sherly Pomeroy says to CBS "Ironically my husband and I were visiting a different town in the state and today we lost a 14 year old daughter and many friends," It is.

Dana Fletcher, who runs the business near the scene, saw how many sheriff's police cars and ambulances run on the road at a tremendous speed. At first it seems that I could not understand what happened, but many policemen surrounded the site and saw how many people were being carried by helicopter.

The AR - 15, which is thought to have been used for shooting, and the like, are guns used in many shooting incidents in America. Sandy Hook Elementary School gun shooting incident in Connecticut in December 2012, a shooting incident in the movie theater in Colorado Aurora in July 2012, San Bernardino in California welfare facility in December 2015 It is this gun that appears in cases that have been reported in Japan, such as shooting incident.

Doctors told the destructive power of 'AR - 15' used in gun shooting incident | WIRED.jp
https://wired.jp/2016/06/20/ar-15/

It was also used in gun shooting in Orlando, Florida "AR - 15". This rifle, which has been used in numerous shooting situations, has too much killing ability.

It is unknown why Kelly caused this incident. In the suspect 's SNS, a picture of a gun that has been used for the incident has been posted.

26 Killed In Texas Church Shooting, Gunman ID'ed as Devin Kelley - Breaking 911
http://breaking911.com/breaking-active-shooter-reported-texas-church-multiple-casualties/

A picture of a gun posted with the comment "She's a bad bitch".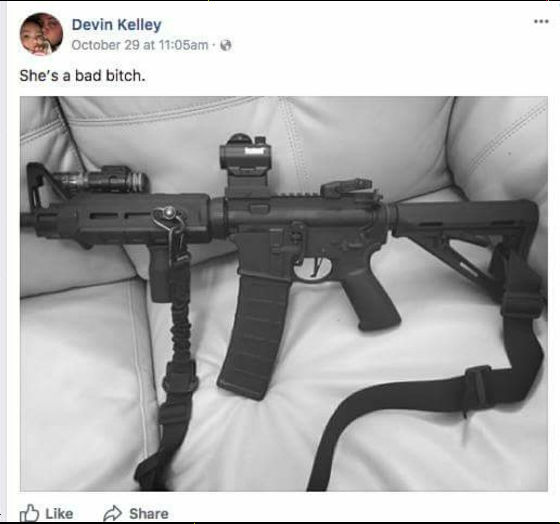 Following the incident, President Cardgin coming to Japan wrote to the press about the incident "a terrible shooting incident", "The pain and sadness that we feel can not be said in words, when Americans can do the greatest thing I will be one and we have to set our arms together, we must overcome tears and sorrow and rise strongly. "

Also, on Twitter "God bless the people of Sutherland Springs, Texas. FBI and law enforcement officials are on site, I am watching the situation from Japan."

I God be w / the people of Sutherland Springs, Texas. The FBI & amp; law enforcement are on the scene. I am monitoring the situation from Japan.

- Donald J. Trump (@ real DonaldTrump)November 5, 2017

As suspects have died, it is predicted that it is not easy to elucidate its motivation, but I am very concerned about what is behind it.