I drank Starbuck's "raspberry white mocha" "raspberry white chocolate frappuccino" exciting for a combination of sweet and sour raspberry × white chocolate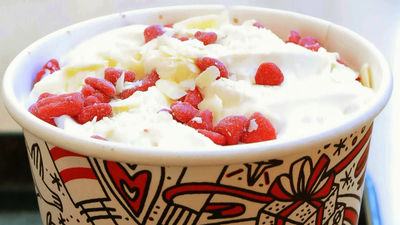 From Starbucks as a new drink for the holiday season of 2017, "Raspberry White Mocha"When"Raspberry White Chocolate Frappuccino"Appeared on November 1, 2017 (Wednesday). I was drinking it immediately because the combination of raspberry sauce and white chocolate exquisitely balanced in sweet and sourness was finished in an exciting taste.

[New Item Information] Raspberry White Mocha | Starbucks Coffee Japan
http://www.starbucks.co.jp/cafe/raspberry/index.html?nid=wm_01_pc

Arrived at Starbucks.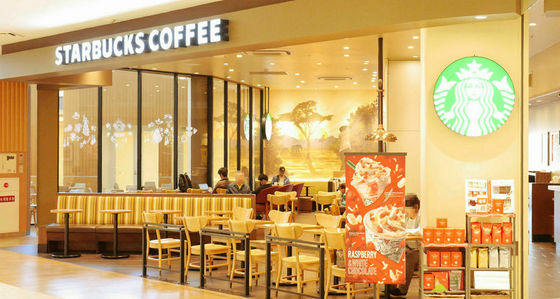 In front of the shop there was a signboard of "Raspberry White Mocha" and "Raspberry White Chocolate Frappuccino" signs. Quickly ordered "Raspberry White Chocolate Frappuccino" and "Raspberry White Mocha" hot and ice with a total of 3 types, each in tall size.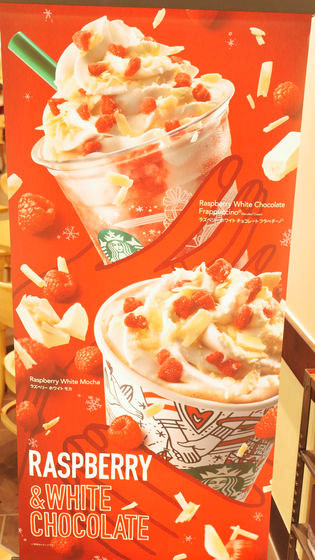 First of all, I will try drinking from ice of "raspberry white mocha" tall size (480 yen without tax).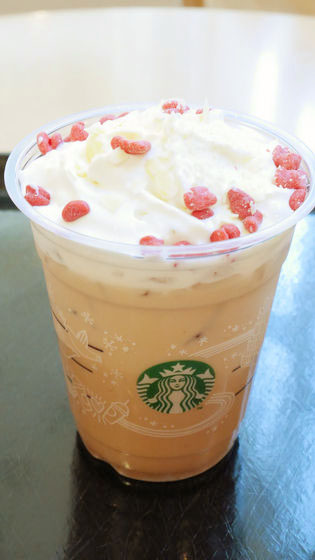 A cream plumply placed on the mocha and a bright red raspberry meringue will enhance Christmas mood. The raspberry-flavored meringue is condensed with a sweet and sour flavor in a crisp texture, and a moderate sourness spreads in the mouth even after melting.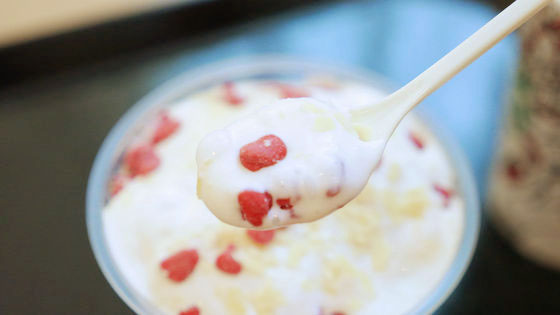 As mocha also contains raspberry sauce, if you inhale with a straw you will enjoy the coffee's bitterness and syrup sweetness, where the raspberry sauce acidity combines to enjoy a variety of tastes. Some may say that it is not good to feel bitterness and sourness at the same time, but after adding acidity the aftertaste is refreshed and this is an ant in this.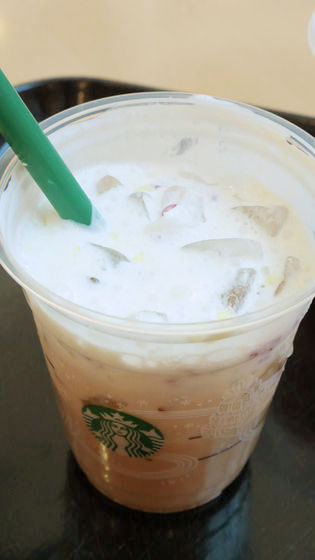 Next, "Raspberry White Mocha" hot. Illustrations that make the cup feel Christmas are drawn, and it makes me feel happy just by watching it. It is intentional that there is a paint left behind in color, "It is an incomplete design in which colors are not painted all over, and we put the thought that we want each customer's story to be completed and completed." .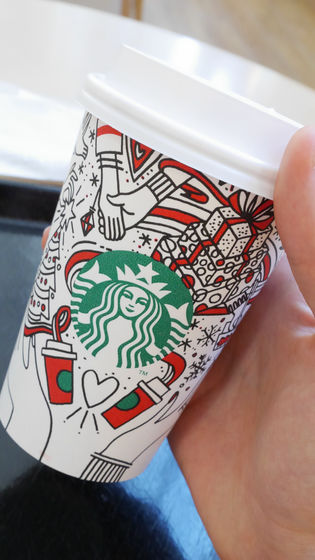 When opening the cup it looks like this. When you drink from the mouth portion of the cup, whipped cream and meringue, mocha and raspberry sauce are mixed well into the mouth. Because the drink is warm, I can feel each taste deeper than Ice.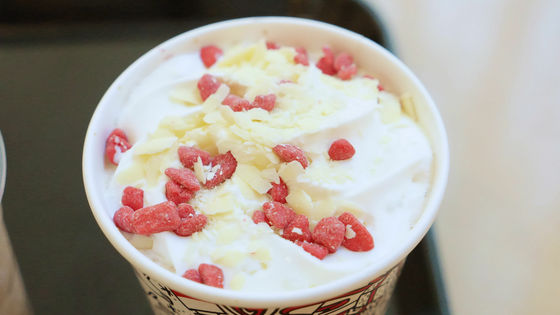 Finally I will drink "Raspberry White Chocolate Flaphecino" Tall Size (580 yen tax excluded).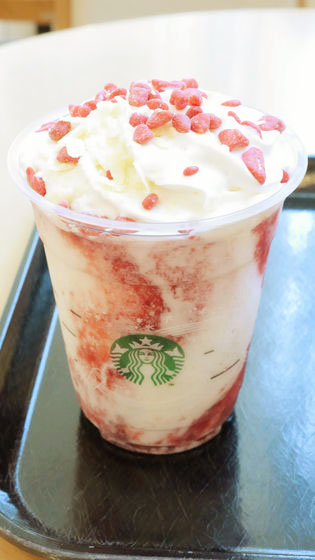 The base white drink is mixed with raspberry sauce and it looks very beautiful.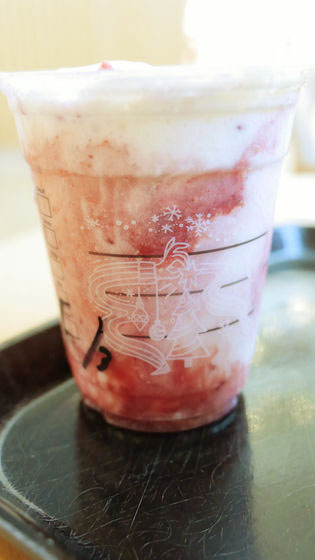 When you scoop out Frappuccino you can see that the red color of the raspberry sauce is thin mixed in the white drink. Impression that the sharp texture and the moderate sourness of raspberry sauce are perfect, and the gentle sweetness of white chocolate is well aligning the whole taste.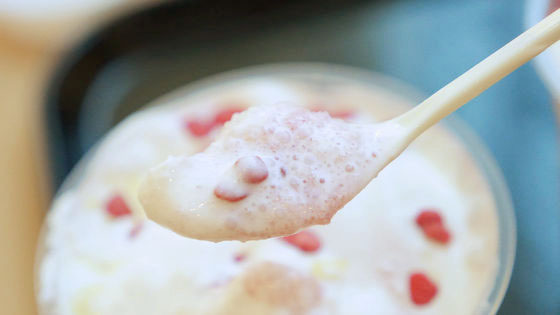 As the sauce sinks to the bottom for a while without stirring, it is recommended to stir the whole periodically.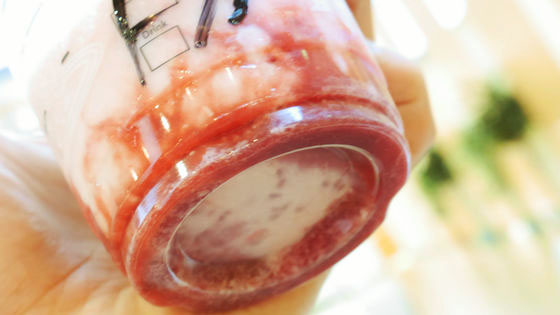 Raspberry sauce also contained raspberry pulp, and there was seed on the bottom of the cup. If you try to eat the raspberry seeds, you will feel acidity and you can also enjoy the texture of bubble wrap.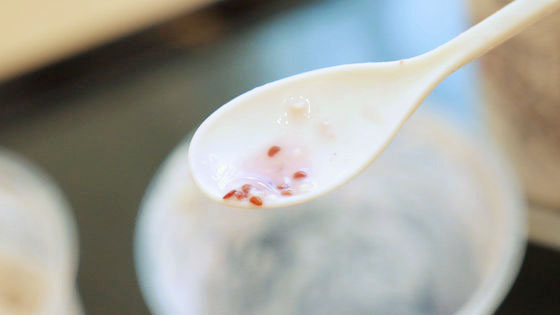 In addition, "Raspberry White Mocha" is short-sized by 440 yen excluding tax, 480 yen in tall size, 480 yen in tax excluding Toll size, 520 yen in Grande size and 580 yen in tax excluding Venti size. "Raspberry white chocolate frappuccino" is only available in tall size, it is 580 yen without tax. For limited-time products from November 1, 2017 (Wednesday) to November 21 (Tue), 2017, we recommend that people who want to drink go ahead of time.