Google's wireless earphone "Pixel Buds" that enables real-time translation of Japanese to English and English to Japanese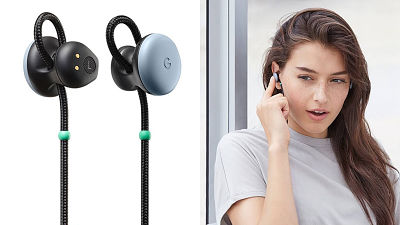 On October 4, 2017, Google announced its first wireless earphone "Pixel BudsWe announced. Pixel Buds, a competitor of Apple's wireless earphone "AirPods", can perform various operations with the swipe of the fingertip, and translates the content spoken in conjunction with the Google smartphone "Pixel" in real time to another language It is possible to let the other party hear it.

Google Pixel Buds - Bluetooth Earbuds for Pixel 2 - Google Store
https://store.google.com/us/product/google_pixel_buds?hl=en-US

Google Pixel Buds-wireless headphones that help you do more
https://www.blog.google/products/pixel/pixel-buds/

Pixel Buds is a wireless earphone that connects via Bluetooth. I connect the left and right units with cables, but this is to avoid that one side goes somewhere, it has become an adjustable type that can adjust the length.



In the part that hits the ear of the unit, letters L and R indicating left and right are shown, and the electrode for charging is equipped. The outside of the unit of the right ear is a touch sensor, you can swipe left and right to manipulate the song that is playing, tap or long press to call the Google Assistant and read the notification or message .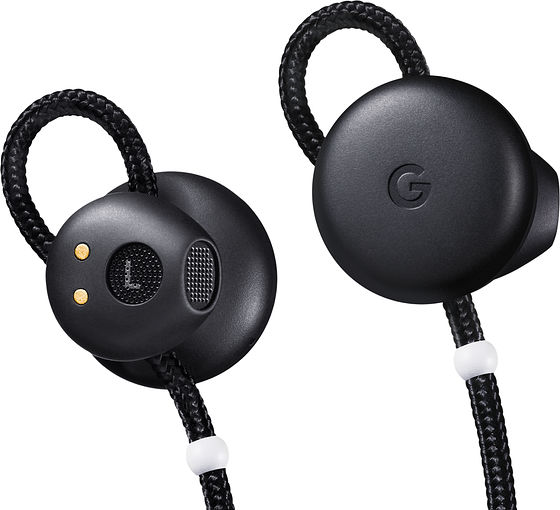 Since the microphone is built in the main body, it is possible to speak to and operate by voice.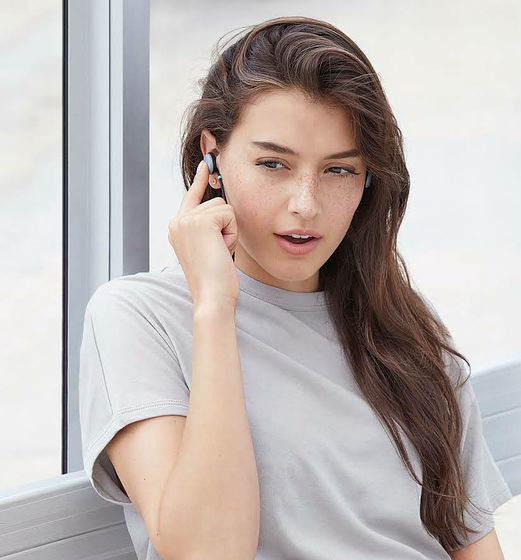 And the biggest feature of Pixel Buds is the real time translation function linked with Google translation. By linking with Pixel smartphone, it is a function to translate the content spoken to Pixel Buds into another language and play it from the smartphone speaker.



A movie that is doing demo of real-time translation to Japanese in content spoken in English using actual machine. A little strange thing in translated Japanese is love of Google translation, but it seems to be useful for situations like going overseas to ask people who speak only the local language or asking for directions or ordering at a restaurant. It is possible to return not only the content you talked to but also what you talk about to Pixel Buds in your own language.

Pixel Buds first hands-on - they translate Japanese! - YouTube


Pixel Buds comes with a case doubling as a charger, and you can play for up to 24 hours with one charge. The weight is 14 grams, and the color is three colors of "Just Black" "Clearly White" "Kinda Blue". The price is $ 159 (about 18,000 yen) and will be released in November in the US, Canada, the UK, Germany, Australia and Singapore.Google StoreThe reception of the reservation has begun, but deployment in Japan will be announced soon.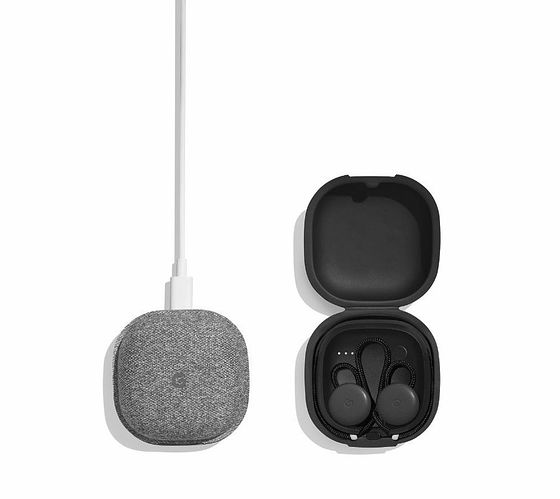 In the following movie, you can see how it actually uses the actual machine.

Google Pixel Buds: AI-powered headphones - YouTube