Always record the surrounding sound on 'Google Home Mini' and find a problem to send to Google


Google's new smart speaker announced on October 4, 2017Google Home Mini"We found a problem that nearly always recording surrounding sounds and sending data to Google's cloud.

Google is permanently nerfing all Home Minis because mine spied on everything I said 24/7 [Update x 2]
http://www.androidpolice.com/2017/10/10/google-nerfing-home-minis-mine-spied-everything-said-247/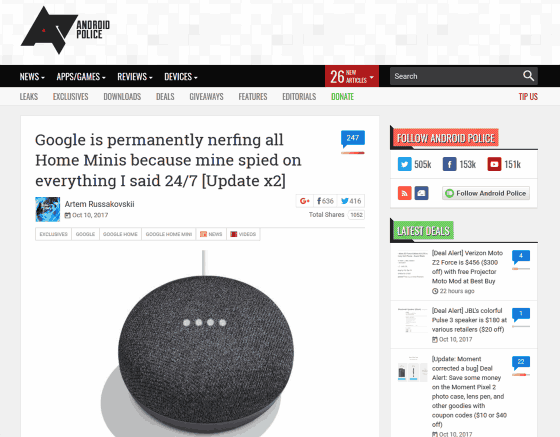 [Fixed issue] Google Home Mini touch controls behaving incorrectly - Google Home Help
https://support.google.com/googlehome/answer/7550221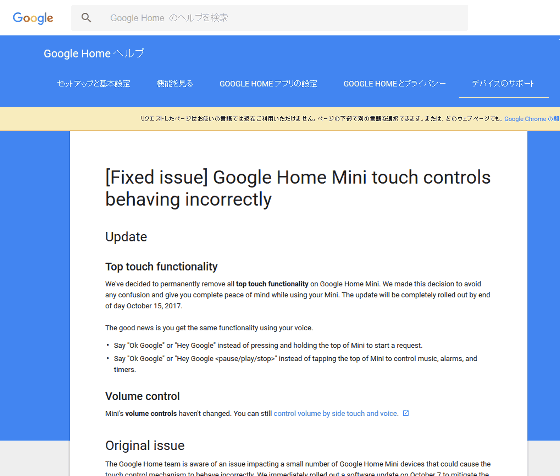 Google Home Mini is a device that will be released on October 18 in the US and 23 on the Japanese side. Article creation It is scheduled to be shipped from October 26th to November 2nd, currently reserved for sale at the Google store at 6480 yen including tax.

Google Home Mini - Small Smart Speaker - Google Store
https://store.google.com/product/google_home_mini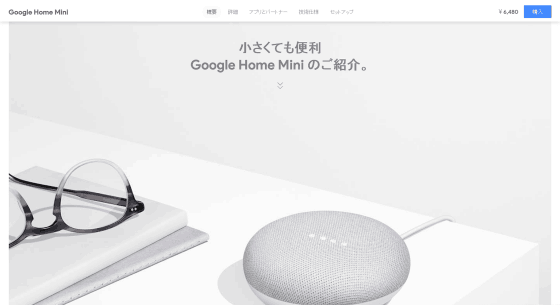 The Google Home Mini was distributed to the media at Google's recital, but the Android related news site "Android PoliceI found a problem during the review.

Many of smart devices such as Google Home Mini respond to words that triggered "Hey, Google", "OK, Google" and recorded what the user said only when instructed by specific words Try to answer the question by sending it to the cloud. Meanwhile, Google Home Mini newly adopted a mechanism that questions and instructions are sent to the voice assistant by long-pressing the touch panel on the upper part of the main unit.

Artem Russakovskii of Android Police is a person who has reviewed numerous smart devices. According to Mr. Russakovskii, Google Home and Amazon Echo said, "When you call your device yourself" "When the movie or podcast you watched made a call to call the device" "The device was called" Although it is said that it started at three timings when misunderstood (Frequency once every few days), the Google Home Mini under review was reacting frequently even when there is a distance from the TV . And Mr. Russakovskii who thought of distrust, changed the response status of the terminal to "My activity"It seems that it was almost always clear that recording and data transmission to the cloud were done.

In response to contact from Mr. Russakovskii, Google began investigating the problem. On 7th October, "announced that" There is a problem that the touch mechanism does not function properly in a few Google Home Mini, and software will be updated to deal with the problem. " However, after that, Google contacted Mr. Russakovskii and said, "We have decided to completely delete the touch function at the top of the Google Home Mini". This eliminates the ability to activate the Google Assistant with long press of the touch panel, and just as with Google Home or Amazon Echo, it is a style that only starts with voice.

In addition, it is said that products that will be shipped from now in advance will not be affected by the above trouble.