Yamakadori cream and deeply shaded pancakes challenge Eggs' n Things Halloween menu items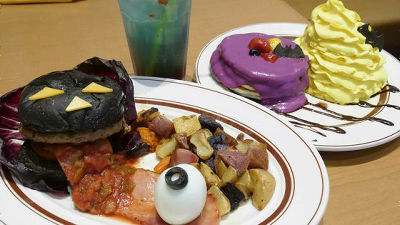 Hawaii's pancake · omelet specialty storeEggs' n ThingsThere are three items of purple pancakes "Trick blood pancakes", a hamburger "Treat monster burger" with impressive black butterfly buns, "Halloween drink" with blue strawberry sauce like a red lemonade to the blue lemonade in 2017 We offer it for a limited time from October 1 (Sunday). I went to a shop and tried to eat while trembling with a fancy color that I could not think about food.

This year's Eggs' n Things holds two Halloween limited campaigns simultaneously! Posting Instagram and getting Treat (reward) for 20,000 first-come! ! "HAPPY HALLOWEEN ~ Trick" & amp; "Treat ~" Starting on October 1st (Sun) | Eggs' n Things
https://www.eggsnthingsjapan.com/news/170928.html

I arrived at the store at once and ordered it. "Trick Blood Pancake" featuring a purple potato sauce is a pile of pumpkin whipped cream beside this pancake as well.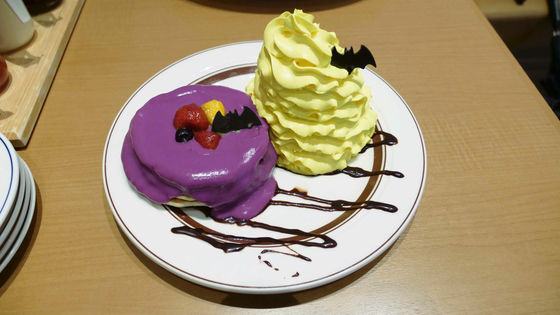 The workmanship of chocolate which imaged a bat on a whipped cream is cute.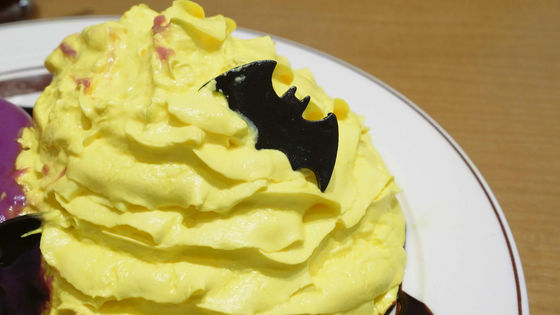 A blue "Halloween drink" reminiscent of a ramune. Strawberry sauce that imaged blood was in a container that simulated a syringe. At the same time as the arrival, the clerk pushed out the sauce.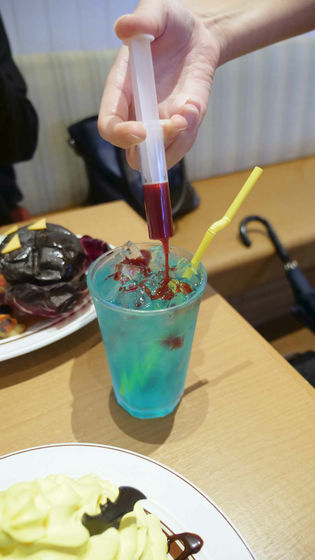 And "Treat monster burger". The tongue extends from the monster burger and eats the eyeball.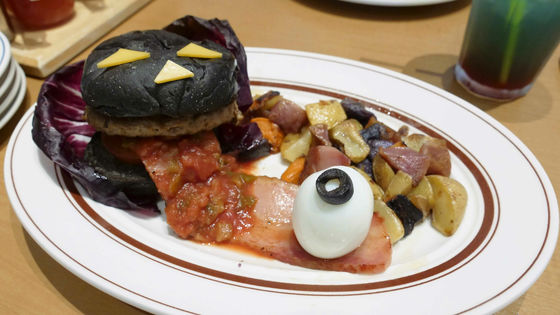 First of all I will eat from pancake. When I tried to cut it, plenty of strawberry sauce came out from the inside.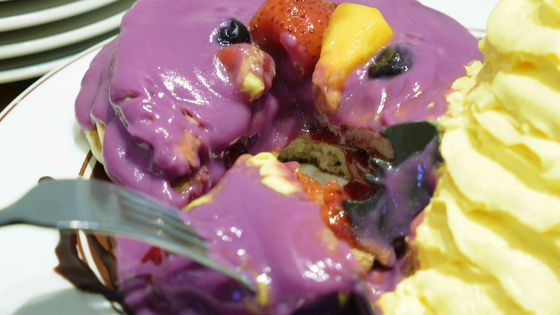 I noticed it for the first time eating a purple potato sauce and whipped cream together, but these are both sweet, but the vectors of sweetness differ, although they are consistent. While whipped sweetness of sugar is coming out across the surface, purple potatoes are not too bad because sweetness of the starch temper of the potato is felt. The strawberry sauce that was sandwiched between us provided sour taste so I was able to eat crisply more than I thought.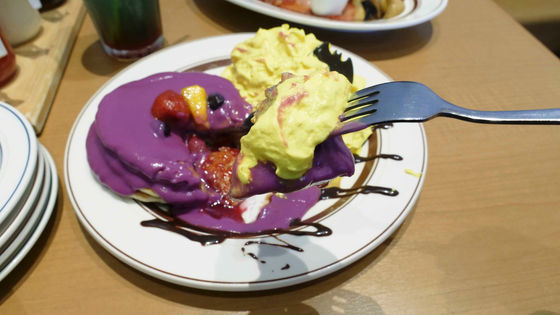 Then a burger. Because a special knife follows, I will cut it.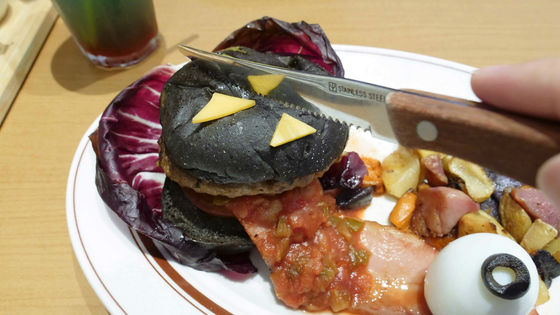 Buns and tomatoes are sandwiched between buns in addition to beef patties.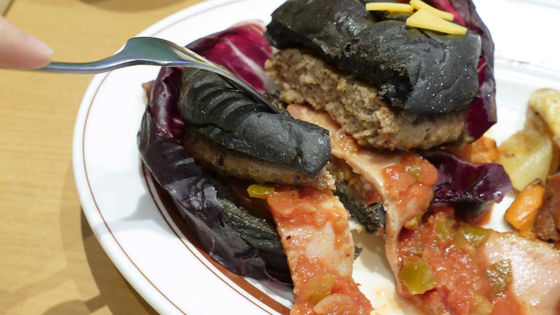 Ikasumi should be used for black buns, but I could hardly feel the taste of Ikasumi. Contrary to the strange appearance, the taste is quite calm finish. However, there are parts that feel quite hot as salsa sauce is included.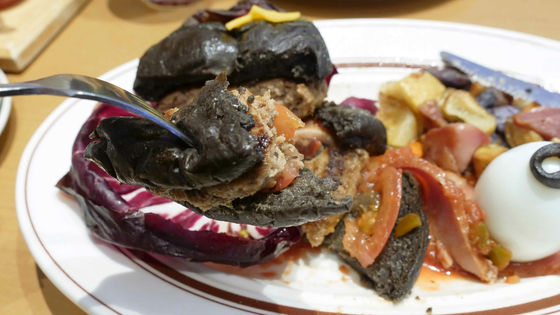 The identity of the eyeball was boiled eggs. Boiled eggs themselves are not seasoned at all, so it would be nice to eat them with bacon or hamburger.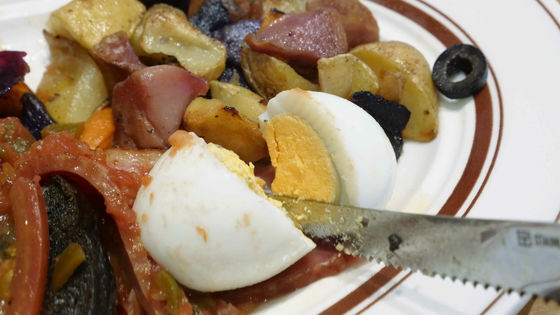 All the potatoes that are attached behind are potatoes. At first I thought that bacon and potatoes were mixed, but when I tried it was a potato that looked bacon. It's amazing technology.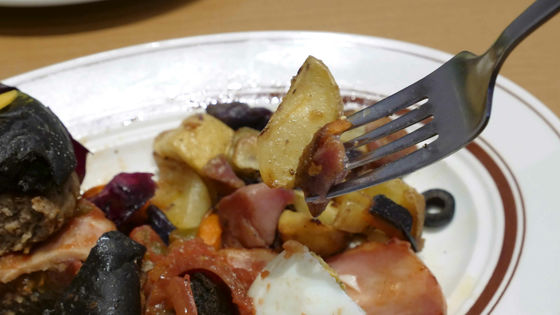 Finally I will drink lemonade. Lemonade seems to vary depending on the area, but here it was lemon water containing sugar with American style. There is no carbonation. At first there is strawberry sauce underneath and when I drink the lower one I feel strawberry feeling as if I ate directly the strawberry jam.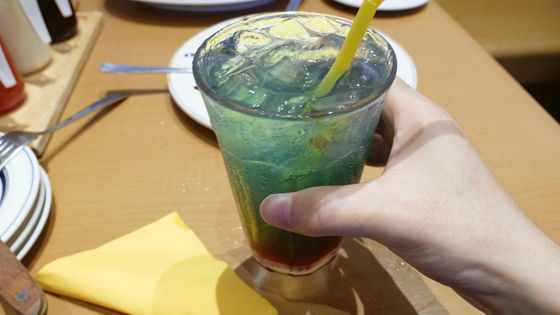 When I mixed it firmly, the blue color which was as beautiful as the tropical ocean disappeared completely, and it became merely muddy color. It is just water that tastes like a faint strawberry flavor. I felt that I should drink it without being mixed up to the end, both apparently and tastefully.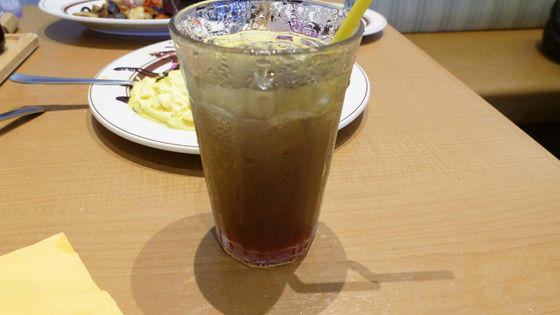 Halloween items are limited-time sale until October 31st. It is said that a campaign to receive a special invitation ticket by posting it to the institute is held simultaneously.

HAPPY HALLOWEEN ~ Trick "& amp;" Treat ~ CAMPAIGN | Eggs' n Things
http://www.eggsnthingsjapan.com/campaign/halloween2017/