8 settings to set to move iOS 11 crisply with old iPhone


From the morning of September 20, 2017, iOS 11 can be downloaded and installed. A number of new functions such as highly efficient video / image format HEIF / HEVC, "file" application, support of AR function, etc. are added in the new OS, but the operation becomes heavy in the older iPhone whose specification is inevitable by all means Also. Eight settings to review in such a case are gathered up.

8 ways to speed up iOS 11 on older iPhones - CNET
https://www.cnet.com/how-to/8-ways-to-speed-up-ios-11-on-older-iphones/

◆ 1: Increase free space
Many people have experiences that the iPhone's operation has become heavy by having too much pictures and music and becoming a bunch of capacity. This is not limited to iOS 11, but one way to speed up the operation is open storage capacity. In iOS 11, several tools to increase free space are implemented. When you enter "General" → "iPhone storage" from the "setting" menu, from iOS 11 you can check the storage usage status with a color chart like iTunes, which kind of data squeeze capacity It is becoming clear to see whether it is doing.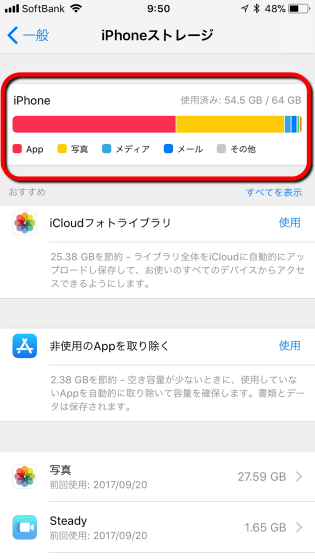 Under the color chart, a function to make it easier to find unnecessary or outdated data, such as "remove unused apps" or "reconsider your own video" has been added.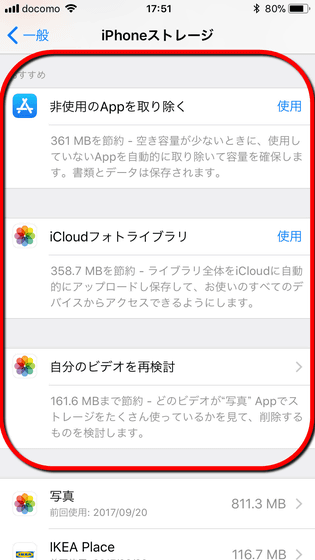 With these functions, we had the ability to pick up and delete only e-mail attachments, which was virtually impossible in the past ... ...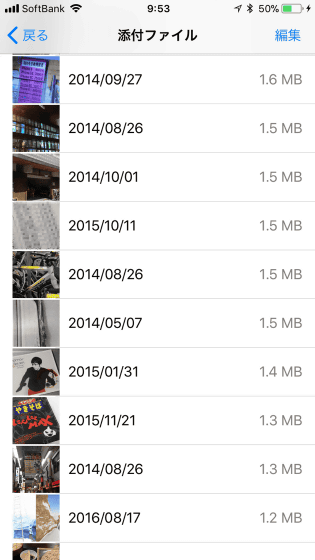 The ease of data management has been upgraded, such as the ability to sort the movies taken with the camera by capacity and to select data that can be erased.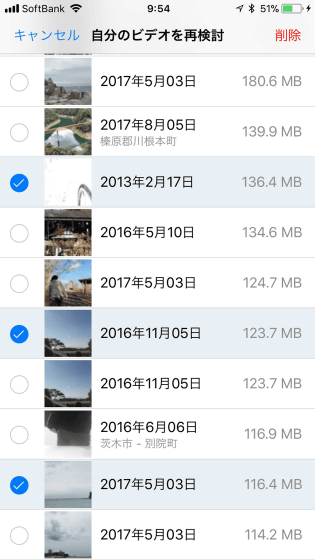 ◆ 2: Try using the new video / image format "HEIF / HEVC"
From iOS 11, movie / image format is new. HEIF stands for "High Efficiency Image File Format", it is an image data format with a higher compression ratio than conventional JPEG, and HEVC stands for "High Efficiency Video Coding", which is also used as an encoding technology for 4K broadcasting . If you say that you can reduce the file size almost as it is, there is no hand not to use this new format.

By selecting "High Efficiency" in "Setting" → "Camera" "Format", you can save with HEIF / HEVC. However, in this case, the data format is no longer in JPG format or H.264 MOV format, so if you are concerned about importing into PC etc. and keeping in mind that it is more convenient to set "compatibility priority" maybe.



◆ 3: Update the application
Even if the OS becomes new, even if the application is old, the operation will be delayed. Applications that are already compatible with iOS 11 are also on the market, but if the update notification has arrived in the App Store application and the number of badges displayed in the upper right has increased dramatically, it is better for those who have updated is.



◆ 4: Stop auto update
Recent iOS has a function to periodically check and update application updates in the background. This makes it unnecessary to check the application update every time, but running this function will consume processor and battery resources.

In order to prevent this, it is better to stop automatic updating of the application. Check "Update" in the item "Auto download" in "Settings" → "iTunes Store and App Store", and turn it off if the toggle switch is on. There are items such as "Music", "App", "Book and Audio Book" in this item, so even if it is not necessary you can turn it off.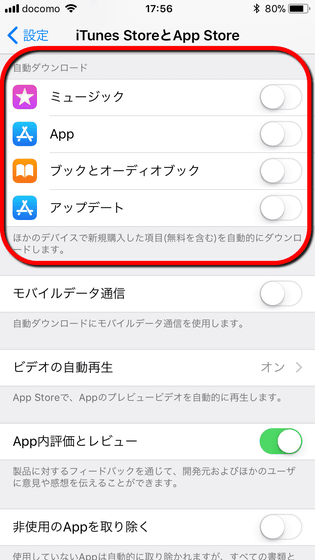 ◆ 5: Turn off "App background update"
In addition to the update of the above applications, the application itself may update the contents regularly. By doing this, the information that the application has is always up to date, but of course, the machine power is consumed. In order to turn off this action, go to "Settings" → "General" → "App background update" and set the toggle switch of each application OK. By turning off "App background update", it is also possible to stop all background updates at once.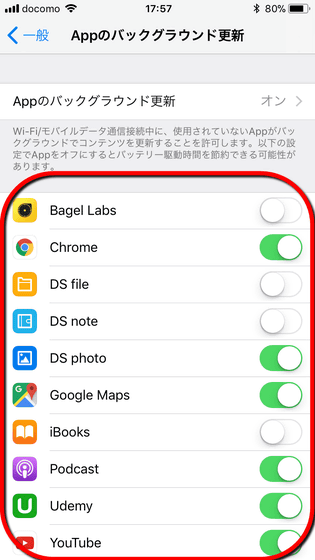 ◆ 6: Turn off parallax effect or transparent display on screen display
In iOS, the screen display is pseudo-stereoscopically displayed according to the tilt of the terminal, and the animation effect for smoothening the transition of the screen is incorporated, but these are not necessary for the original operation , So to speak, just a way of looking. Therefore, there should be few people who are troubled even if this function is turned off. Go to "Settings" → "General" → "Accessibility" → "Decrease the parallax effect" and it is OK if you turn on the toggle switch. It is OK to turn off "Automatic playback of message effects" under it, but this is limited to "Messages" application so it seems not to have much influence.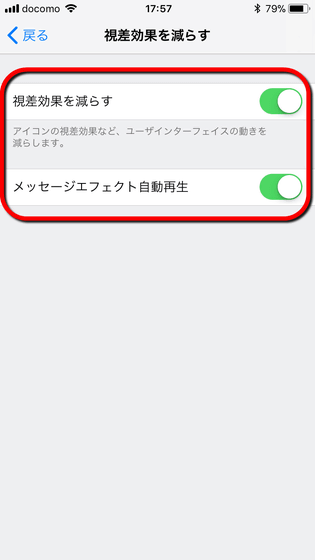 After setting the above, return to the "Accessibility" screen and check the "Increase Contrast" setting. By turning on "Reduce transparency" in it, you can cut out the transmissive display and "blur" effect that consumes machine power.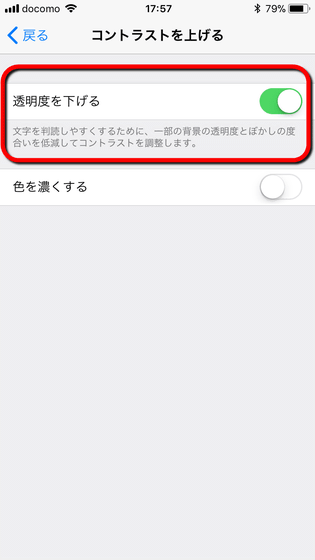 However, these settings are merely "looks" elements, and they do not have much influence on the processing itself. In particular, it is said that motion with motion by animation is introduced to alleviate "feeling of waiting" for motion, so turning off can sometimes cause "tame" of motion to surface It is caution.

◆ 7: Review the setting of "location information service"
A smartphone with GPS function may have acquired position information during operation or background. As the number of applications increases, the consumption of batteries and machine power will not make a fool of it, so it is one of the ways to review it again. Since "setting" -> "privacy" -> "position information service" can switch on / off acquisition of position information for each application, you can turn off what you think is unnecessary, It is OK to set it to "in use only".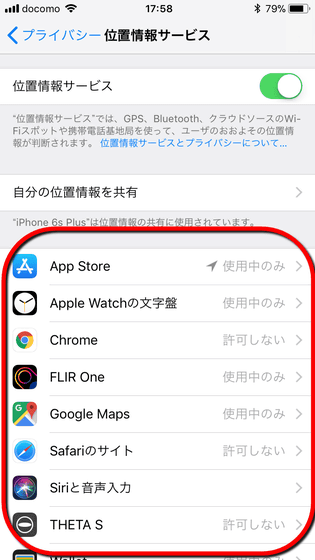 ◆ 8: If you still think "somehow heavy" ......
Even if I tried the above method, when thinking that it is heavy, one thing that restarts the terminal unexpectedly is also one. The smartphone often turns on the power supply unexpectedly, and refreshing the memory by restarting occasionally may improve the operation. On iOS 11, it is possible to terminate the system (power off) from the bottom of "Settings" → "General".