Apple unveiled why authentication failed while iPhone X's face ID was demonstrated, and the view that it is "as specified"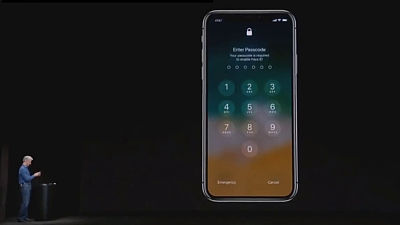 Apple held on 12 September 2017 local timeApple Special Event, The face authentication function of iPhone X "Face IDDemonstration of demonstration Occasionally happened that authentication was not successfully done, and switching to the usual passcode input screen occurred. Immediately after this incidentApple's stock price plummetsAlthough it was one incident that brought about the impact of Apple, Apple announced that it was "Actually, it worked as specified" on this subject.

Apple says Face ID did not actually fail during its iPhone X event | Ars Technica
https://arstechnica.com/gadgets/2017/09/apple-says-face-id-didnt-actually-fail-during-its-iphone-x-event/

Apple explains what exactly happened when Face ID 'failed' during iPhone X demo | 9to5Mac
https://9to5mac.com/2017/09/13/face-id-demo-fail-details/

In the Apple Special Event, there was a scene where Craig Federigi, senior vice president of software engineering demonstrated the operation of Face ID using the actual machine, but the process of failing the authentication on stage on that occasion . While showing a light embarrassment "Ohhhhu", the state of the scene is changing to a backup machine and handling the demonstration is contained in the following movie.

IPHONE X FACE ID FAIL - Apple September Event 2017 Fail - Iphone X Face ID Did not work - YouTube


Mr. Federigi who demonstrates the iPhone X on the platform.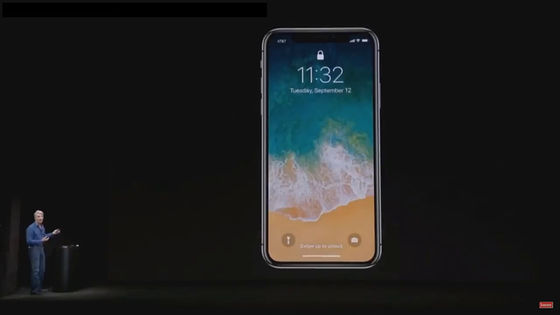 First I tried to unlock with face ID by turning my face to the screen, but somehow I have failed mood. Then, when you lock the screen again and try again ......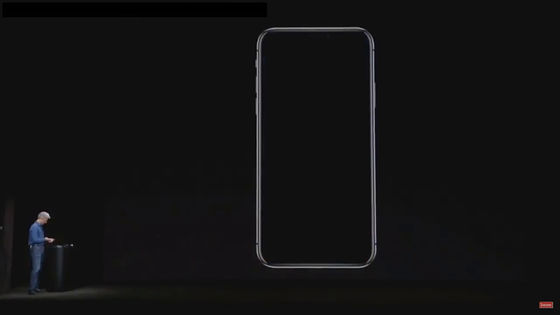 Again lock was not released, it switched to 6 digit passcode input screen.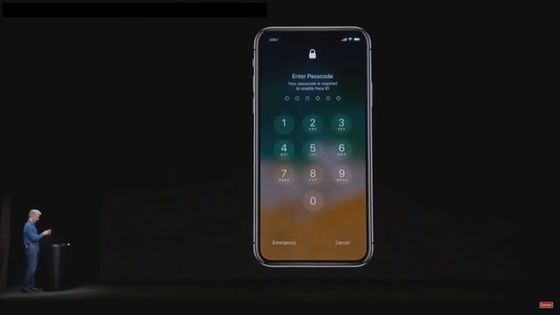 Mr. Federigi was quickly changing to the backup machine that was prepared in the table and succeeded in showing the face ID working safely.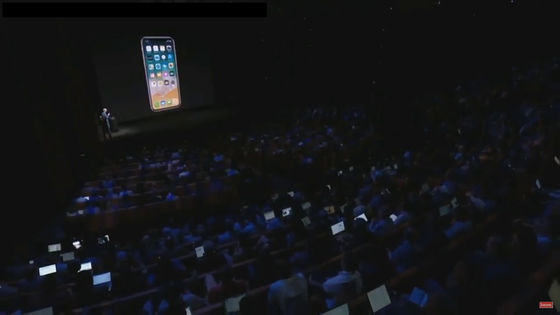 Although it was an unexpected blunder at Apple's event that should be prepared carefully, Apple said that "This is what happens when Face ID fails twice in authentication, and it is as specified" I'm announcing my opinion. Presented to Yahoo! in the USAstatementApple's agent said, "" When the staff on the stage handled iPhone X just before the demo, I did not notice that Face ID tried to recognize their faces. After doing the operation, the terminal asked for the input of the passcode, I did the operation as specified. "

In other words, a terminal with Federigi's face registered in advance was prepared, but when the staff who picked up the terminal while preparing with the sleeve of the stage looked into the screen, the face ID recognized Perform action. However, when Federigi did not succeed in recognition because he was not Mr. Federigi, when Federigi demonstrated on the stage when the prescribed number of failures had been reached, unfortunately it transited to the passcode input screen unfortunately, That's Apple's view. In fact, according to the operation specification of iPhone X, it is stipulated that transition to the passcode input screen occurs when Face ID authentication fails twice.

As most people seem to have said "It was a mistake" or, on the contrary, "It worked as per the specification" it seems that individuals will be able to separate opinion, but Apple has a bit of absurdity at an important presentation It seems to be certain that only fact that it is undeniable fact that I showed it.

◆ bonus
As face ID that reads and authenticates a person's face, it seems that people are worried about privacy as "People's face information may be stolen". In China's online shopping site "Taobao" (Tao Bao), facial information protection masks like eye-catching caps are on sale.

Chinese vendors sell masks as 'iPhone X security tool' against Face ID - The Verge
https://www.theverge.com/tldr/2017/9/14/16307226/iphone-x-taobao-faceid-help-me-cover-my-face-masks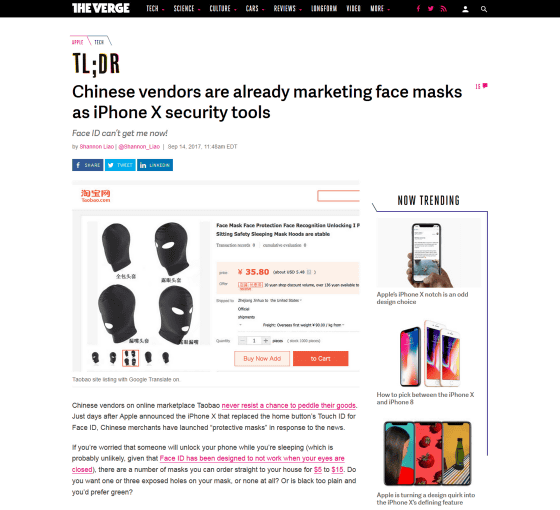 Also, Mr. Federigi replied "In most cases it is OK, but it is not perfect" against the question "Can you recognize Face ID even if you are sunglasses?" Face ID radiates a small point of infrared "dot" on the face to read the shape of the surface in three dimensions, but in the case of sunglasses that do not transmit infrared light, this behavior may be adversely affected. Also, it is necessary to point the line of sight to the terminal when Face ID works, and if you do not want to use Face ID, reveal that it can be turned off by simultaneously pressing the buttons on the left and right of the terminal I will.

Wondering if iPhone X's Face ID will work with sunglasses? You might not like the answer.
http://mashable.com/2017/09/14/apple-iphonex-faceid-security-sunglasses/