Kirin's craft beer brewery & went to "Spring Valley Brewery Kyoto" where you can drink beer flavored with hops and fruits in front of you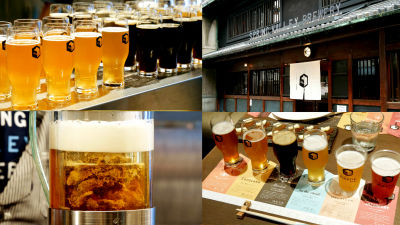 Kirin will offer craft beer in Daikanyama in April 2015, "I want to make Japanese beer more exciting,"Spring Valley Brewery"Was opened. And on September 7, 2017 (Thursday) as the base of the West "Spring Valley Brewery KyotoIs open. Beer using Japanese ingredients such as peppers and yuzu, beer flavored with fruits and herbs in front of you, dishes arranged with seasonal Japanese ingredients etc, and you can enjoy it for the press event before opening As I was able to go, I have tasted a lot of beers & cuisines where tradition and innovation blend together.

SVB KYOTO | Spring Valley Brewery
http://www.springvalleybrewery.jp/kyoto/

"Spring Valley Brewery Kyoto" opened September 7 (Thurs) | 2017 | News Releases | Giraffe
http://www.kirin.co.jp/company/news/2017/0719_01.html

Craft beer ~ A new future for beer ~ | SPECIAL | KIRIN RECRUIT 2018 | Recruitment information | Giraffe
http://www.kirin.co.jp/company/recruit/freshers/project/beer/

The address of Spring Valley Brewery Kyoto is "587-2 Takamiya Town rising Chukyo-ku Road, Nakagyo-ku Kyoto-shi, Kyoto Prefecture"


It is a distance of about 7 minutes on foot from Hankyu Kawaramachi Station, right next to Nishiki Market ......



There is Spring Valley Brewery Kyoto which refurbished the town store of about 100 years of construction.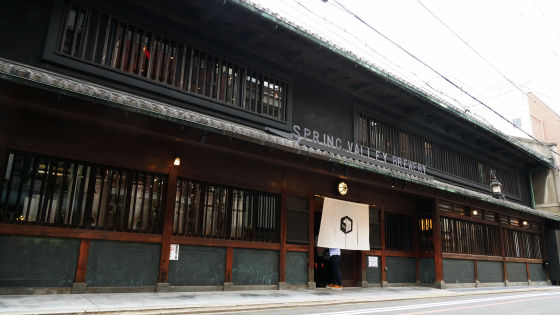 The entrance is covered with goodwill, a modern atmosphere in Japanese.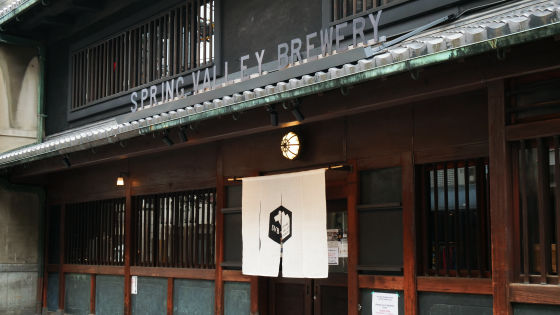 Try inside ... ...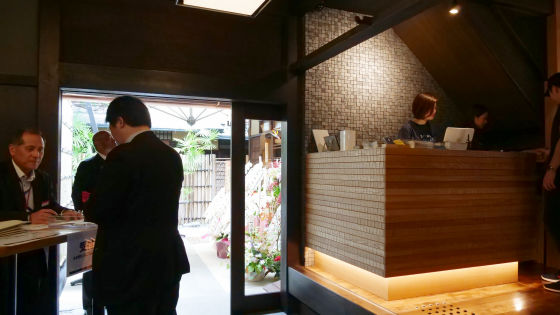 Brewery facility separated by glass on the left side. Originally, the ripening tank of beer is made of metal, but in the spring valley brewery the glass is adopted as the material of the tank and the kettle so that the appearance of the beer can be seen often.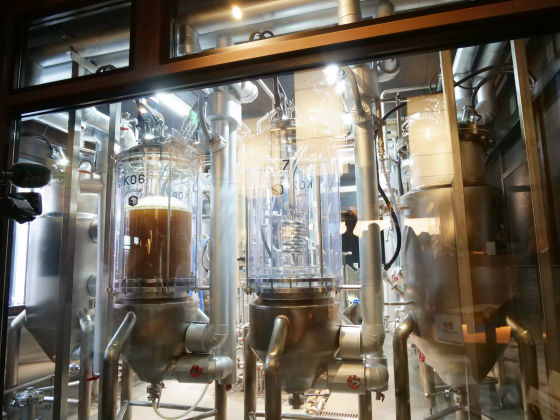 Enter the entrance and counter and table etc on the right side.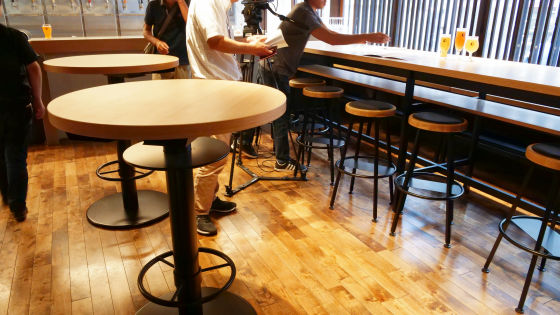 Machiya is two stories high, going up the stairs ... ...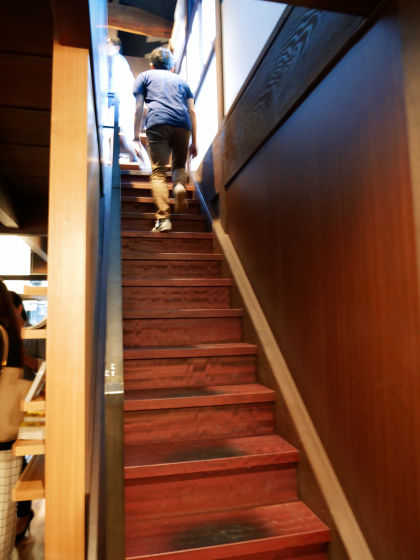 The table seats were lined up like this with such feeling. There is a counter in the back where you can have beer.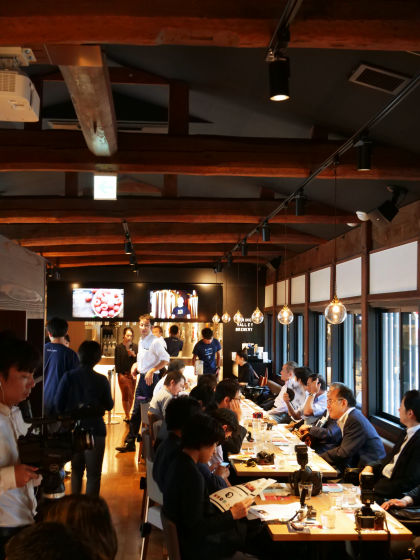 As seats were prepared, I seated.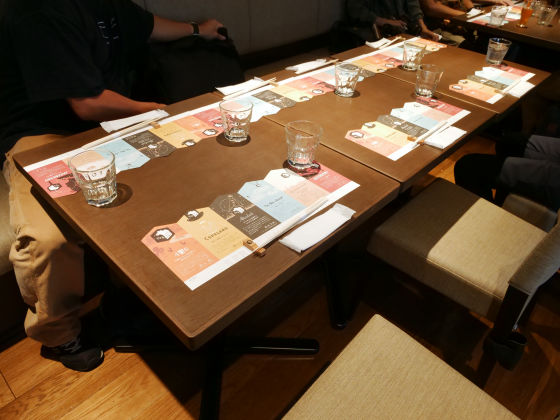 In the press event, there are 6 kinds of craft beer and a pairing set (2300 yen) that you can enjoy snacks tailored to each beer, and a paper mat with explanation of each of 6 types of beer is placed in the seat It was.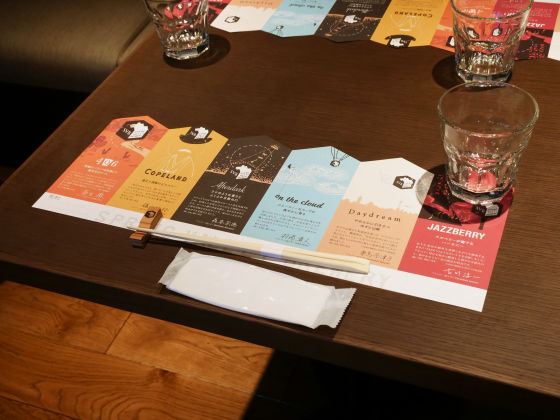 Beer was a way to get it from the back counter.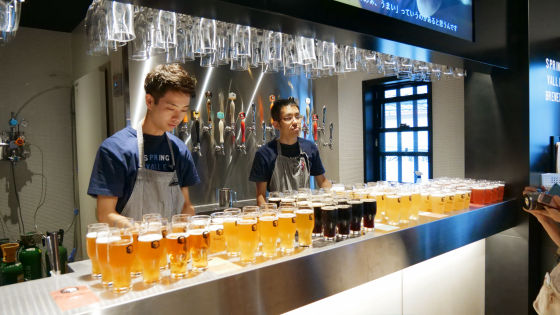 Lined beer glasses. It's so beautiful just by being in line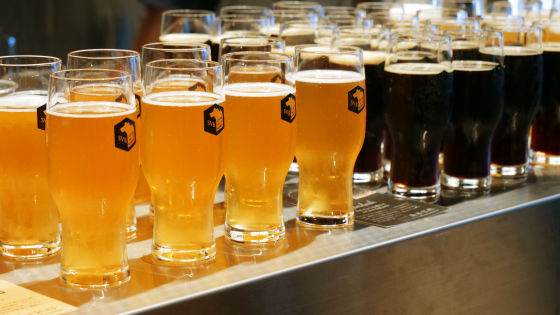 So I tried arranging six types of beer. From the left "496" "COPELAND" "Afterdark" "on the cloud" "Daydream" "JAZZ BERRY". In addition, it is usually provided in a slightly smaller glass.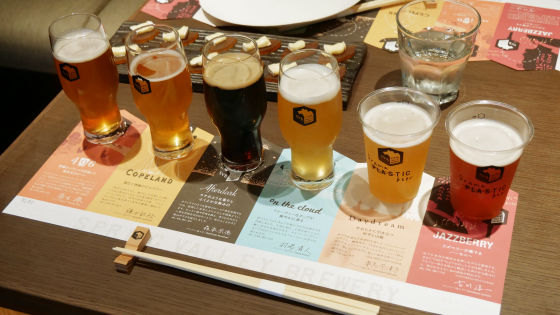 As soon as I drank it from "496" .... As I brought my face close, a strange sweet smell like fruit drifted swiftly, I am surprised that "It is not the scent of beer that I have drunk ... ...!" . The editorial staff who went to the interview told the beer when it was toasting the drinking party was about asking for life, so I have never drunk a craft beer so much, but next to meJapan Bia Journalist AssociationAs I had heard, I heard that the unique sweet scent like this fruit identity is hop. 496 is a flagship beer of Spring Valley Blue Wallet, a beer that exquisitely balances the "richness like ale and broken like a lager, dense hop like IPA". Because it was an image of beer = bitter, I was completely surprised that all of mellowness, sweetness, bitter, sourness are felt in taste, scent and smell.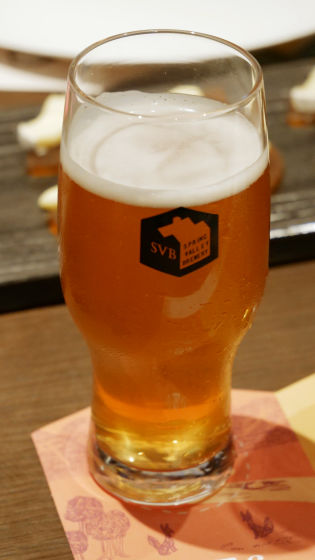 It is "meat miso macaroon" that is paired with 496. Originally it was offered one by one in a small dish, but this time it was offered in a large dish.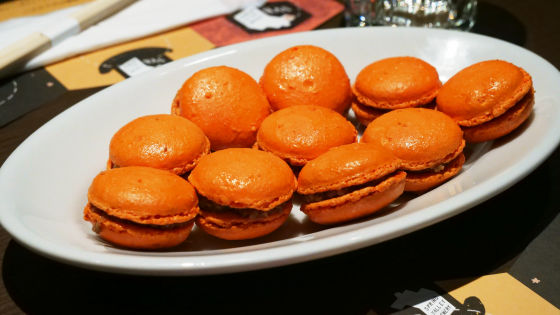 The fabric of macaroon is sweet like sweets, it becomes sweet and sour taste by matching with meat miso inside.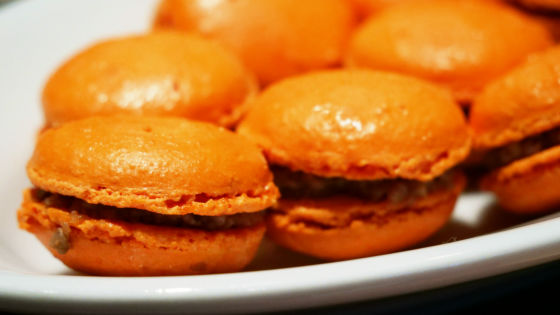 COPELAND is a beer made in the theme of "a place to return" that you want to drink again after enjoying other beers. The sweet smell that I felt when I drank 496 was moderate, I felt that the balance of crisp bitter and acidity is the closest to "beer" image I drunk this time. When you compare and drink a variety of beers, you certainly understand the meaning of "a place to return."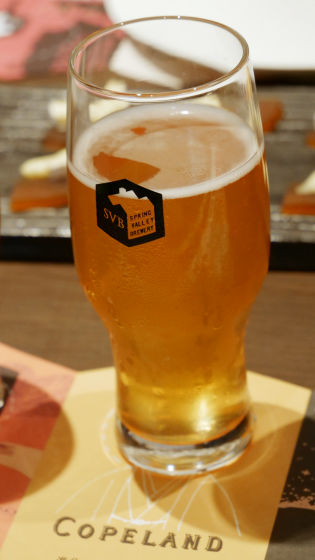 COPELAND is paired with soup olives. Olive fruit was an image pickled with oil, vinegar, etc., but compatibility with soup of gentle flavor is outstanding. Because COPELAND is a standard beer taste, the taste of familiar soup stock fits very well as a snack.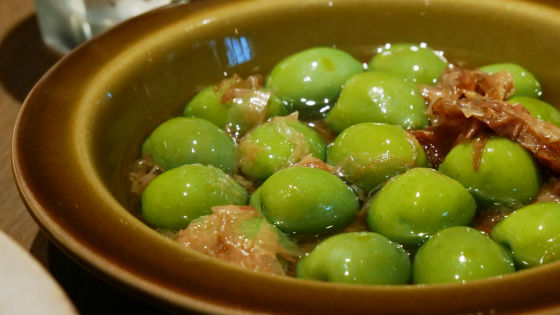 Afterdark feels sweet flavor like caramel at the moment of drinking, there is also mellowness, but bitterness of aftertaste is intense.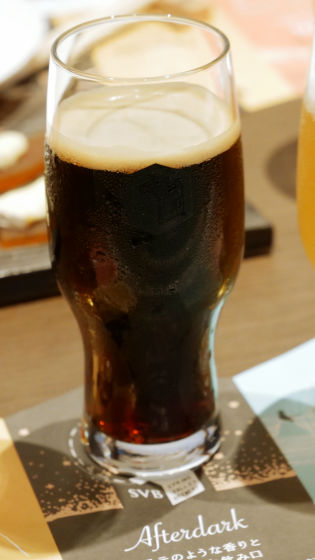 Pecannut chocolat is paired. The bitterness and roast feeling of Afterdark's aftertaste certainly leads to coffee and the fragrance spreading in the mouth is sweet so it is convinced that sweet side snacks are paired, so I will excuse you. In addition, in Spring Valley Brewery Kyoto, a menu of sweets such as chocolate cake and French toast will be offered, but it seems to fit with Afterdark.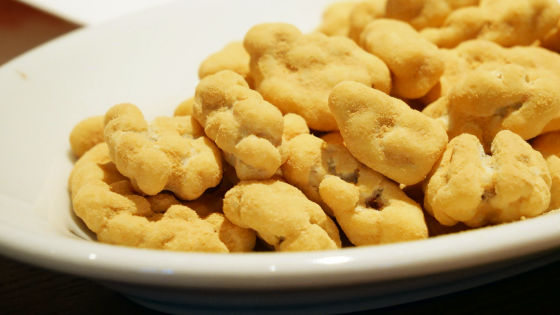 Like the 496 on the cloud beer that the sweet smell of hop is firmly felt. But if 496 had balanced sweetness, bitterness and sourness, on the cloud the impression of "bitter" was a bit weak element of bitterness. Sour taste and sweetness are very refreshing drinks, and people who do not like beer's bitterness are likely to be good.



Pairing is "Caprose of Momotoshi". Dusty sweet and sweet and sour tomatoes are finished with olive oil and salt, making making use of the taste of the material. It was a delicate dish that does not kill the flavor of beer, even with light tasting on the cloud.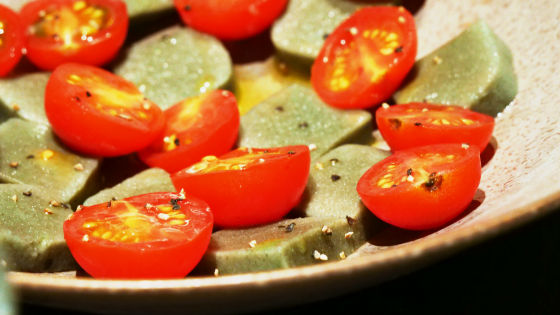 When I thought that Daydream was fluffy when it was drunk like "a scent like sansho ...", it was actually a white beer using Japanese ingredients such as peppers and yuzu. It is said that the brewer challenged to use new materials without getting caught in the mold because of the dream that "I want to make a white beer that I think is really delicious".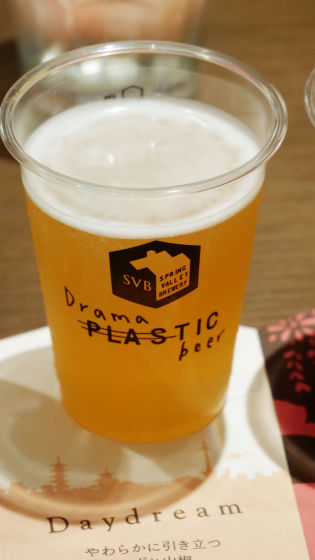 "Homemade pepper bamboo shoot" is paired with Daydream. This is also a Japanese style taste, which is boiled with bamboo shoots and soup bamboo shoots. It combines the fragrance of Daydream 's gentle peppers with the crispness of the sauce of the pepper flavor.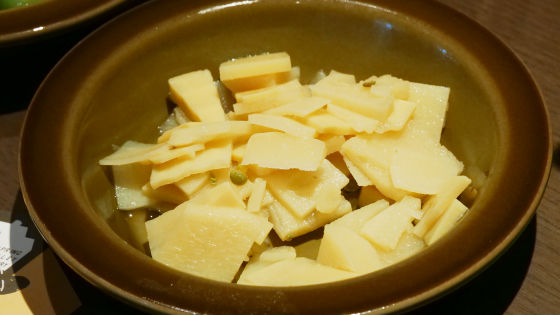 The sixth beer is JAZZ BERRY. Being a beer that you can feel the sweet and sourness of the berry type by adding raspberry juice ... ...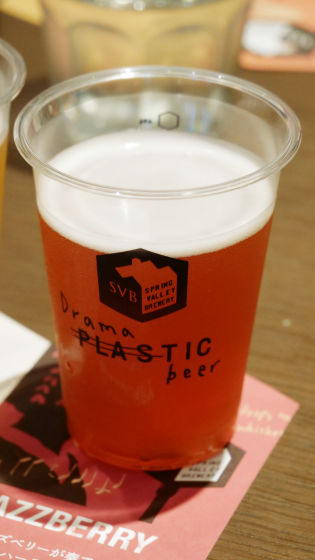 When pairing with "Uri Naramachi (Sai ​​Ryusei) (Buri cheese)" after eating it, the presence of strange and acidity became conservative, and sweetness and berry scent were felt firmly. Together with wine, you can enjoy the flavor of beer changing with combination with snacks.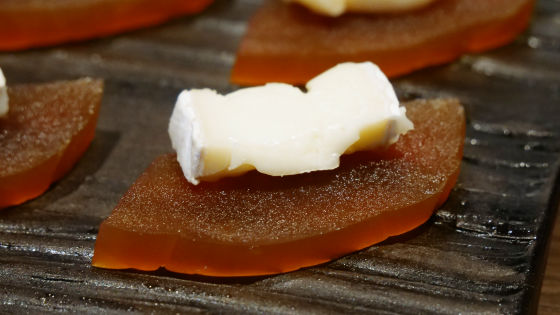 Besides this, as a food menu, tomatoes and yuba which are concentrated in sweetness and sourness are creamy and mellow like cheese "Caprese of home-made semi-dry tomatoes (880 yen)" ... ...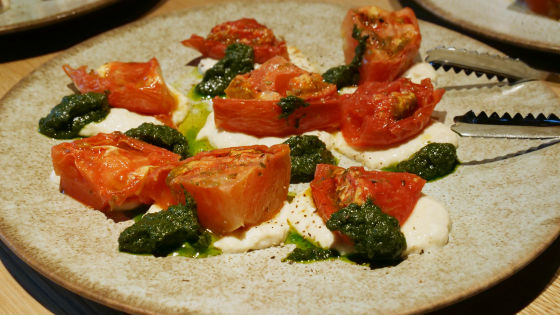 Recommended when you want to eat snacky meat "Kyotanba plateau pig spare rib pickled sweet potato (2300 yen)"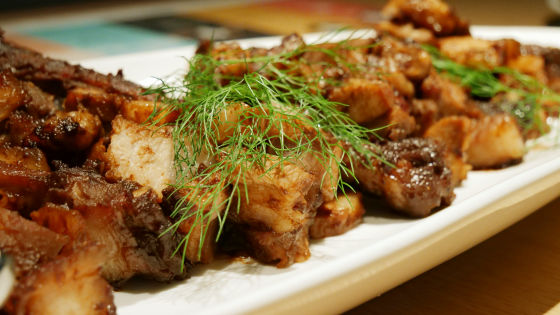 Pizza dough is fragrant like "Masuko · New ginger · Lively blue pasta pizza (1100 yen)" etc.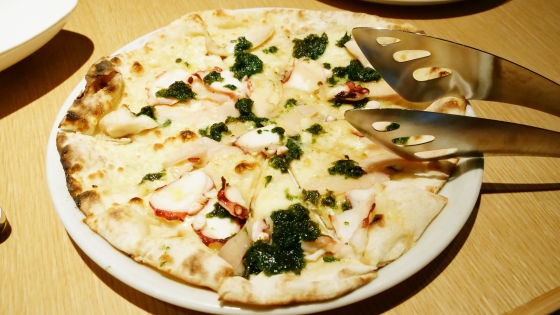 In addition, on the ground floor there was a "beer in fuser" which can further customize the original beer. It is a machine that flavors beers with natural ingredients such as hops, fruits and vegetables.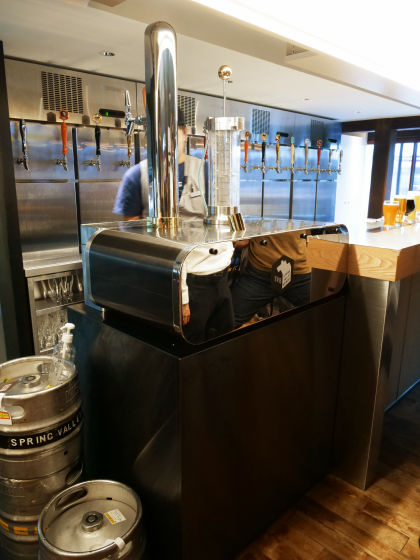 Raw hops are frozen on carbonated water, and are in a state that makes it easy to extract fragrance etc. This time it scents 2 beers, but it seems to be able to make 50 to 60 beer if you can usually make it.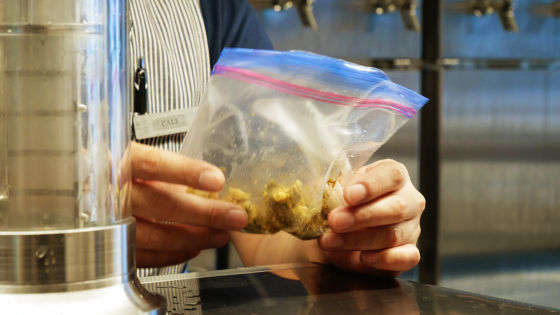 Put the hop in the cylinder ...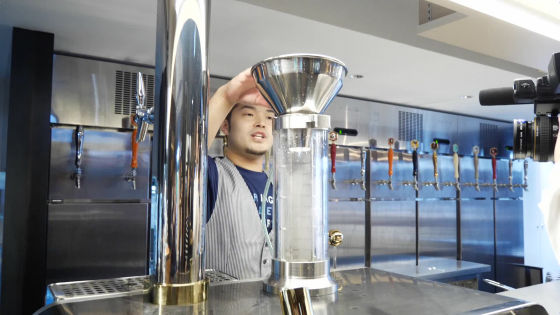 After a while, beer will flow from under the barrel. Since the inside of the cylinder is in a vacuum state and is filled with carbon dioxide gas, the mechanism that carbonation can not escape even if scenting processing is done. Also, rather than flowing beer from the top, we try not to let the beer distract you by pouring in from the bottom.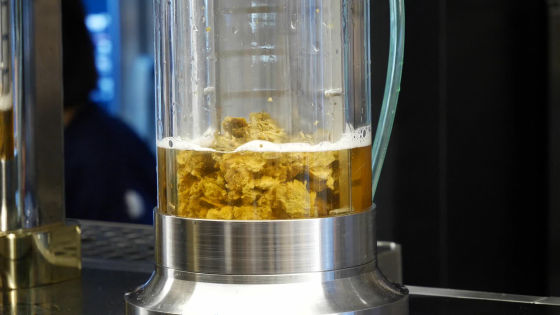 You can check how you use the infuser from the following movie.

Customize beer at "Spring Valley Brewery Kyoto" - YouTube


With a feeling like a French press of coffee, sink the hop under the tube and repeat the act ......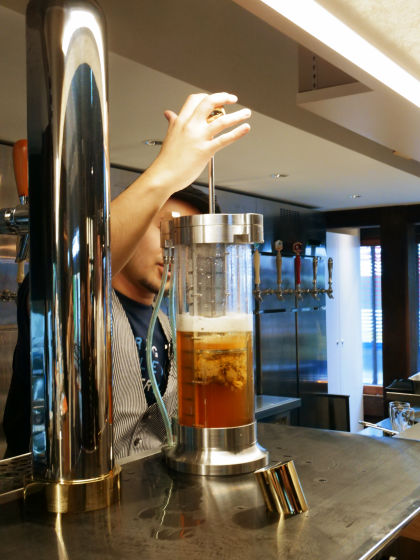 The part which is a little muddy is the part where the extract of hop comes out.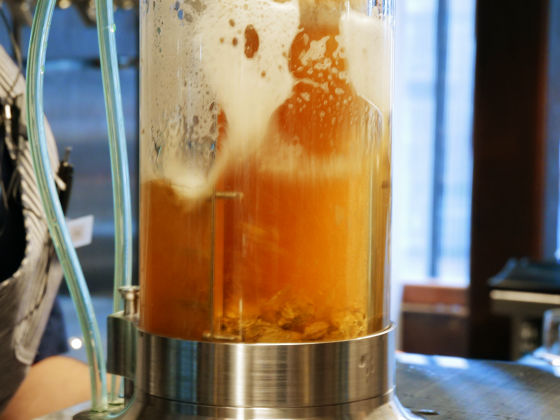 Complete by pouring into a glass with plentiful bubbles.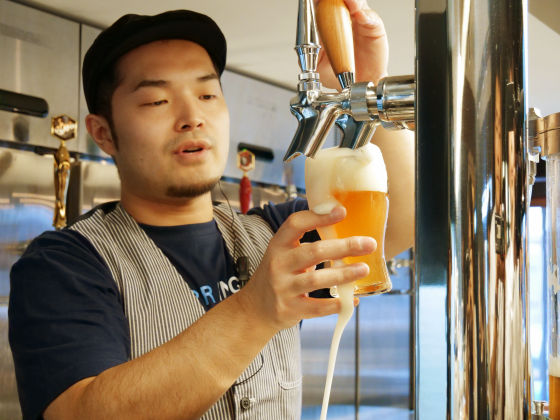 A finished beer got a little nose near, but a strong aroma of hop was felt. Since this in-fuser is a custom-made one that only 4 units exist nationwide, it is finished in a beer that can be drunk only with spring valley brewery.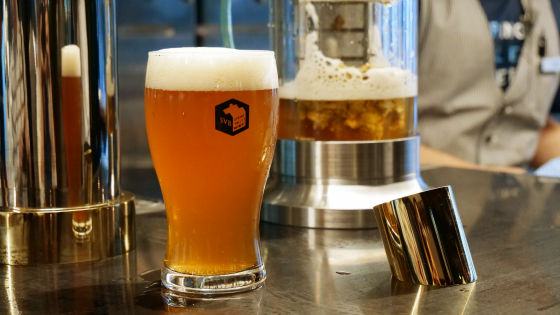 Spring Valley Brewery Kyoto is surprised that people who love beer, as well as those who are not very good at beer, are "beer was such a flavorful drink ...". In addition, Spring Valley Brewery Kyoto is planning to put effort into making "culture" as well as beer, and in the future such as using yeast taken at the temple of Kyoto etc, beer It is said that the contents are being reviewed and contents such as workshops are being studied.