I tried the Mac troops · Tokyo roast beef burger and McDonal Army · Osaka beef shirt burger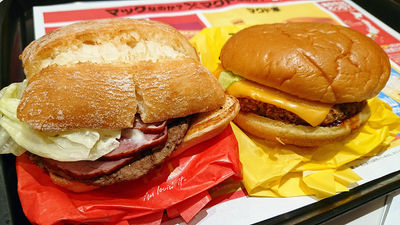 "McDonald" is nationwide "MacAlthough it is abbreviated as "Kansai area"McDonald'sIt is called. From this August 9th (Wednesday), menu conflict with "Mc Army" and "McDonal Army" by McDonald's official started from this nickname. Already "Big MacThere is a name such as "morning Mac" and it seems to be advantageous for "Mac", but I went to eat because it was a great showdown menu.

Is it a Mac? Is it McDonald? Delicious confrontation! Moist rich Tokyo roast beef burger vs. Sakuto and soft Osaka Beef cut burger | Campaign | McDonald's McDonald's
http://www.mcdonalds.co.jp/campaign/MACvsMAKUDO/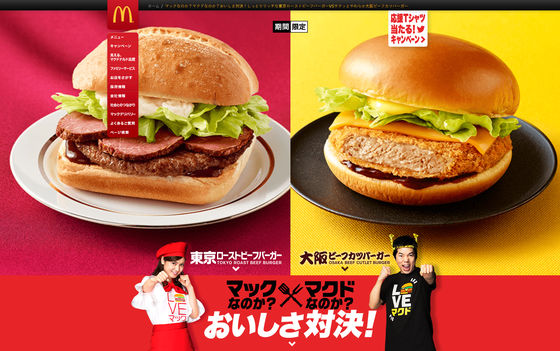 Is it a Mac? Is it McDonald? Delicious confrontation! Finally the full picture of the confrontation product revealed! Support menus such as military morning Mac both appeared simultaneously! Delivering "Bigger Selling Coupon" of Burger on Delivery when Mc Army "Tokyo Roast Beef Burger" "McDonal Army" Osaka Beef-Kuts Burger "Won" Delivering Limited Time from Wednesday, August 9
http://www.mcd-holdings.co.jp/news/2017/promotion/promo0807a.html

Even in front of the shop "appealing to McDonough?"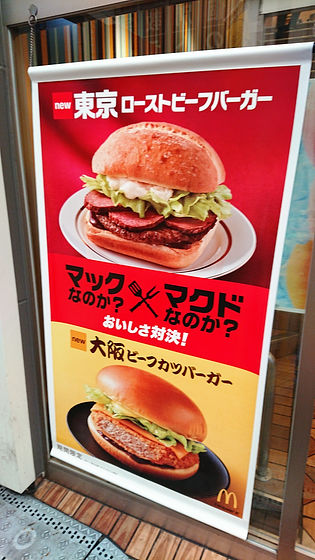 I bought 2 kinds of burger, 2 kinds of nugget sauce, 2 types of float.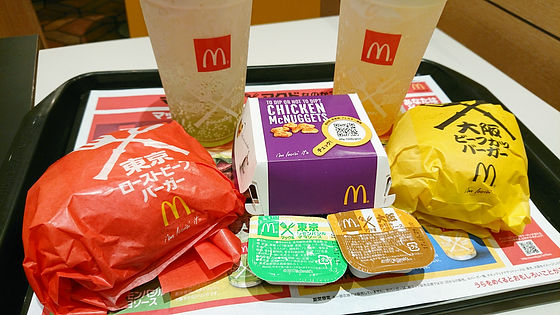 First of all, the main "Tokyo roast beef burger" (440 yen including tax) and "Osaka beef burger" (390 yen including tax) confrontation. There is a price difference of 50 yen.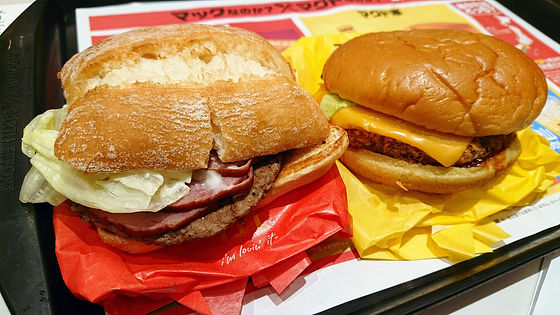 "Tokyo roast beef burger" uses baguette style buns.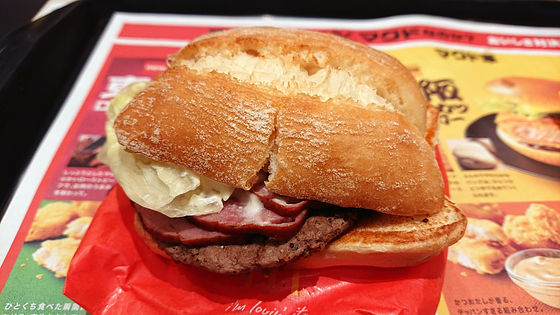 There are three roast beefs on top of Patti.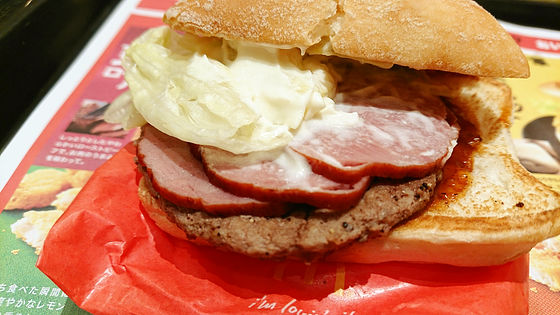 The sauce is sweet and the patty is normal specification, the impression that "Teriyaki burger is roast beef topping". Roast beef is also something to say "Ham!" Can not deny, where I wanted a bit more special feeling ... ....



"Osaka beef shirt burger" sandwiches beef cutlets, it looks pretty orthodox burger.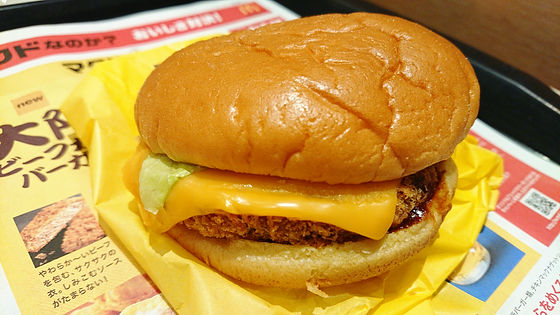 Mustard sauce and lettuce on top of the cheese.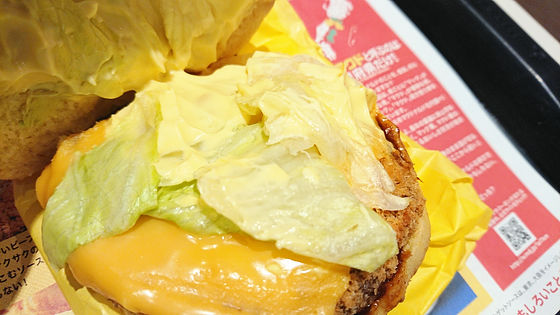 The source will soak into the clothing of crispy texture. Since mustard sauce mustard is about flavor, people who do not like hardships should be fine.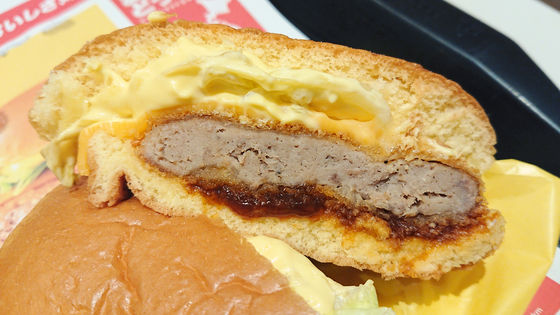 The chicken nugget has "Tokyo lemon basil Mayo sauce"When"Osaka preference Mayon sauce"Is added. Originally nugget can choose two sources at the time of purchase, so if you buy one you can compare the two tastes. Nugget is 5 pieces and 200 yen including tax.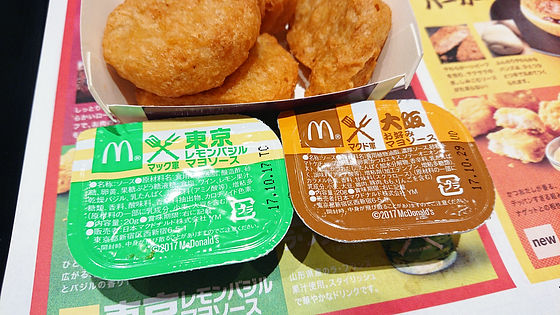 Tokyo lemon basil Mayo sauce is white, osaka preference Mayo sauce is brown.



"Tokyo Lemon Basil Mayo Sauce" is a refreshing flavor of lemon and basil. It is a sauce that you want to try using by all means hamburger.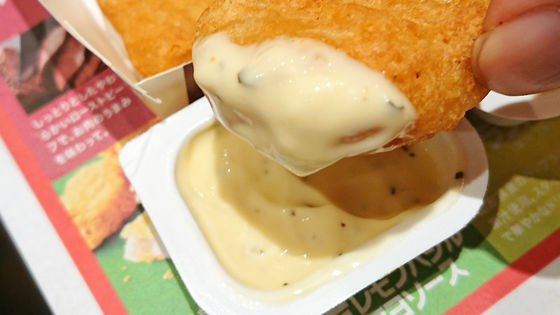 On the other hand, "Osaka favorite Mayo sauce" tastes like sauce when mixed with sauce, mayonnaise and powder bonito on okonomiyaki, and the nugget seems like okonomiyaki or takoyaki. Not implying that it is not fit, "the impression of the taste is intense."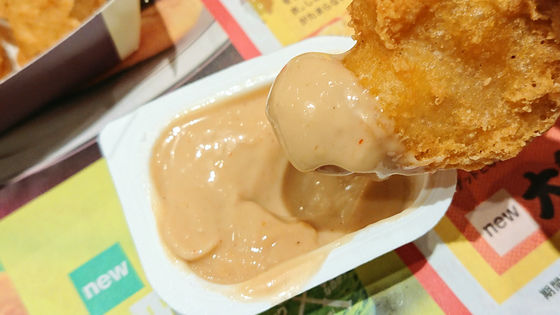 And the left is "McFloat Yamagata La France", right is "McFloat Wakayama Wenzhou oranges". Both are 310 yen including tax. In case of float unplugging, it becomes "Mac fizz", 250 yen including tax. It is a hot season, so it feels easy to just say cold carbonated drinks.