"Great 78 Project" to digitize and archive precious 78 revolutions SP records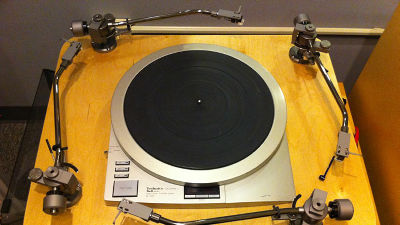 In the last few years the former LP record came to reconsider,Sony resumes its own production of recordsThe analog record which the extinction was concerned temporarily is showing signs of resurrection etc. However, there are few players to play the 78 revolution record, so-called "SP record" which was popular before the LP record was born, and there are situations in which a number of recordings are decayed as it is. In order to save the recording contents of such SP record, we are doing the archive activity of the InternetInternet ArchiveProject to digitize and archive SP record recording "Great 78 ProjectWe are moving forward.

The Great 78 Project - Community Preservation, Research, Discovery of 78 rpm Records
http://great78.archive.org/

This project, which began in early June 2017, is aimed at the protection, investigation and discovery of SP records. It is thought that the SP record produced from the late 1800's to the around 1950's extends to 3 million faces (one record is 2 faces), and many of them were ported to LP records and subsequent CDs Although it is a valuable sound source, things that exist only in the SP record are also left. It is the purpose of the "Great 78 Project" to uncover such sound sources, convert them to high-quality digital sound sources and archive them to leave them in posterity.

In the Internet Archive, companies specializing in sound source and image archivingGeorge Blood, L. P."We are working on this project jointly. In archiving, first of all, it takes the distortion of the record to stabilize the pitch and eliminates disturbing noises, reproduces one record using multiple kinds of record needles, and it is 96 kHz / 24 bit lossless It converts it into digital data as a sound source.

78 rpm Records Digitized by George Blood, L.P.: Free Audio: Download & amp; Streaming: Internet Archive
https://archive.org/details/georgeblood&tab=about

When clicking the tab labeled "Collection", the photo of the seal "label" stretched over the face of the record, the name of the song contained in it, and the name of the artist were displayed in a list. At the time of article creation, 25,589 data are stored.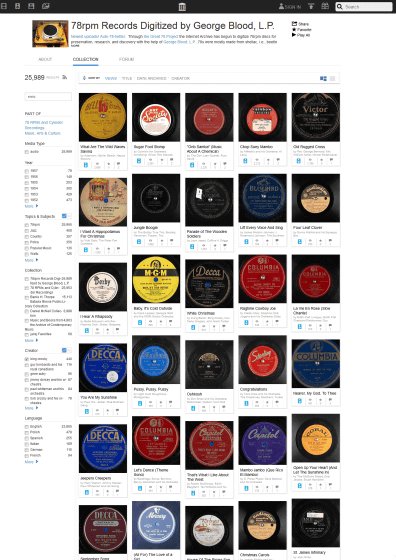 Try clicking the link written "Jungle Boogie" (jungle · boogie) ......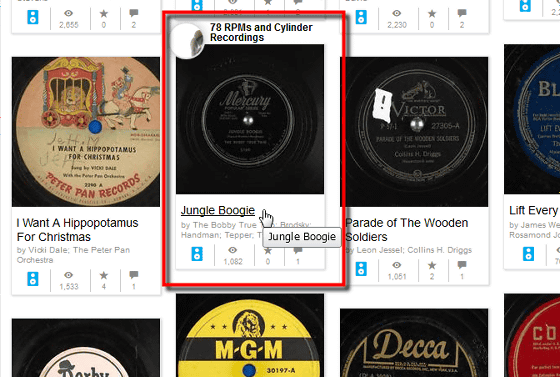 The page of the song "Jungle Boogie" that Bobby True Trio recorded was opened. In addition to playing songs on such individual song pages, it is also possible to compare and listen to the data saved for each record hand or phono equalizer. You can also download digital data.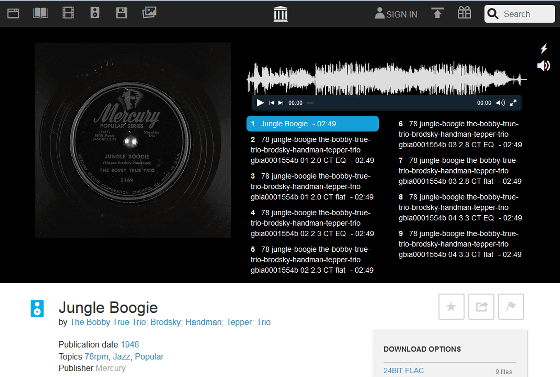 "Jungle Boogie" was a somewhat unique song like this. (The song page opens when you click)

Jungle Boogie: The Bobby True Trio: Free Download & amp; Streaming: Internet Archive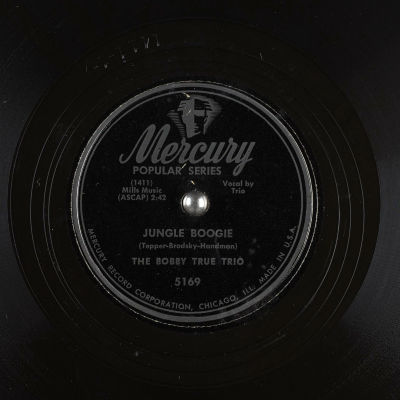 Also, the data which archived "White Christmas", one of the major stars of the big star, Bing Crosby in the early 1900's, from the SP board. Even now you can listen on CD and net distribution, but the original sound source to listen with the scratch noise unique to the record is not bad either.

White Christmas: Bing Crosby: Free Download & amp; Streaming: Internet Archive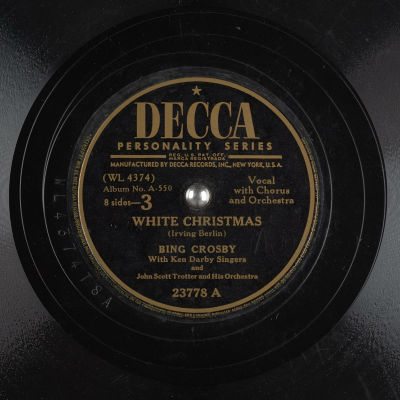 Roughly look at the blind blues guitarist,Blind breakThe work of ARCHIVED has also been done. The sound source being archived is not so good in the preservation state of the recording The sound is small with a lot of noise, but the work of the blind break has been remastered and reissue (re-released) even on the CD etc etc.

Tampa Bound: Blind Blake: Free Download & amp; Streaming: Internet Archive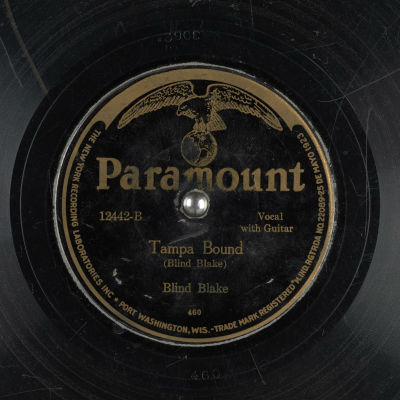 It is archived not only in the United States but also works by singers from around the world. For example, this is a sound source of 'La Vie En Rose' (rosy life) sung by French national Chanson singer Edith Piaf.

La Vie En Rose (Slow Chante): Edith Piaf: Free Download & amp; Streaming: Internet Archive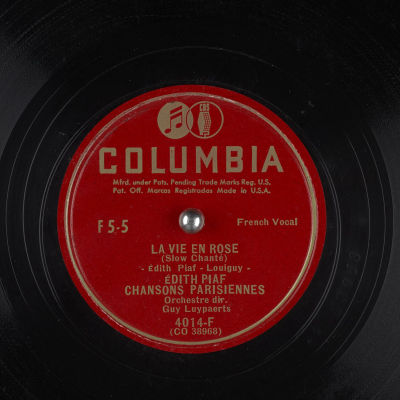 Furthermore, when narrowing down with the filter "Japanese", the sound source of "Tokyo boogie woogie" sung by Shigeko Kasami was also archived.

Tokyo Boogie Woogie: Columbia Tokyo Orchestra: Free Download & amp; Streaming: Internet Archive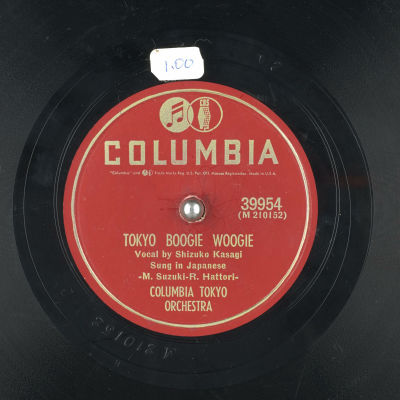 In this way, the Great 78 Project calls for approval of the project, which is valuable work, and it is calling for approval to the project, including expertise related to digitization, digitized sound source data, and SP record which is left as it is We are recruiting offerings.

The Great 78 Project - Community Preservation, Research, Discovery of 78 rpm Records
http://great78.archive.org/