Reproducing the dish of "The Legend of Zelda Breath of the Wild" in realism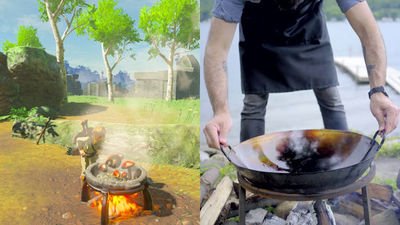 A popular YouTube channel that has posted many movies that reproduce dishes appearing in movies in the real worldBinging with BabishI am doing the reproduction of the dish appearing during the game which is my first attempt. It is the game of Nintendo Switch / Wii U for "The Legend of Zelda Breath of the Wild"This is the cuisine that players will have taken care of while adventuring the land of Hyrule.

In the legendary series of Zelda, it was necessary to break the points and cut the grass to find the heart in order to recover the damage from the enemy, but in the "Legend of Zelda Breath of the Wild" in the game You can get a dish that can recover your physical strength by combining and cooking the ingredients you get. There are up to five ingredients that can be used for cooking, but if you combine unsuitable things, it will be "delicious dishes", so there are many people who adventure and cook creativity of their own recipes.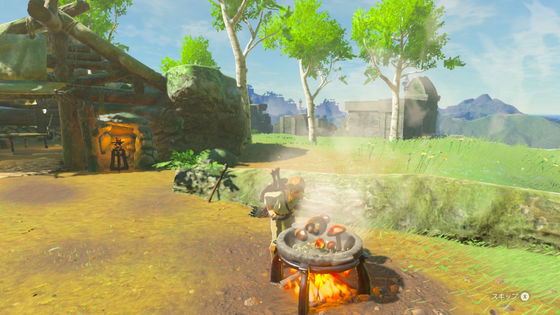 The following movie reproduces the dish of such "Zelda legend Breath of the Wild" in real.

Binging with Babish: Zelda - Breath of the Wild - YouTube


That's why I started cooking.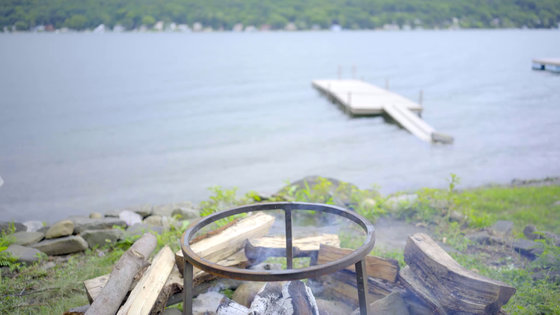 Like the game, the first cooking is done by placing a pot on a bonfire. Because it looks so simple, can you make the same dish as the link in the game?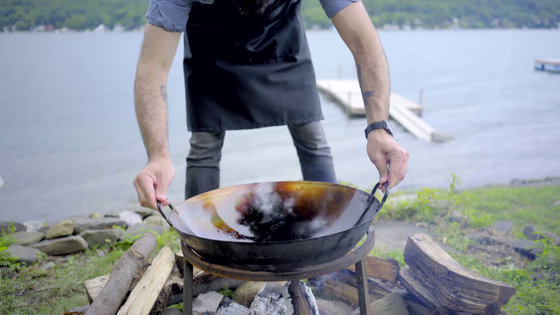 The first thing to make is "mushroom risotto"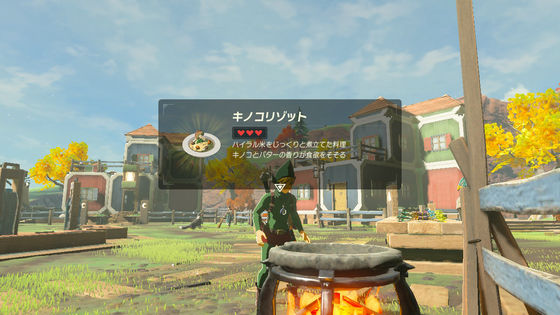 However, there are no mushrooms appearing during the game such as Hiraraqaka in the real world, so I will try to make "Mushroom Risotto" using mushrooms. What is melting in the pot ......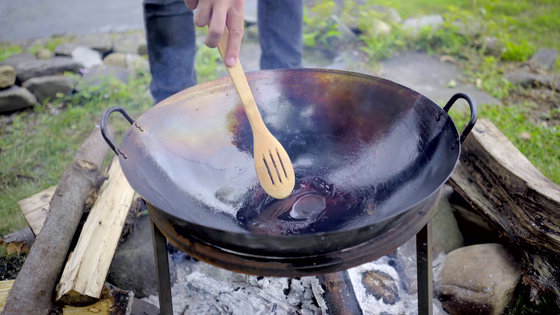 Goat's butter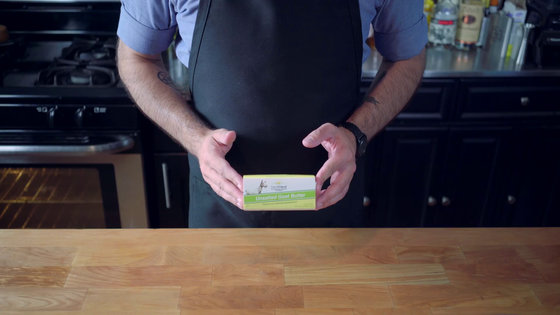 In the game, you can make mushroom risotto if you use mushroom material and "Hyral rice" "goat butter" "rock salt", but in fact it uses other materials as well. First of all, with chopped onions ......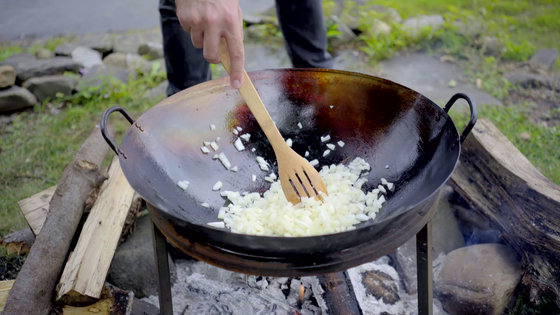 I introduced a finely cut mushroom.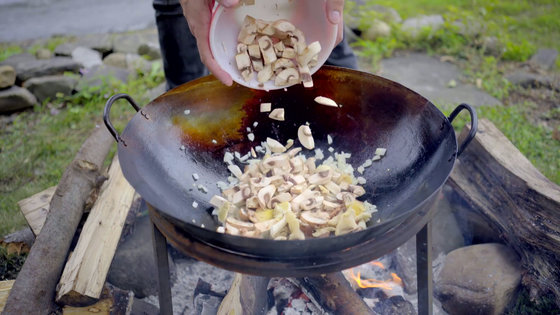 And stir - fry it.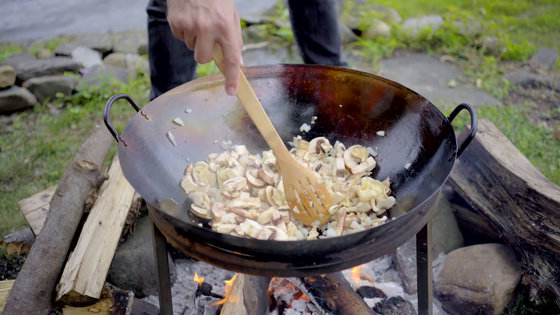 When the onion and the mushrooms come together ... ...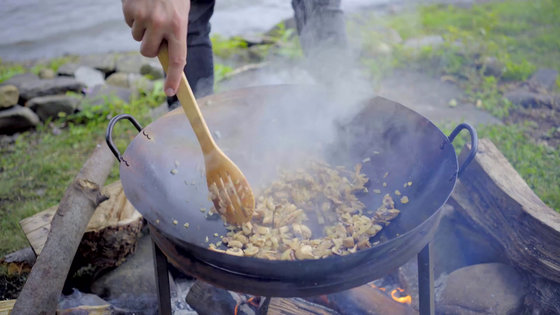 I put in grated garlic.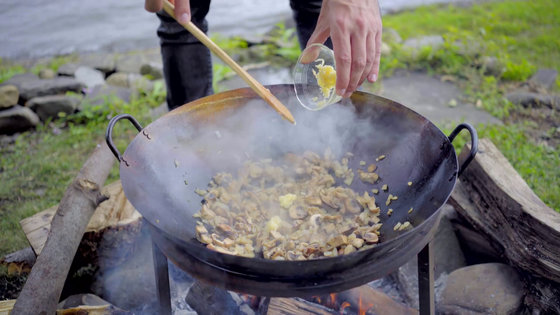 In addition, we introduced rice. Stir until rice is translucent ... ...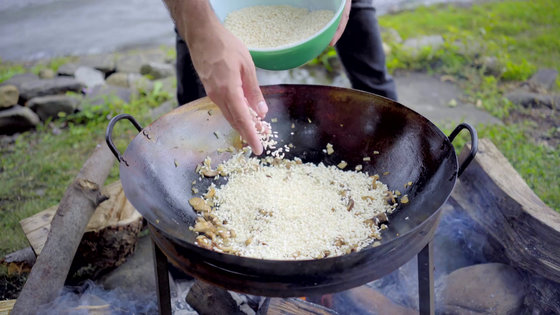 Put 1/2 cup of white wine. If you breathe alcohol on fire ... ...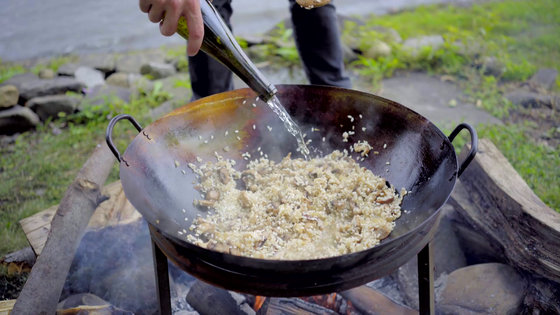 Chicken stock was put in 1/2 cup each.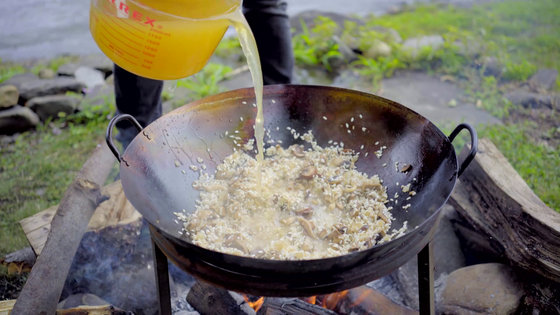 When moisture is getting low ...



I put the chicken stock again. It is a feeling that the chicken stock is added little by little, it is better to keep it heated at a different fire source.



Continue mixing just as rice does not get burned on the pot, if the rice smokes firmly and the fire passes ... ...



Pour large amounts of Parmesan cheese.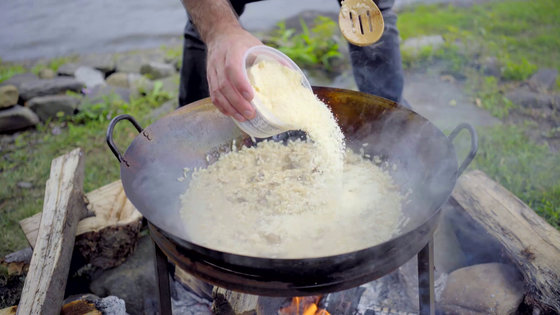 And then seasoned with salt and pepper ......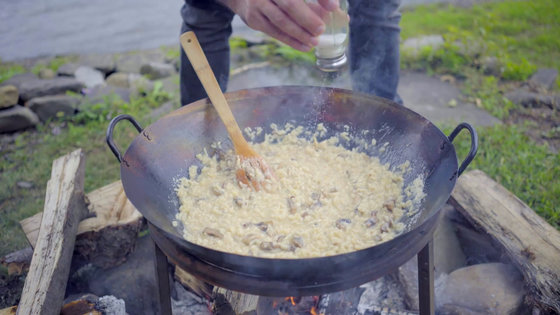 done.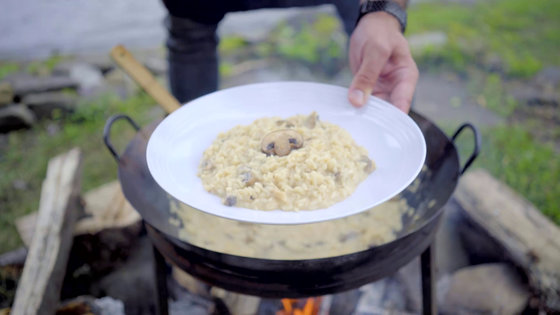 It seems to be messed up.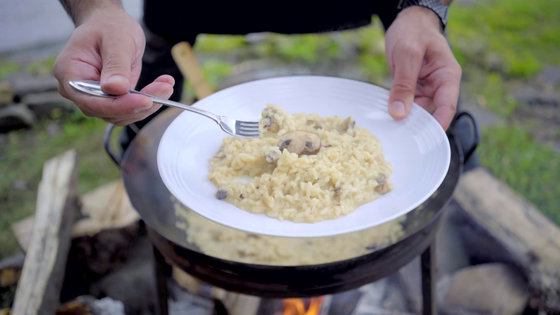 Next on making "apple butter"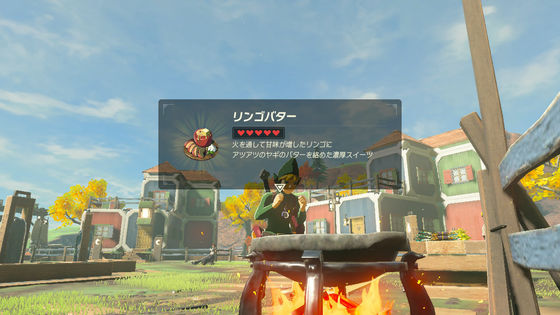 Put the rolled aluminum foil and water in a pot ... ....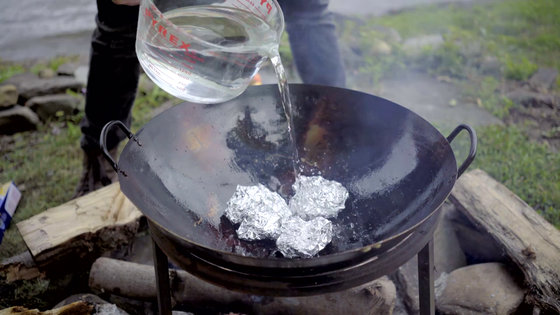 Put a foil on top of it, hollow out the core of the apple and arrange items filled with brown sugar and goat butter ......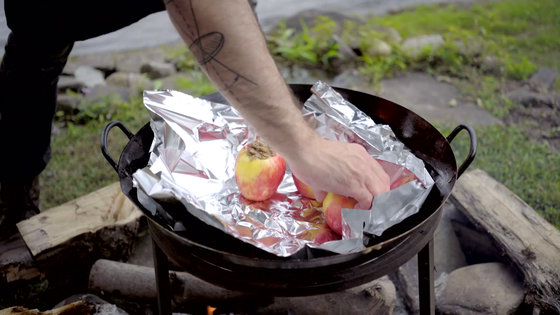 I also wrap the whole pan with foil.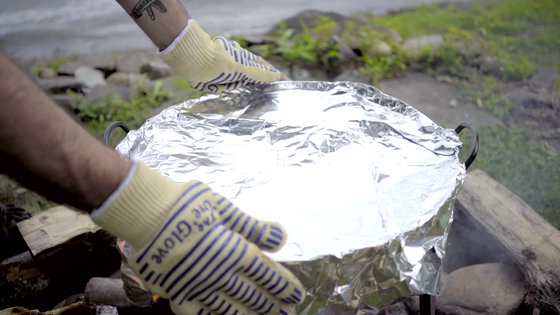 And if it keeps heating for 45 minutes or more as it is ... ...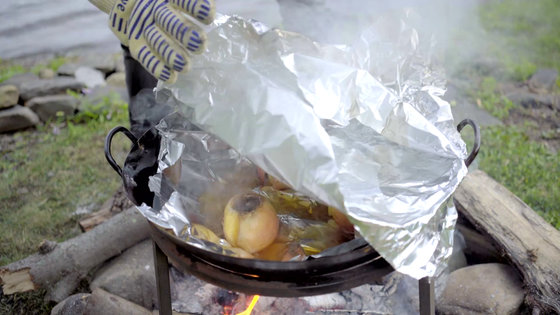 done. In the following edition, we reproduce the appearance in the game by topping the butter even after heating.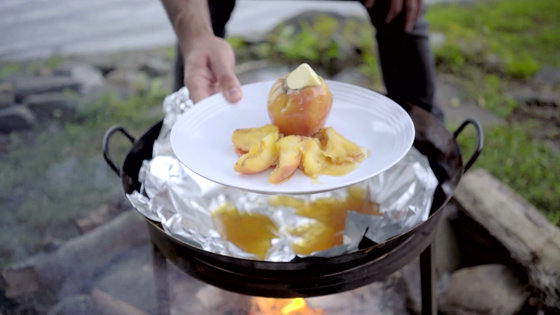 Next I will try to make original Mamonokake.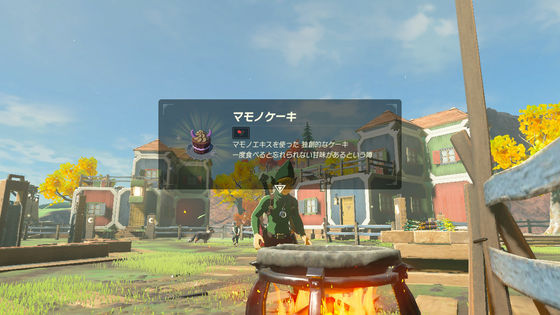 In cooking outdoors it is difficult to reproduce, we will cook in a solid kitchen. First melt 6 oz (about 170 grams) white chocolate ......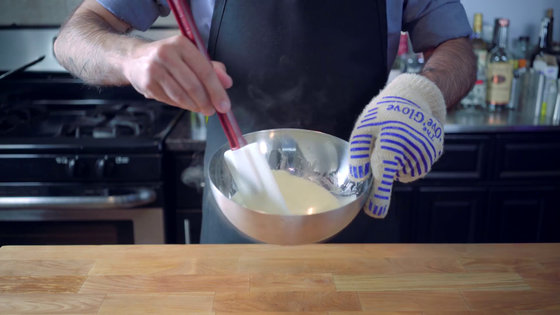 Put 1/4 cup corn syrup and mix.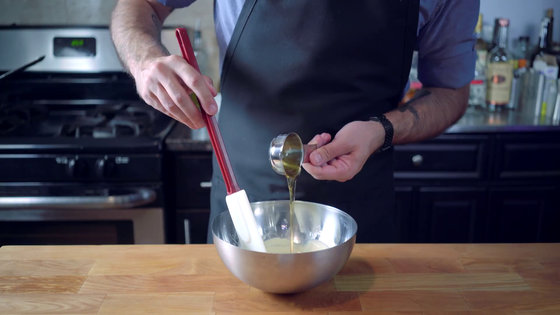 Stretch it on the lap ... ...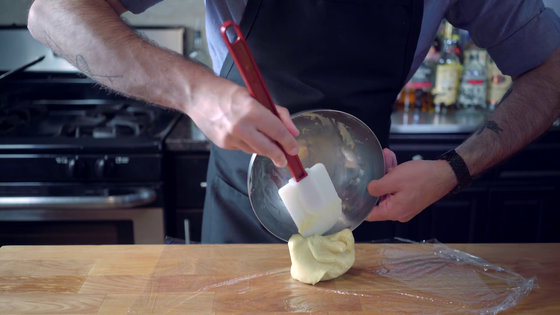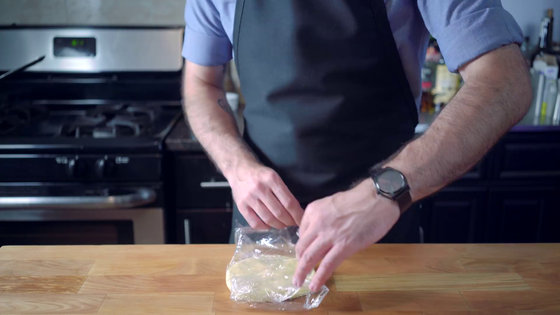 Leave it for about 24 hours and let it cool to room temperature.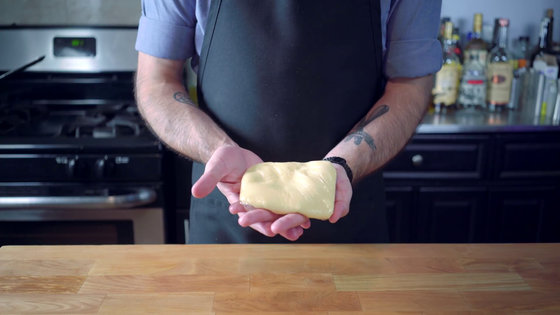 And hanging out a Mamonoko ... ...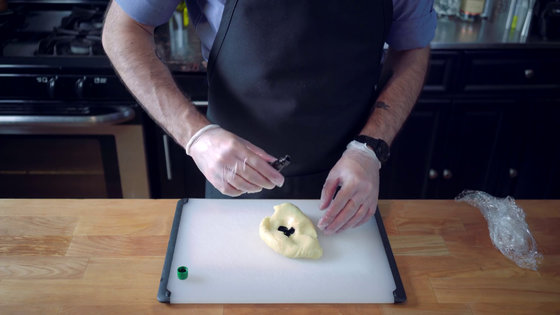 Transform chocolate into purple.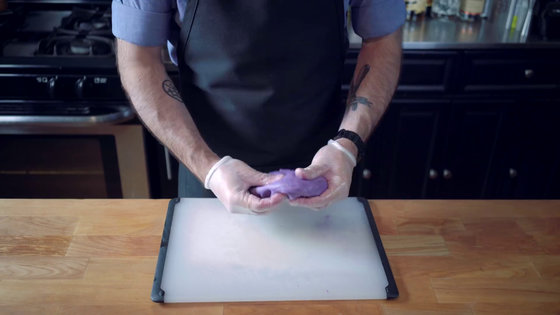 At the end you knead with your hands and shape it OK.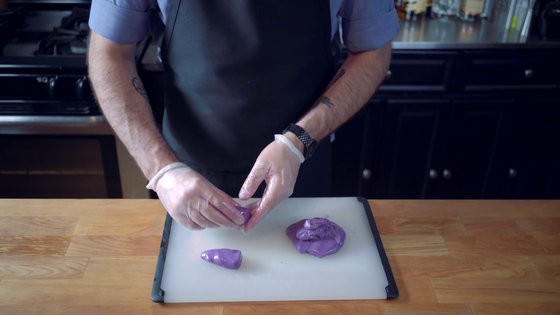 Next I will make a piece of cake.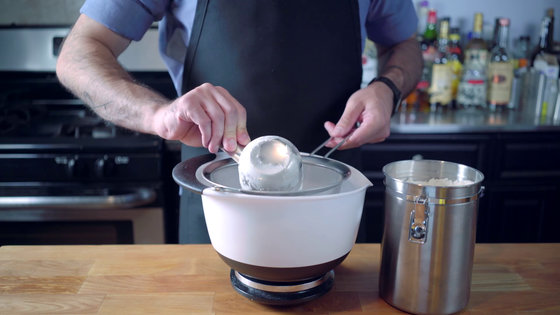 Sift two and a half cup of flour ... ...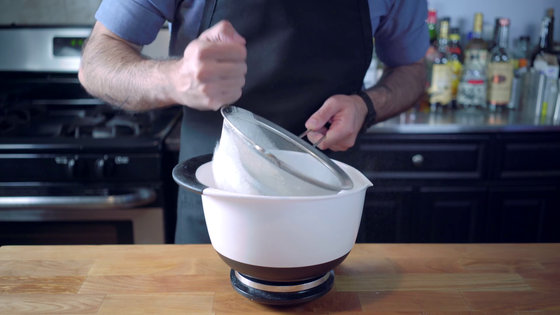 Three spoonfuls of baking powder were introduced.



In addition, with 3/4 cups of sugar ... ...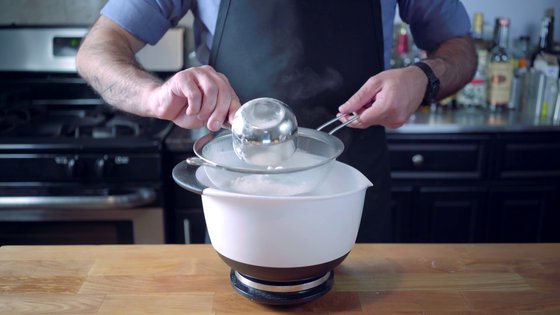 Mix teaspoon 1/2 of salt with sieving.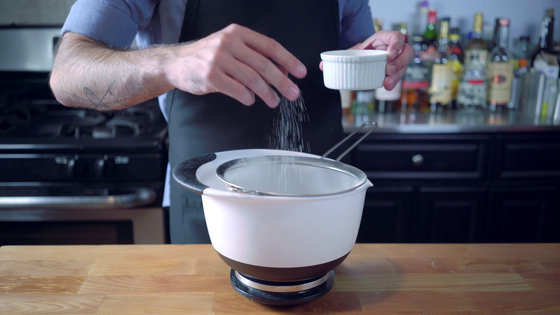 Next I will separate seven eggs from yolk and egg white.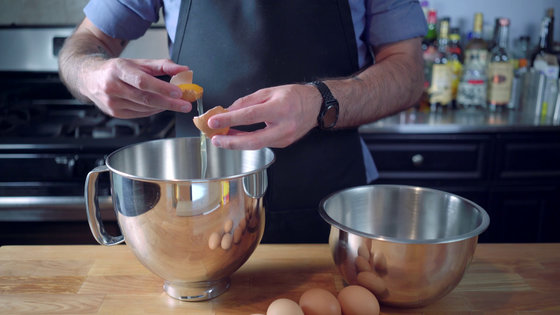 Mix 1/2 cup of canola oil and 3/4 cup of milk in yolk ... ...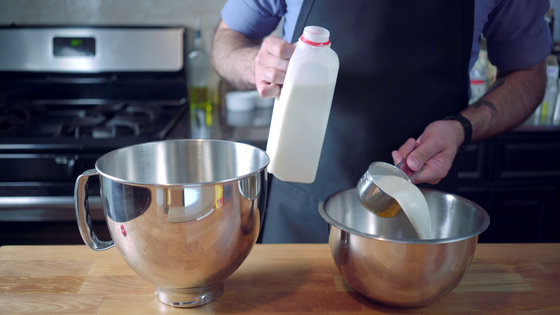 If you scratch off 3.5 oz (about 99 grams) purple mystery objects ......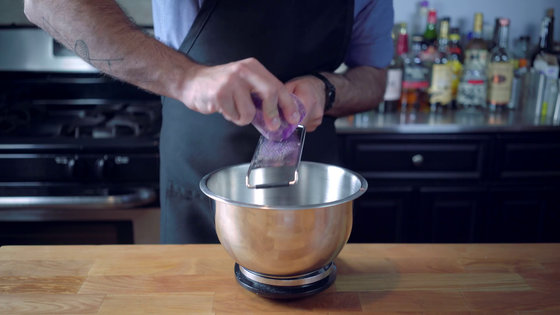 Something purple is completed.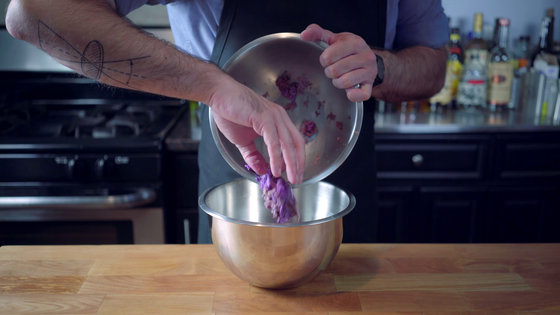 Finally I injected Mamonokoekisu here.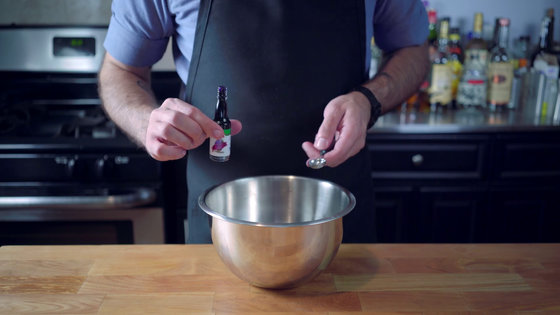 I put this in a mixture of flour such as wheat flour ... ...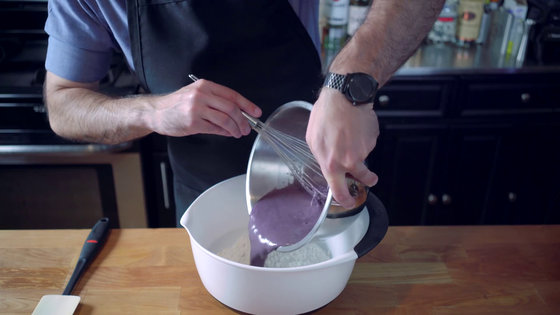 Mix.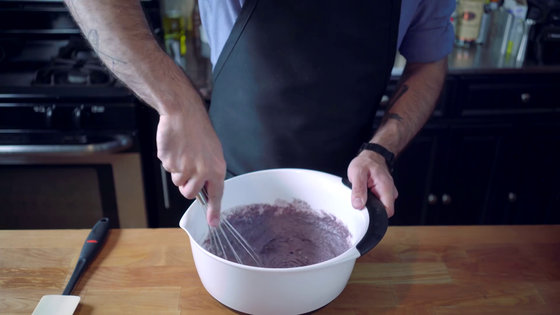 Next, mix the egg whites I divided earlier with a mixer.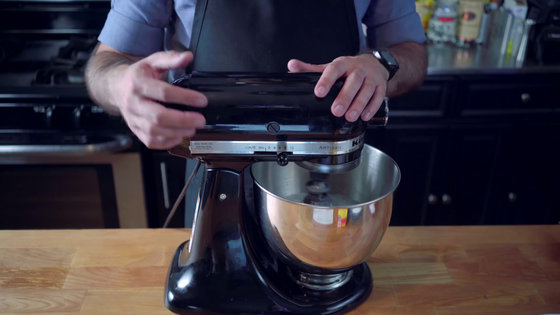 Put 3/4 cups of sugar ......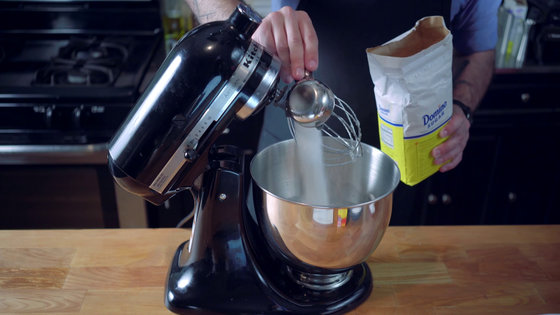 Mix again.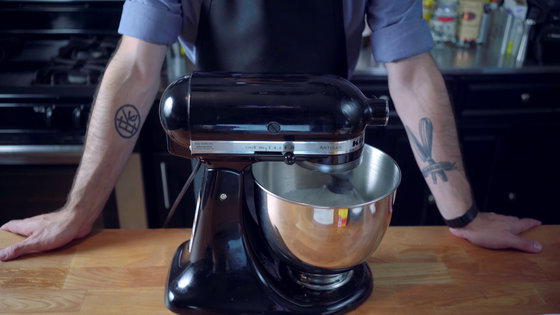 Meringue is now completed.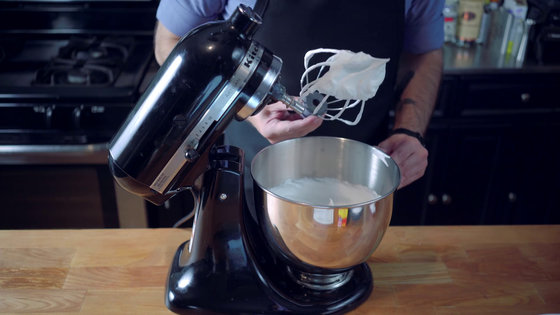 Combine meringue with previous ones ......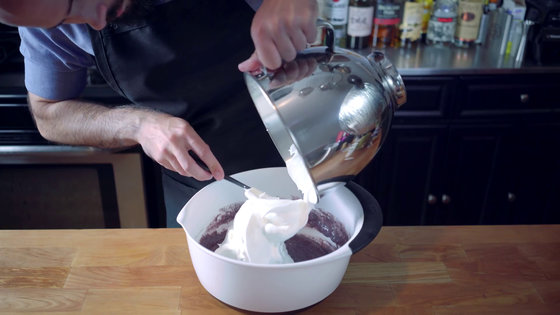 I am surprised.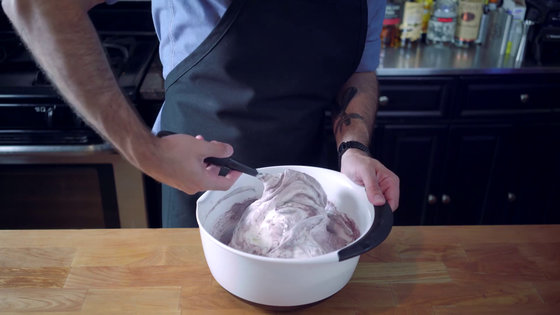 Pour this into a cake mold ... ...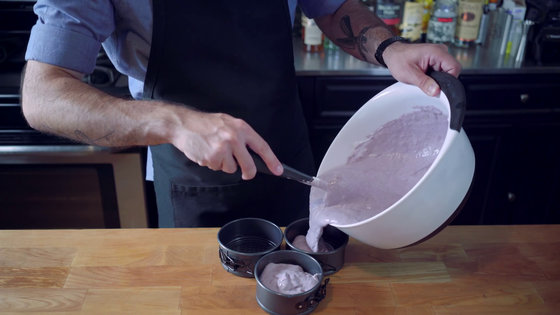 Completion of the cake part by heating in an oven at 350 degrees for 35 to 40 minutes.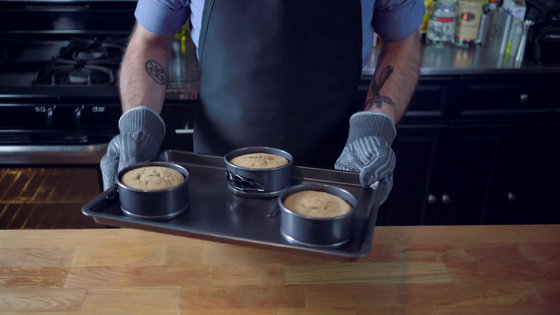 The creation of a cream that is topped in the cake at the end. Mix 8 ounces (about 230 grams) of cream cheese with 4 ounces (about 115 grams) of goat's butter.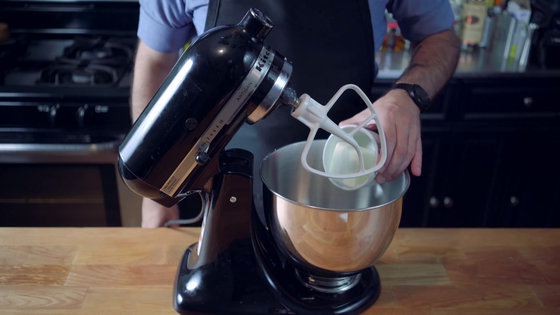 Next, put 4 cups of sugar in a sieve ... ...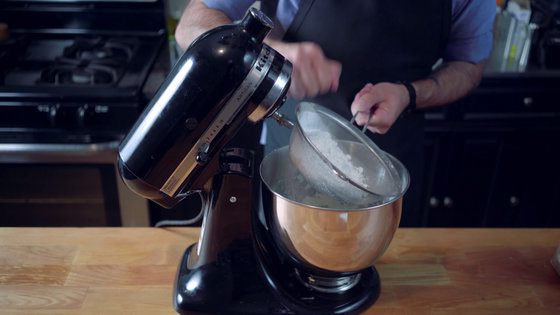 Mix.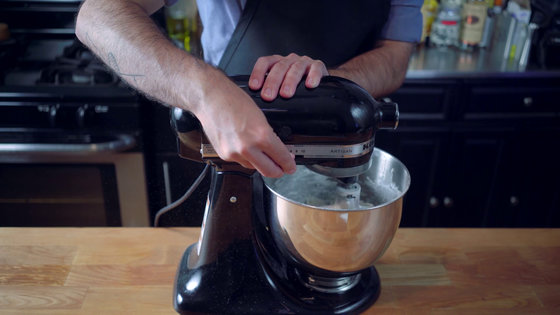 It is such a high-viscosity cream like this that is completed.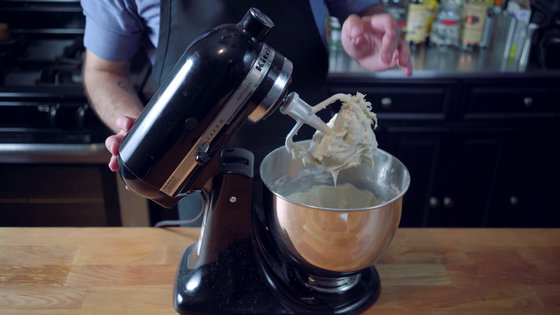 Into half of this cream was injected with Mamonoekisu to create a purple cream.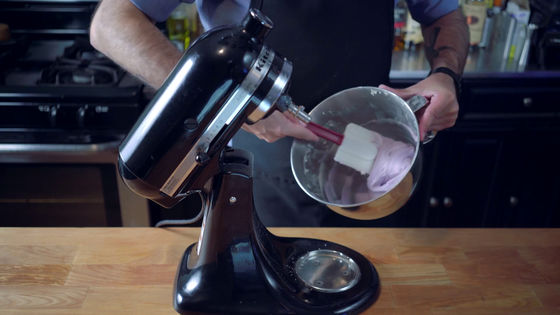 Once I leave the cream, I will begin cutting Dorian.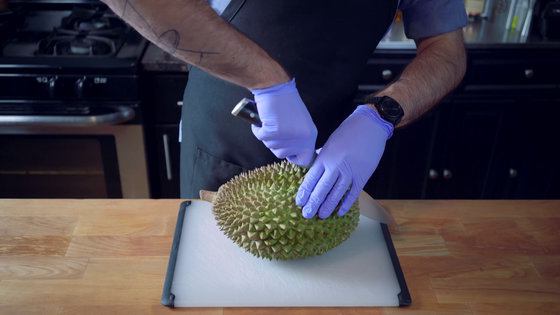 It seems to be pretty hard and cuts tough.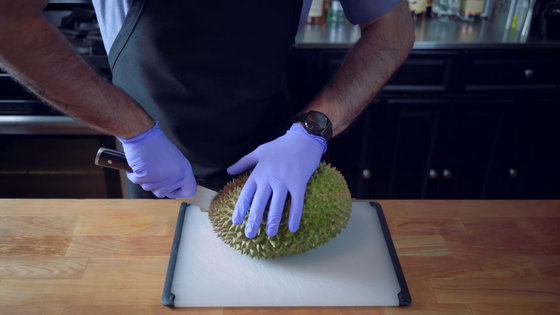 A producer of a movie that smells while aging and faints.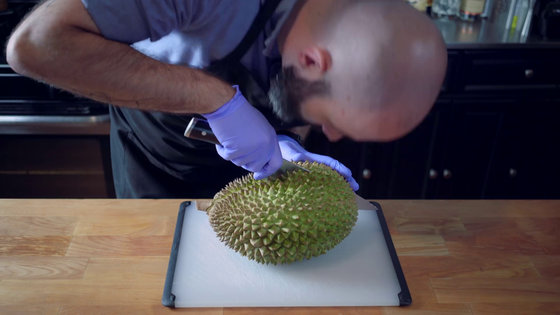 Durian fruit ......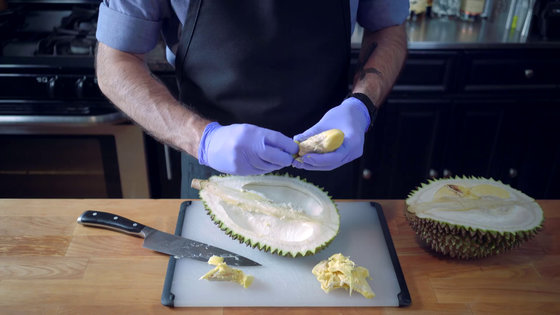 I put it in those who did not inject the cream's Mamonoekisu made earlier.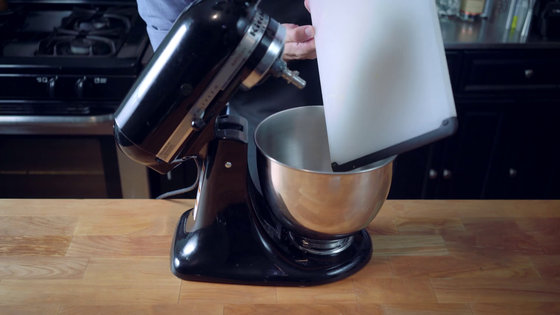 And mix it.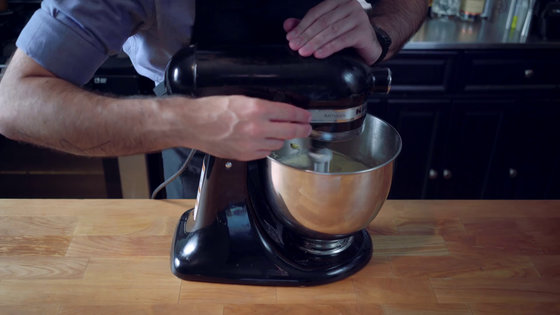 I can create a yellow cream like this.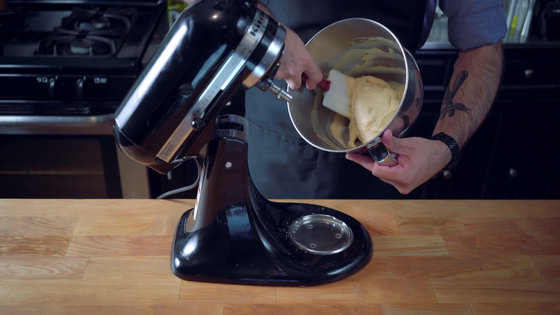 At the end cut the cake in half ... ...



Paccari. You can see that the inside of the cake is beautiful purple.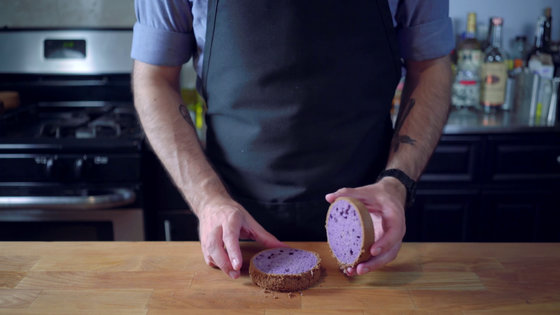 Paint it with purple cream ... ...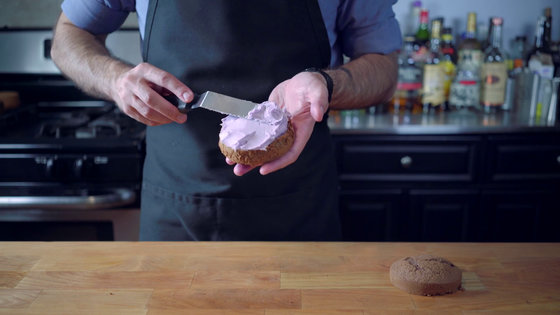 Topping cake with yellow cream.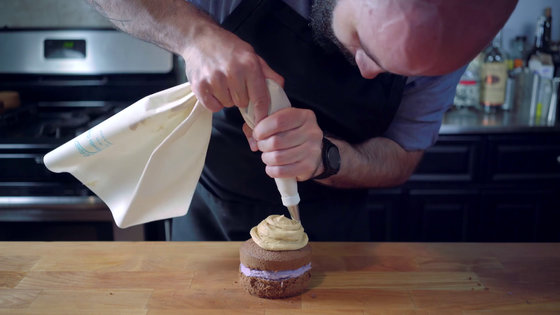 Completion after putting the first angle you made.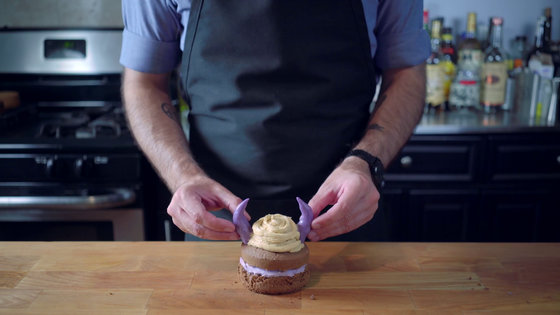 Cut it in half ......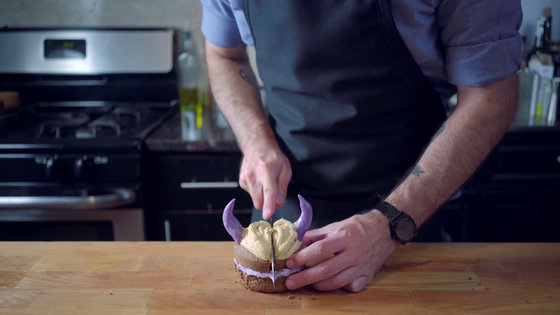 With this kind of feeling, Mamonokake was completed.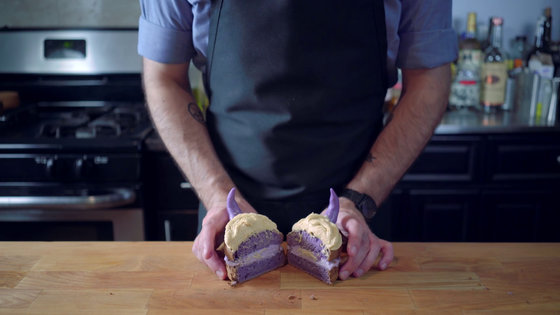 In addition, in Japan also discovered the person who is reproducing the Legend of Zelda Breath of the Wild. The degree of reproducibility of Mamonokake is considerably high ... ....

Legend of Zelda Breath of the Wild actually cooked ☆# The Legend of Zelda BotW# Reproduction cuisinepic.twitter.com/CifTtTDz 9X

- Hanamelody @ After selling mail order pause (@ konekobanri 1)May 18, 2017

There is also an article that professional chefs reproduce dishes in game.

Professional chefs are fully reproduced! I made a dish of "The Legend of Zelda Breath of the Wild" | A loose-squeezing savings media "Yuruzee san"
http://yurudie.com/foodexpenses/kanou004