I tried using "blue forest natural blue apple concentrate" that can make candy and drinks like jewels when dropping with dropper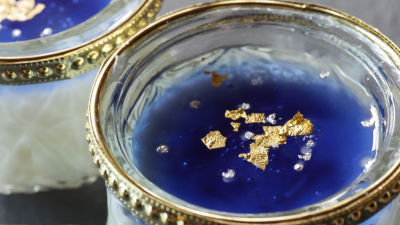 AnchangIt is a concentrate containing anthocyanin extracted from the flower that you can change drinks and foods to bright Royal Blue in a moment "Blue forest's natural blue apple concentrate (concentrate)"ButVillage Vanguard's online storeIt is on sale. In what color, how can we make use of it for drinks and food? I was worried so I bought it actually and made various snacks for summer.

【World's First】 Blue Forest's Natural Blue Apple Concentrate (Concentrate) / Villevan Mail Order
https://vvstore.jp/i/vv_000000000132418/

This is the package of the blue forest's natural blue apple concentrate.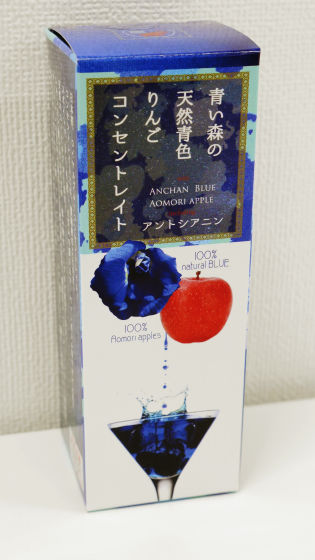 Inside the box there was a bottle with dark blue liquid near black and easy to use · note paper.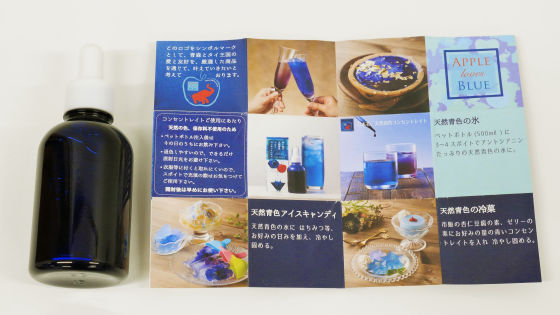 The size of the bottle is 50 × 140 × 50 mm, the content volume is 60 ml.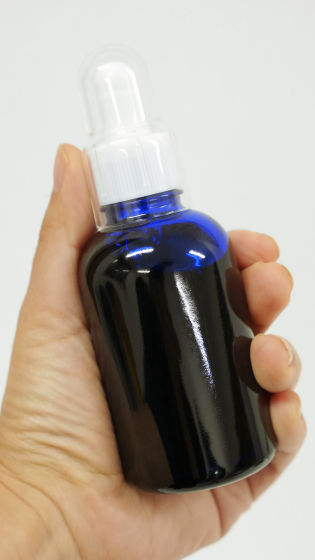 As I removed the lid, the concentrate was made to be added to drinks and food with a dropper type.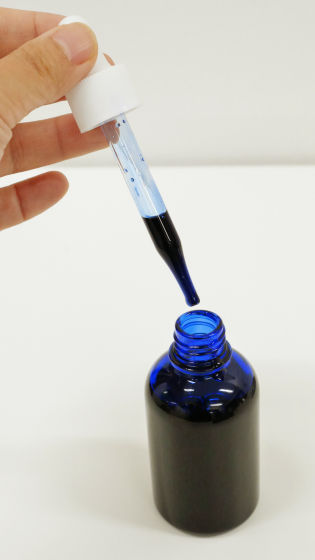 The natural blue apple concentrate in the blue forest is a concentrate containing a lot of anthocyanins extracted from Anchan's flower, and it turns purple when adding lemon etc. So, I tried experiments on how carbonated water changes depending on the amount of concentrate, what kind of color will be when adding lemon.

I tried to see the change in color with "Blue Forest's Natural Blue Apple Concentrate" - YouTube


Experiment with mineral water. Let's add concentrate for the amount of one eyedropper.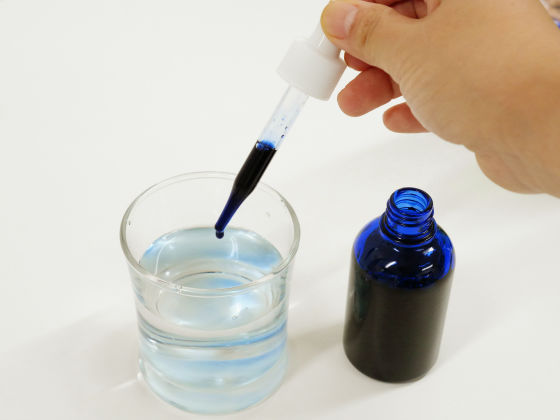 A pale blue liquid gathers at the bottom of the glass, and gradation is possible, just this looks cool.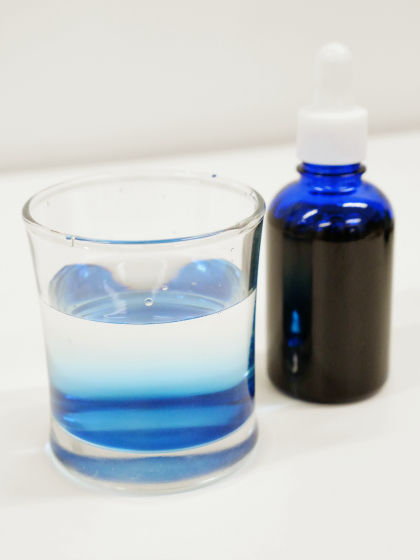 I tried stirring and it turned pale aqua. However, with a concentrate for one bite, it becomes a vague taste like drinking juice with a flavoring degree of "a little scent of apples?", So add honey and syrup Drinking is better than drinking.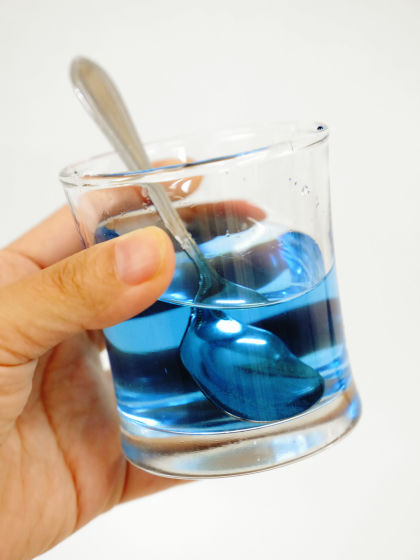 As we add further ...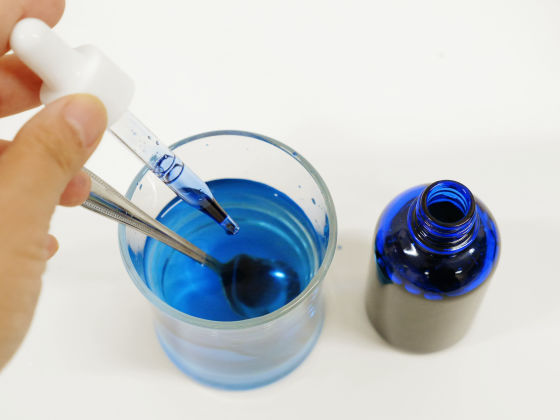 The light blue changes to a brilliant Royal Blue. When this color was attained, it gave a little sweetness to the water. Nonetheless, it seems that it does not seem to taste firmly to tasteless odorless ones, so it seems to be nice to use flavor and color to add to sweet drinks and foods.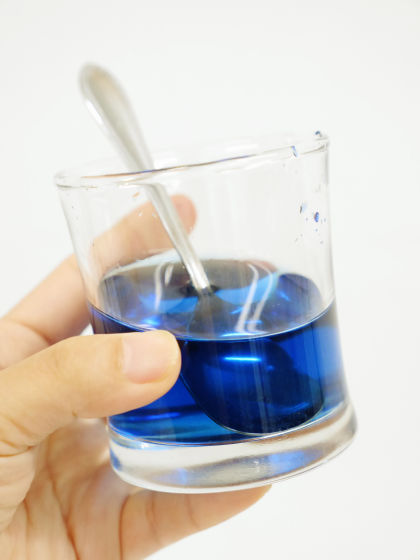 Applied edition where I found out the color change. First of all, 350 cc of water is heated, and a mixture of 40 g of sugar and pearl agar of about 1.5 tbsp is added little by little. Jelly can be made with gelatin or agar, but we picked agar which solidifies even at normal temperature and has high transparency because the temperature is high in summer.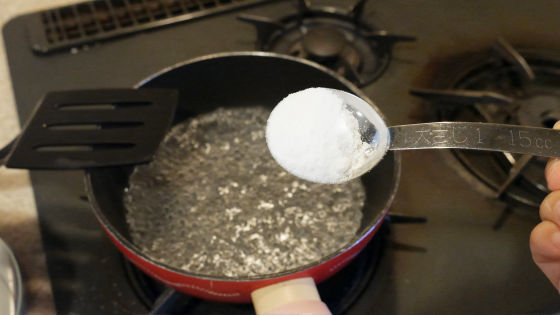 If sugar and pearl agar melt firmly, use a syringe to hang the concentrate.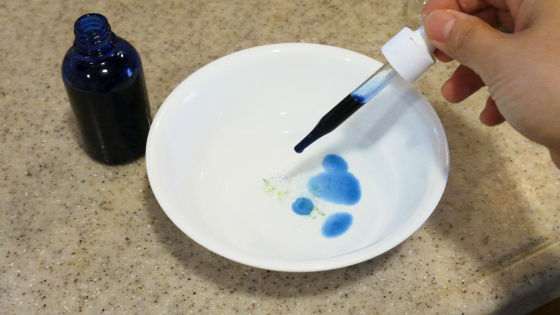 When it mixes tightly and the blue color becomes uniform, I make milk jelly before hardening it and I will put in blue liquid.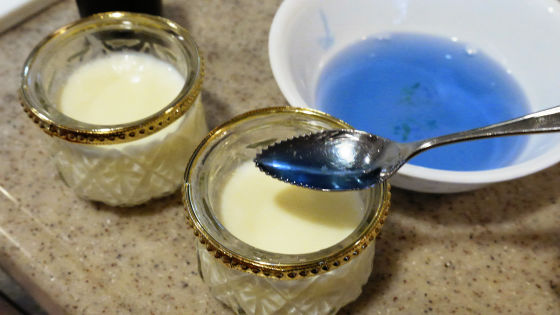 It became a light shade, so it is followed more concentrate.



After scattering Alasan with scratch ......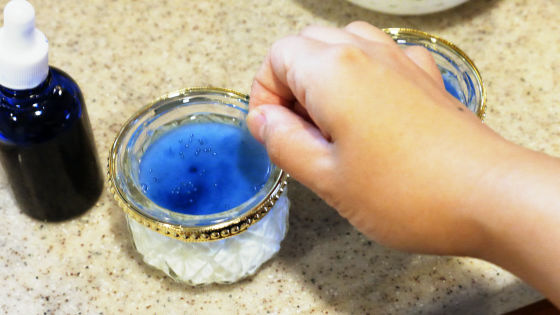 Somehow it seems like a cosmic atmosphere.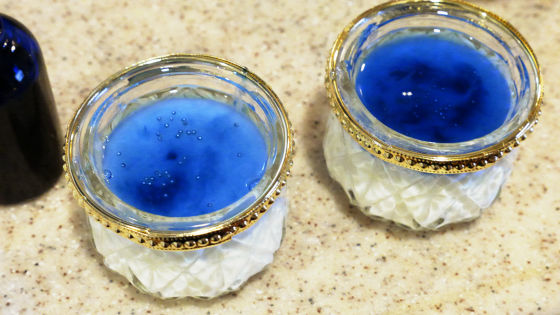 After cooling for a while in a refrigerator and solidifying firmly, I will place gold powder on the finish.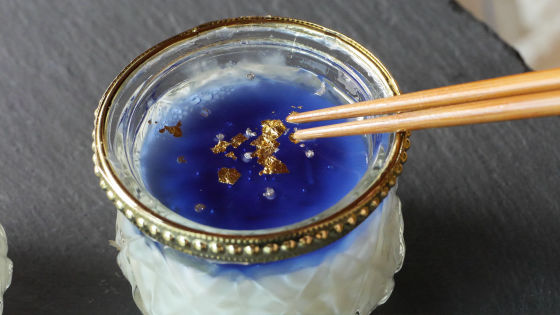 So, the completion of the universe jelly.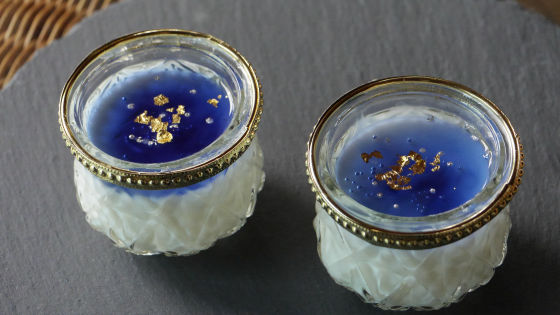 Looking from the side like this.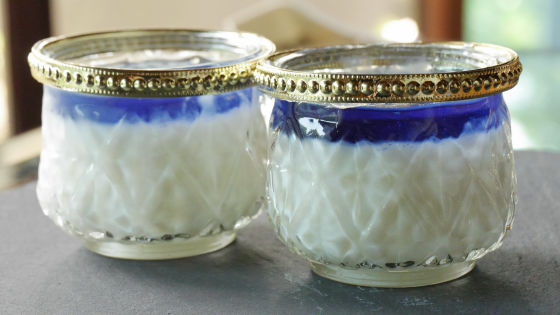 While chilling and consolidating, the concentrate expanded and the marbled feeling came out a little, but it became a cool looking snack perfect for the summer. One is deep blue ......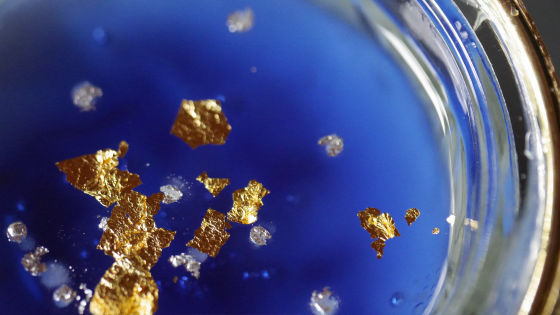 The other one tried a slightly pale shade. Adjustment of amount is easy with eyedropper, so color adjustment is easy.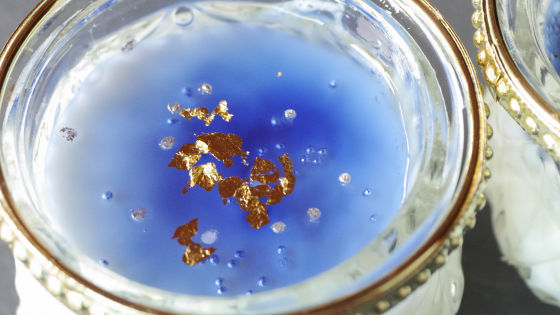 When I tried it, the blue jelly is a slightly apple flavor with a nice touch. I felt like "the taste is a little thin ......" when it is just dissolved in water, sweetness complemented the flavor of the apple when added to sugar and jelly. It is convenient because it is also possible to change the water jelly just like apples, it is convenient, but the compatibility with milk jelly is neither good nor bad, but it seemed better to eat separately ... In other words, there is flavor of the apple, so it seems that usability is likely to be limited a little in the sense of taste balance.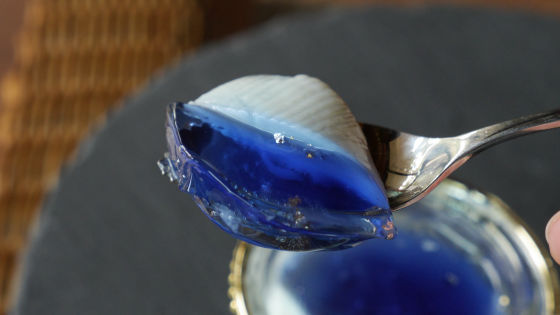 In addition, prepare fruits etc ... ...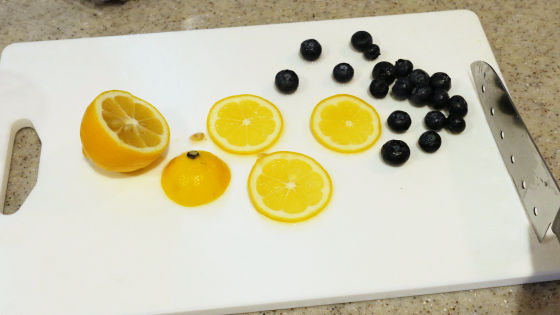 I will make various variations.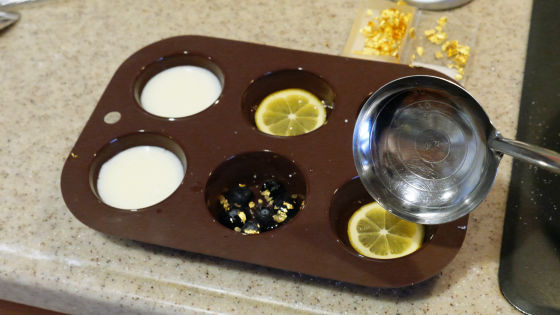 I will also make a jelly with a little purple color by adding lemon.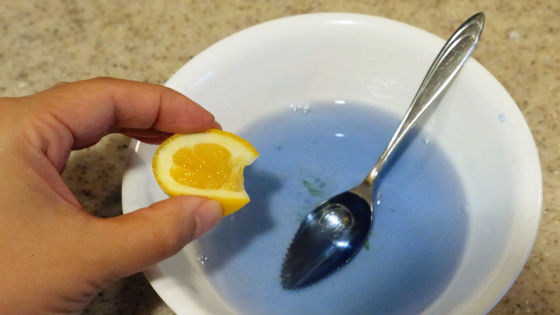 Purple jelly with blueberry is discolored by putting lemon, but if it is about this, lemon as a flavor is not felt so much. The base was apple jelly with a gentle taste.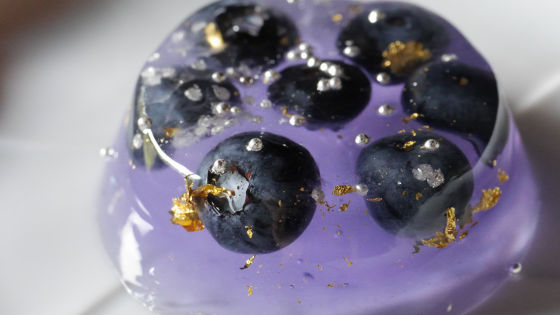 It's as beautiful as if you are eating jewels.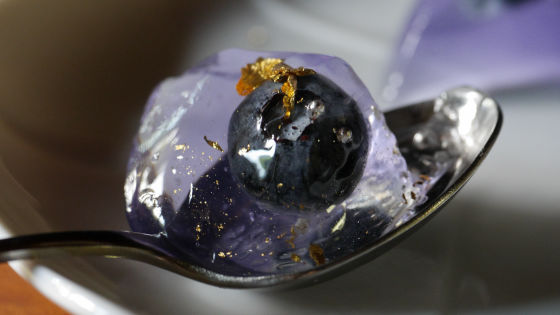 As milk jelly ceased, I put it in a silicon container and pour blue jelly from above, then Mt. Fuji with a lot of snow is completed.



This part of blue jelly is also in CapriBlue GrottoIf you are eating ... ... like a hue.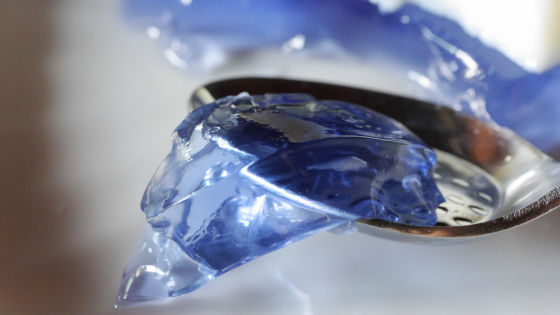 When I inserted a sliced ​​lemon between water jelly and blue jelly, it is a bit hard to understand from the photograph, but the part that is in contact with lemon has become pinkish and I found a gradation while eating It was.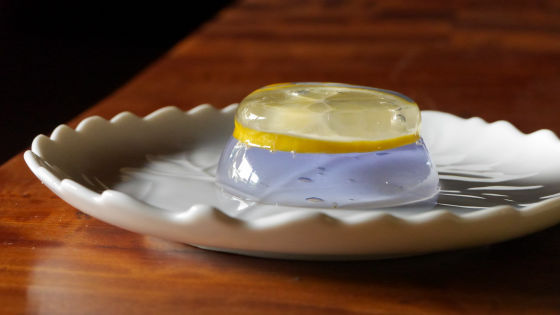 In addition, since I found a type of ice candy at 100, I will also try making ice candy.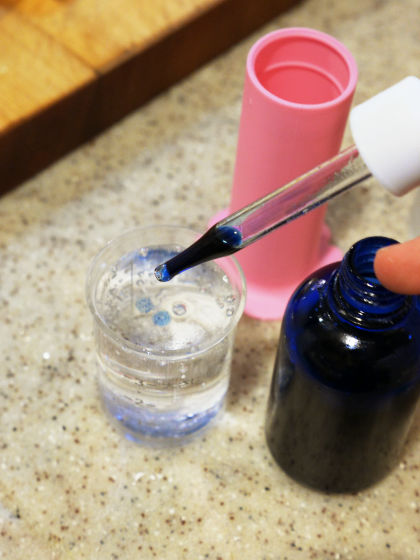 Let's pack cider and concentrate, lemon, edible flower and so on.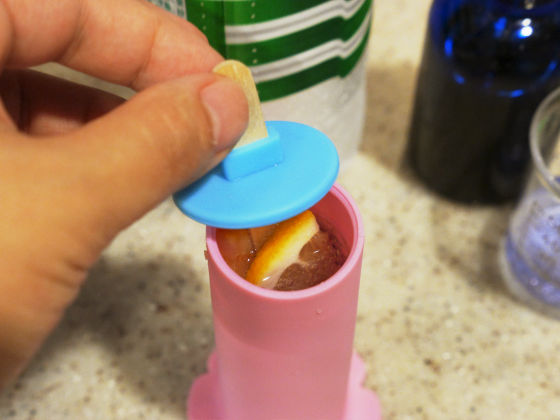 Taking out the frozen thing ......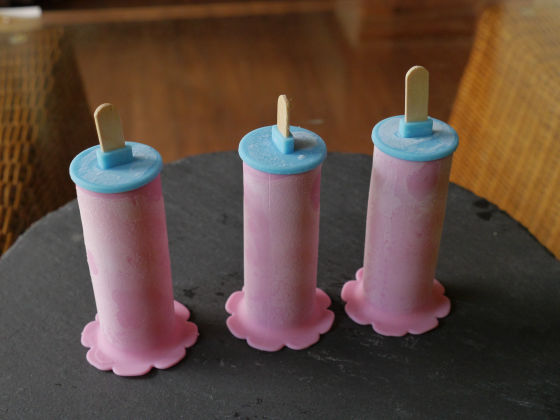 Like this.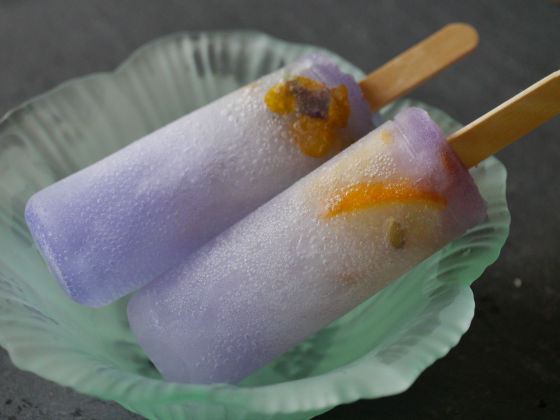 Although it is slight, those who put lemon are purple.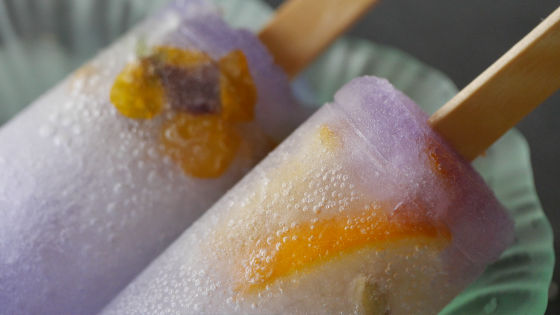 I loose how to mix, so the blue one was darker at the bottom.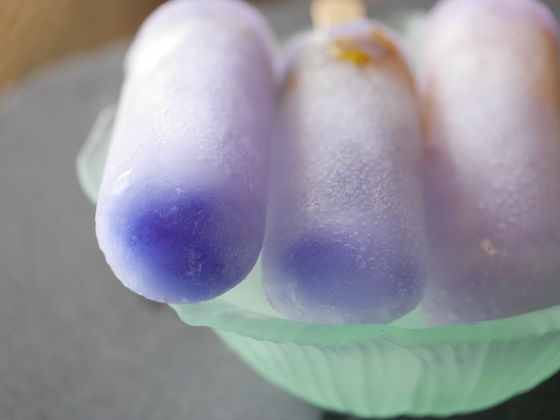 The price of natural blue apple concentrate (concentrate) in the blue forest is 1296 yen including tax. Please be aware that it is handling only online stores, not in the shops of Village Vanguard.

【World's First】 Blue Forest's Natural Blue Apple Concentrate (Concentrate) / Villevan Mail Order
https://vvstore.jp/i/vv_000000000132418/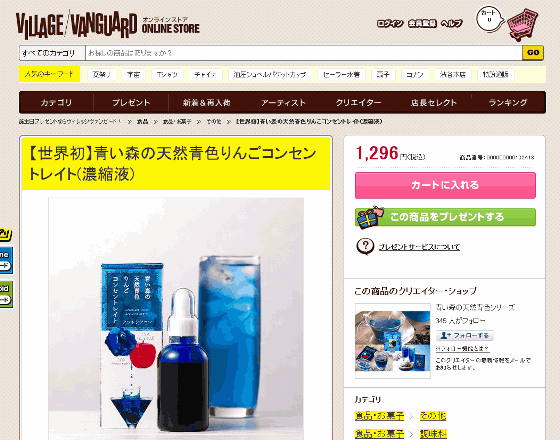 In addition, natural blue apple concentrate in the blue forest can also be obtained from the following gift article.

GIGAZINE Summer gift big release project "Please answer the questionnaire and bring them all!" - GIGAZINE