Ellon Mask announced that it installed construction approval for "Hyper Loop" connecting New York to Washington DC in 30 minutes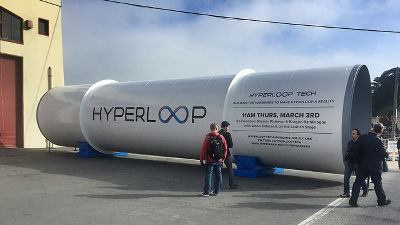 ByKevin Krejci

Running experiments at a full-size facilityHas been startedA supersonic transportation means that has made a major step forward towards realization "Hyper loop"Mr. Eulon Mask, the advocate of this initiative, announces that it has attached approval for construction from government officials with tweets.

Elon Musk Just Announced He Has Approval to Build a 29-Minute Hyperloop From NY to DC
https://futurism.com/elon-musk-just-announced-he-has-approval-to-build-a-29-minute-hyperloop-from-ny-to-dc/

Mr. Mask posted tweets. First of all, the first tweet received a verbal approval from a government person to approve the plan for the Boring Company to dig underground tunnel of the Hyper Loop connecting New York to Philadelphia via Baltimore and Washington DC in 29 minutes Revealed, in the following tweet, "I connect the center of each city, and I will set 12 or more entrance and exit lift at each station".

City center to city center in each case, with up to a dozen or more entry / exit elevators in each city

- Elon Musk (@ elonmusk)July 20, 2017

As Mr. Mask also reveals, it is necessary to pay attention to the verbal approval at this stage, and in the following tweet, "There is still a lot of work required before getting formal approval I am also tweeting with optimism that it will be realized soon. " "Government office work" such as various permission and approval which will become more complicated in the future seems to be waiting, but as the attitude of the direction to advance the plan is shown, a flow towards realization will be created Maybe it will be. In addition, Mr. Mask does not make clear what kind of person got approval, future schedule etc.

Still a lot of work needed to receive formal approval, but am optimistic that will occur rapidly

- Elon Musk (@ elonmusk)July 20, 2017

Mr. Mask's tweet has received a voice saying "Hyper Loop also in the city of Uchiyo!". A man who is considered to be a woman living in Texas states, "Does Hyper Loop come to Texas? Dallas ~ Houston ~ San Antonio ~ Austin, like girls' secret dream ..." First of all, we dig a tunnel to alleviate the heavy congestion in Los Angeles and make New York - Washington, DC in parallel, probably Ross - San Francisco and Texas Hyper Loop will be made later ".

For sure. First set of tunnels are to alleviate greater LA urban congestion. Will start NY - DC in parallel. Then prob LA - SF and a TX loop.

- Elon Musk (@ elonmusk)July 20, 2017

In addition, a man who seems to be a man who lives in the UK is "a high-speed rail network planned on board the UKHS2Is there a possibility to switch to hyper loop? In the tweet "Tweet that passes through the basement does not cause terroristic confusion, yet it is so fast that it does not compare, so I think it is the right way to go."

An underground Hyperloop would mean no disruption above ground and be way faster, so I think it is he right way to go

- Elon Musk (@ elonmusk)July 20, 2017

In addition, Mr. Mask said, "Please let the local lawmakers know who wants to realize the plan, big changes will happen if you are heard from you."

If you want this to happen fast, please let your local & amp; federal elected representatives know. Makes a big difference if they hear from you.

- Elon Musk (@ elonmusk)July 20, 2017

The interesting thing about this plan is that it is said that it is a plan made by tunnel construction company "The Boring Company" which Mr. Mask had started separately, "underground tunnel of hyper loop". Originally the The Boring Company, which came up from the plan to construct a tunnel leading to the parking lot of SpaceX Company, is planning to come up with a plan that connects the point that it will dig a tunnel of a hyperloop concept unexpectedly I will.