Pacchinist must-see is a must-have Pakuchi possible "pretzel chili avocado pakuchi burger" etc. I have eaten the first summer new burger of the first kitchen · wendies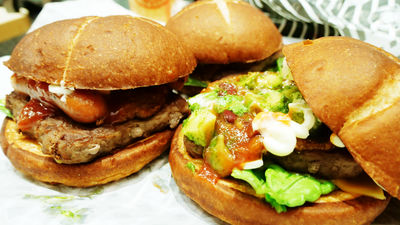 First Kitchen · Wendy's from July 11 (Tuesday) to the summer of the new burger "Summer chestnut pretzel"Has appeared. It is one of the classic menus for "Summer Chili pretzel"Wendy's ChileAre used as bases, and three different kinds of burger such as avocado, bakuchi, chorizo ​​etc. with different toppings are deployed. Since it is a definite lineup that the body will be hot if you eat it in hot summer, I have actually eaten it.

The Chile series which is perfect for summer has appeared. The main theme of this year is "Pakuchi"! - Wendy's x First Kitchen
http://wendys-firstkitchen.co.jp/news/?nwid=330

I came to First Kitchen · Wendy's at once. Please note that "Summer Chili pretzel" can not be eaten first kitchen but first kitchen · wendies.



"Pretzel Chili Burger" in the back, "Pretzel Chili Chorso Burger" in the front left and "Pretzel Chili Avocado Pakuchi Burger" in the front.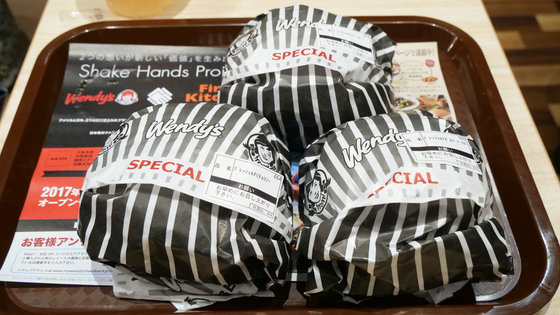 The burger arrived in about 3 minutes from the order, and there was a sticker so that you can see the inside of the packet.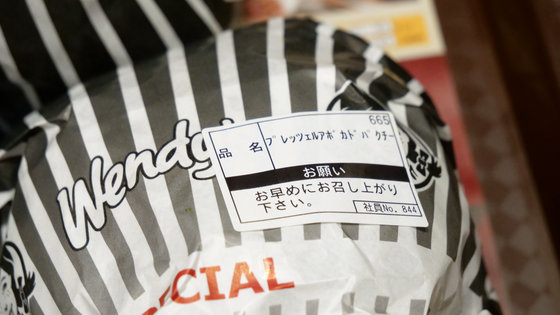 That's why I opened the package. Pretzel buns are used for the buns, which is characterized by darker brown than common buns.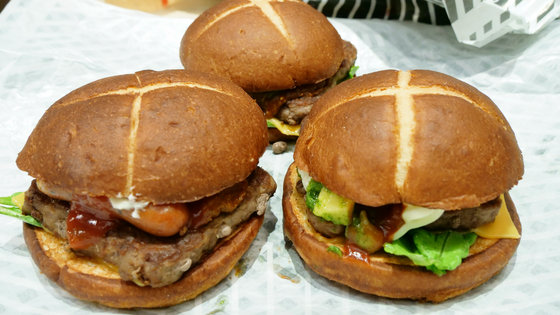 Side view looks like this and beef 100% beef patty and other ingredients are beef with this feeling.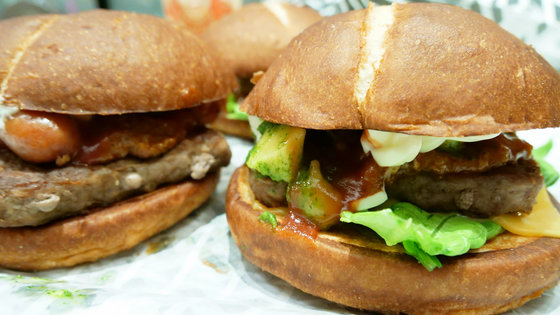 First of all I will eat "Pretzel Chili Burger".



In addition to lettuce and cheese, there are chili sauce, jalapeno, L size patty in the buns.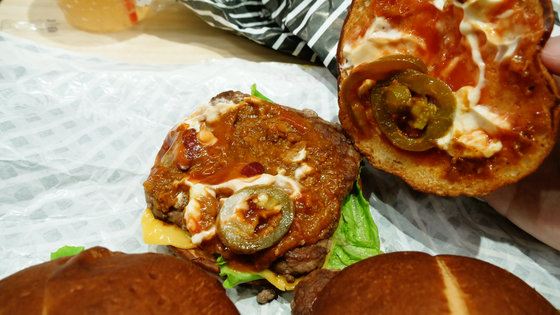 When I have it in my hand this size feeling.



When you hit it, the juicy flavor of L size patty spreads throughout your mouth. Chilli sauce and jalapeno are included, but not too hot, it is slightly spicy so that appetite is stimulated. Pretzel Buns has become a buns with a dust & eating fish that you can not taste with other fast food hamburgers.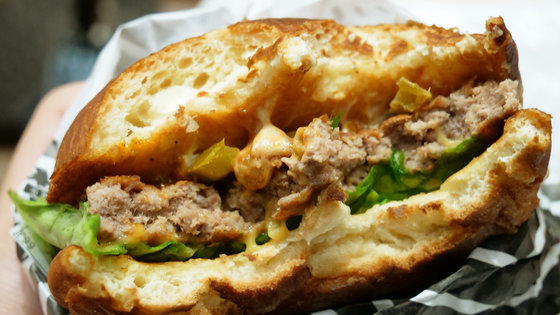 Next, I will eat "Pretzel Chile avocado Pakuchi Burger".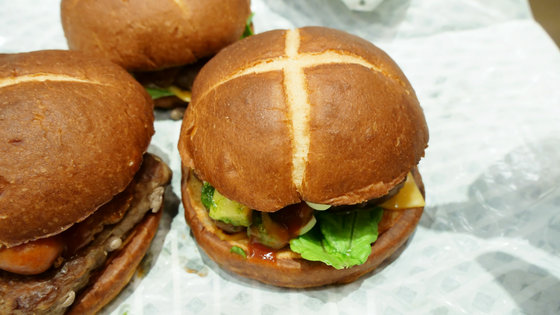 When opening the buns it looks like this. Chilli sauce and avocado toppings wildly.



A lot of raw parchas are included with the sauce ... ...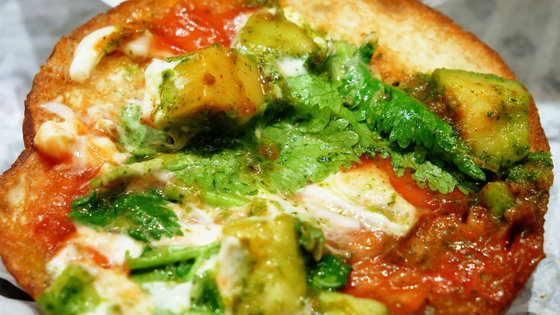 I heard that the green sauce is basil sauce and it seems to be paste paste. When eating it actually, the flavor of Pakuchi is considerably strong due to the effect of raw paste × Pakuchi paste, feeling that the victory has won both vans, patty, adcado and chili sauce. Pacchinist is afraid to be able to pursue even more here.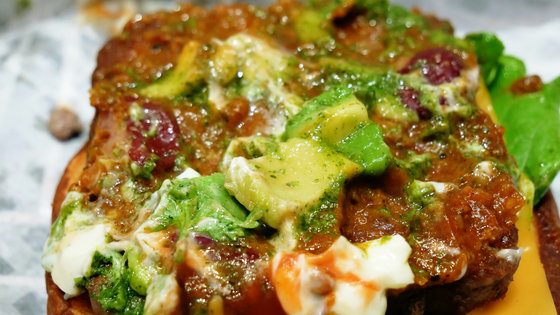 Finally I will eat "Pretzel Chili Corso Burger".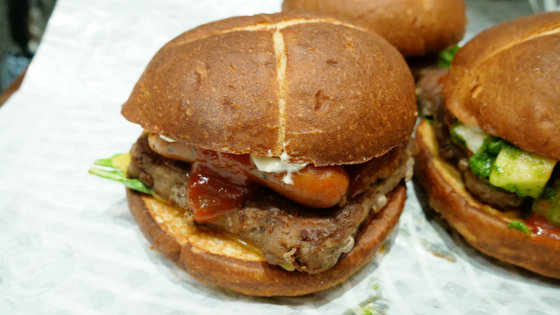 A burger that added a whole chorizo ​​to a pretzel chili burger, Chorizo ​​is cut in half to eat easily.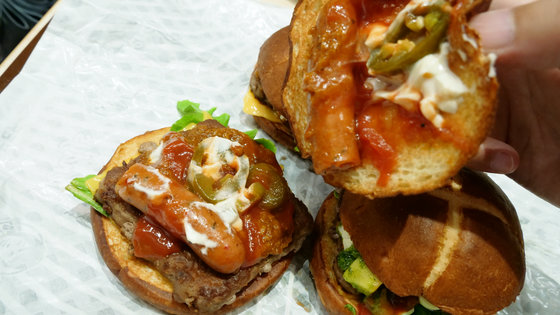 Chilli sauce and jalapeno as well as ketchup and mayonnaise are added.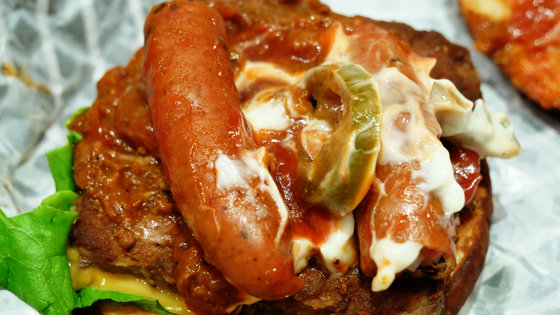 Patty + chorizo ​​so it is the most meaty taste of the three burger, excellent compatibility with chili sauce and jalapeno spicy spicy. It is said to be the harshest burgers among new burger, but since it is very spicy so that you can eat enough even if you are not good at eating spicy foods, it is likely that the spicy party will want to chase jalapeno.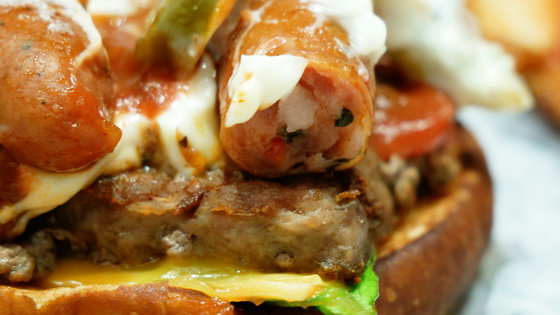 In addition, "Summer Chili Burger" is 760 yen including tax, "Pretzel Chile Avocado Pakuchi Burger" is 820 yen including tax, "Pretzel Chili Corso Burger" is 820 yen including tax, purse chase followed purse Each is 50 yen including tax.