Tatsunoko heroes of legend gather "Infini-T Force (Infinity Force)" for Hiroshi Sasagawa & Kunio Okawara talks [full version]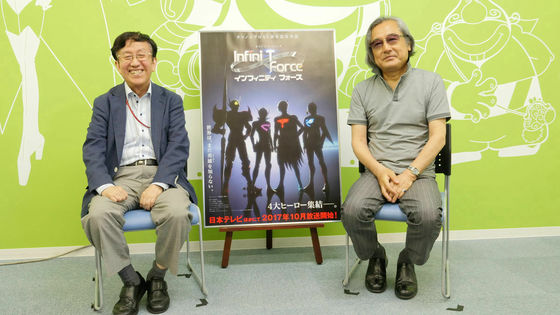 From October 2017, "Infini-T Force (Infiniti Force) broadcast starts as a 55th anniversary work of Tatsunoko Pro. It was related to the establishment of Tatsunoko Pro because Gothaman, Tekkaman, Polymer, Casshern was the work of four major heroes of the past yearHiroshi SasagawaI was involved with the design side with Mr.Kunio OKGAHARASan made a dialogue with a focus on the work.

2017/11/01 Addendum:
Since the "Infini-T Force" broadcast also started in the middle stage, we updated the contents of the dialogue to the complete version of Mr. Sasakawa-san and Okawara Mr. supervised, meaning of support.

TV anime "infini-T Force" official website
http://www.infini-tforce.com/

Tatsunoko Pro was talked about.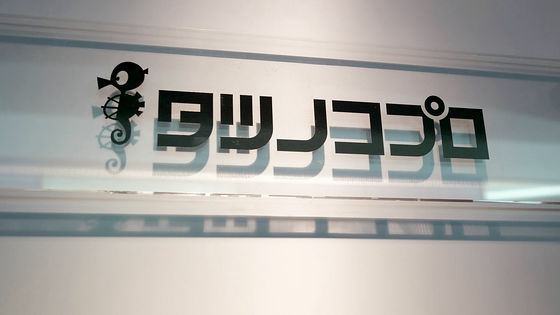 At the entrance there was a panel on which characters and mechanics of popular works were drawn. In the 55 years, a number of works that everyone knows have been created.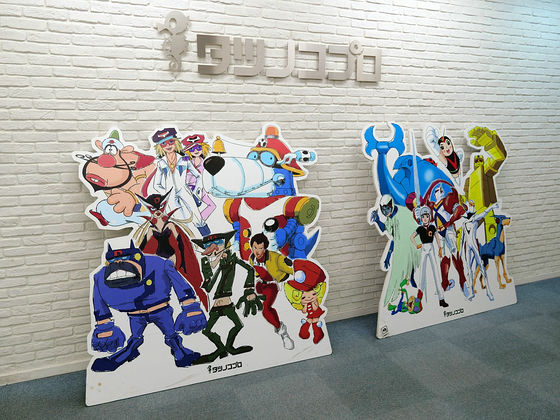 Moderator:
As Infini-T Force is inscribed as a 55th anniversary work of Tatsunoko Pro, in 2017 it is the year of commemoration of 55 years since Tatsunoko Pro was founded. So, first of all, I would like to ask about Professor Sasagawa and Professor Okawara for the work I've done with Tatsunoko Pro.

Hiroshi Sasagawa (hereinafter referred to as Sasagawa):
I was involved in Tatsunoko Pro from the time of its founding. It is a company that made a lot of people gradually gathered and gradually made a studio to recreate a new studio in a place quite back in Kokubunji, where it was a miscellaneous tree at that time. When I heard that it is the 55th anniversary, I have the feeling of "Well, have you gone so far?" And the impression of "It has grown so far" and in addition, I am always thinking " I wonder if it will go. Truly, 55 years have passed in a blink of an eye.

We started animation,Tezuka OsamuMy teacher's "Astro boy"Began as a TV series, and it was a time when cartoonist people gave a little roar. As I am,Tatsuo YoshidaMs. Yoshida's brotherKiyori KuriHe was also a manga artist. I got to know two people, I saw Professor Tezuka's "Astro Boy" and was deeply talking about things like "I can finally make domestic animation in Japan", but in a while we'd also like to do It seems to be simple to say. For a manga artist, his painting moves and music is attached is like a dream, and it is starting from the place where "we can do it".

Actually, Osamu Tezuka is my teacher and I am told that Professor Tezuka is the first expert assistant. I came out from Aizuwakamatsu city and worked as a assistant for Professor Tezuka, who went to the office for about a year and a half to work on the manuscript. After that, you will become independent manga artist and get acquainted with Mr. Tatsuo Yoshida. When "Astro Boy" began, broadcasting once a week was pretty hard, and Tezuka sensei and the staff were really serious. I am also assisting only two paintings by saying "Please help me". However, since I was a cartoonist, I was helping without knowing the rules of animation, so probably, I think that someone was corrected afterwards.

While I was talking with Mr. Yoshida, it became a story like "Do you want us to do it?" "Do it." Just from Toei Animation, there was a story called "Do you want to do a TV series with cooperation?" "Space ace"Although the story of the cooperation has flowed out in the project called" It can not be helped, I will do it only at home ". At that time the dragon child production was about seven to eight people from the manga artist and Mr. Yoshida's assistant, as it was like a studio, "I think that this will be able to switch to animation production soon" "No, we will not do it." "We are doing an assistant to Mr. Yoshida to become a cartoonist, I do not motivate animation," he said to everyone It was not long (laugh)

I thought about what to do, we recruited people nationwide, gathered by amateurs, and trained based on our experience. It was a terrible way of saying, but it was too dangerous at that time and we were in danger (lol) While we were talking about it, the number of people was about 30 people, putting in a video desk, winning a place ...... sansei It was a terrible experience, really in the "cultural festival" area, amateurs began with fearlessness. There were times when I thought "Can I really make it?" There were times when there were somewhere in my mind, "I wish I could become a cartoonist again if I do not do it," but it is not so much I was soaked and I could not get out any more, I could not do anything, I was making a New Year's Day with no holidays. However, although it is good to make it, this can not be sold. A sponsor named "Yarou" raised his / her name to raise his / her name, but he / she broadcasted monochrome "space ace" with Fuji TV for one year Did. When I saw the preview, the tears really hit the ball. Everyone was delightfully sending clapping hands while watching the screening memories still can not be forgotten, I thought that I want to have that excitement forever.

Space ace episode 1 "Space Ace birth" - YouTube


Sasagawa:
Yoshida Tatsuo says "I will do animation" behind the scenes, I think that there was a decision to make animation of my own painting by my style as well. Mr. Tezuka was also making Tezuka animation with insect professional, and anyone would be so if it were a cartoonist. I think that it would not have been a pleasant thing to have work of another author's work as a production. That's why I think that Mr. Yoshida wanted to do it in his own style was the best belief in making independent productions.

Mr. Yoshida was a 3 brother, and what my brother told me was like a form of agreement with his brother. This is stronger than working alone. The first "space ace" was a character drawn by Mr. Yoshida's younger brother Kuri Ichihei, but the next "Mach GO GO GO"Was a painting by Mr. Tatsuo Yoshida, making a hard feeling that Mr. Yoshida will correct one picture per piece. However, at this time, I had a strange feeling "I like animation, but why do I have to imitate Mr. Yoshida's picture?" Although I decided to make a hard decision "I will do it", I was annoyed with about 3 years "I should stop it."

When there is such a thing, I thought "I am no longer a cartoonist." My role is a film director, is not it how to make Mr. Yoshida's character as an actor, put on acting well and show it interesting as a work? Until then, I had thought "I should go back to the manga once more," but my mind was completely blown away and it became very easy. I was late for a long time (laugh), but I realized that it should be a movie, not a "comic movie", even what anyone designed.

The painting of "Mach GO GO GO" mentioned earlier was very difficult. The picture by Mr. Tatsuo Yoshida is "heavy". For example, if you are "Astro Boy", you can collapse the shape of a car and you can omit it as a manga deformed like a line runs sharply. However, since the Mach No. is well designed, it is not a picture to be crushed or deformed. It is a picture, but it looks like it does not look like a picture. As for the character, there is a nice "face" that is solid. How many movies will you draw? It will be quite difficult as it will be a strange animation when a picture that collapses into that one. After doing it for about a year, it gradually became an animation that adults can see, and it gradually became clear that "I can go on, ah, after all" and "I can have such a picture as an animation."

Then in Tatsunoko "Science Ninja Corps Gatchaman"Or"Newman CasshernAs I said, I made action animation on hard routes.

Science Ninja Corps Gatchaman 1st episode Gatchaman vs. Turtle King - YouTube


Newman Casshern episode 1 "Immortal Challenger" - YouTube


Sasagawa:
As it receives it, on the mechanic side it is said that Mr. Okawara like a man drawn expertly properly, and it is said that the hard line of Tatsunoko who was getting more and more came up. There is also a gag line on the other side, there are things like "Minato hatches" but as a basic, Mr. Yoshida made an independent production and thought that he wanted to go out to the world was an action hero think. When I say something, it is Tezuka system, it is slightly different. I believe that such a fusion has continued for a long time as a busy gag, like a time bokan series including Yatterman, which is hard and has a solid mechanical structure.

Insect narrative Oshigo hatch episode 1 "Losing Hatch" - YouTube


Time Bokan Series Yatterman 1st Story Yatterman Manifestation Colon - YouTube


Sasagawa:
It was this "Infini-T Force" that I wondered how tatsunoko would change, after 55 years. Although I was not touching, I was watching the state of production with feeling like "doing", but it seemed to be really hard. Although I showed what I had done, I was surprised, "At last the time has changed." Computer was introduced into animation production and it changed partly, but having made this in the TV series seems to have a considerable impact. Tatsunoko also finally got to the next step. I am truly satisfied that cooperation was obtained and that this work was made up in the TV series.

Moderator:
Thank you very much. I think that Professor Okawara also has been doing a lot of work, can I call on you?

Kunio Okawara (Ogawara):
Right now, there was a story about Mr. Sasakawa's willingness to build animation production companies, but in my case I came into this industry happily without a will (lol) I am not interested in animation and manga at all I decided to get married and was unemployed although I was on a wedding on April 11th. I was looking for a job as to where I should go, I found "Dragon's child production" in a newspaper, I joined on April 2. And I have done a bit of a strange thing called a honeymoon trip for a week from the 11th.

Moderator:
It was a generous era.

Okawara:
I agree. I was assigned to the "art department" of Tatsunoko. In the past, I had drawn the background in a poster color, but I need techniques to paint landscape paintings and backgrounds with poster colors, I can not draw normally. So, my boss'sMitsuki NakamuraMr. New entrance let me practice like that for the first time for three months. I was also practicing the background as I joined the company, but I was given the work of designing works that became the name of "New Scientific Ninja Corps Gatchaman" later in October. First of all, when I submitted a request made by the design of the title logo in response to the request "Please make it a logo that birds are flying", it turned out OK soon, I thought "It's a funny job somehow." I entered the university graphically,TextilesAlthough I was studying sections that do not have much to do with design animation, I was in the state of "What is meant to do with mechanical design?" But since I used to love mecha from olden days, There was not it.

Reference was made by Mr. Nakamura who was produced in 1971 and "decision"The setting was loaded in the bank next to the art department. Because the bank was free to enter and go, when I was watching the various settings, I was drawn quite precisely and thought "If I can move this, I should not do this level of design".

Decision 1st episode "Pearl Harbor surprise" - YouTube


Okawara:
When you precisely design a mecha, the animator gets big eyes. But,Toriumi ErikoMr. Gatchaman was the first director, so we decided to pass the design as it is and hand it to the animator. As my new employee like me like a design with a lot of lines, seniors got down from the second floor to my place on the first floor at the time and said "I can not move this?" I was (120) At that time, there were 120 to 130 employees, I think that they were mostly in their twenties. After all, there was a person who wanted to do it. There were a lot of people saying "I want to challenge the ingenuity" as "what I have never done", and the thought of "making better things than others" was strong. At that time, there was no studio running precise mechanisms only beyond tatsunoko. I entered the industry without knowing anything, I was designing without knowing anything, but I think that I stepped up just right.

Moderator:
That's a great story. I was introduced to the industry like that.

Okawara:
That's right. There is a jigsaw puzzle, and there is a form where my piece entered with Bonn. At the beginning was a story of returning to the background again after the Gatchaman was over, but fortunately for two years, Gatchaman lasted 105 episodes. After that, "The Fallen Polymer" ended in 2 courses, and I was also preparing for the next "Space Knight Teckman." Mr. Mitsuyuki Nakamura, my boss, was in charge of the design until this Tekkaman, but in "Gowapper 5 Godam" I tried to do "I tried it all by one person", so I tried all including the main It was. Casshern has not been credited, but the one who was next to my desk was selected and did a lot of help, so it is not "not totally involved".

Story of Police Story 1 "Kaitou Musashi Party Party" - YouTube


The universe knight Tekkaman episode 1 "The Brave of the Sun" - YouTube


Moderator:
Four people who got named just now, Gachaman, Casshern, Tekkaman, and Polymer appear in "Infini-T Force", but the fact that Mr. Sasakawa and Mr. Okawara worked with each other for the first time exactly this 4 Is it about the book?

Okawara:
I am still a newcomer at this time, so I think that it is a time bokan series as an impression. It was a schedule that Gatchaman will start from October after joining April 2.

Moderator:
It is a feeling that I can not think right now.

Okawara:
My boss would have been very heavy. People who left the art college in the art department were drawing backgrounds. People who painted oil paintings in pure art and who came for their lives were fine and there were quite a lot of individual persons. As Mr. Nakamura was manager, I had to bundle 10 people and it was impossible to do all mecha mecha works like Gatchaman. It is hard work, those who are doing the background.

Moderator:
Is that because you touch differently?

Okawara:
No, people with personality (lol) There are many people with individuality, some do not come and some people sleep at work. Since Nakamura-san was doing all the art of the tatsunoko work of those days, it is the state that it is "not so much" after bundling it. The number was also increasing, so it seems that I came around to myself in a form like "a nuisance payment" in the middle (lol)

Sasagawa:
Tatsunoko Pro is not widely, but the planning department, the director's department, the literary department, the art department, etc. are divided and all the way up to shooting. I did not have any recordings, but I was compensating properly until editing. Backgrounds and props, designs as robots come out, designs of cars like Machs, all under the contract of the art department. Mr. Mitsuaki Nakamura who was doing the chief was a very excellent person, "Mach GO GO GO" was in charge of designing the car. Anyway, the work of art depended on "Mr. Nakamura, Mr. Nakamura". I will think that Mr. Nakamura also relied on Mr. Okawara for his usefulness, as an excellent one named Ogawara Mr. OK will be OK if asked for a mechanism there. I mentioned earlier that Mr. Ogawara "The jigsaw puzzle piece came down", but it is truly a technique that will happen by chance. If Mr. Okawara was not there, Mr. Nakamura may have been busy flying away somewhere. I think that it was something meaningful and superior as a tatsunoko pro.

Okawara:
My salary was cheap! (Lol)

Sasagawa:
At that time, Mr. Tatsuo Yoshida said "Our company will go with this kind of attitude", I put it on the wall "I dreamed of children in the world" and pasted it. Then on the next day there was a person who wrote "We also dream", which really came. Indeed it is (laugh). As long as I work as a company properly, my dreams are returning to those I did. At that time, I was the director of the directing department, it was hard to enter between the executives and the people who make it as a persuasive person ... .... Certainly, I did not depend on salary (lol)

Moderator:
45 years since Mr. Okawara joined Tatsunoko Pro 10th anniversary, this "Infini-T Force" was born. Mr. Sasagawa and Mr. Okawara will be reviving characters that breathed life, but what impression did you get about the work?

Okawara:
I have such a lot of work, it is like entering this industry, so to make this work soon after being born from egg. I thought that doing it with 3DCG was reckless at the beginning. So, I felt it was surprising that having a three-story twice shown from the completed story and doing it on a television series is a little unexpected. Now, everything is made up of good mechanical CG, but when it comes to saying that a person is a full CG, there is a sense of incongruity. In that respect I thought that there was no problem regarding the quality of CG of "Infini - T Force". People who like animation for a long time and children now can enjoy it. So, what kind of story to take is the most difficult thing. Hey, there are too many good-looking guys (lol)

Moderator:
Thank you very much. Since animation is broadcast from October, I hope you will be able to look forward to fans as well. After that, a bit of theme from Tatsunoko Pro, this year is said to be the 100th anniversary of animation, how do you think that animation will change in the next 100 years from now 100 years or how I would like to have a word on what I want it to become.

Sasagawa:
I think that making things with machines rather than hand-drawn will become increasingly popular. What kind of phenomenon will come about, it seems like live action, but it seems like a live action, but it is a heavy work that surprises "Yes, this is a picture!" And a movement that is not human sensibility, such as gag animation and extreme work, I think that it will be divided into such two poles. If it is a live-action work, I will incorporate motion capture that traces it while acting on an actor, but I make it so that I can not understand that part if it is CG, but eventually even the actor may be unnecessary . As it develops more and more ... What kind of world will it be? I think that I do not want it because it is a bit uneasy that human beings are gradually getting thinner, cold, human beings, but they are not human beings, it will be such things. Again, with video, I wish I could feel human's warm blood and various things from inside like drama inside. Of course, it may be that such anime is good, by torring the things that I drew like handling like old days, painting with color and taking pictures with them. One lap, the way comes out worth (laugh)

Moderator:
It might be possible. Thank you very much. How is Mr. Okawara?

Okawara:
I can not imagine. I was thinking that I could not be able to watch TV with a small monitor attached to my arms at the Gatjaman in 1972 when I joined and I thought that I could not walk the biped robot. I have been doing this work for 45 years, which is "only 45 years". For example, a mobile phone was a shoulder phone on the shoulder at the beginning, but it is the same as having a smartphone now. This is an evolution of the speed which can not be imagined, and I can not imagine "What will happen in the future".

However, I gradually watch animation, I feel that the subject I want to see is rising. Animation that children see in early childhood, the time to raise their hearts, was doing all stations from 6 o'clock to 7 o'clock in the afternoon at each station terrestrial, but since it is not such an environment right now, the common topics are given to children I think whether the way of sending the work that can possess, the medium that watches it, not only on television, its existence value is being questioned now. What I have been most concerned about when I entered this industry is "I want children to have dreams." I've been doing such a mechanic work for 45 years, like sowing my dream seeds in my child's mind. By the way, regarding the schedule, I have never dropped the schedule I've decided for 45 years. I think that I can boast about this to other mechanic designers.

Moderator:
It is amazing to never drop it.

Okawara:
Be sure to finish one day ago and two days ago. Instead, I do not know the quality (lol)

Moderator:
Absolutely, thank you.

GIGAZINE (hereinafter referred to as G):
I'd like to ask you a little more. As Mr. Sasagawa and Mr. Okawara says, I felt it was a big deal to do TV series with images like this "Infini-T Force". I think that this is also influenced by progress in video technology, but do you have any works or things that you felt like something "This amazing technology is coming"?

Okawara:
I am not interested in animation and manga so much, but I bought a little drone of such a hand-picked size recently, and I was surprised that "I can still take a picture". It feels as if he is steering a bee, but now he is getting there.

G:
Are you flying by yourself?

Okawara:
It is a small bastard that fly in the house. I was able to navigate with smartphones and got interested in the net, so I got it. Then you can take a video properly. It seems that we have already entered a world we can not imagine.

Sasagawa:
As for animation, now individuals are making animation by themselves as well.

Okawara:
I agree. Since I am a completely commercial anime person, when it comes to selling things more than works I've come up with so far, I will burn with rivalry, but "Your name is" is what I am in charge of Because I am in a different direction, I feel that it may be a pastime right now. I wonder if the boys will come to bite if I make something of great importance. Mr. Yasuhiko is making a picture at "Mobile Suit Gundam THE ORIGIN" and I am sending it to me, but I have not seen it yet. Rather than that, work is interesting now.

G:
What kind of work would you say?

Okawara:
I do not do much anime work right now. Tatsunoko's time bokan and Sunrise san is about Gundam. Other than that, boys girls who grew up watching our animation now become adults and they say "Let's work together." That is very interesting. In addition to having four, five, there are still many things that can not be announced, there are also a lot of approaches from China.

G:
China!

Okawara:
There are many cases that the Chinese government backs up and collaborates with Japanese technicians, and sometimes the Chinese kitchen tool maker tells us to design the mascot character. About 70% of jobs are other than animation, such as a character like a fire engine or the Metropolitan Police Department. But even if the work is not related to animation at all, it is all amusing. In Taiwan's charity project, I also drew a character on a helmet and put it on a charity auction.

G:
I am doing a wide range of work.

Okawara:
I already have age to serve, so I have quite a lot of volunteer relationships. Still, I am thrilled to have a new offer. People who really liked animation and entered this industry are about to follow the animation work for a long time but in my case I am planning to make a character and spreading it all over the world by making characters, so what kind of It is a stance that all interesting things will be done if they call out to the company. In the past, Tatsunoko of old days said that salary was cheap, so I was able to live somehow when I was doing for 45 years, so I would like to concentrate on people who do not have a guarantee but a character, it is such a mind . I used to think that he was 50 years old, 60 years old at the age of 60, I am 70 years old this year. But, since Sasakawa-san, who is a senior to me, is also working hard like this ... ....

Sasagawa:
What are you saying, Ogawara animation is still alive. Let's make something.

Okawara:
There is a feeling that if old people get together and make one, there will be something really good. There are still many active people who have done the past. But, since the producer is young, I do not bring work to such places. I do not retire, but I hear that you will not come and ask me for work.

Sasagawa:
You can not go ahead with fear, are not you? I wonder if I go to ask Mr. Okawara for a wonderful galleries (laugh)

Okawara:
You seem to think so. Because I am telling you for 45 years. I will decide to work at the price I told the other party pays. It's okay though (laugh)

Sasagawa:
Mr. Okawara is a very talented person, so I would like you to be active in animation as well.

Okawara:
If you have a job, please do!

Sasagawa:
I have been helped by Mr. Okawara for a long time. In the Time Bokan series, every time the title changes, everything will change mechanics. It is hard to decide that. At such time, Mr. Ogawara made up to the wooden mold and said, "This is how it will be like this". Just by suggesting "How about this kind of mechanics", I will do so, so I can say to the opponent "Well, then let's go with this." There were such scenes many times. With only the name "Ogawara", it is already 100% secure.

G:
I am really looking forward to seeing a new piece of collaboration between the two of us.

Okawara:
You must do Mr. Sasakawa while you are in good health!

G:
Thank you very much for all the fun story today.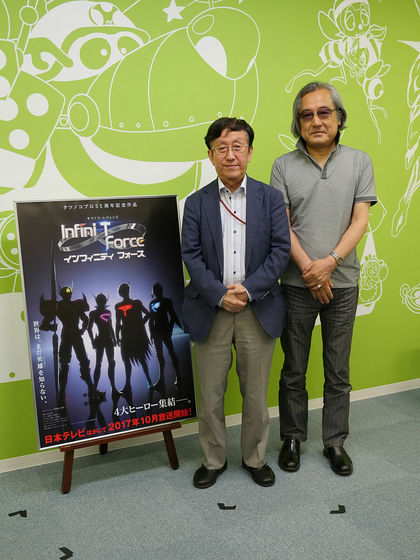 The hero gathers in a redesigned form while paying full respect to Sasakawa-san and Mr. Okawara's "Science Ninja Corps Gatchaman" "Space Knight Teckman" "Breakbeat Polymer" "New Man Casshern" Tatsunoko Pro 55th anniversary commemorative work "Infini-T Force". The world's fastest premiere screening was performed at "Animation Expo 2017".


"Animation Expo 2017" A report of the world's fastest premiere screening arrives! Tachikazu Seki of the role of Gachaman, Director Kiyotaka Suzuki, Producer Haruomi Kazuichi (Tatsunoko Pro) entered and told you fully about "ITF"! Report here →https://t.co/mBtYfqn4no# Animation ITFpic.twitter.com/oN89yZJhmg

- 'Infini-T Force' formula (@Infini_TForce)July 3, 2017

We also interviewed Suzuki Kiyotaka director, so please enjoy accompanying "Infini-T Force".

"Infini-T Force" Director Interview with Suzuki Kiyotaka, the merit of unique full 3D CG animation will be accumulated like this - GIGAZINE