Interview with Mr. Hiroaki Matsuura of Sanzigen who produced "New Theatrical Version Initial D", produce interesting work irrespective of CG or drawing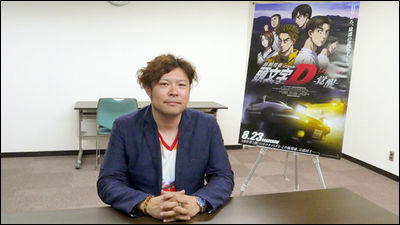 A new theatrical trilogy of "Initial D" was produced and on August 23 the first part of "New Theatrical Version First Initial D Legend 1 - Awakening -"Will be released. Sangjigen was responsible for animation production by Saidjigen × Leiden film, Sanzingen created almost quite a challenging work as a full 3D CG television anime with "Blue Steel Arpeggio - Ars Nova", "009 RE: CYBORG" "Kirakirakiru" etc. produced animated CG animation, it is a notable animation production company.

He is the representative director of this Sanzgen and will serve as a CG Creative Producer at "New Theatrical Version Initial D"Hiroki MatsuuraI have been told to Mr. various story about things in making a work.

New Theatrical Version "Initial D" Official Site
http://initiald-movie.com/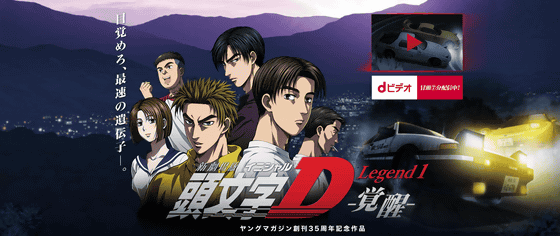 GIGAZINE (hereinafter, G):
Stage greetings at the premiere preview preview held on August 2It is an encounter with works that you are talking about with other interviews, but the time when Mr. Matsuura came to Tokyo and the TV time of the TV anime "First Stage" just overlapped.

Mr. Yuuki Matsuura (hereinafter, pine):
When I went to Tokyo I had the opportunity to show the materials, that was the first contact. When I saw the work on TV, at that time I never used CG in animation, but the car was drawn with CG and I was shocked "This way of using it, I see ... ...." I clearly remember it.

G:
When you decide to produce a new movie version yourself "You came"!

Matsu:
Well, there was a thought that it was good to be made from Sangjigen. CG can do a variety of things, as you aim towards the real direction it is going to raise the tension as a person who is making it, but it is not enough. Sangjigen has a strong intention to merge painting and CG, there is a concept, so it is really good that we can break down the expression of Celluk.

G:
ScriptSeki SekijimaSaid, "There are many car lovers to the main staff, it was exciting from the meeting stage," and indeed,Midori HidakaThe directorLancer EvolutionIt seems to be like a car to transfer, but does this "car lover" also include Mr. Matsuura?

Matsu:
of course. I was born in Fukui, it was a countryside, and so far I have changed about 15 cars. There are also family cars in it, but it was on Supra if it was the one most sports car,For previous modelsTo Fukui snowed in winter, so I spun it as a machine with power in FR, and stopped riding in half a year "This is impossible" (laugh)

G:
It was said that the original was pursuing since the beginning of the series and "I do not draw the distinctive atmosphere of the district".

Matsu:
Well, there were lots of car lovers around me, and some friends like playing cars by myself. The stage of the work is modeled by Gunma, but there are also parts of the countryside where there are parts that feel sympathy.

G:
Mr. Matsuura started the same period as Mr. Matsuura coming up to the same period as the initial letter D of the animation took over the series over 18 years, and thus the new theater version was created in this way, Mr. Matsuura said "CG technology itself is First Stage It has not changed so much from ".

Matsu:
Yes, it has not changed.

G:
"The sense of the animator has evolved", but as a side I am seeing, there is a place I think that "CG technology has advanced a lot". Is not it so?

Matsu:
Perhaps it may be better to say "just how it was used", is there a difference between rendering beautifully graphically or whether it is rendering in the direction of Celluk as a line drawing and painting, but nothing has changed in technology I do not have it. Of course, as the performance of the machine rises and it gets faster and there is evolution of the ease of use of the software, the amount of cut that could not be made at that time may have been cleared, there may be a difference from then I do not.

G:
It is said that changes in the surrounding environment and animator people are large.

Matsu:
I think that 'evolution of animators' is great. An animator of CG expresses like a hand-drawn drawing, making Sannigen with know-how of drawing is a part that Sanguigen is committed to, so I think that the staff has matured. On top of that, it seems that it became a picture with no discomfort even if it coexists with drawing.

G:
It took place in 2011The 2nd interview "Anime's Future 201X"At Sangjigen, a veteran CG animator was aiming to "make the world's best picture" and there was a story saying that the newcomer is looking too far about the side. In terms of the evolution of the animator, is it that the veteran's skills by this story have been sharpened or is it a result of newcomers and young people growing hard and competing, what is big .

Matsu:
I think that it is particularly large that young people have increased. Recently, Sanzingen is going to do various works and sometimes is said to be "Sarujigen with Speaking of Cellular Animation", but since there are many people entering by looking at such parts, the image of "Sangjigen Kakku" I have you. They are growing up with them, and at the same time, veterans are aiming for height as they have become able to do what they could not do so far. I think that it is in a very good condition now.

G:
Indeed, veteran and young actors are both wheels and moving Sanzingen forward. In this way I can tell a story to Mr. Matsuura, I took a look back at the time when I saw San Giagen's CG in myself, but if it is a work after the establishment of the companyString of playing light"Remains in the impression.

Matsu:
Strain is a work I was doing right after I started the company.

G:
The flowing form of the robot flew smoothly and it was impressive. Also from then onWork list of official websiteAs you see, I realize that I was touched here and there like "I thought it was Sanzigen or this one!" Even so, when speaking of Saint-Géigen, the 2013 broadcast "Arpeggio of Blue Steel - Ars Nova-"It was made with full 3D CG animation, and I heard the story that the character tends to become hard hard by anything but CG soft but fluffy. Meanwhile, it seems that there is a place where warships carry out mechanic expressions tightly and there is a place that leads to the car of "Initial D" this time, but what kind of place sticks to the expression of the car in Or?

Matsu:
There are flashy things such as "D Touch" reproducing the touch of Mr. Shingo and "D effect" appearing behind the car in the race scene, but as it is still a car, its "shape" is committed. When making a car with CG, it is just beautiful, it can make a correct shape that is not crazy anywhere. However, even if you run this, it's correct, but it's not fun. Since animation is fiction, if the right and correct one is moving among them, it seems to be imbalanced in reverse.

G:
I see…….

One scene that Hachirok runs running out in the trailer. A jagged line is drawn behind Hachirok going through the curve. Of course, there is no way that such a line will be seen when the car turns around the curve normally, but by knowing this, you can see that Hachirok is running through with force.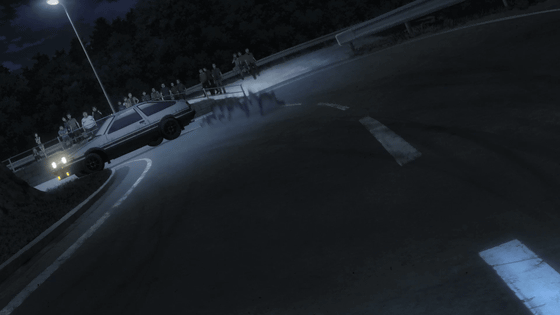 Matsu:
So we distort the model itself. Although it is said to be distorted only a little, this distortion expresses such feeling, the feeling of the air between the camera position and the car, the action of the lens. There is softness in hand-painting, but such things are also necessary for CG. "Reality" is said, but that is not to make it exactly, that customers who saw the screen do not feel strange. By adding distortion, you can increase the reality more.

G:
Even a small point is an important point.

Matsu:
Although Celluk CG is painting the line drawing, anyone can do this work itself if only it can click. However, in the story that "Animator has matured", it includes things to move, because it is a line drawing, Japan's know-how of limited animation of 8 frames per second can be utilized. CG without contour line is suitable for smooth movement, but if painted on line drawing, limited animation. That is why matching is necessary, and for cellulk painted on line drawings, Japanese animations match perfectly. Even if it comes to cars listed in "Initial D", although it is essentially a car that runs smoothly, in anime it is possible to make something more comfortable by expressing and extracting coma. Even with arpeggios, "009 RE: CYBORGEven if it makes it important, I attach importance to this point.

G:
Before,When I heard stories of Mr. Yoshioka and Director Shinji Mizushima from GRANNIKA"Although 3DCG may be misunderstood that it may go up cheaply as it can make use of it once it makes a model, actually there are different uses depending on the scenes, we are arranging movement" There was a story about the distorted thing I came up with suddenly. That is why you have to think about the distortion for each scene.

Matsu:
The car is still comfortable and the hardest thing is the character. The animated character is indeed deformed in the first place, but if you do not deform further by the angle and the angle you want to show it looks strange. In the case of hand-drawn, since it will draw from scratch on pure white paper, something deformed naturally will come out, but CG will not be deformed as unintended. This is a very important point, and the distortion of the car is also deformed, that is, it stuffs, stretches, and twists. I feel that animation itself is deformed and it is necessary to change and deform according to angle and scene.

G:
When it sees it is a little distortion and small deformation so it is not noticeable.

Matsu:
I do not think I do not know.

G:
But, if you do so, you will feel comfortable seeing that video.

Matsu:
If it is CG, if you pull the rail, it moves exactly as it is, but just letting you run does not mean ah. There, the cut is established with the originality and sense of the animator being included.

One scene in the tire of FD 3 S. Although you can run scenes just by pulling the rail and running the model of FD3S, it is not enough by that alone, and as with this scene a picture-like effect is added and painted in various places And when you see it, a picture like "Oh!" Is produced.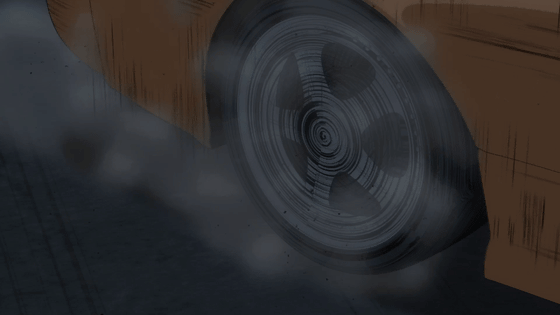 G:
Regarding the car, I heard that "There is no setting picture this time." Is it OK if you do not have it?

Matsu:
In this time all the cars are real, there was something that Hachirok stuck with the same specifications as manga and reproduced, so I went to interview and based it, It was okay even if there was no setting picture as we prepared a lot of materials. Of course, it would be better to have a car, but the car is not fancy.

G:
"New Theatrical Version Initial D" is Mr. Matsuura's representative Sanzigen andLeiden FilmI am in charge of production. BothUltra Super Pictures (USP)Although it is a company under the umbrella, is the merit of organizing tags within the group big?

Matsu:
of course. According to USP affiliation,OrdetAnd "Black ★ Rockshooter"Together,triggerAnd "Kill rakiruWe do it together, and we are collaborating with Leiden Film for "Initial D" this time. There is interest in each, but it is noteworthy that Sanzigen is able to respond to whatever direction any kind of picture is. Although I'm not planning to make Sanzingen a "factory" at all, hand-drawn it is difficult to say "a touch that is different from what I always draw", but if it is CG, everyone depends on ideas and ingenuity to make a new type of thing Because there is an advantage that you can make a picture with the same direction inclusive, it is easier to harden the direction of picture making, which is why it is easy to organize tags with various companies. However, I am conscious of incorporating various elements such as what Saint-Genen does as a single body, what I organize with others, so as not to be alone.

G:
I saw that "This scene was made by CG like this" in the making of "Kirakiru", but in about the state of "Eh? Here CG?", This is seeing the broadcasting in real time I thought that it would be impossible to distinguish "hand-painted now, CG from here" inside.

Matsu:
I wonder if that argument will be nonsense anymore, I think, "Whether it was CG or drawing, originally, which one was okay?" (Laugh) Whether it's cool or not, the animation is interesting It is the point that customers are paying attention to, and it is our intention that we want to offer interesting images and interesting animations whatever they make.

G:
I realize that I have been able to do various things because I have accumulated experience, but have you had any difficulties?

Matsu:
No matter how much the animator making it matures, I do not get on the car, so I do not have any idea how I can drift, including theory and sensation. Basically, animation creates painting with imagination, I have never seen "a huge spaceship fly" ... .... The "Initial D" is, of course, imagination is important, but it is also a real car, so even if you make it with imagination with a great emphasis on power, customers will not be satisfied, there will be a part of putting customers down . I have to put real into it, but since there are not so many animators riding in the car because public transportation is convenient and the parking fee is high when living in a city, we build it with certain rules I struggled where to go.

G:
What a surprising place ... ....

Matsu:
I make robots, mechanics, various things, but is not the car the basis of all the mechanics? It is impossible for a guy who can not move the car in the usual way to move the mechanism (laugh). Although it is an airplane, it is the basis of the mechanism we see in the vicinity, so if you can not express it like this, you can not move a robot so much, can not you let it fly (laugh) But there are things to draw with the car as a background Even so, it is not a chance for me to keep it at the center so it was a good experience for us and good learning.

G:
Certainly, I do not know what kind of movement I am doing when I drift unless it is a person who rides the car on the car.

Matsu:
I wonder how long it takes G. Therefore,Good Smile RacingI was supervised by the company, using the model at the company "teach me that the front wheels are like this, when drifting, this is how it works" I was told that. "That's it, I will rebuild it!" (Laugh)

G:
I had drivers actually drifted on the circuit and checked the behavior.

Matsu:
good smile CompanyIs a major shareholder of USP and racing is also one of the group companies of the Good Smile Company, so we cooperated in various ways.

G:
The strengths of the group live work.

Matsu:
It was very helpful.

As well as checking the behavior, I also use a microphone mounted on the Tsukuba Circuit with the sound side and a sound of the actual car.

New Theatrical Version "Initial D" Legend 1 - Awakening - Tsukuba Circuit Voice Recording Document ① - YouTube


New Theatrical Version "Initial D" Legend 1 - Awakening - Tsukuba Circuit Voice Recording Document ② - YouTube


G:
In Mr. Matsuura's remarks, "There must be anyone to be able to make it in the same way", but if it is a hand-painted picture, each individual's sense and skill will be mixed and training of animators will be quite amazing I heard that it is hard.

Matsu:
Well, it is very hard.

G:
Compare that with CG animator training ......

Matsu:
It's easy.

G:
Already, can you say spoiler?

Matsu:
Yes, it is clearly easy. First of all, the frontage is wide. You do not have to draw a picture, you do not have to resemble it, you do not have to draw beautiful lines. Just concentrate on moving it. You do not have to have three of the four elements required for the animator. Of course you can do it if you can, you can make CG animation without drawing it. Since we can start from there, obviously the frontage is wide. Hurdles are expensive thought to be a special CG animator, but since you can start working right away and have a lot more opportunities to get better with OJT than hand-drawn, it is early to grow up and special I think CG animator will come out more and more in the future.

G:
Are you going to get better while you are looking at growing up?

Matsu:
It will be, it is early.

G:
Even if you can not draw a picture, it is nice to be able to participate in those who make animation, not on the side of managing production. If you can not draw a picture, it's an impression that the direction you aim for will be narrowed down.

Matsu:
Although I can not draw any pictures at all, I thought that I would like to enter the world of manufacturing, "I thought that it would be impossible to create animation because I can not draw pictures." It was CG that appeared there. I started from the point where I thought "I want to make use of CG for animation", but since I had a feeling that we could make animation, it is a very magical feeling. Everyone can become an animator!

G:
Sanzigen established the Kyoto studio in July 2012,Talk with Noguchi Producer of Toei AnimationIn the middle of the story, there was a story saying "I want to make a total of seven studio in rural areas" "I want to make a total of 1,000 people" and "I want to make 20 lines."

Matsu:
20 lines! (Laugh) Well, that is like a goal or an ambition. Although it is natural to make a work, I want to create a huge hit in it and I want to put out a lot of hit works, and I think that it will be about 20 lines to be able to move for the first time if all that can be done in total. I think that it is better not just to simply "create a line" but to realize the meaning of "having 20 lines".

G:
Even if we talk about this 20-line, 1000-person organization, I think that it is probably because there are two points "the frontage to CG animator is wide" and "CG animator is early to grow". It seems to be a ridiculous story when 1000 animators are ordinary animals ......

Matsu:
I guess surely "he is a fool" (laugh) But I do not want to light the animator, including that too. Even if people can use a lot and reduce costs, I do not want to lower the cost to pay for animators, but rather I want to raise the value. Whether it is my mission to increase the number of people and to firmly manage their branding.

G:
Finally, has Mr. Matsuura recently viewed, is there a video work "This work, do it! Inappropriate!" Is it a feeling that "Yoshiyoshi, Sangogen is doing well?"

Matsu:
Well ... seeing video works, Disney's "Frozen"I feel that eyes for customers are being cultivated even for a slightly real touch video expression. There are various expressions in CG animation, but there are signs that such real touch can be accepted in Japan. "STAND BY ME DoraemonIt seems that the reputation seems to be good, and overall it seems that soil is being formed. Since Sanzingen has the concept of making a cellulk against the animation market, it is another matter whether Sanzingen heads in that direction, but I think that there are various ways of expressing it.

G:
Thank you for today!

The movie "New Theatrical Version Initial D Legend 1 - Awakening -" is released August 23. Although there may be many people who know the battle at the beginning only for works that had long been serialized in the original, it is worth seeing again what the picture made in 2014 is.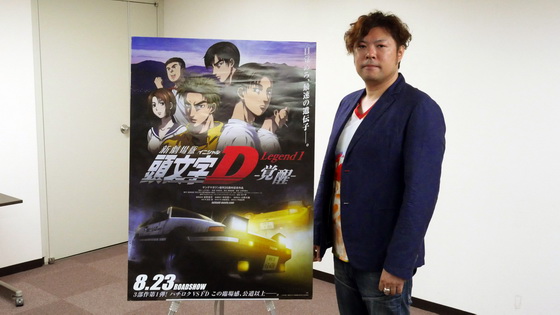 © Shigenori Shigeno / Kodansha · 2014 New Theatrical Version "Initial D" Production Committee