"New Theatrical Version Initial D Legend 1 - Awakening" Mamoru Miyano and others showed up at the preliminary show preview and completed the work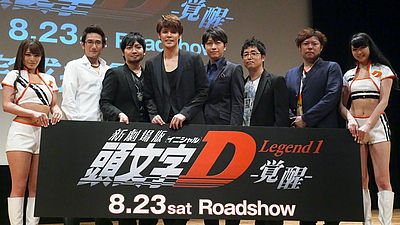 Published on Saturday, August 23New Theatrical Version "Initial D Legend 1 - Awakening -"The preliminary demonstration preview was held today, August 2. Fujiwara Takumi's role as an eventMamoru MiyanoMr. Keisuke Takahashi's roleYuichi NakamuraMr. Ryuke Takahashi's roleOno DaisukeMr. Takeuchi BridgeMinoru ShiraishiMr. Koichiro Ikeya's roleTsuchida Univ., CG Creative Producer'sHiroki MatsuuraMr. Takaya talked about the role of each role and the thought of the work.

New Theatrical Version "Initial D" Official Site
http://initiald-movie.com/

The venue is in ToranomonNissha hall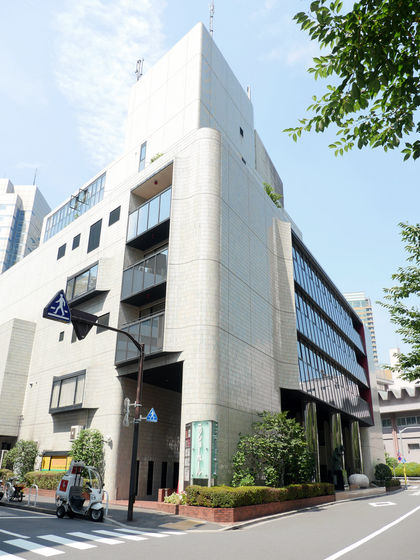 A poster was posted on the stairs to the hall.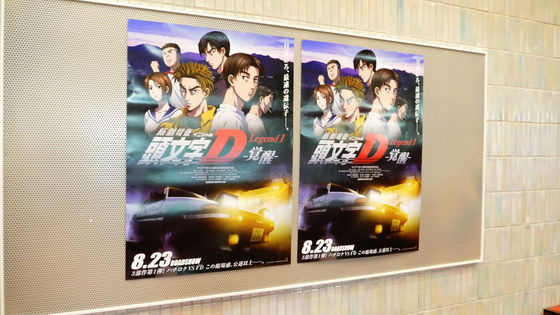 Moderator was Cinema Analyst · DJ'sYakumo Fumi neAt the beginning, a comment was introduced from Professor Shuichi Shigeno, Professor Shigenobu Shigenobu, at the beginning, "Amplified inspiration comes with a gut" no matter how many times you read the original or how many times you saw the animation.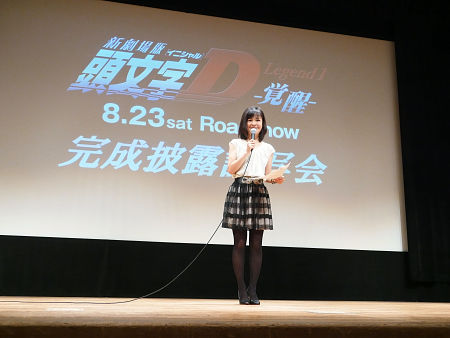 Next, Mr. Tsuchida, Mr. Nakamura, Mr. Miyano, Mr. Ono, Mr. Shiraishi, Mr. Matsuura attended.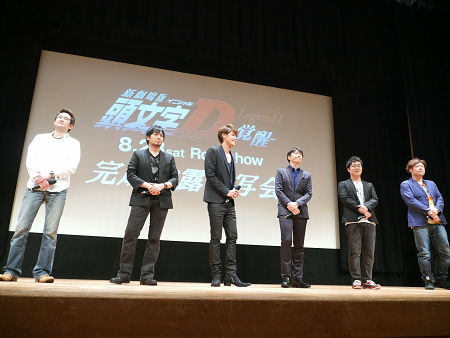 About Mr. Miyano who participated in popular and historical works about the part that consciously felt in playing the role and took care of it, he said that although he made a role by reading the original work, the pressure was also great.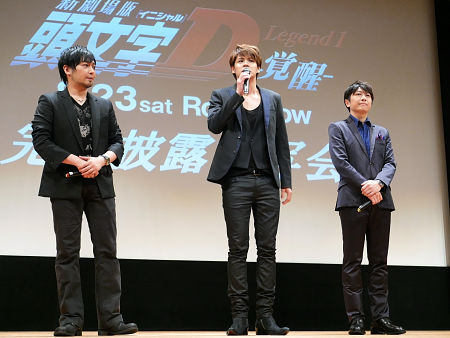 ......, Although it was a bullshit tone, I decided to accept Mr. Nakamura's Tsukkomi by managing the CM with the part "Legend 1 - Awakening -". In playing Takumi, he told me that he remembered the emotions of puberty rolling out when he was a high school student.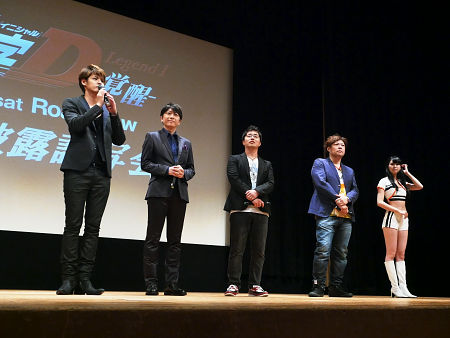 Mr. Nakamura who put that Tsukkomi just came up to Tokyo around the beginning of TV animation, so it seems that everyone gathered at a dormitory at a vocational school and gathered.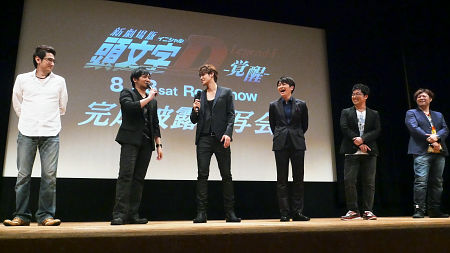 Then Mr. Ono interrupted Nakamura-san like Mr. Ono with a good voice "Let's see" Ini D ... ... "and Mr. Miyano said" Because I will hear of Ono D's story later! "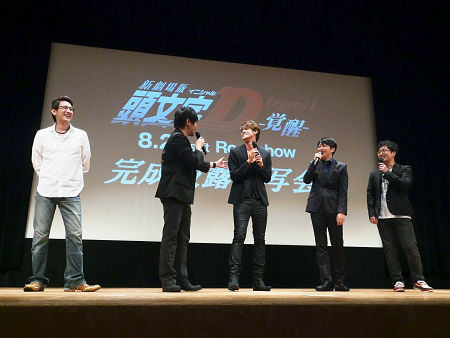 Mr. Nakamura is the owner of the motorcycle license and originally thought that the car was not very interested in the car, but replacing the Hachirook engine which comes out in the second half is a place where you can communicate with changing the main character machine of your favorite robot animation There was a thing that was hot and fun was interesting and I liked the car. In playing Keisuke, although the picture of this new movie version is close to a picture in the end of the year, he seems to be particular about being able to express the fresh odor which has come out as a function.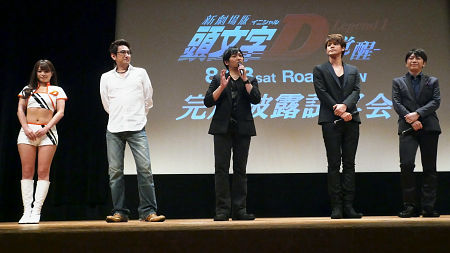 Mr. Ono who was ordered by Ono Shallu D, please come on, "Because I will not be awake!"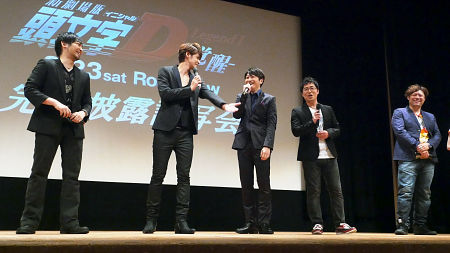 This time, all the cast members are those who do not get on the car, Mr. Ono says, "I used to have it but I did not renew because it does not ride so much", but I feel like I remember when I was on the ride , When I did Uzu, I talked about the enthusiasm of the work.

Mr. Shiraishi's acting Ikki is a friend of Takumi, how to give "ordinary" feeling among people with super technique, and by playing "Triumphant Three People" with Mr. Tsuchida, Mr. Katsuragi Katsuhi He said that he worked hard to convey how great it was with the general public. Miyano says "Why is it that you come here today?Watarida UchidaMr.) I guess Ichiki is coming in, "he said.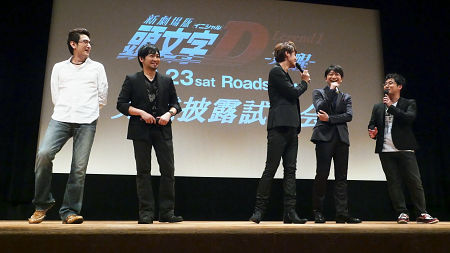 Mr. Tsuchida who played Iketani who is the senior of Takumi et al. Said, "When I was young, high school students took the license at the same time as I graduated from high school was a common sense of the iron plate, recently everyone got riding, somewhat interesting I am sorry to hear that. From your older brotherStarletAlthough it seems he was running around to Gangan, he said, "It is dangerous to do such a way of running out in this movie", "Traffic safety, please drive with a good feeling" invited us to laugh.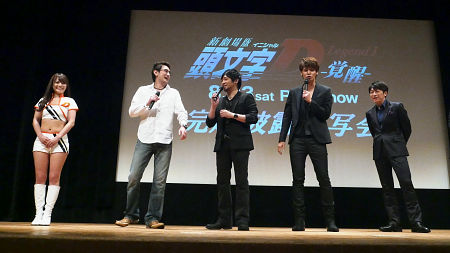 Since the beginning part enters from the talk of Ikeya, it seems that it was hard to get out although OK though he was enthusiastic that the beginning is important.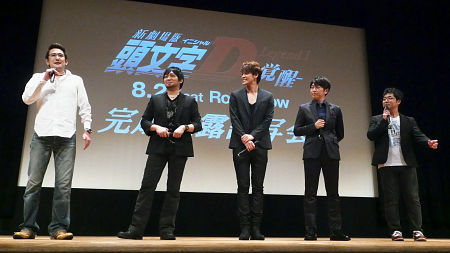 And Mr. Matsuura of Sanzigen talked about the point that I was particular about making works. Although the project was brought in about two years ago, Mr. Matsuura just came up to Tokyo when the First Stage began, and he saw CG for the first time in animation and received a shock. The new theater version was announced at the same time as Final Stage was produced, "It was made with painting, actor and sound wanting to be new as there is a previous work." Mr. Matsuura's point of attachment is "Real and Fiction", not simply pursuing realism, but because it is an initial D including Mr. Shingo's touch, he said that he also stuck to such expressions.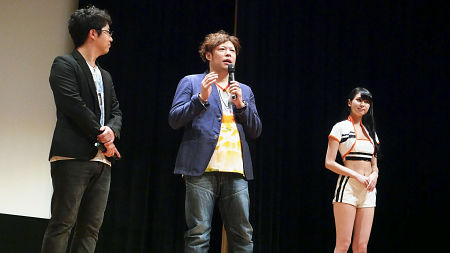 In making the work, we asked the driver of Good Smile Racing to cooperate fully, showed the behavior of real drift, borrowed the circuit and recorded sounds and explored how to apply realism to fiction, In fact I made an initial letter D.

New Theatrical Version "Initial D" Legend 1 - Awakening - Tsukuba Circuit Voice Recording Document ① - YouTube


This time, calling Shogun's style touch "D Touch" by being brought to the manga, the effect coming out behind the car "D effect", he said that he worked hard to express this Clapping gotten from the hall as well.

By saying "(Ono) D effect?" "Cast team who creates a mysterious effect behind Ono's.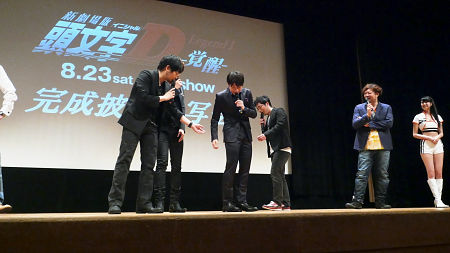 Cast's favorite scene is Mr. Miyano and Mr. Shiraishi's conversation scene of Takumi and Bunta. Mr. Nakamura is not a scene, but the fact that the SE of the backfire was impressed by coming in at a gorgeous place, and that Natsuki is erotic than the original.

Mr. Ono said that although the lines of Ryosuke himself plays were not so much, the flow that the music flows and the battle rises excitedly from the "downhill specialist is the fastest running shop" among them is left behind in impression It is said that there is. Mr. Tsuchida said that he was able to lean towards "I'm sorry, Sylvia" from Ikeya because he usually rides a motorcycle and moves lovingly into his car and moves as desired.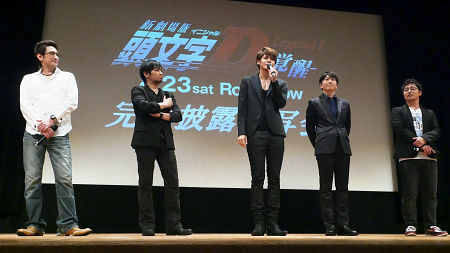 Mr. Matsuura said that he wanted to create key visuals and cuts by making an initial letter D again in 2014. However, since it is theory that cameras are the main on cameras, because the cameras are on the ground, the cameras are pursued after Hachiroku this time, when you press the brake before Takumi drifts, the cameras Jump into Hachiroku with the momentum and furthermore when Takumi shifts and drifts, Hachirok accelerates, so the camera goes out, so I made a cut that I have never seen before. is.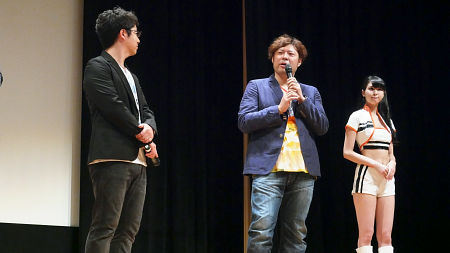 And everyone's photo session. On the left and right are D girls Megumi Haruna and Tsukasa Arai.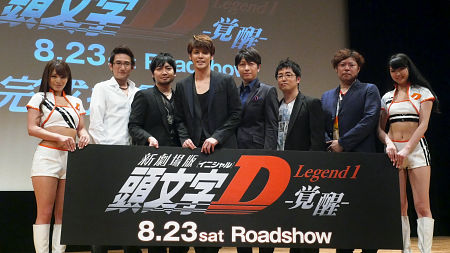 A message at the end.

Miyano:
Everyone, thank you very much for coming today. It is full of delightful thoughts when thinking that we can deliver the work that we made with a hot feeling soon to you. Because it is a popular work, a work with a history, we are confronted with ourselves straight, but since we have the title of the new movie version, we stuck with "we can only do it". I hope you will enjoy it.

Nakamura:
Basically it is a work that is going to battle with racing, cars, but the element of the drama is also strong, I will read the original and I wonder what will happen with Mogi " Mogi, oi! "Or ... ... Although Mogi only talks about it (lol)

Ono:
This person (Mr. Shiraishi) is also awesome thick lips? Are you erotic?

Nakamura:
Maybe I'm playing, why do you disturb me? (Lol)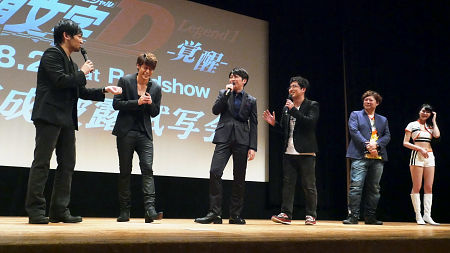 Ono:
Because it is a story of my brother ...

Nakamura:
The story of Itsuki is good.

Miyano:
Talk about Natsuki.

Nakamura:
Truly human relations drama is also deeply, even if it is a battle it is a machine and a machine, but the bargain between people and people is the basis, so if you see it, even those who are not on the car, who are not interested I think that it is a work that you can have fun and that you may be interested in cars and races from there, so if you would like to bring someone who is not looking at it to the theaters fortunately think.

Ono:
The impression I had in the work "Initial D" was an image that was cool, stylish and cool, but I thought while creating a new movie, I blew into the new movie version, "No, cool There is no ... ... hot, it's a tremendously hot work. " It is surely a heat quantity that I love. I like cars, I like the race, which is why I can get this much heat. Perhaps this part may be an emotion that forgets as I go through years, but I think that the amount of heat trying to do new things is included in this work. So, we also want to burn the heat of "like" with Melamella and I'd like to breathe life into the new theater version from now on, so thank you for your continued support from everyone.

Shiroishi:
During this time I went to play in Ikebukuro, I thought that the poster of the new theatrical version was pasted in the place where the game center was, and it really started. I thought that making a new thing with a new theater version felt a lot of pressure himself, but feeling the affection and passion from that, looking at the painting, feeling passionate from that, do not let it lose We also have passion I made it. I think that it is becoming a hot movie that seems to be interesting to see even a person who does not like cars as a story, as well as a picture expression. I hope you will see it once as a matter of degrees and two times three times. I wish for your continued support so far.

Tsuchida:
There is nothing to say because I have been told mostly (laugh), I also have a work that remembered since I've seen animation movies from many years, so that this work can be such a work in everyone I would like to make it with all wonderful people. Cheer thank you.

Matsuura:
I am thankful that you are making an initial letter D, and have the sound recorded, the staff worked hard and made a work, you let the actors coming here have wonderful acting , I'm really proud of being involved in this work and I am proud If everyone here thinks this image as "nice" even if a little bit, Twitter or Facebook or the shadow of a street interview (Laugh), I'm very happy if you can get excited with your strength. We will continue publishing in the future, but thank you.

"New Theatrical Version First Initial D Legend 1 - Awakening -"Is released August 23.

© Shigenori Shigeno / Kodansha · 2014 New Theatrical Version "Initial D" Production Committee