"Ghost in the shell icebreak ARISE border: 2" is the best action movie of Production I. G history and the president is Daimei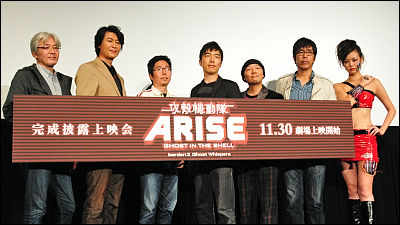 Published at theaters nationwide from November 30 "Ghost in the Shell ARISE border: 2 Ghost Whispers"The completion screening screening and the stage greeting were held at TOHO Cinemas Roppongi Hills on 18th November. It was Mr. Kazuya Hello who was in charge of general director · character design, the series composition · scriptOkataMr. Atsushi Takeuchi who served as border: 2 director, role of BatouKenichiro MatsudaMr.Takuro NakagokuMr. Mitsuhisa Ishikawa of the production commander. In the history of Production I. G. over 25 years, Mr. Ishikawa praised that this border: 2 is the best action movie.

As for the moderator, Nippon announcer announcer that he saw border: 2 about 2 weeks agoYoshida NaotohiMr. "I am glad that there are no people who saw around and I am happy to have friends who can talk like this," border: I was pleased that 2 friends increased.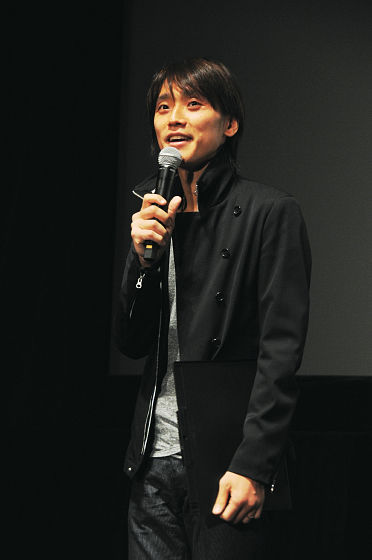 Since the stage greeting was done after the screening of border: 2,Border: Contains spoiler element of 2.

Mr. Kise, Ms. Okata, Mr. Takeuchi, Mr. Matsuda, Mr. Chunichi, Mr. Ishikawa from the left.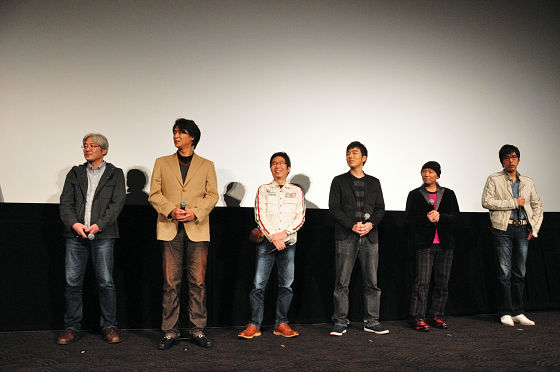 Kazuya Kurosa (hereinafter yellow):
Thank you so much for your gathering regardless of weekdays. I also saw what I became a picture the other day, but it was fun.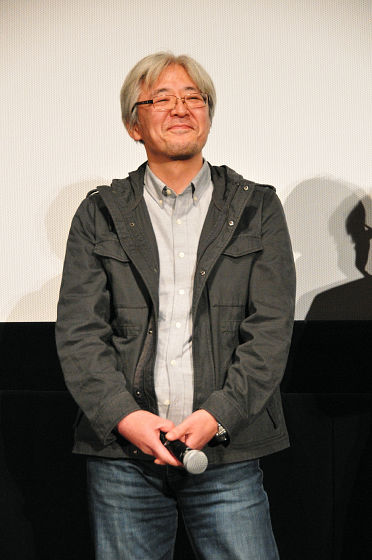 Okata (Okinawa) (Okinawa):
Thank you for coming at a busy time called Monday night. It reaches the public safely, it is feelingless. I also saw the work, but I just went to see preview copy once more without looking at the preview preview.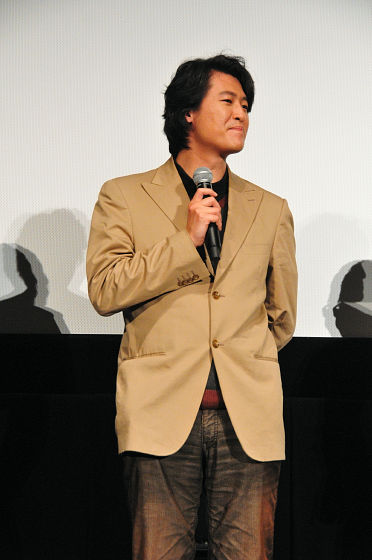 Atsushi Takeuchi (hereinafter bamboo):
Border: It is Takeuchi who was the director of 2. The trembling does not stop with the number of people, Thank you for gathering during busy. This time, I made it in a form that stretched a little bit as a content, I feel that I came all this way with the power of the creators and various people. I hope you enjoy watching it.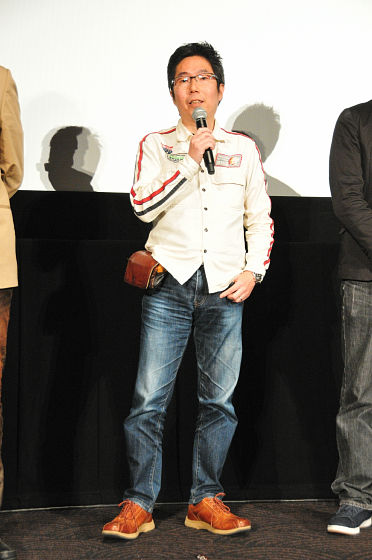 Kenichiro Matsuda (hereinafter, pine):
I am Mr. Kenichiro Matsuda who is role of Batou. I am nervous as you can see, please hand softly. Since Batou's turn increased more than last time and the action was also increased by 20, I played happily.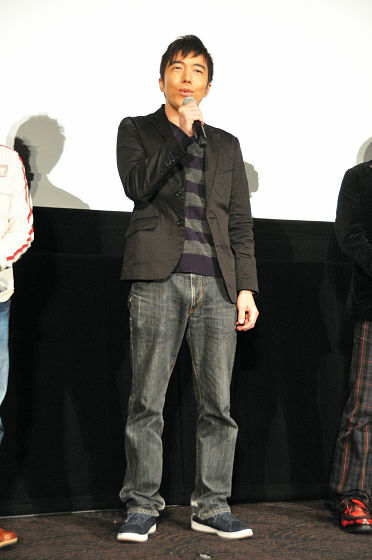 Takuro Nakagoku (Middle):
It is Takuro Nakagoku as a site. In retrospect, I got the story of the audition last November, I think that one more year has passed since then I have not realized it yet, but I participate in the work from border: 2, Oh, reality It is dependent on thinking.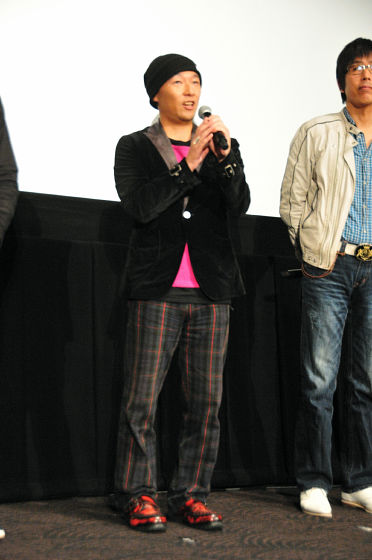 Ishikawa Mitsuhisa (hereafter, stone):
Production I. G has been over 25 years since its establishment, but border: 2 is the best action movie. I would like to compliment the staff who made this. And, everyone who came, thank you very much.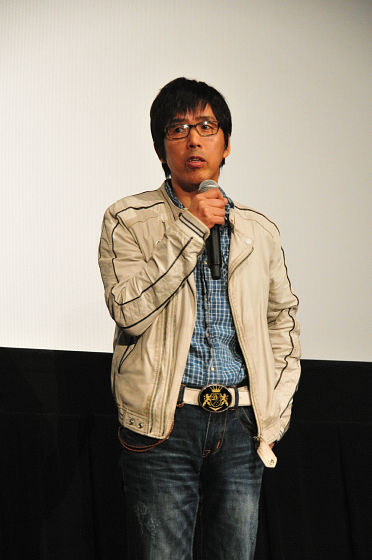 Yoshida Naoji (hereinafter, Yoshi):
Mr. Ishikawa said that "2 is amazing" in the stage greeting of border: 1, but this is the best I.G history.

stone:
Anime has not been chasing live-action photography, but I think that he wanted to make something to overtake. But when I saw this work, I thought "It is different". It is a picture that live action is about to catch up with animation. I am not trying hard "trying to overtake live-action photography" but also in Hollywood's James Cameron and George Lucas, but I'm chasing over five years and 10 years whether I can make this animation-like stuff with live action It is. Looking at the image of border: 2, I thought so.

Yoshi
It is said that "matrix" was born thanks to "Ghost in the Shell", but the same thing as that ... ...

stone:
I saw it today, I was convinced.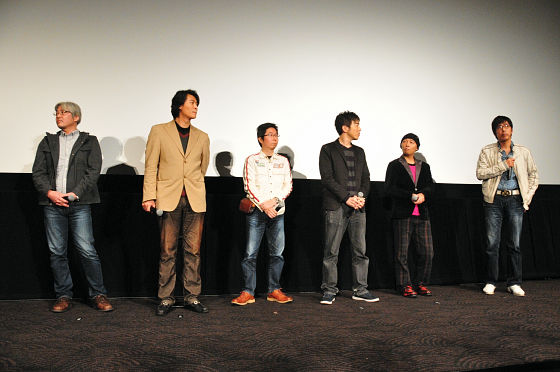 Yoshi
I will visit Mr. Yellow Okata and Mr. Okata about the contents. In the Ghost in the GS AR ___ ___ ___ 0 I saw that border: 1 has become the story of the birth because of the accumulation of the series so far. In all 4 works, border: 1 is a story of the beginning, but what role did border: 2 have?

yellow:
First of all, we have to gather the public safety section mentions, but I can not use the number of stories, what shall I do ... I will do with border: 2, (laugh)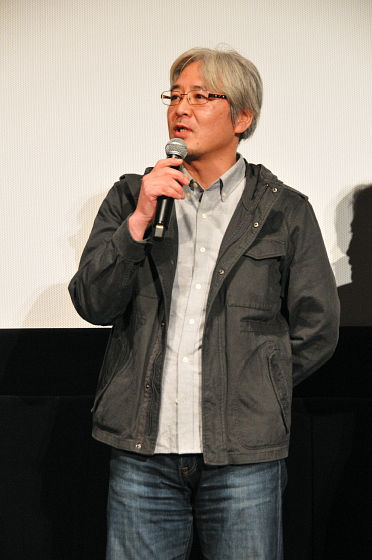 Oki
I thought that I could get out in one stroke if I adopted the composition of 9 department members versus 9 department members. Since I was told to do something while making a scene that elements can not be seen as Batou, the site is trying to shoot the element, elements that steps on Boma, such as friends, I tried to do something (laugh) Mostly, at a smoking place Mr. Kise answered "I wonder how it's like this", and the rest is like I managed to do something.

yellow:
"Please do" (haha)

Yoshi
In order to resolve Mr. Kose's suggestion, Mr. Okata must think of concrete ideas. In such circumstances, though it has not appeared to the Ghost in the Sheriff's So far, the idea such as "It was there!" Has come out.

Oki
If you are a hero thing you have to make a composition that you can only solve to him / her, but in the case of cyber punk, you can create a social versus individual structure. For example, Aramaki interferes, supplements and helps in situations where everyone has to watch their fight. Such a structure was easy to make, and at the same time it can be said that it is a structure that seems to be a Ghost in the Shell. I think that it is the taste of this work that the structure that makes it easy to make a hero.

Yoshi
Hero, right might be a heroine.

Oki
Oh, I was saying heroes and I did not feel any discomfort. Today, I do not have Mr. Sakamoto san, so why do not you want to tell me ... Why do you think you should not do it unexpectedly pretty (laugh). Was it cute as with Logicoma in the Electric Brain space?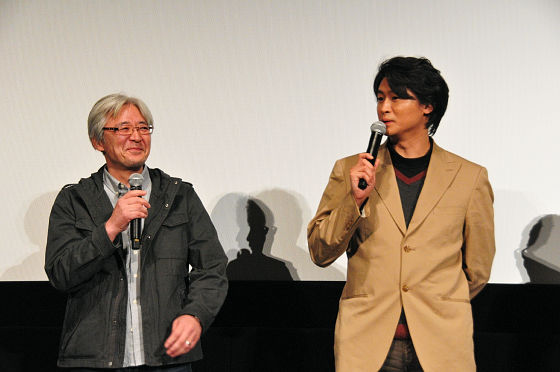 yellow:
That's it.

Yoshi
Although the element seems to be the leader of the 9th division is appearing more and more, for that reason other members are suppressed by the element.

Oki
It became like 'element vs 9 section' (laugh), and there are sites and pads that give out a nice taste. There used to be "cute element" "cool Aramaki" "poor battle", "poor battle", but this time I followed it and tried out "bad site". Ace sniper is that it is not such personality that it follows such a device easily.

Yoshi
I am not in order, but I have to ask Mr. Matsuda here. Mr. Matsuda is a big fan of "Ghost in the Shell".

Matsu:
I like it from the original all the time. It is supposed to do Batou, "I got used to ridiculous, what shall I do ..." Even now I am full of unbelievable feelings.

Oki
In the waiting room, say to Majima, "You should stick the bottle caps to your eyes".

Matsu:
Yes, I wonder if I should do this, I wonder if it will be able to peel off one stroke, (laugh)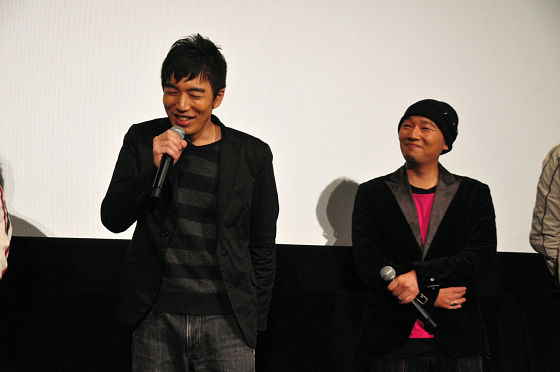 Yoshi
Although Batou has appeared from border: 1, this time the expression "poor little Batou" is a perfect role.

Matsu:
I feel like I do not cut it down, I feel like a withdrawal. If you are looking at the Batou who is trying to hold on to the memory of the past, ah that this can not win the element anymore.

Yoshi
But even if you know that you will lose it will challenge.

Oki
The master-slave relationship has started from there.

Matsu:
Even when leaving a prison, I feel like "... you can go," not instead of "let's go," and I think that there is a part that entrusts to the element is a "poor little Bato" I will.

Yoshi
This time, it is a story about how the element becomes a boss-monkey.

Oki
Ishikawa is calling "Mesola," but this phrase is actually the first time, is not it? But, it is coming out as naturally as anyone does not think so.

Yoshi
The site has a new "bad site" tagline, but Mr. Chuka.

During:
Yes, feeling bad site. Since I was a participant from border: 2, I entered the studio as if I were a transfer student, but everyone speaks very difficult things. "Domine" or "Pandora ↑? Pan ↑ Dora ↓?" Recording itself was a very gentle and warm atmosphere, and it was too early to finish recording, so I thought I wanted to record longer.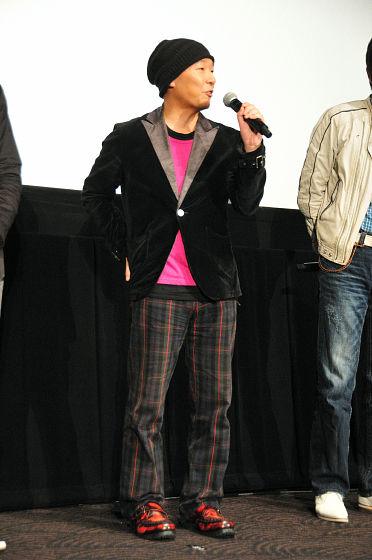 Yoshi
Among many difficult lines, especially Aramaki and elements are carrying out difficult conversations, but there were many site conversations and simple conversations.

During:
It was good, leaving the difficult places to Sakamoto-san, I am trying to keep curse for the time being (lol) After that, I was glad that I was alive .... In the script of the script I wrote that "a jumping site", but when I try to draw it there is no corresponding scene, "What is that?

bamboo:
I have not drawn it.

Yoshi
The series will continue so please rest assured. This time, like Vivie and Colonel Soga, there are many newly appearing characters, and a character that wastefully used at one time has also appeared.

yellow:
This was designed by Takuya Saito who served as the main drawing director of border: 2. Takeuchi-kun told Saito-san about the image with a character that appeared in the scenario written by Mr. Okata, asking Mr. Saito to show the image, "It's okay".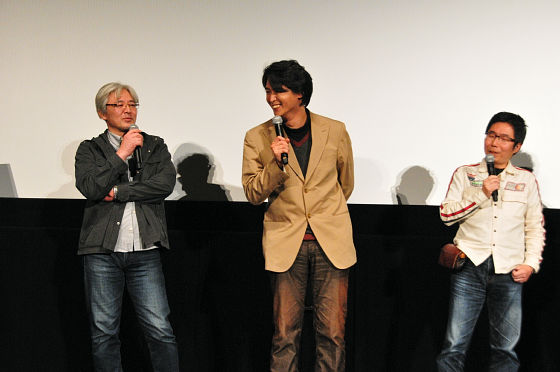 Yoshi
There is a feeling that Mr. Kise has left over this time.

yellow:
Takeuchi-kun checked CG and I did not know what kind of film it will be until I see preview preview, so I was surprised to see it. As long as there is something like this, thank you very much.

bamboo:
This time we are participating with Mr. Yellow and Ms. Okata, as I think they owe their minds, so it is never such a thing. I also check the container firmly. Mr. Saito of character design draws a painting picture, so I thought that I wanted it to be a character that makes its character live, so I tried to make it feel like sexy. It seems there was an image that Mr. Kise has a slightly hugely good feeling ... ....

yellow:
Since it is not Asian type, I thought that it would be better to have a better one. I think that there is enough sexuality if it is only element, there is no shower scene this time ... ....

Oki
But, there were women who cheered in the electronic world.

bamboo:
Yes, that's the number I used the most

Oki
Even though the character is not moving, the clothes are moving finely, and "Where are you putting in a spirit?" (Laugh)

bamboo:
Not just myself, it's also Mr. Saito's commitment (laugh)

Yoshi
I think that the screen composition was composed of intense action, a picture with no breakdown even though it was precise, and "I just saw it for a moment, but I can grasp information so much". I'd like to ask Mr. Ishikawa about this area.

stone:
Awesome Takeuchi Atsushi is the place to make a picture nodding "George Lucas's love in a man".

Yoshi
Lucas is an anime version of Star Wars.

stone:
Although there is a scene where Logicoma fly using the wire in this work, there is a scene that it fly with the wire using the wire, but "Why do not you keep" Spiderman "by all means? Is Atsushi Takeuchi of the world like this" I heard it. Then, there is Fuchikoma as a buddy of the element in the Ghost in the Ghost in the ice shell, but when it is 1995's director Mamoru Oshii's "GHOST IN THE SHELL / GHOST IN THE SHELL" it is exciting to draft it and drafts it, wire action I also thought that it was conceived.

bamboo:
At the time, I was doing mecha design and I was drawing it before ordering "Ghost in the shell". However, although I thought of doing wire work, Fuchikoma does not come out ... ....

Oki
With GHOST IN THE SHELL, it was supposed not to have Fuchikoma.

bamboo:
In addition to that disappointment, the book which I drew with Mr. OshiiMamoru Oshii · Image Machinery Theory [Mechanicalia]), I drew a picture of a multi-legged tank flying in the building with wire work. "Actually I was drawn a long time ago than Spider-Man." This time, I was able to do it, so there is nothing left to remember.

Oki
Actually, it is the first time for me, is not it "Tomodachi" series such as Tachikoma, Fuchikoma · Uchikoma do three-dimensional motion ... ... Does not say stereotypic maneuvering (laugh), three-dimensional maneuvering.

Yoshi
I have a plan from 18 years ago, and I am going ahead of Hollywood and it is not a pakuri remains as a material. Besides, the commitment is seen everywhere in the action scene, I think that the setting is also beautiful. 30 years, traffic congestion has not occurred.

Oki
Since traffic congestion should not occur if traffic control develops. That is why I will be dominated. Thank you for picking up plain places.

Yoshi
I think it was hard to make things like pictures, interesting things, there are many things.

bamboo:
I put in a scene that folds in like rhythm, but it has been cut off because it does not suit Mr. Kose's preference.

yellow:
There was a movement to shift change in the bike scene. I do not care as rhythm, but I thought I would have it with actions and even though I did not have it, I shaved it. As a result, it was quite up tempo, so I was relieved.

bamboo:
I think that it was good, because it takes time and effort to cut to 1 cut.

yellow:
I am indebted to Mr. Inogami of CG director.

Oki
Do not intertwine with me (laugh)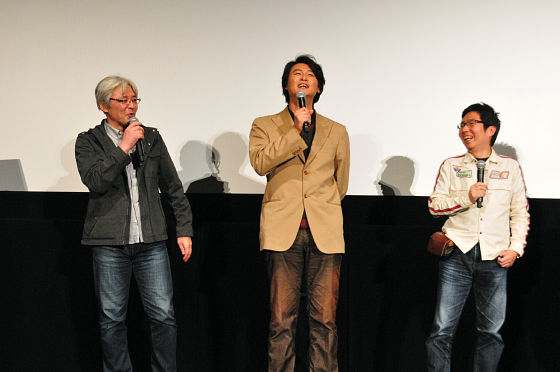 Yoshi
Next, I would like to ask about the after-record scene.

Matsu:
In my case, it was a workplace where I was nervous because of my personal feelings. First of all I suffered from trouble until I stood in front of the microphone, in 2 the number of Batou 's turns increased, the action increased ... ... Moreover, since Mr. Ikuya Sawaki who was acting Colonel Soga is also a teacher of the training institute, There is also a real superior and a subordinate like there being a place where I can see a properly shown at the same site as the same site, and I was very nervous.

Yoshi
As a shellfire fan, Batou thinks that kind of feeling is perfect. How about as a site?

During:
It was about a half a year from the reception that I received it to the audition and it was chased mentally (lol) In the end, "I should manage somehow by talking to the section of the 9th section on site" I thought that the scene is fun, in the immediate future, I do not remember much. I feel like I am looking forward to the next border: 3, are you going too far in advance?

yellow:
No, no, I think it's all right.

Yoshi
As for the people of cast, although it is not notified here, Tanuki Dan who was played the role of Ishikawa died on 10th October. Is that Mr. Kose, who was responsible for the casting of Ishikawa role, can you give me a word?

yellow:
Because it was nothing ... ... It is a great regret that only Mr. Dan was recorded separately and I could not go to the dubbing site.

Yoshi
Why was Mr. Dansan chosen as Ishikawa?

yellow:
Simply, I decided after listening to my voice. Masked Rider W who had Mr. Dan was watching on TV, I learned later that I knew the face but I did not know the name.

bamboo:
I remember saying that Dan is "looking forward to appearing at border: 2 because it has not appeared in border: 1" when entering the show. In the border: 2, Ishikawa took the measure by saying that this is the point of view, but it was perfect even though it was recorded separately, and almost NG did not come out and it proceeded smoothly. Acoustic director Mr. Iwami was able to go with this, it was a recording that ended quite suddenly. I am sorry to have been looking forward to its next appearance.

Yoshi
In the end, I would like to have a message for everyone. Mr. Ishikawa, please.

stone:
The theme of border: 2 was an action, trying to make it with overwhelming quality. Here I dare to say border: 3. If I do not say this I can not go home. (Venue haha) We tried to make customers really feel "ARISE" with border: 3 with border: 2. Kagaya Kazuya is also making animator life by betting Okata Dance of writer life. If this is possible I think that ARISE will stand up in the true sense, so please look forward to it!

Oki
See you again! (Laugh)

stone:
The things that I wanted to do the most, Kokase has done what I wanted to do now.

yellow:
It is a feeling that Mr. Okata managed to order my order.

Oki
I am remembering that it was brought to me "Oh Wooh" as I brought the place that I had not thought most, among the ideas that I tried out as to how various talk number composition was considered.

Yoshi
So, on behalf of the last one, please give me a word from Mr. Yellowse.

yellow:
The publication of border: 2 is almost two weeks from 30th. By all means, I am very glad if you can visit again. The work continues with border: 3, border: 4, so thank you there as well.

Finally, photographed in groups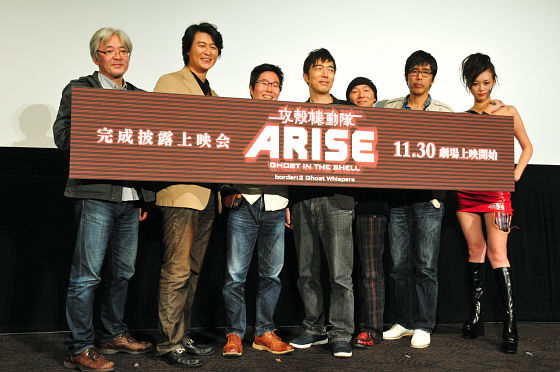 This older sister was painting the face and limbs on the limbs.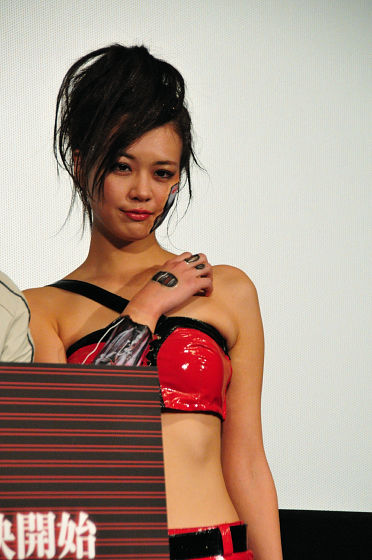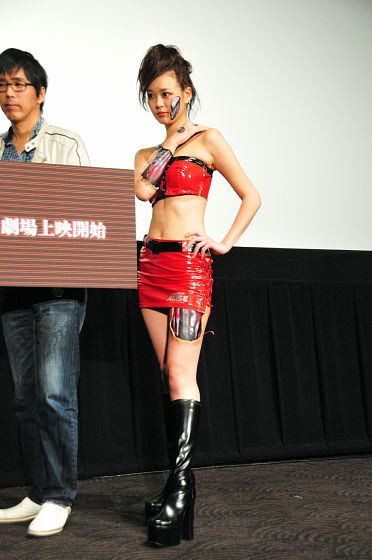 From November 30th border: 2 will be released, and next will lead to "border: 3 Ghost Tears". Because the story is four in all, I will welcome back here, but what does the young Kusanagi element fight and where will it go?

© Masamune Shiro Production I. G / Kodansha · "Ghost in the Shell ARISE" Production Committee