The graveyard "Startup Graveyard" of the dead startups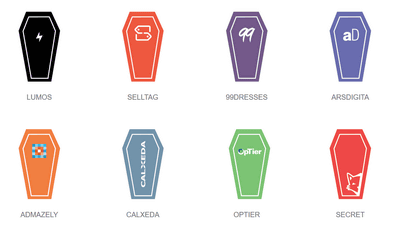 In order that entrepreneurs do not repeat the same mistake, the startup graveyard "Startup GraveyardIn the past failed cases are gathered. The graveyard can be seen by category, and since it is recorded what kind of cause was caused in failure, by referring, it is possible to avoid the dancer when making similar startup maybe.

Startup Graveyard - History Should not Have to Repeat Itself
http://startupgraveyard.io/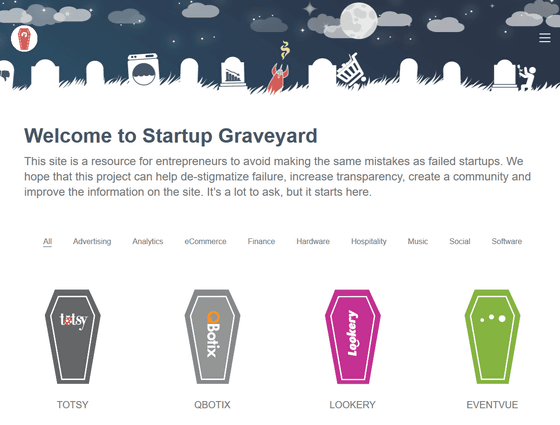 ◆Case 1:Cleaning agency service "Homejoy"




Homejoy, which began as a platform to dispatch professionals cleaning at $ 20 per hour (about 2200 yen) in 2012, raised $ 39.7 million (about 4.5 billion yen) from 15 investors in five rounds .

But the rate of repeat was low, 25% said that they used it again in a month, and less than 10% who still use it even after six months. There are situations in which lawsuits are brought about because the relationship with workers can not be constructed well, competent workers and customers flow to competitors, and profitable for investment can not be raised due to rapid business expansion, Various circumstances overlapped, the service ended in 2015.

Why Homejoy failed and the future of on-demand economy | TechCrunch Japan
http://jp.techcrunch.com/2015/08/02/20150731why-homejoy-failed-and-the-future-of-the-on-demand-economy/

◆Case 2:ARM processor · ARM server "Calxeda"



As well as Homejoy Calxeda founded in 2012. Initially, the business was going smoothly, including raising 1 million dollars (about 100 million yen) from 7 investors in 4 rounds, and a processor was also adopted for Hewlett-Packard server "Moonshot".

"ARM servers are not just replacing Intel processors." Listen to Calxeda leading ARM server market - Publickey
http://www.publickey1.jp/blog/13/armarmcalxeda.html

At the time of 2013, Calxeda's Aaron Grassian talked about the prospect that 32-bit ARM processor is enough for servers and the 64-bit version can sample in 2014, but before the sample is available The funds run out and stopped the business in December 2013.

ARM server pioneer, Calxeda to shut down - Publickey
http://www.publickey1.jp/blog/13/armcalxeda.html

◆Case 3:Music distribution service "Rdio"




"Rdio" was founded in 2008 with Mr. Janus Fris and Mr. Niclas Zentrom, known as Skype developers, with Carter Adamson, general manager of Skype. It was a streaming distribution service of music, collecting $ 127.7 million (about 14 billion yen), and it was deployed in North America, Europe and so on.

However, while there was a rival to conduct 'free delivery with advertisement', Rdio struggled to gather users due to the fact that there were only paid plans initially. From 2013 we switched to free distribution with advertisement similar to other companies, but it is already late and bankrupt in 2015. At the same time, it was announced that it will be acquired by the Internet radio service "Pandora" at 75 million dollars (about 8.5 billion yen).

Pandora acquires assets of rival Rdio for $ 75 million - Rdio goes bankrupt | TechCrunch Japan
http://jp.techcrunch.com/2015/11/17/20151116confirmed-pandora-buys-key-rdio-assets-for-75m-in-cash-rdio-files-ch-11-to-shut-down/