We have eaten 3 kinds including exquisite Kua Aina's new work royal road burger "Bacon Egg Thick Cheddar Burger" just the taste of the material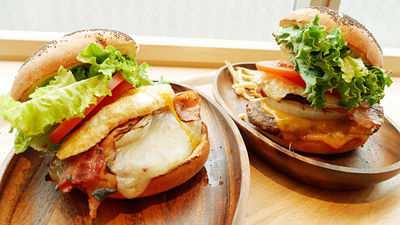 Lava stone Combined with bacon and fried eggs, tomatoes and green curls etc in a patty baked carefully with a far infrared grill "Bacon and egg burger"We upgraded the cheese together further"Bacon Egg Thicker Cheddar Burger"Bacon egg thickly mozzarella burgerWe started offering three kinds of time-limited burger called "burger". I actually went to eat all of what happens when Kua Aina of an authentic hamburger shop who came from Hawaii from the standard royal road hamburger made it.

»Bacon and egg burger series on sale! | Topics | KUA`AINA Kua Aina
http://www.kua-aina.com/topics/2294.html

Arrived at Kua Aina in the food court. I will order three kinds of bacon and egg burger immediately. Because it baked Patty from order, it took about 10 minutes to offer.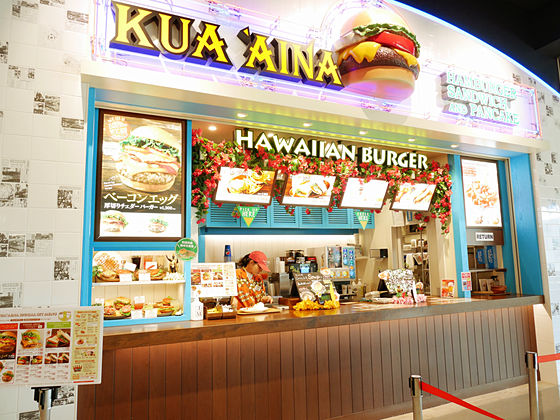 In about 10 minutes to wait, I got "freshly made" Bacon Egg Burger "" Bacon Egg Thicker Cheddar Burger "" Bacon Egg Thicker Mozzarella Burger ". Because only the bacon egg burger is set, potatoes are served in the dish.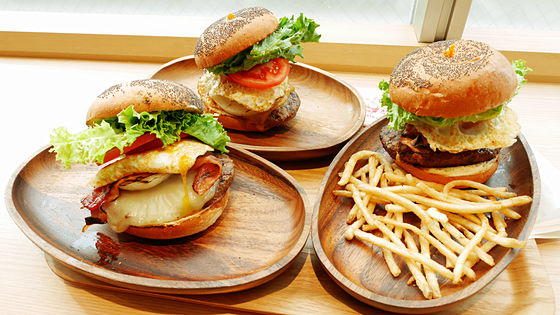 I tried putting the iPhone 5s in the middle, all of which are gigantic hamburgers a bit higher than iPhone 5s.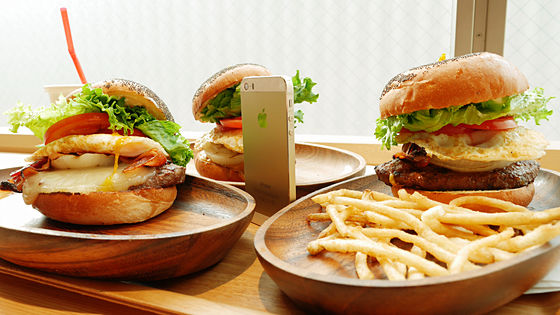 First we will eat from the standard bacon egg burger.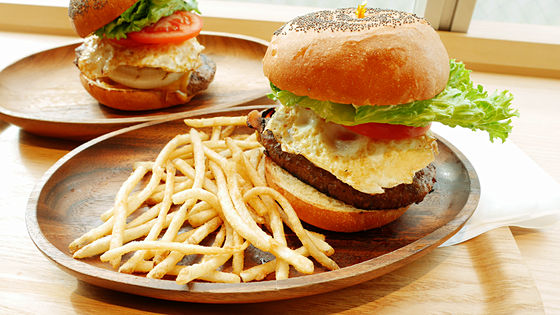 Try removing the buns and inside there are green curls and freshly sliced ​​tomatoes and fried eggs on both sides sandwiched between them as you see.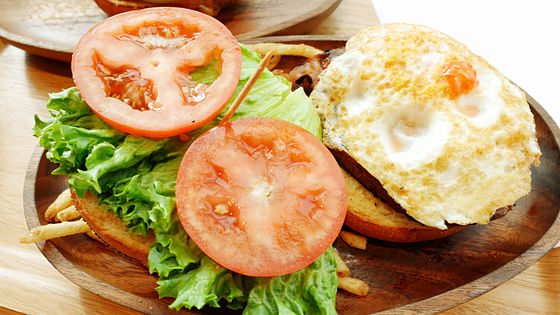 Below the fried eggs is baked bacon and grilled onion, beef patty calico.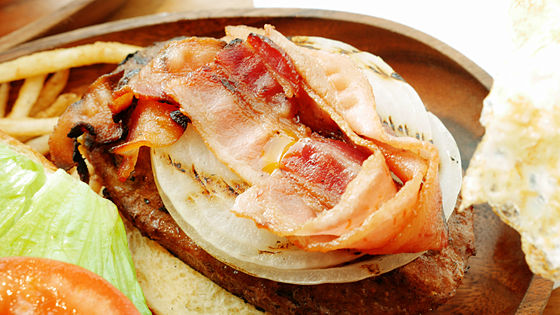 Buns can choose from three kinds of "Kaiser roll", "whole grain bread bread", "rye bread". I made it to Kaiser roll this time.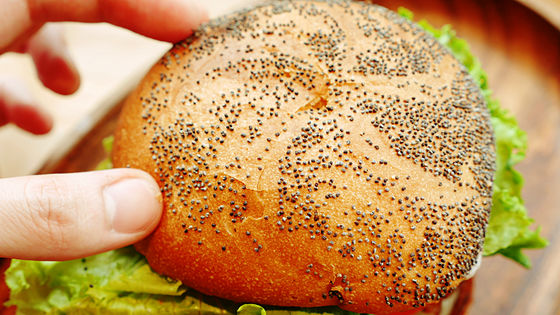 I lift it up in a dedicated wrapping paper and feel a heavy weight that seems to be just one hamburger.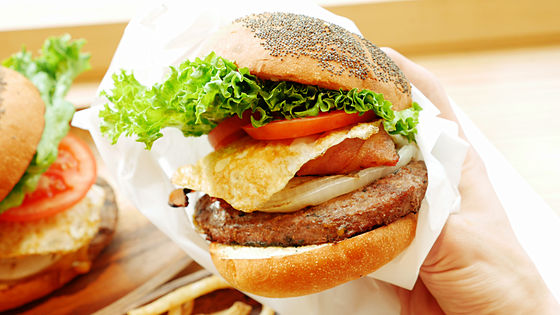 I can not eat it unless I can open the big mouth so that the jaw is about to come off, but I managed to get over it. From the moment of eating, the fragrance of a fragrant patty spreads in the mouth, afterwards it feels the bacon salty, plump fried eggs, fresh vegetables and savory taste of buns. I do not have any sauces such as ketchup, but since the juicy patty is firmly subdued, I can eat it to the end while thinking "If I feel sick without feeling it I will put in ketchup?" That is, it is an exceptional burger that can compete with just the taste of the material.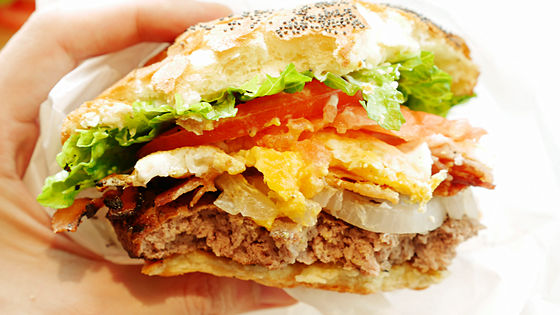 Next bacon egg thickly mozzarella burger and bacon egg thickly cheddar burger.



The difference with bacon egg burger is that various cheese is melting on top of Patty.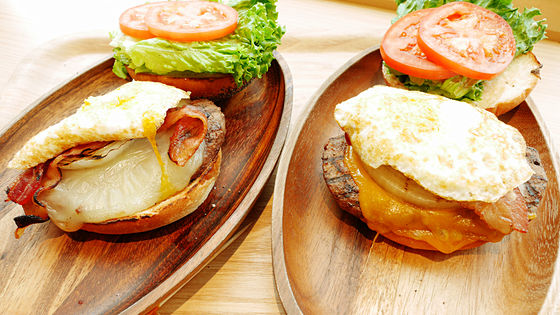 Bacon Egg Thicker Mozzarella Burger is as bad as a normal bacon egg burger.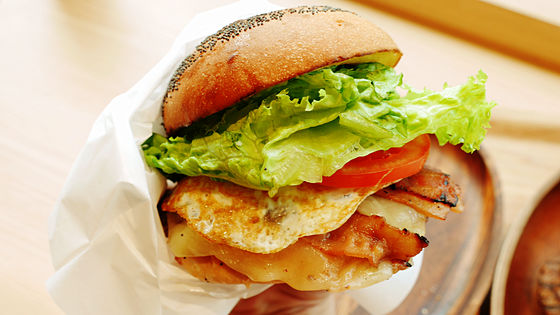 The mozzarella cheese which melts and melts in Atsu's patties puffs the appetite.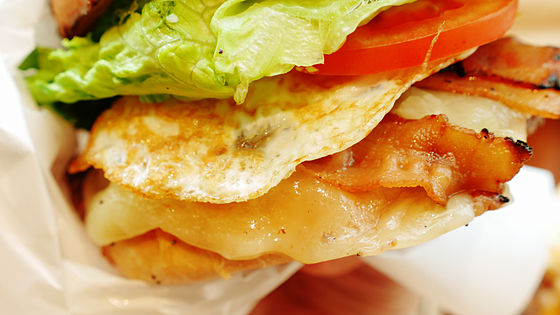 When eating, mozzarella cheese is a modest taste with less habit and does not disturb other materials, but it has plenty of texture as it is thick cut, plus a delicious flavor of mellow cheese I can taste it. As cheese insists too much, it is the best hamburger for those who say "I want cheese but I also want to enjoy the taste of the bacon egg burger itself".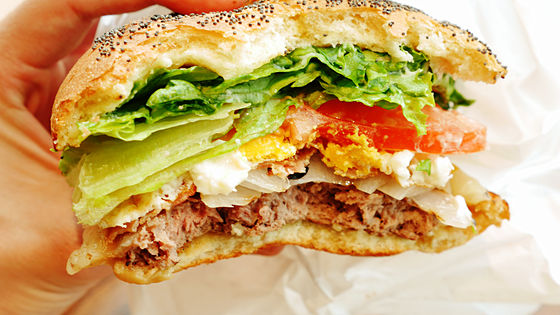 Lastly bacon egg thickly cheddar burger.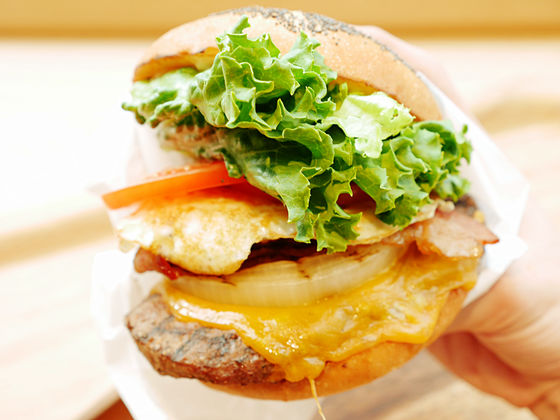 You can see that plenty of yellow cheddar cheese is melting.



Cheddar cheese is stronger than Mozzarella cheese, and it has the taste of "This is a cheeseburger!" Cheddar cheese has heat and easy-to-melt properties, so the mouthfeel of the crispy cheese spreads throughout the mouth. Although it has a strong sense of cheese, it is fitting well with patty baked with crispy bacon or lava stone far infrared grill, and if you like cheese it is definitely Kore. Every hamburger was finished in a firm yolk, but since the website says, "The outside has been finished in a crispy and delicious manner", so depending on the store you may be able to finish the leaves of maturity .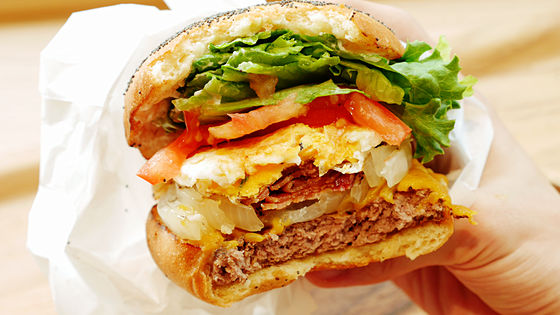 Both were finished in a quality hamburger that can not be tasted by fast food, and it was a satisfactory volume to eat even for dinner. In addition, the price of each bacon and egg burger is 1180 yen without tax, bacon and egg thickly cheddar burger and bacon egg thickly mozzarella burger are 1300 yen excluding tax.