Domino Pizza starts pizza delivery by robot in Europe starting in the summer of 2017


Home delivery pizza "Domino Pizza" is the world's first commercial unmanned automatic driving delivery robot "DRU(Domino's Robotic Unit) "and actually delivers pizzaStarted home delivery testwas doing. Finally, in the summer of 2017, unmanned pizza delivery service using robots will be started in Europe.

Domino's and Starship Technologies will deliver pizza by robot in Europe this summer | TechCrunch
https://techcrunch.com/2017/03/29/dominos-and-starship-technologies-will-deliver-pizza-by-robot-in-europe-this-summer/

Domino Pizza first mentioned the unmanned automatic driving delivery robot in 2015, which was a robot like a half joke at the time, but in the summer of 2017, as a personal delivery service in Hamburg, Germany I will start. For Domino Pizza for an unattended home delivery pizza service using a robot,Starship TechnologiesWe plan to have services in the Netherlands if the service gets on track well.

Starship Technologies is developing not a humanoid robot of the SF world, but a robot like an autonomous cart. It carries six wheels, and it is possible to carry more than 40 pounds (about 18 kg) of luggage at 4 mph (approximately 6.4 km) per hour. A robot made by Starship Technologies will be in charge of an area 1 mile from the deployed store (about 3.2 km).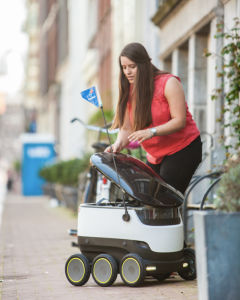 It seems that the delivery pizza service will be started using a delivery robot different from DRU released by Domino Pizza in 2016. You can easily understand what kind of robot is DRU by reading the following article, but you can run much faster than the robot made by Starship Technologies who is in charge of home delivery service in Germany.

Domino Pizza starts unmanned pizza delivery using automatic driving robot "DRU" - GIGAZINE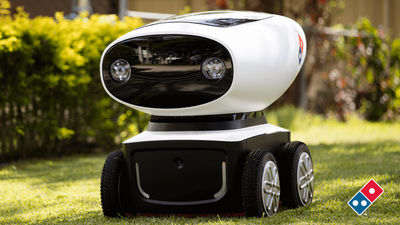 According to Starship Technologies, the autonomous robot development market is currently growing rapidly and faces competition from many competitors. International Federation of Robotics (IFR) predicts that from 2016 to 2019, logistics operators will launch at least 175,000 robots. In fact, Starship Technologies, launched in 2014 by co-founder Sky co-founder Ahti Heinla and Janus Friis, has partnered with Domino Pizza as well as companies such as DoorDash and Postmates for delivery services .

A company planning an automated home delivery service using such a robot is quietly watching over what kind of legislation will be made about home delivery service using a robot. However, Virginia State and Idaho State already have authorization for home delivery service using robot.