Nintendo Switch recorded the highest sales volume in Nintendo history and turned out to be a good start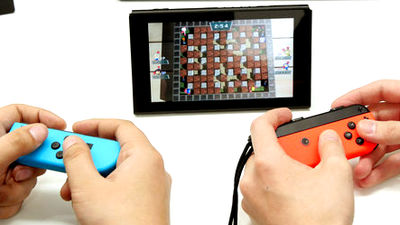 Next generation game machine finally released on March 3, 2017 "Nintendo Switch(Nintendo switch) ", but it is clear that Nintendo's stationary game console has recorded the fastest sales volume ever.

The Nintendo Switch is a hit, sells more than Wii at launch - Business Insider
http://www.businessinsider.com/nintendo-switch-launch-sales-2017-3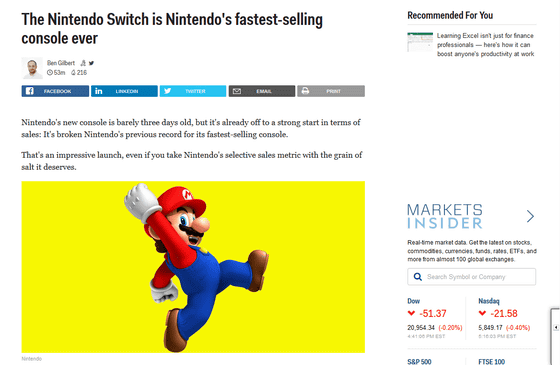 The Switch broke Nintendo's sales records (in the Americas, at least) - The Verge
http://www.theverge.com/2017/3/6/14836170/nintendo-switch-broke-sales-records-americas-zelda-two-day

Nintendo Switch, a hybrid game terminal that can be used as a stationary game machine or a handheld game machine, has exceeded the 2-day sales volume record since the launch of Wii in North America and it has become the most widely sold game machine ever It became clear. Furthermore, Wii is the only one as a desktop type game machine of Nintendo,Cumulative sales volume in the world exceeded 100 million unitsIt is a game machine I did.

Nick Wingfield, a reporter at the New York Times, revealed that Nintendo Switch has made a good start. Mr. Wingfield revealed that he interviewed President Reginald Fissami of Nintendo of America on his Twitter account, among which "" Nintendo Switch's sales in North America for the past two days from the launch of the Nintendo Switch will be the same as in past Nintendo games It was revealed that it was the largest number of machines (only stationary type or mobile game machine is unknown) ".

2. Fri-Sat sales for Nintendo Switch exceeded first 2-day sales in Americas for any system in Nintendo history. Next biggest was Wii.

- Nick Wingfield (@ nickwingfield)March 6, 2017

The detailed sales volume of Nintendo Switch has not been revealed and Nintendo does not disclose "the number of units sold for two days from the launch of Wii", so the exact number of how much Nintendo Switch sold is unknown. The number that seems to be one indicator is that the number of units sold during the 8 days from the launch of Wii is "600,000 units", but at the time of article creation, even one week has not passed since the release of Nintendo Switch .

The release date of Wii in North America is November 19, 2006, which was an exquisite timing aimed at gifts demand for the holiday season. In contrast, the Nintendo Switch was timing away from March 3 and the holiday season. Still Nintendo Switch has a wonderful start beyond the sales record of Wii, it can be said that there is a bright sign for Nintendo. But the most important thing is whether we can continue this momentum. The Wii continued to grow after the launch, eventually becoming a mega hit game machine with over 100 million units in cumulative sales volume, but it is the place where the divine only knows whether it can follow this.

According to Mr. Wingfield of the New York Times,The Legend of Zelda Breath of the WildIt seems to be updating the fastest sales record as a launch title as well.

4. Zelda for Nintendo Switch the best selling standalone launch title (ie not a bundled game a la Wii Sports) in Nintendo history ...

- Nick Wingfield (@ nickwingfield)March 6, 2017

This means that many of the users who bought Nintendo Switch in 2 days from the release would have bought to play "The Legend of Zelda Breath of the Wild". Nintendo Switch also decides to release popular titles such as "Super Mario Odyssey" and "Splatoon 2", but it is unknown whether we can maintain the current momentum.

· Continued
Nintendo Switch boasts the highest sales volume ever in Europe - a good start - GIGAZINE