Super quick charge technology "Super mCharge" that can fully charge smartphone in only 20 minutes has appeared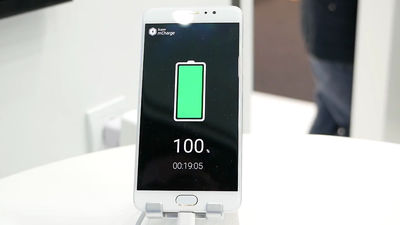 Meizu, a smartphone manufacturer in China, introduced a new charging technology "Super mChargeWe announced at Mobile World Congress which is being held in Barcelona. With Super mCharge you will be able to charge your smartphone in just 20 minutes to full.

Meizu Super mCharge - Meizu
https://www.meizu.com/en/event/supermcharge.html

Super mCharge has power of 55 W, over 18 times fast charge standard Quick Charge 3.0 or more than 20 times VOOC.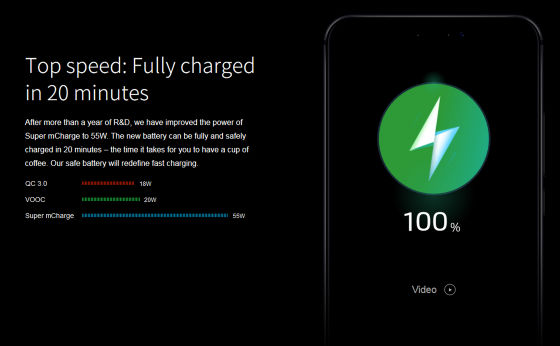 Also, the temperature during charging is 38 degrees, which is also lower than the Quick Charge 3.0 of 44 degrees.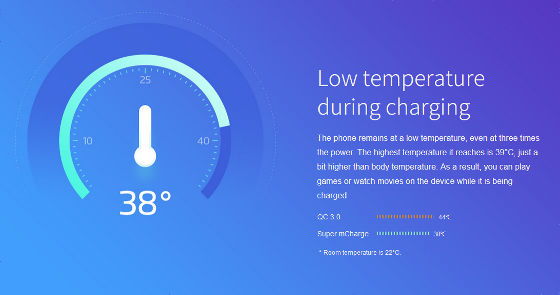 It is noteworthy that the charging efficiency is 98%. Quick Charge 3.0 is 89%, VOOC is 95%, boasting a high charging efficiency that it can bring out overwhelming charging speed.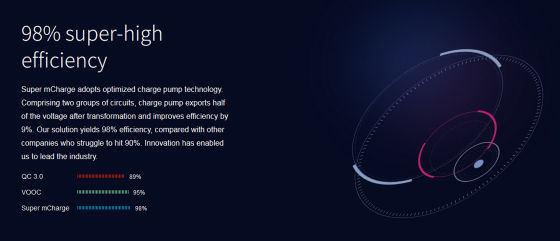 Data cable supports up to 160W.



I do not know whether you can really charge your smartphone in just 20 minutes with just electricity and charging efficiency, but if you look at the demonstration done at Mobile World Congress, you should know the awesomeness of Super mCharge.

Meizu Super mCharge charges your smartphone in 20 minutes! - YouTube


A demonstration of Super mCharge held at Meizu's booth. The smartphone being used is a terminal for demonstration and has a battery of 3000 mAh. It is already charged 6% when seven seconds have elapsed from the start.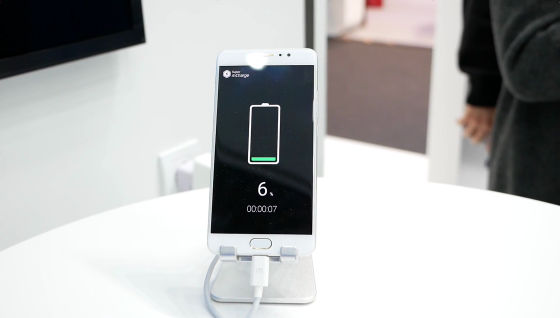 It took 7 minutes 30 seconds for 50%. When charging exceeds 30%, the charging speed slows down little by little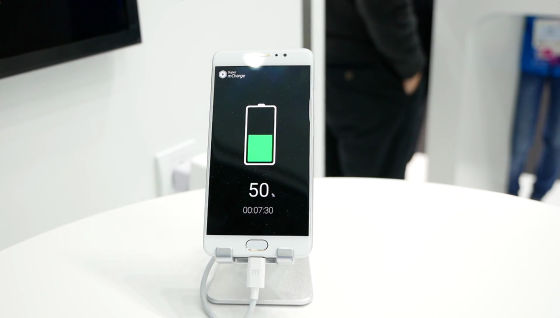 The time taken for 100% charge was 19 minutes 5 seconds.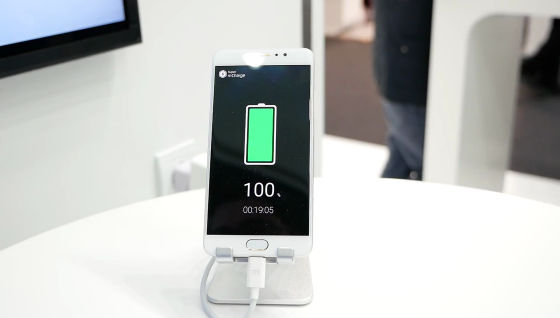 According to Mobilegeeks who experienced the demonstration, it did not feel that it was totally hot even if I touched the terminal immediately after charging.