"When the trade stops, the war between America and China will start," Ali Baba's CEO concerned concerned President Cardinal's policy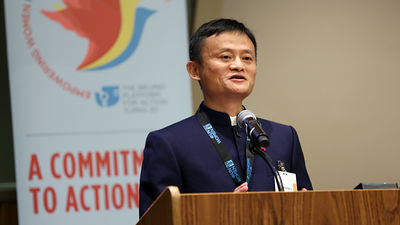 ByUN Women

The American trump regime has tougher economic countermeasures such as "imposing a tariff of 45% on imported goods" to China, while the outbreak of the middle trade war is being whispered, China's largest online · Jack · mar, CEO of the Alibaba group, Asari Tomo Group ("Alibaba Group") is clearly worried that "everyone is concerned about trade friction, if war breaks if trade stops" did.

'If trade stops, war starts' Alibaba founder who visited Donald Trump warns | The Independent
http://www.independent.co.uk/news/business/news/jack-ma-alibaba-donald-trump-trade-war-jobs-a7564021.html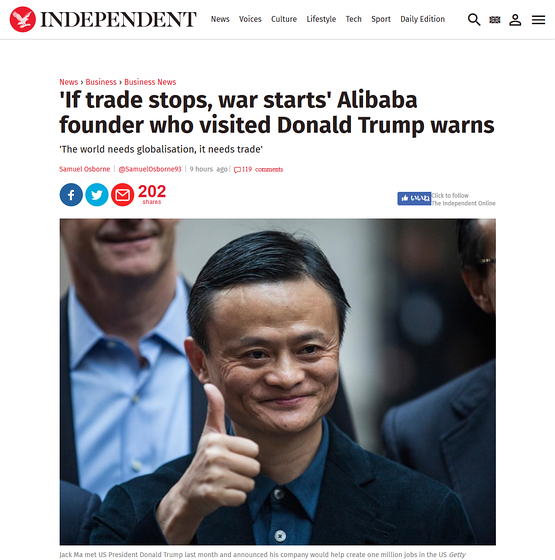 JACK MA: 'If trade stops, war starts' | Business Insider
http://www.businessinsider.com.au/jack-ma-if-trade-stops-war-starts-2017-2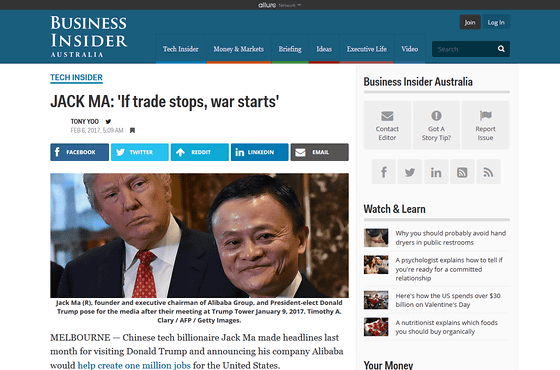 In early January 2017 President Trump and Ali Baba CEO Jack Mr. was in New York's Trump TowerA meetingMr. Mr.'s intention to "create 1 million jobs in the United States over the next 5 years" was reported. Mr. Mr. Mr. Ma had visited the Melbourne branch for promotion as Alibaba started business in Australia and New Zealand, "Everyone is concerned about trade friction.The suspension of trade starts the war It will be meaningful. "It is reported that they commented.

President TrumpSigned the Presidential Decree of the Pacific Pacific Strategic Economic Partnership Agreement (TPP) withdrawalAnd the TPP includes 11 Pacific Rim countries including Australia and New Zealand. Mr. Mar also met with Australian Prime Minister Malcolm Turnbull and Alibaba talked with the Australian Government on the establishment of a free trade zone "e-hub" that allows free online trading. If this is realized, users can benefit from 24-hour payment, better tariffs, quick passage of border checks, etc. Small and medium-sized enterprises can also trade on systems like large companies.

Mr. Mr. worried about the middle trade war, "We must proactively demonstrate that trade promotes people's communication, and should do fair, transparent and comprehensive trade "I insisted on the necessity of globalization in the international community.
in Note, Posted by darkhorse_log