Silicon Valley companies rebelled against President Trump's immigration policy, summarizing the opinions of IT celebrities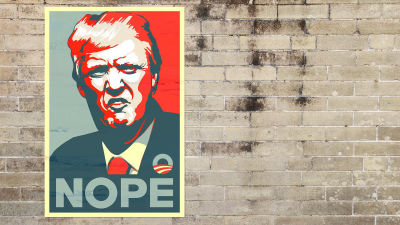 US President Donald Trump has stopped accepting Syrian refugees and has signed a presidential decree to suspend entry from countries with a majority of Muslims such as Iraq, Iran and Somalia. Immigration policy has begun to be implemented. However, the top Silicon Valley companies are sending a series of messages that they do not support President Trump's immigration policy.

Silicon Valley's responses to Trump's immigration executive orders, from strongest to weakest --The Verge

http://www.theverge.com/2017/1/28/14426550/silicon-valley-trump-immigration-response
Apple, Microsoft and Uber help staff stranded by Trump ban (update: Airbnb)
https://www.engadget.com/2017/01/28/apple-microsoft-and-uber-help-staff-stranded-by-trump-ban/
Apple, Uber, Netflix, Twitter join corporate rebuke of Trump immigration policy
http://mashable.com/2017/01/28/tim-cook-apple-uber-trump-immigration-ban/
With a history of developing Silicon Valley by accepting talented people from all over the world, many people oppose President Trump's exclusive immigration policy. And the top tech companies have already begun to articulate 'against Trump.'
'President Trump's immigration policy is wrong in all aspects, including moral, humane, economic, and logical, and is completely contrary to American philosophy,' said Aaron Levy, CEO of cloud storage service Box. I'm tweeting.
On every level -moral, humanitarian, economic, logical, etc.- This ban is wrong and is completely antithetical to the principles of America.

— Aaron Levie (@levie) January 28, 2017


Logan Greene, CEO of ride-hailing service Lyft, told ReCode: 'Throughout our history, we have worked hard to embrace diversity and create a conscientious community. Drivers and passengers can feel welcome and respect. Prohibiting people of certain religions from entering the United States is against Lyft and American values, 'he said, opposed to President Trump's policy. I am.

'President Trump's actions are hurting Netflix employees around the world, and hurt everyone who isn't American,' said Reed Hastin, CEO of movie streaming service Netflix. The actions of President Trump will create hatred and loss of friendship, which will rather reduce security, 'says Facebook.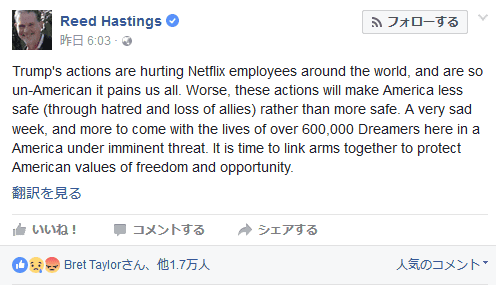 'It's embarrassing. Students can't go back to school (because they're attending the demo). Long-term American residents also have families,' said Brett Taylor, a prominent developer who worked on Google Maps and other developments. It will be torn apart. '

Shameful. Students can't return to school. Permanent residents separated from families. We're better than this. Https://t.co/UywiBgKSuA

— Bret Taylor (@btaylor) January 28, 2017


'We need to reaffirm the'obvious'on a regular basis. Everyone has equal value. Black life is important. LGBT Has the right to marry, 'he said, indirectly criticizing President Trump's ideas.

I guess we all need to periodically reaffirm the obvious. All human beings are equally valuable. Black lives matter. LGBT deserve marriage.

— Stewart Butterfield (@stewart) January 28, 2017


Sam Altman, CEO of Venture Capital Y Combinator, a tech company, said in a blog , 'I agree with safety and regulations, of course, but actions that target a particular religion are the wrong solution and I disagree. 'The heavyweights of many Silicon Valley companies I recently met are against President Trump.'

Brian Chesky, CEO of Airbnb, a private lodging service, has declared free accommodation for all immigrants rejected by the US government. I am appealing to speak to myself if necessary.

Airbnb is providing free housing to refugees and anyone not allowed in the US. Stayed tuned for more, contact me if urgent need for housing

— Brian Chesky (@bchesky) January 29, 2017


On the other hand, although they have not expressed clear opposition, Apple and Google basically oppose President Trump's immigration policy. Apple CEO Tim Cook said in a message to employees, 'Diversity strengthens Apple. Apple wouldn't exist without immigrants,' said Apple co-founder Steve Jobs' father. It sends a message reminiscent of being an immigrant from Syria.

Google CEO Sundar Pichai, who is also an Indian immigrant, told Bloomberg, 'It's painful to see our peers bear a personal burden.' And according to Ryan Mack, Google co-founder Sergey Brin said, 'I take the opposite position, because I'm an immigrant.'

Google cofounder Sergey Brin at SFO protest: 'I'm here because I'm a refugee.' (Photo from Matt Kang / Forbes) pic.twitter.com/GwhsSwDPLT

— Ryan Mac (@ RMac18) January 29, 2017


Elon Musk, CEO of Tesla Motors, also from South Africa, said, 'Many of the people who are badly affected by President Trump's immigration policy are strong supporters for the United States. They do the right thing and do the wrong thing. It doesn't deserve to be rejected. '

Many people negatively affected by this policy are strong supporters of the US. They've done right, not wrong & don't deserve to be rejected.

— Elon Musk (@elonmusk) January 29, 2017


'Americans are benefiting from what immigrants and refugees have brought,' Twitter CEO Jack Dorsey tweeted.

The Executive Order's humanitarian and economic impact is real and upsetting. We benefit from what refugees and immigrants bring to the US https://t.co/HdwVGzIECt

— Jack (@jack) January 28, 2017


As for Twitter, 'Twitter is made by immigrants of various faiths. We are always on their side,' he said in support of immigrants.

Twitter is built by immigrants of all religions. We stand for and with them, always.

— Twitter (@Twitter) January 29, 2017


On the other hand, Facebook CEO Mark Zuckerberg and Microsoft, which has a lot of work from the US government, just say they are 'concerned.' And Amazon, which promised President Trump to hire 100,000 new jobs in the United States, just sent a message to employees saying, 'We promise to support employees and their families and will continue to watch the situation.' , The opposite attitude is not clearly stated.

It's no wonder that Silicon Valley tech companies have led the world's IT space and empowered the United States, and many Silicon Valley residents have rebelled against President Trump, who advocates America First. It seems to be a pain to flip.


in Note, Posted by darkhorse_log