A high school student and others found out that school girls' nude photos were shared by Dropbox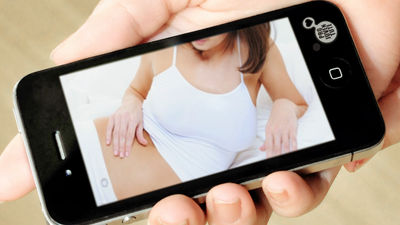 ByPro Juventute

Several high school students in Mountain View, located in Silicon Valley, USA, found that they shared nude photos of girls under the age of 18 using the online storage service "Dropbox". According to the police 's announcement, the suspect is also a man / woman under the age of 18, but there is no specific relationship between the suspect and the victim, so called "Revenge pornThere seems to be a different crime rampant among high school students.

Mountain View: High school nude picture-sharing scheme investigated by police
http://www.mercurynews.com/2016/12/12/mountain-view-high-school-nude-file-sharing-scheme-investigated-by-police/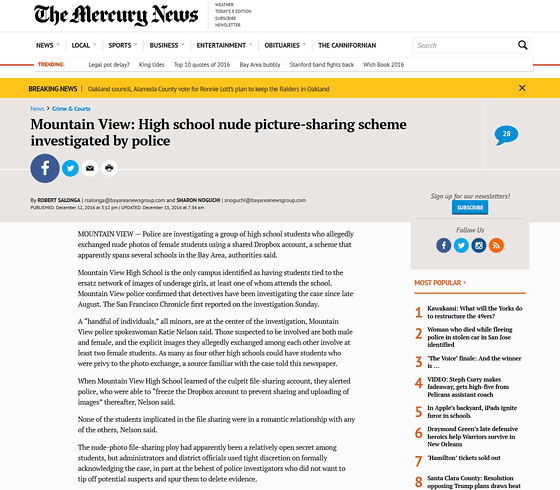 Police investigating South Bay students' sharing of explicit photos online - San Francisco Chronicle
http://www.sfchronicle.com/bayarea/article/Police-investigating-South-Bay-students-10788465.php

Mountainview police announced on 28th August 2016 about officials in public high schools in the city about the situation under junior students are sharing "inappropriate" photos using online storage services Thing. The applicable Dropbox account is frozen by the police and is not accessible, but I do not know how long this account was used. According to police source sources, five police high schools in Mountain View are said to be the subject of investigation, although the police are fighting the number of suspects, the number of victims, and the associated high school names.

This case is investigated by seven investigators from the police's boys' division, cyber security department, cyber forensics department. At the moment there are no arrestors, but the police are listening to the circumstances of many students. The police did not clarify the details, but one of the spokespersons said that they are "a crime that is highly likely to result in arrest."

Even so far high school students "Revenge porn" and "Sexting"There are cases that nude images and other items are uploaded on the net from men and women in dating relationship frequently, but this time it is seen that there is no relationship between perpetrators and victims . Mountain view police have reported that "minors are the first cases using Dropbox to share sexually explicit pictures", but according to the news media · San Francisco Chronicle, minors have their own sexuality It is said that cases of posting photos on the online platform are reported in various parts of the United States.




Lindsey Lieberman, a lawyer familiar with Internet privacy, said: "Schools and police need to learn more about circumstances of this kind, especially since teenage boys and girls tend to be vulnerable to posting illegal photographs." I am talking.