Why does it cost imaginable to the presidential aircraft "Air Force One"?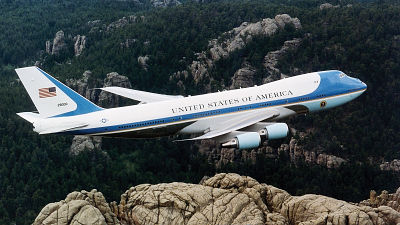 Mr. Donald Trump, scheduled to take over as President of the United States in January 2017, said on December 6, 2016 the manufacturing cost of the next-generation aircraft of the American presidential plane "Air Force One", which is becoming obsolete, is too high As "Cancel the order!Tweeted with the anger of being angry. That amount of 450 billion yen is certainly quite expensive, but equipment and equipment to safely transport the US president, its staff, and the accompanying massacre and other companions in any situation is used there It is.

Trump's Boeing beef ignores the high costs of building a plane that can withstand a nuclear blast - The Verge
http://www.theverge.com/2016/12/6/13857444/trump-tweet-air-force-one-boeing-nuclear-blast

Donald Trump: Here's Why Air Force One Should Cost $ 4 Billion | WIRED
https://www.wired.com/2016/12/mr-trump-heres-really-want-spend-4-billion-air-force-one/

US presidential aircraft used as of 2016 "VC-25"Is an aircraft to which improvements were made based on Boeing's 747-200B jumbo aircraft and has been used for more than 26 years since commissioned in 1990. It is said that the useful life in design is 30 years, and in 2020 it is a calculation that will reach its end of life.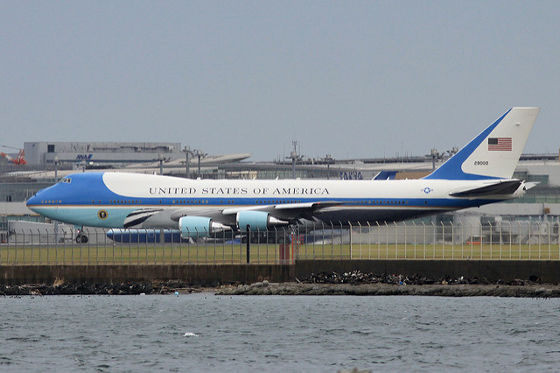 ByKentaro IEMOTO

By the way, "Air Force One" is a call sign used only when the president is aboard an airplane operated by the US military, not necessarily "VC - 25 = Air Force One". Therefore, if the plane on which the President is riding is an Air Force aircraft, any aircraft will be called "Air Force One", similarly for the US Navy aircraft "Navy oneIn the case of Marine Corps aircraft "Marine OneIt is called. In addition, although there is almost no example at present, in the case of Army aircraft "Army OneIn the case of civilian aircraft, "Executive OneIt is called.

The US Air Force, which manages and operates VC - 25, is planning the next presidential aircraft replacing VC - 25 and plans to build a new model based on Boeing 's newest jumbo model "747 - 8" It is set up. And it was Mr. Trump that we spent waiting for this plan. "Boeing is planning to build a new 747 Air Force One for the next president, but the cost is uncontrollable, and it will cost 4 billion dollars (about 450 billion yen)," said Mr. Trump at Tweet on 5 December 2016, It is also becoming.Cancel the order! "I am doing Tweet making a plan back to the table.

Boeing is building a brand new 747 Air Force One for future presidents, but costs are out of control, more than $ 4 billion. Cancel order!

- Donald J. Trump (@ real DonaldTrump)December 6, 2016

Mr. Trump, who was asked to reporters the intent of the tweet, further says, "That plane is completely out of control, the air force one plan's budget is about to exceed $ 4 billion, and I think it is strange I think that Boeing is doing numeric manipulation, I think Boeing wants to get big sales, but it is not about this amount. "

Certainly, since the catalog price of the Boeing 747 - 8 aircraft is said to be 355 million dollars (about 40 billion yen) per machine, it is said to be 450 billion yen for the "only two aircraft" It can be understood that occurrence of cost can also be regarded as "out of the question" as a matter of course. However, it is also a matter of course that the presidential aircraft has enough equipment to compare with the usual civilian aircraft.

The first thing to be mentioned is defense equipment to minimize the damage even during nuclear attacks. Measures have been taken to increase the safety of passengers and the reliability of electronic devices by adding protective walls to block radiation and strong electromagnetic waves generated when a nuclear bomb explodes. Moreover, in order to have a role as a "command office" where the president gives a command from Air Force One in the event of an emergency, as was actually done in the "911 simultaneous multiple terrorist attacks" Communication facilities and equipments that are impossible to think are installed in the aircraft. The necessary electrical system is equipped with multiple backups, and a military level GPS system is installed.


ByIflyfsx

Also, in order to demonstrate high reliability in all environments, Airforce One has a wide range of "redundancy". Even if there are troubles during flight, even if it is an ordinary civilian aircraft, it will first arrive at the destination, even if it is foreign, measures will be taken to procure the parts locally and replace the parts. However, Air Force One said that certain replacement parts are mounted on the aircraft in order to deal with everything without depending on others in every situation. In addition, the aircraft is always equipped with six replacement tires.

In some cases it may be impossible to prepare raise / lowering ramps at the destination airport,Somehow the thrap is not preparedSometimes. In order to get on and off without relying on the infrastructure of the airport in such a case, a retractable staircase that does not normally exist in Air Force One's fuselage is installed inside the machine door.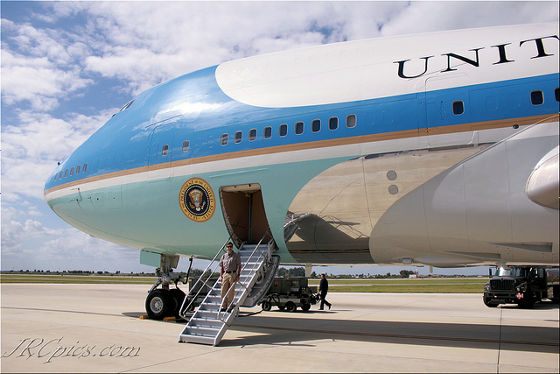 ByJ

In addition, Air Force One's aircraft is equipped with equipment to receive fuel air refueling. This makes it possible to continue flying for more than a week even if it can not land safely at domestic airports due to nuclear attacks, for example. Even if the White House was destroyed, the President of the United States is able to order the necessary instructions in the president's special machine also called "Flying Office".

And the one that tends to forget is that the president's special machine is equipped with the same aircraft and that it constantly accompanies the president machine as a backup. A Vice President is on the backup machine and a system is established to deal immediately with the president machine even if trouble occurs in the aircraft.

Regarding the large budget that attracted attention with Mr. Trump 's remarks,American Strategic and International Studies InstituteMark Cancian senior adviser says, "This budget amount can be said to be reasonable" in the sense that it will prepare the environment where the President will work. It is true that it is impossible for people who are unfamiliar with figures related to the army to be considered "stupid expenses", he says he is not "uncontrollable state" by Mr. Trump. It certainly does not look like a private jet like Mr. Trump 's gold pika, but it seems that the presidential aircraft has enough equipment to make it possible to execute the president' s job without delay.
in Ride, Posted by darkhorse_log