Windows 10 turned out to show Chrome and Firefox users that "Edge is safer"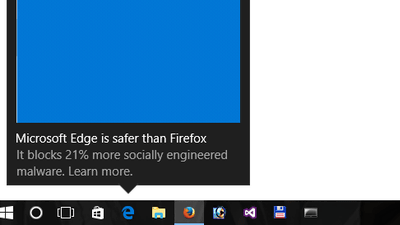 Battery consumption testYaMovie playback testAnd doing a superiority Developing a browser Edge Microsoft found out that Chrome and Firefox users now display "Notice that Edge is safer".

When I start Firefox, I sometimes get this message. Aww, Microsoft, you so cute: firefox
https://www.reddit.com/r/firefox/comments/5d5i2x/when_i_start_firefox_i_sometimes_get_this_message/

Windows 10 informs Chrome and Firefox users that Edge is 'safer' | VentureBeat | Dev | by Emil Protalinski
http://venturebeat.com/2016/11/18/windows-10-informs-chrome-and-firefox-users-that-edge-is-safer/

According to reddit user's posting, when launching Firefox on Windows 10, a message saying "Microsoft's Edge is more secure than Firefox, blocking 21% more malware" on the Edge icon It was said that it was done. With regard to this message, IT-related media VentureBeat inquired Microsoft, but Microsoft acknowledged that it is an official campaign. Please note that this notification will also appear when using Chrome.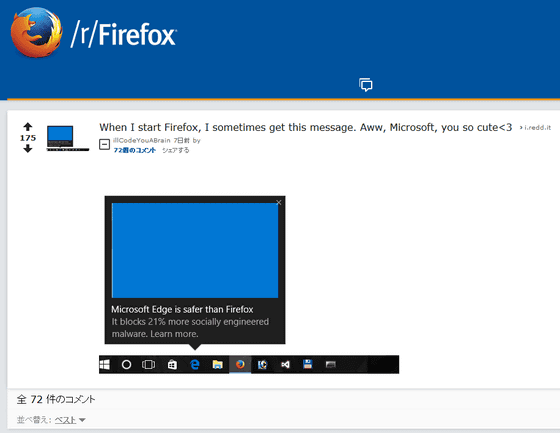 In the past, Microsoft also displayed a notification saying "Chrome is a battery with more battery consumption" on the PC's battery icon, and once it has been pulled out of FirefoxBrowser shareI will continue to appeal to push Edge's performance forward to try to get back.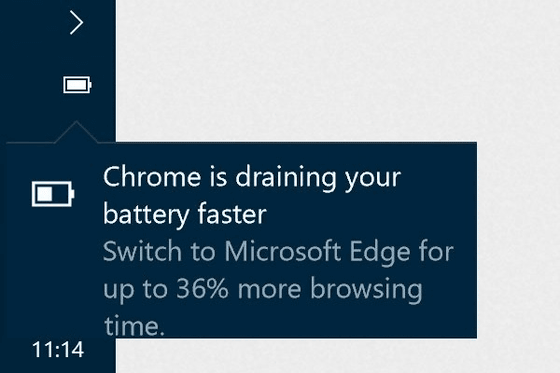 In addition, for notification of the safety of the Edge, you can turn off the display from the PC system setting.