"Pokémon GO Plus" Actual play review, how much does Pokemon GO play become transcendental?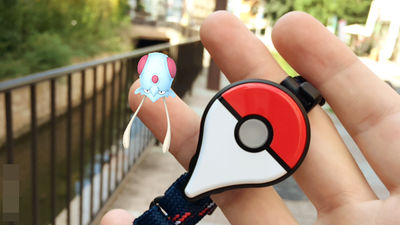 Because Pokémon GO (Pokémon GO) is a game using GPS, "It is necessary to move and stop to see the screen of the smartphone to play safely". Also, if you launch another application, the "walking distance" required for eggs and alphabet Pokemon will not be counted, so applications other than the Pokemon GO application will be unusable. Solving these problems is an official wearable device that will allow you to get items of Pokemon and Pocket Stop without looking at the smartphone "Pokémon GO PlusSo I tried what kind of play is actually possible.

Pokémon GO Plus | 'Pokémon GO' official website
http://www.pokemongo.jp/plus/

Pokemon GO is a method of attaching to the breast pocket, belt, etc. with the clip on the back ... ...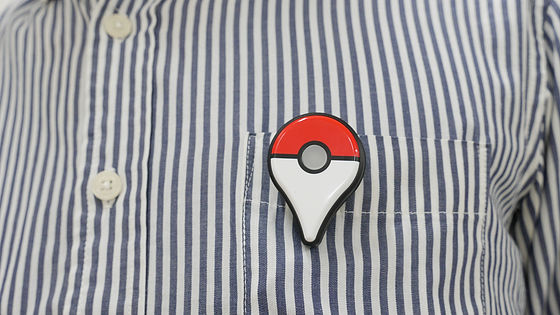 There is a method to wrap around the wrist by replacing it with the attached wristband. Although I understand that "I'm playing Pokemon GO" at a glance, it is possible to notice the notification by vibration even if I thrust it into my pocket.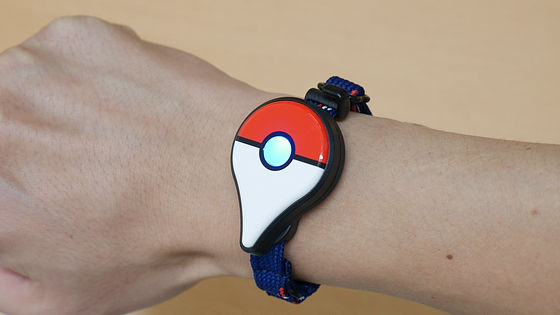 How to link Pokémon GO Plus
Pokémon GO Plus will be able to use in conjunction with a smartphone with Bluetooth installed Pokemon GO. To make it cooperate Launch Pokemon GO and tap the monster ball icon.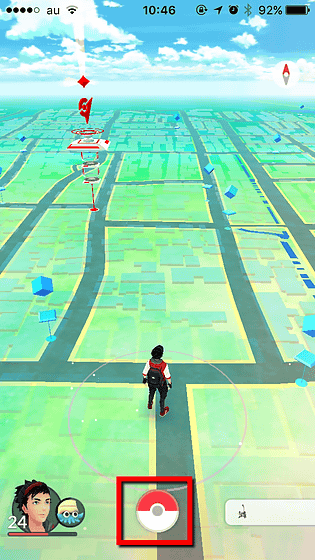 Tap "Settings".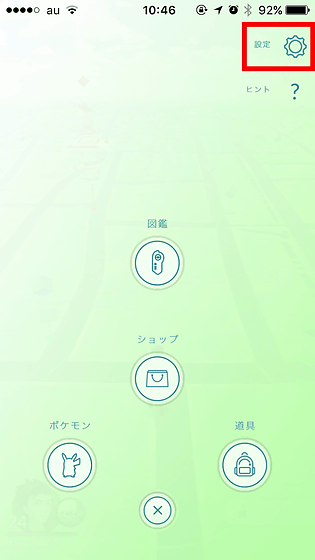 Tap "Pokémon GO Plus".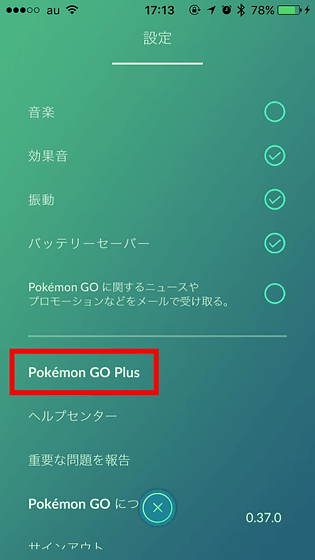 Push the button in the middle of Pokémon GO Plus to enter pairing mode.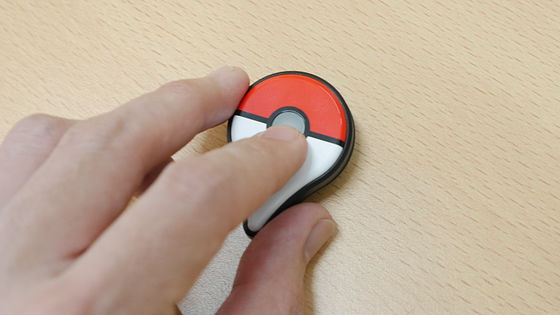 Tap on "Pokémon GO Plus setting page" so that Pokémon GO Plus at hand is reflected in the "Available device".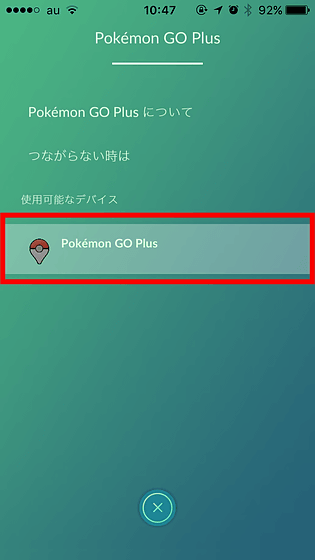 Since Bluetooth pairing is requested, tap "pairing".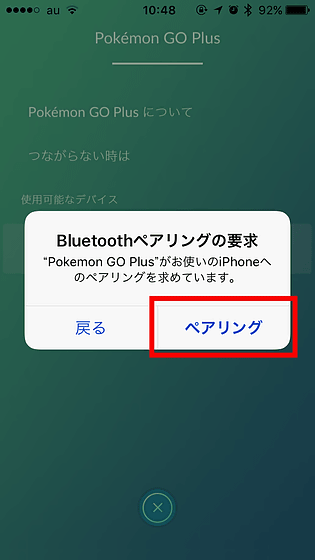 Collaboration is complete if arrow is attached to the right side.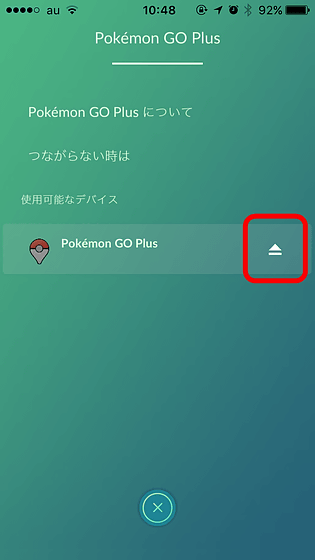 After linking Pokémon GO Plus, icons will appear in the upper right corner of the play screen.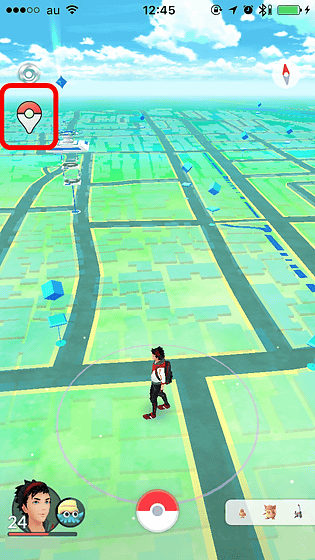 When Pokémon GO Plus is connected, switching to another application after Pokemon GO starts will operate in the background. If you walk as it is, Pokémon GO Plus will be notified of the appearance of PoketStop and Pokemon.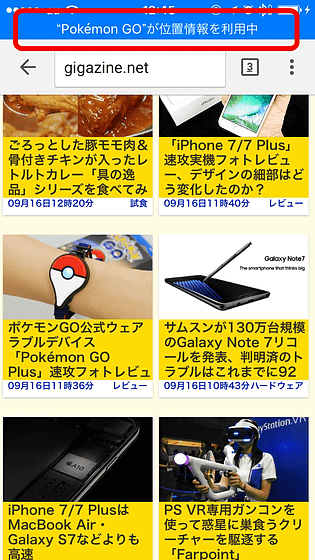 ◆ Get Pokemon without looking at smartphone

So I immediately went outside and tried using Pokémon GO Plus. You can see how you actually get Pokemon with Pokémon GO Plus from the following movie.

Pokemon encounters Pokemon with "Pokémon GO Plus" and where to get it - YouTube


Although it is a bit hard to understand, Pokémon GO Plus lights up as "green" as it vibrates when Pokemon has been caught in the past. When it emerges Pokemon which has not been caught yet, it lights up in "yellow".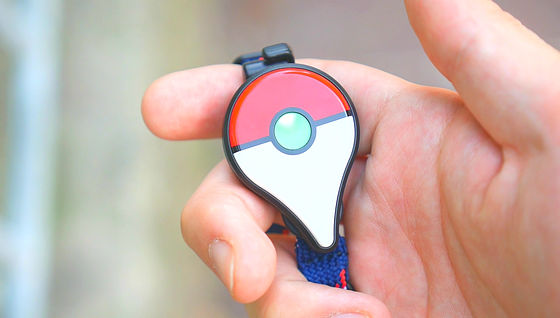 If you push the glowing button at this time OK. After a while the light goes out, if the light goes out, you can not operate from Pokémon GO Plus, so be careful.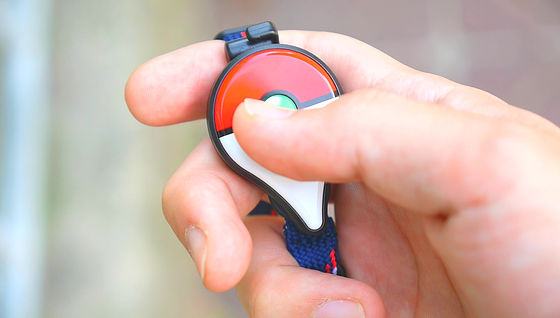 When you push the button, the white light will light up to 3 times together with the vibration. It is the same as hitting a monster ball with Pokemon GO and moving the ball three times and catching it. When escaping, it may end only by shining once.



If capturing is successful, the light blinks red, green, blue, white and flashes, and vibrates according to the flashing. When it fails it is notified by vibration + red, so you can see whether or not you have caught Pokemon without seeing the screen. In addition, it is "Monster Ball" used at this time, it seems that super ball and hyper ball are not used.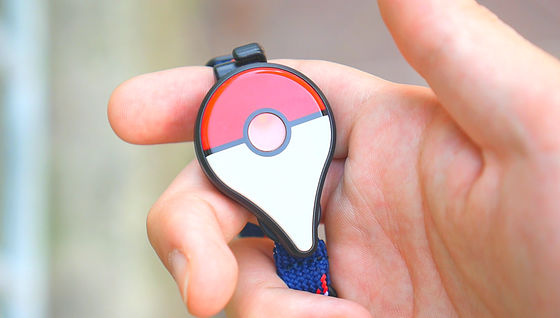 ◆ Get item from Pocket Stop
You will be able to get notified when Pokémon GO Plus passes through Pocket Stop and you can get items. Actually watching items from Poke Stop with Pokémon GO Plus can be seen from the following movies.

How to get items by discovering Pocket Stop with "Pokémon GO Plus" - YouTube


When you find a pocket stop, the light of Pokémon GO Plus vibrates and lights up in "blue".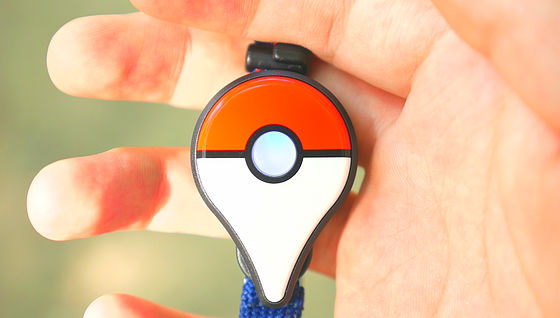 Push the button here. Be careful not to notify the pocket stop as well as to discover Pokemon that it will end in a certain time.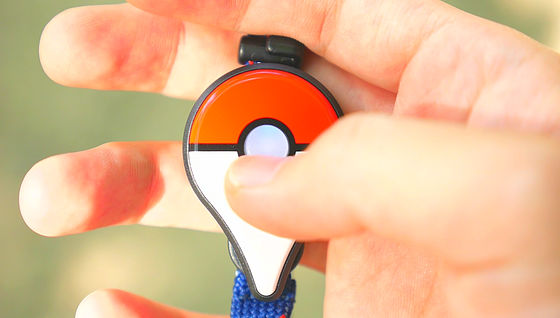 In case of Pocket Stop, it flashes colorfully in addition to vibration. The number of vibrations is the number of items that got, and when vibrating four times, in addition to three ordinary items, "Tamago" was also gotten one. When it gets away from the Poke Stop at high speed by train etc, it may blink in red and fail. In addition, if it lights up in "white" without colorful flashing, it is a case where there are many items and it is not possible to get any more, so organize let's do it.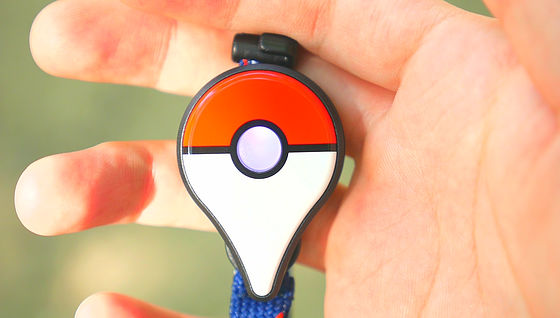 In addition, Pokémon GO Plus can be used not only in the background but also during game startup. If you discover a pocket stop or monster and operate it with Pokémon GO Plus, you can skip the actions like "Tap Pocket Stop and rotate icon" or "Tap Pokemon and throw monster ball" and instantly remove items and Pokemon It was convenient to the ground that the captured result was displayed.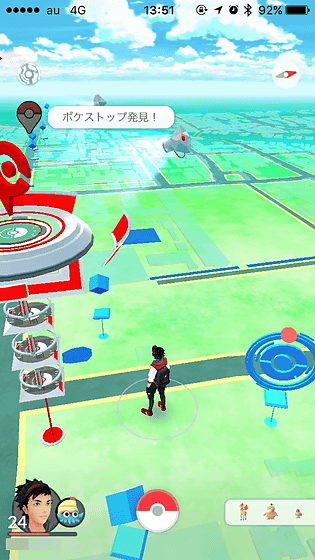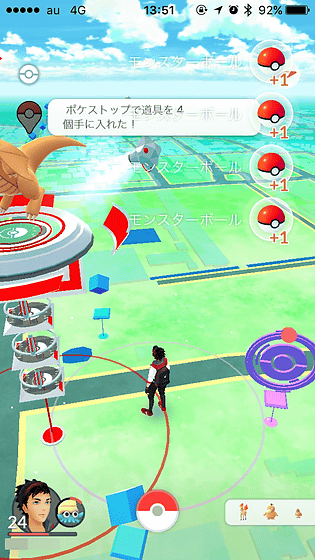 If you actually try using it, you can get items and Pokemon more quickly just by pushing the button while walking hard. By turning on the notification from the application of Pokemon GO, it is possible to get information such as how many items were taken from the notification screen.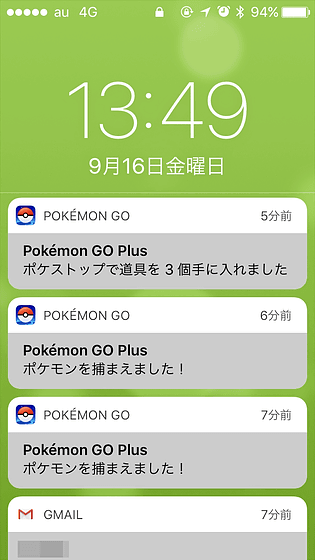 You will be notified when the bag is full when getting items from Pokémon GO Plus from Pocket Stop.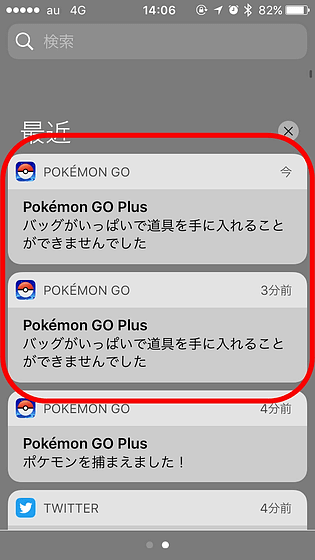 The connection was disconnected several times, but we will also inform you that the connection has been disconnected from the notification.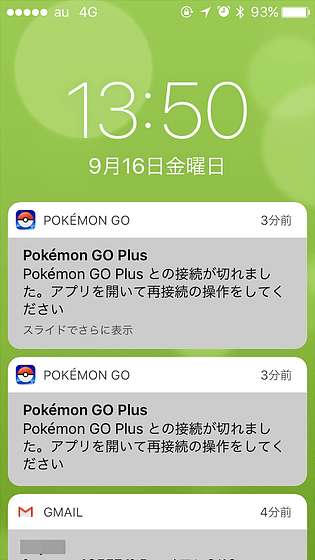 When the connection terminates unexpectedly or when you terminate the application, the connection is forcibly disconnected, but after pairing once, tap the icon displayed on the screen and reconnect it immediately Is possible.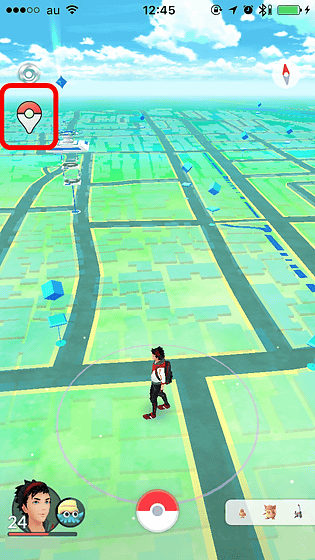 Although it is said that the distance walked is counted even in the background, when I started Pokemon GO after walking for a while, I was able to hat eggs. Because the distance of Aibo Pokemon is also added, it is also ant to earn only the distance without operating items and Pokemon when busy.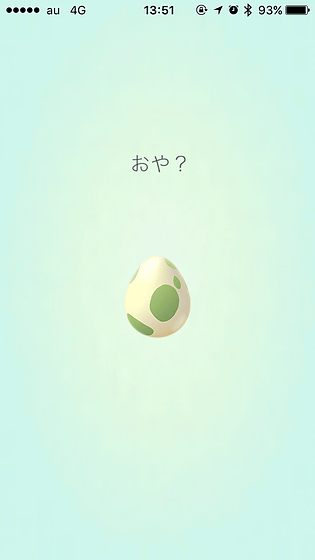 In addition, I played mostly in the background for about 1 hour and 30 minutes, but the battery decreased from 99% to 59%. With the bodily sensation it was about a bit better than the "battery saver" which is one of the functions of Pokemon GO, so even if you use Pokémon GO Plus, it seems that mobile batteries can not be left out.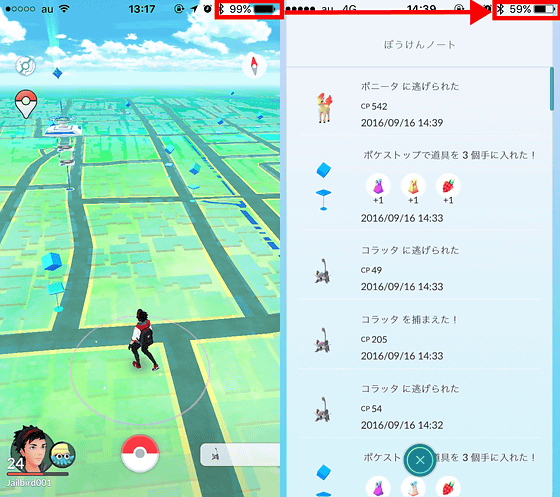 Even when playing on a bicycle, it is possible to do a Poke Stop tour etc. efficiently and safely, as you can avoid looking at the screen.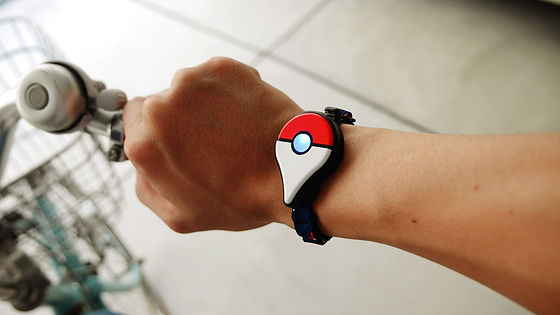 ◆ How to check Pokemon and items you got later
Pokémon GO Plus does not know what Pokemon got or what item is getting, but you can check what you got from the app later. Start Pokemon GO and tap "Bokkun Note" from your page.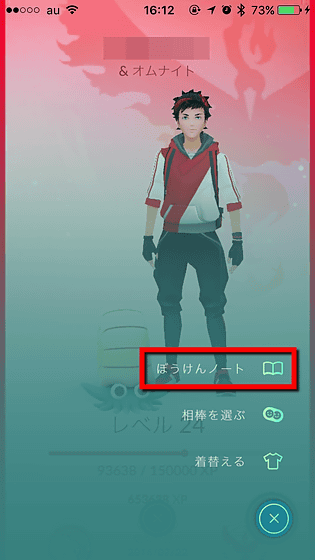 As I scrolled, I could check the items I got and the contents of Pokemon. This time it took about 2.5 km over 1 hour and 30 minutes, 36 monster balls, 16 super balls, 6 hyper balls, 6 scratches, 13 scratches, 5 good scratches, 4 great scratches, 4 things Genki no kakera · Zuri only 9 · 2 eggs, 1 tamatama, 1 collatta, 1 red beard, 2 cooking, 1 poppo, 2 Kodak, 1 yodon, 1 omnite, 1 agate clover The achievement of 1 cocoon and 1 Eve was achieved without looking at the screen of the smartphone without operating it.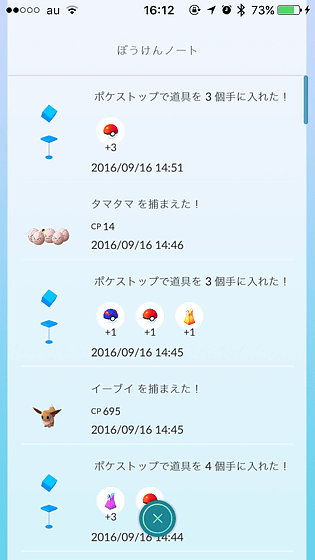 On the other hand, although I can confirm the missed Pokemon, I also noticed that I missed rare Pokemon later. Pokémon GO Plus's Pokemon capture is a monster ball only, so it's a shame that throwing a monster ball to a rare Pokemon that is hard to capture will escape. However, because the light of Pokémon GO Plus is "green / yellow = Pokemon", it is also possible to activate the application only by activating the application when it is Pokemon.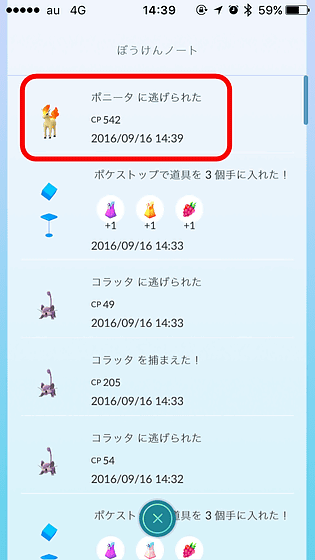 As a result of actually using it, it becomes much easier to play Pokemon GO than I had imagined, and although the feature of AR game is lost, it is noticed "This is more convenient ... ..." I will. It is difficult to obtain it because it is sold out, but if you are playing Pokemon GO you have a mistake-free device.

In addition, Amazon's first shipment is sold out, "The first sale schedule of Amazon.co.jp has sold out, the next arrival is undecided, the reference price of this product is 3,780 yen (tax included)" is displayed The only things that can be purchased at the time of article posting are those that are resold and have become high prices.

Amazon.co.jp: Pokémon GO Plus (Pokemon GO Plus) & amp; 【Amazon.co.jp Limited】 Original Smartphone Wallpaper Delivery: Game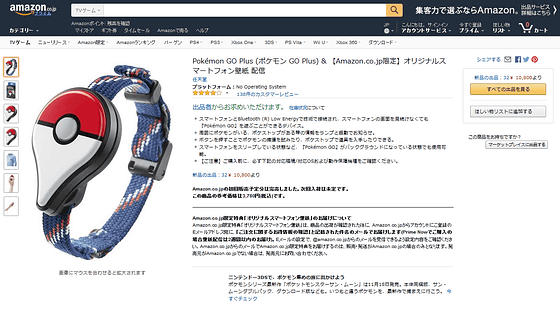 · Continued
"Pokémon GO Plus" schedule of November restocking and sales place will be announced - GIGAZINE