Official device "Pokémon GO Plus" that can get Pokemon without looking at Pokemon GO will be released on September 16 (Friday)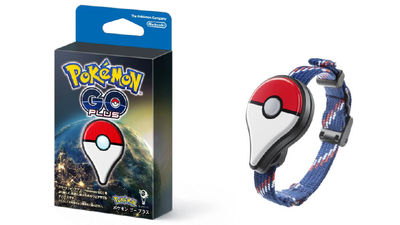 Official goods that will let Pokemon cooperate with Pokemon GO and let the emergence of Pokemon and PoketStop pass through lamps and vibrations "Pokémon GO Plus"Was released on September 16 (Friday) 2016.

Pokémon GO Plus | 'Pokémon GO' official website
http://www.pokemongo.jp/plus/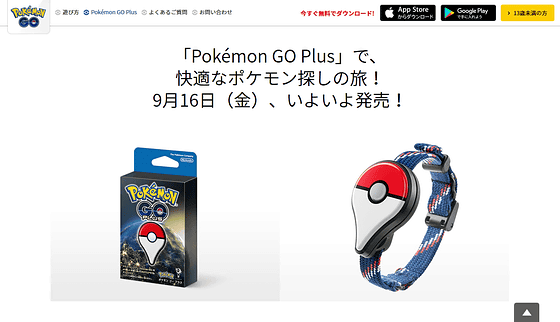 Pokémon GO Plus is a monster ball type cooperative device, which can inform you of the appearance of Pokemon by lamps and vibration etc. It expresses "Poké Stop if Blue Flashing" or "Pokemon Appearance if Flashing Green". At this time, you can try to capture Pokemon without opening the smartphone by pushing the button, and you can get items of Pocket Stop.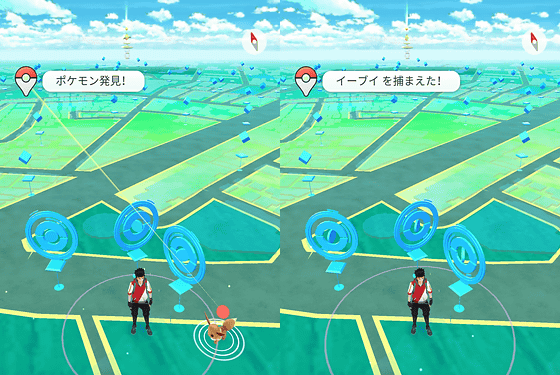 According to the announcement Pokémon GO Plus said that the smartphone will operate even when it is in the sleep state. The distance walked while using Pokémon GO Plus is not counted and it is a pity that I can not contribute to egg hatching. Items of Pocket Stop can not be confirmed as to what they got until opening the screen and seeing 'Bokkunnote' etc, but with regard to the trapping of Pokemon it is possible to judge by the color and flickering of the Pokémon GO Plus lamp . Please note that it will not respond to Pokemon drawn by "Oku."



You can see how to use Pokemon GO Plus by following article.

Pokemon GO's play gets comfortable and comfortable Wristband type terminal "Pokemon GO Plus" revealed when and how to use - GIGAZINE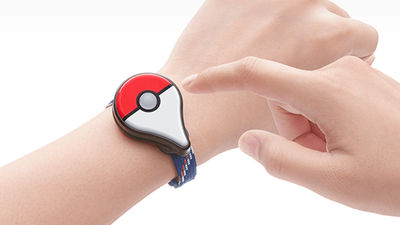 In addition, Pokemon GO Plus is not going to make reservation sale, so if the store is onlineAmazon.co.jpWhenPokemon Center OnlineTwo. In a real shopPokemon CenterandPokemon EXPO gymIt seems to be sold at. The price is 3500 yen, excluding Pokémon GO Plus body, and a special band and a coin type battery CR2032 are included.




The page on sale date and notes is also released separately. All Pokemon Centers that will become real stores · All Pokemon stores · Pokemon EXPO Gym will be sold in limited quantity from opening hours of each store on September 16 (Fri) and 17 (Sat) on Saturday, September 16. If it does not reach the reserve number in two days, selling may be carried over on September 18 (Sunday).

Pokemon Center · Pokemon Store · Pokemon EXPO Jim · Pokemon Center About selling 'Pokémon GO Plus' online | 'Pokémon GO' official site
http://www.pokemongo.jp/topics/14/

In the case of· Additional notes 2016/09/08 13: 20
Since Pokémon GO Plus does not make reservation sale, it is necessary to go to a real store to buy it or purchase it online, but the date of sale and precautions at the time of purchase are published on the official site of Pokemon GO .

First of all, shop sales will be done in quantity restrictions for 2 days at September 16 (Fri) and 17 (Sat) at all Pokemon Center, all Pokemon stores, Pokemon EXPO gyms. If it does not reach the reserve number, it seems that we will sell regularly after September 18th (Sunday), but people who care are better to go to the store in these two days. The sale is done from the opening time of each store, but since there is a variation in the opening time of each store, it is OK if checked from here. The earliest open time is at the Pokemon store Kansai airport store, at 7:30 pm Pokémon GO Plus will be on sale. However, it is said there is a possibility that the open time will be shortened by looking at the congestion situation.

And online sales online at Pokemon Center Online started on September 16 at 7 o'clock. However, because membership registration is required to purchase at Pokemon Center Online, it is recommended that prospective purchasers complete their membership registration in advance.

Pokemon Center · Pokemon Store · Pokemon EXPO Jim · Pokemon Center About selling 'Pokémon GO Plus' online | 'Pokémon GO' official site
http://www.pokemongo.jp/topics/14/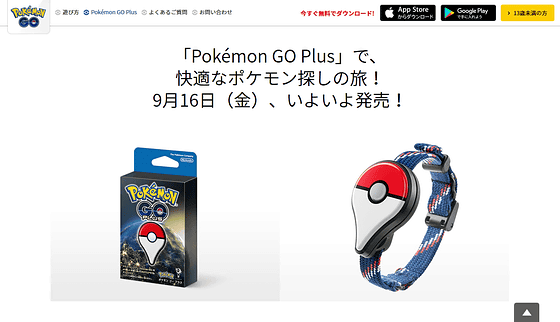 · Continued
Pokemon GO official wearable device "Pokemon GO Plus" haste photo review, real thing like this - GIGAZINE