"Adblock Plus" blocking advertisement starts selling advertisement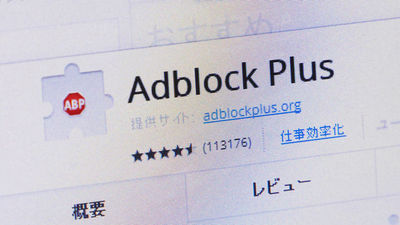 Extension that blocks ads when browsing websites in browser "Adblock Plus"But,ComboTagA partnership with a company called "New platform"Acceptable Ads PlatformWe announced. In the Acceptable Ads Platform, companies that want to deliver advertisements use the tools provided by Adbock Plus to make Adbock Plus users display advertisements.

AdBlock Plus confuses everyone by selling ads
http://thenextweb.com/insider/2016/09/13/adblock-plus-confuses-everyone-selling-ads/

Adblock Plus finds the end-game of its business model: Selling ads | Ars Technica
http://arstechnica.com/tech-policy/2016/09/adblock-plus-starts-selling-ads-but-only-acceptable-ones/

AdBlock Plus Is Now ... An Ad Network
http://www.forbes.com/sites/johnkoetsier/2016/09/13/adblock-plus-is-now-an-ad-network/

Adblock Plus now sells ads - The Verge
http://www.theverge.com/2016/9/13/12890050/adblock-plus-now-sells-ads

Adblock Plus launches its own advertising platform | ZDNet
http://www.zdnet.com/article/adblock-plus-launches-its-own-advertising-platform/

Adblock Plus is Launching an Ad Exchange - WSJ
http://www.wsj.com/articles/adblock-plus-is-launching-an-ad-exchange-1473768022

AppNexus, Google refute Adblock Plus partnership - Business Insider
http://www.businessinsider.com/appnexus-google-refute-adblock-plus-partnership-2016-9

AdBlock Plus is an extension that can block and hide advertisements displayed on browsers, but assuming that blocking should be a "bad advertisement" that interferes with the user's web experience, AdBlock Plus "Discreet advertisement"If you meet the criteria of advertisement blocking will be blocked" had a function called "white list" had been established.

Companies and ad networks that want to distribute advertisements have to apply to Adblock Plus for whitelist registration, which took time to accept applications. According to Acceptable Ads Platform announced by Adblock Plus this time, companies that want to distribute advertisements can display advertisements to Adblock Plus users simply by inserting specific code on the website using the provided tool, It will be possible to dramatically shorten the time it took to register the whitelist so far. However, as long as you only register on the Acceptable Ads Platform, you will not see any advertisements, but only ads that adhere to the 'discreet advertisement' guidelines set by Adblock Plus.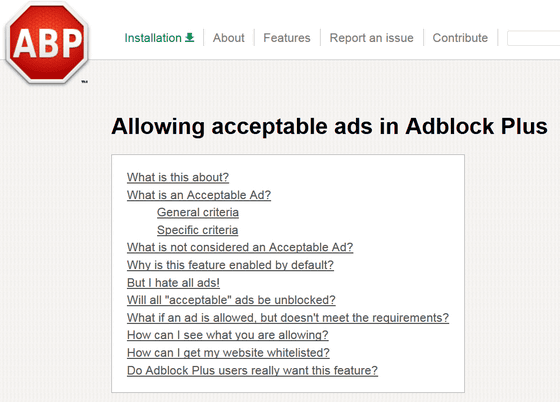 According to The Wall Street Journal,Ad ExchangeGoogle and AppNexus who have many customers through, will introduce potential clients to Adblock Plus who will purchase ad space from the Acceptable Ads Platform. Companies that deliver ads will pay a percentage of the revenue from advertising to ComboTag, Google, AppNexus, in addition to Eyeo, the parent company of Adblock Plus.

Users of Adblock Plus can set whether to display the advertisements registered in the whitelist. However, there is data that the display of whitelisted advertisements is turned on by default, and that 90% of the whole users are using the default settings unchanged.

In addition, Acceptable Ads Platform has started to offer beta version, and within 2016 it will start official service.