I went to a dessert fair "Alice and the challenge from Queen of Heart" that motivated Alice 's Lovely & Dark place


At the restaurant · marble lounge on the 1st floor of Hilton Tokyo, from 3rd September 2016 "Challenge from Alice and Queen of Heart"The dessert fair called. It was held from May 23rd to August 27th, 2016Invitation from Alice Dessert fairThe second volume of the project. The motif is the episode of Alice and Queen of Hearts in the second half of 'Alice' in Wonderland ', which is the world view of' Adult Alice 'called Lovely & Dark.

The first bullet was very popular and I could not get the reservation filled soon, but the second round was able to slip luckily, so I've enjoyed the lovely & dark world It was.

【Marble Lounge】 "Challenge from Queen of Alice and Heart" Desert fair | Restaurant plan | Various plans | Tokyo / Shinjuku hotel 【Hilton Tokyo】
http://www.hiltontokyo.jp/plans/restaurants/2828

The location of Hilton Tokyo is about 1.1 km from here, Shinjuku Station West Exit. It is about a minute walk from the C8 exit of Tokyo Metro Marunouchi line / Nishi Shinjuku station and the Keio bus "Shinjuku Sumitomo Building" bus stop.


When I arrived in front of Hilton Tokyo, I thought that there was a person who could understand even from outside, "I guess!", But this is mostly a guest waiting for a limousine bus.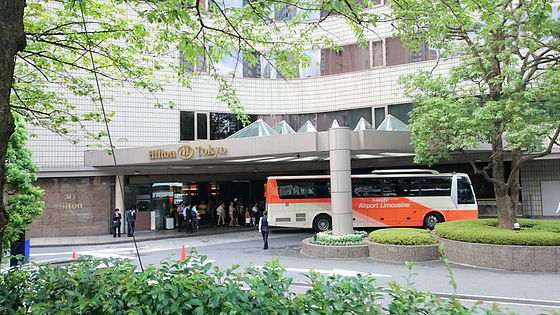 ...... But in the lounge there was a queue waiting in the lounge. The entry time is fixed at the time of reservation, so I am waiting for that time.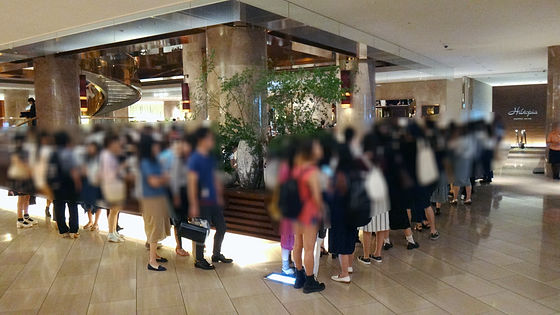 Lounge is a great success,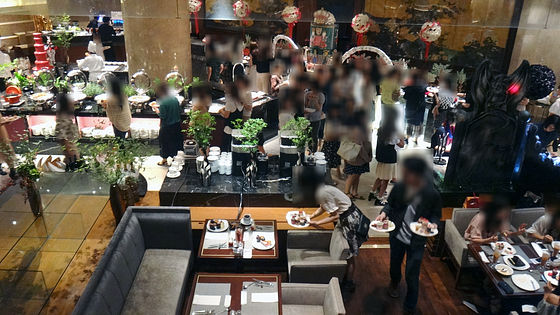 Eventually the time of admission came. This time, seats in the lounge seem to be already buried, and it was guided to the seat in the bar adjacent to the lounge. Spacious sofa seat, cozy is pretty good, you can enjoy dessert while chatting slowly.



Near the entrance there is such a heart-shaped 'Queen's Chair' on the backrest ......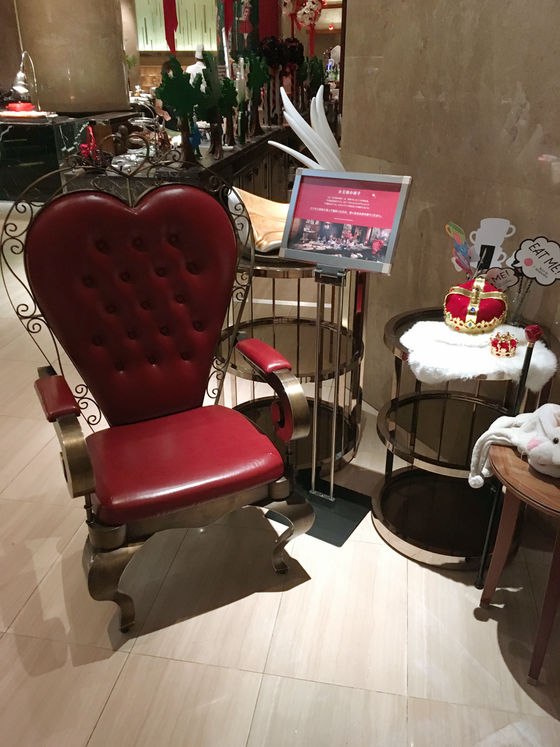 A crown, a cane, a hat and a husband's ear were attached so that photography was possible, and many people were shooting.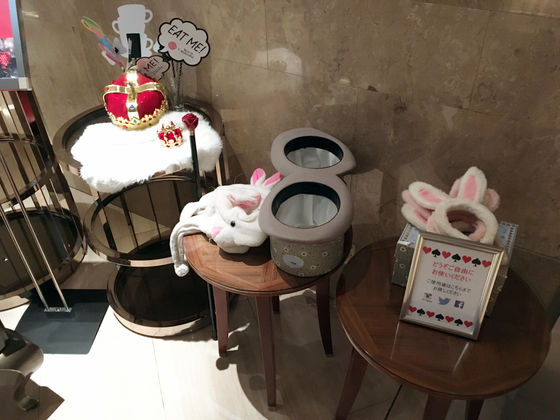 Alice and a soldier of playing cards, and the Queen of Heart are decorated.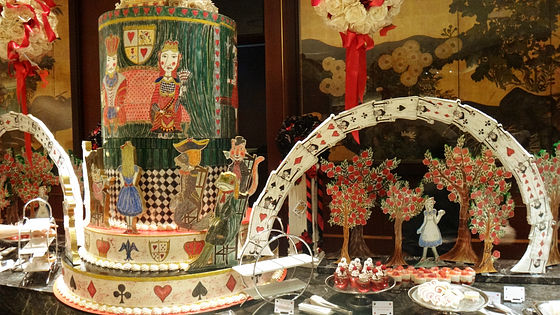 The figure of the person taking a picture while taking the cake.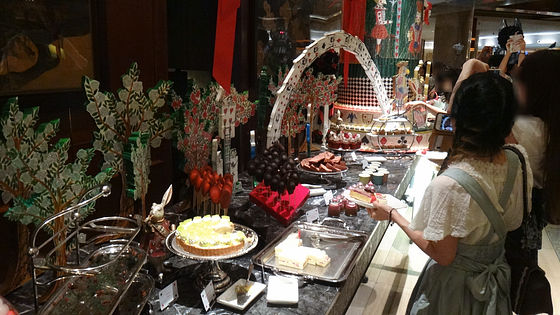 "Raspberry chocolate cupcake" was mixed with what the raspberry had and the one with the message "Eat Me". In this fair's dessert, the taste of chocolate is quite heavy overall. If it is a unit alone, it is ant, but since the individual fruits used together also stands, when it is combined with sour fruit, I got the impression that it is slightly fighting with the sweetness of chocolate .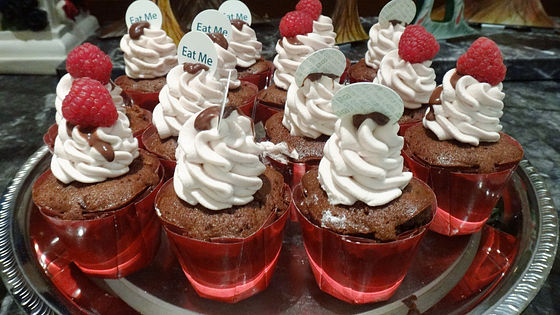 Also black "Eat me" cookie.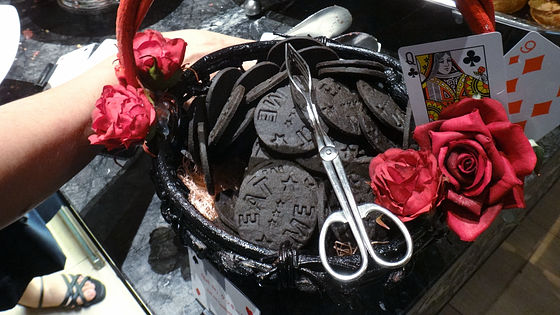 The chocolate fountain rising in the venue is named "Fountain of the Red Queen".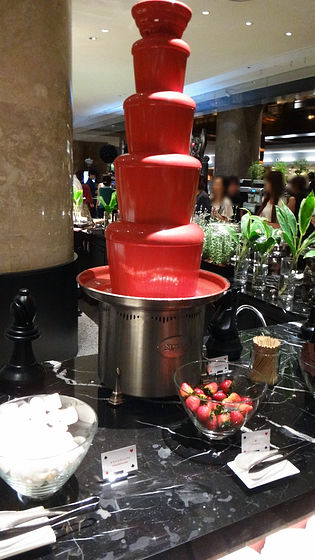 I will eat it with strawberries, white marshmallows, chocolate brownies here. It looks red but it is not a strawberry flavor but an ordinary chocolate taste.



Cassis pound cake with a fluffy flavor of honey in the honey. In addition to this there are several menus for using cassis ......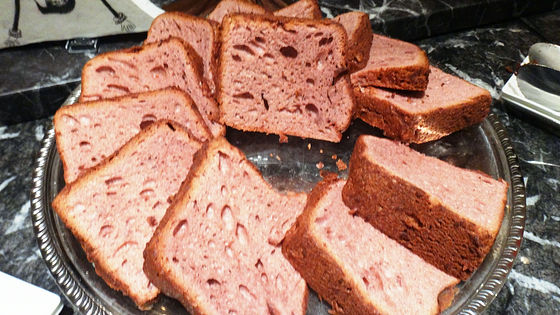 The cassis mousse portion of "chocolate pudding, cassis mousse" is considerably more acidic in cassis compared with pound cake. Here too, the impression that conflicts with the sweetness of chocolate pudding.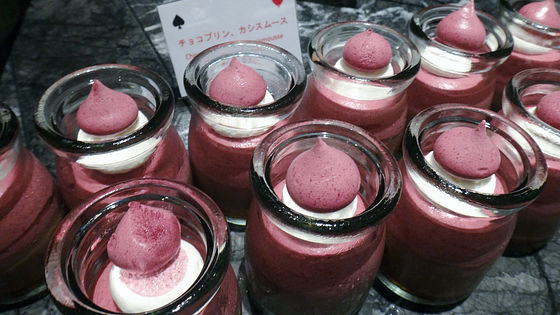 The cut Muscat gets a lot of looks "Queen Tart Muscat & Almond." Does Muscat have its neck cut because she is a queen like tart? Slightly stiff sponge cake inside the tart.



This is "Queen's Tart Pear and Raspberry". The sweetness that felt refreshing pears is impressive.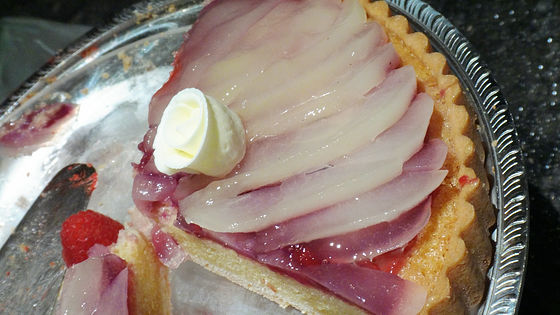 Wrapped in cassis cream "Rose painted red rose roll cake". Again the cassis cream has a strong acidity.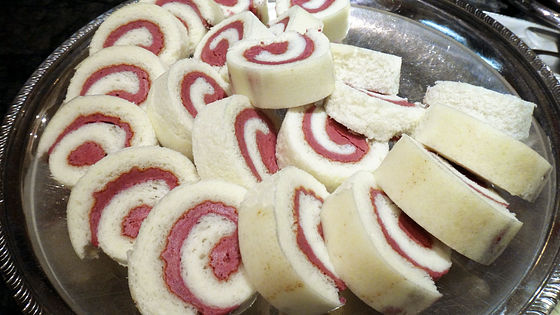 "White chocolate cards and tarts" in which the suit of the playing card was drawn.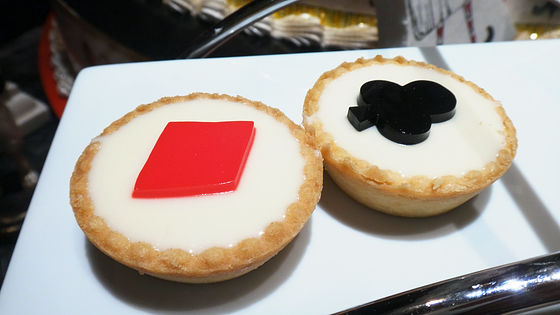 It looks like white chocolate only, but underneath it is one of the sources of blueberry, strawberry, raspberry, cherry hidden. It seems to be blueberry because it is dark color, but because the sweetness of white chocolate was strong, the flavor hid and I did not know which taste it was.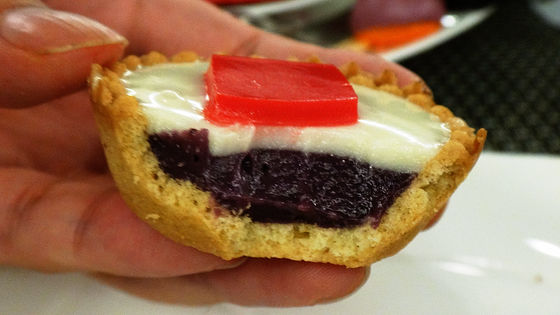 This cream puff is "I cut off my neck and finished! Queen of Queen". It seems that the Queen is trying to splash the two-tiered puff cream's neck, but because the 2 stages are popular, what I have left is only one stage that was already necked .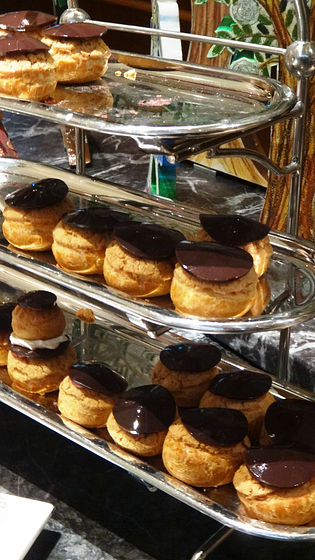 "Bread apple panna cotta". Personally, it is a pity that the taste of a little green apple does not fit.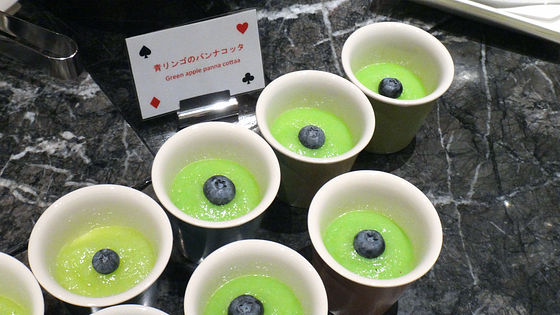 "Croffle" is a waffle made of crispy croissant dough. Because there are many other soft menu with texture, there are also fun crisp textures.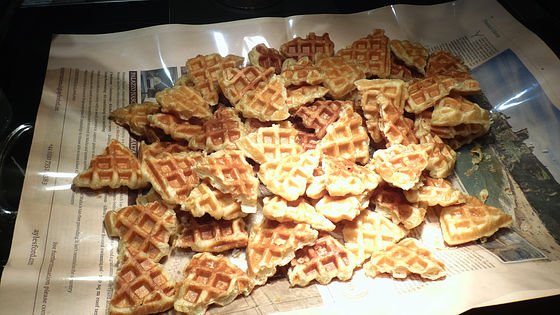 I will eat it with jam or anko. Because it is a croissant, it fits mostly with anything.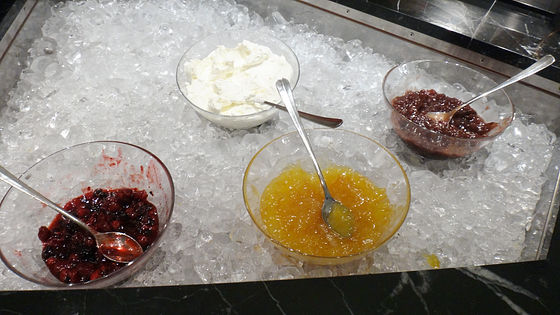 Reflecting the second half of the image of "Alice in Wonderland", it is not only cute but also a menu reflecting the "Lovely & Dark" atmosphere, but another one in this dessert fair Corner of Halloween Suites is also available.Below, since it contains an eerie appearance menu with evaluation divided by people as "gross cute" or "grotesque", please be careful to browse people before meals.

Halloween corner of the dark atmosphere overall.



The eyes of the gargoyle are shining red.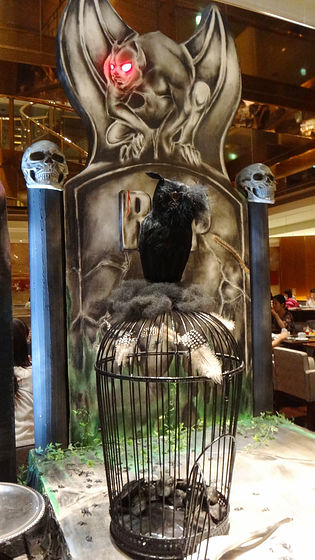 First of all, "Spider net cake". The spider web like design makes you feel beauty rather.



The spooky "bloody mousse cake" whose name is eerie is safe because the taste is not eerie.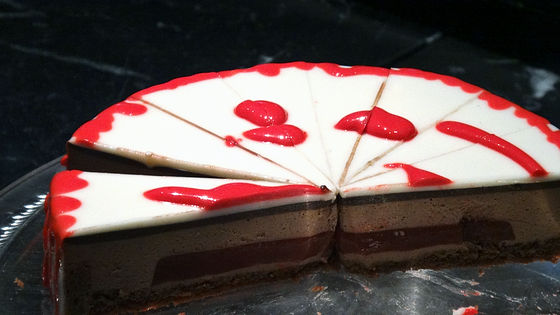 "Black sesame and pumpkin roll cake" looks like a burned log. I thought that it was "bitter bitter?" As I thought it was a bit confusing, but the taste of ordinary roll cake is very tasty.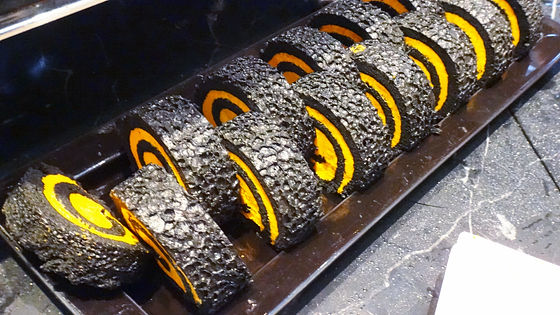 "Witch's hat" has strong acidity with cassis flavor and sweetness with thick chocolate flavor. I think that the hat part is a cream and it is like a marshmallow.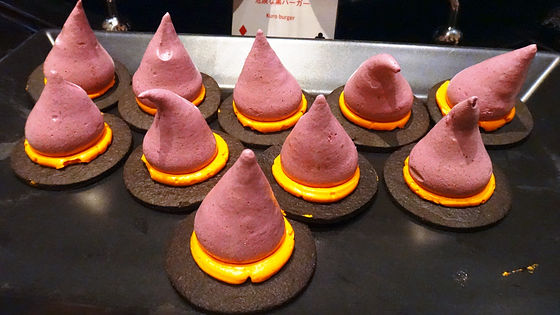 That "finger cookie" seems to be making a witch wearing a witch's hat.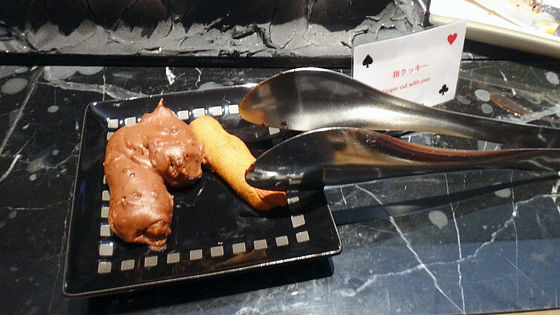 The fingers are made of moist moisturized cookies, the nail of the fingertips is made of almonds, and the stuffy feeling which is beside is almond cream. I am sweet when I try it ......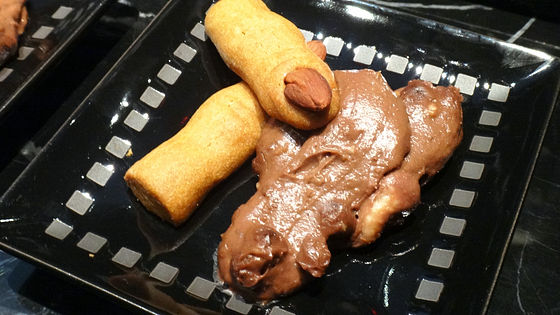 Naka, it is a difficult point that it looks too bad. Even though I know that I can eat it, it is one of the hardest items to eat.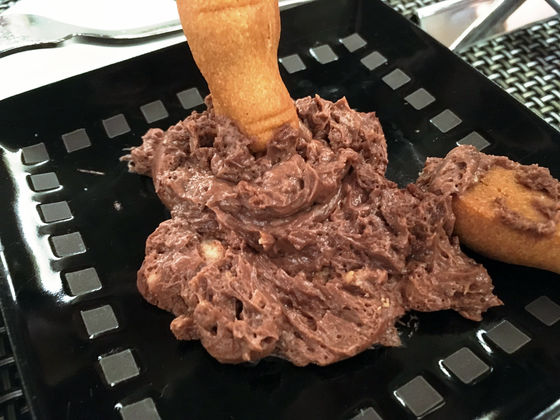 Elegant ones continue. "Yupudoku cupcake" which the eyeball gazes at here for a long time. The eyeball is raw marshmallow, if you move the cake a little shivering trembling, the feeling badness is up.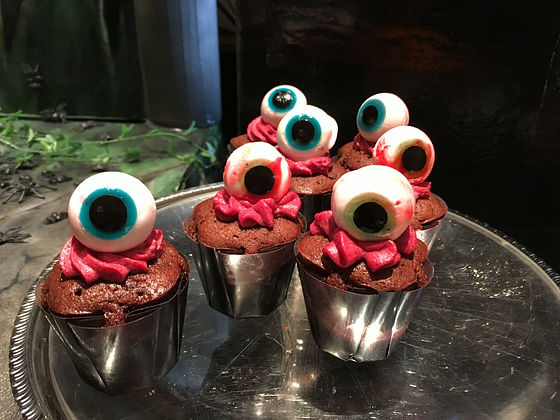 "Witch's internal organs soup". I thought that I was imposing a muddy red soup, "Soup boiled in muddy", but this is due to ingredients being taken ......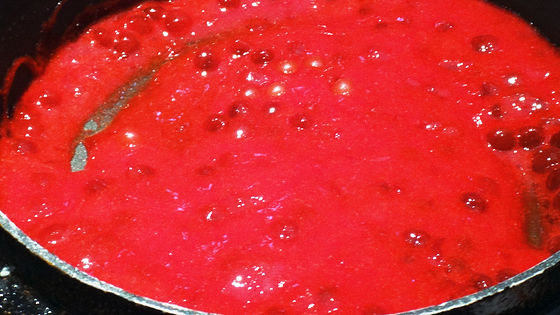 When I went to see it in the last place, it became a soup containing new ingredients, and it became more eerie. I understand it is food ... ....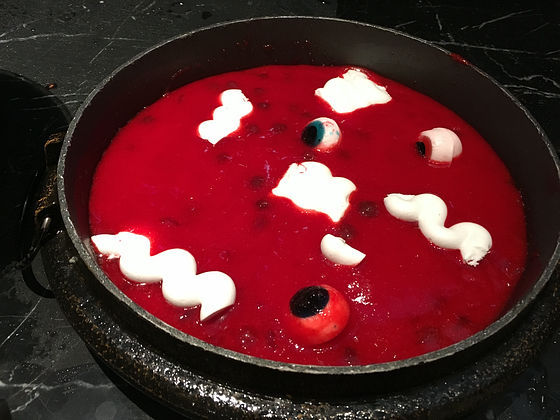 In addition, there are items that can be eaten not only as men running to neta but also as late lunches normally. This is "Short pasta Fiesigli".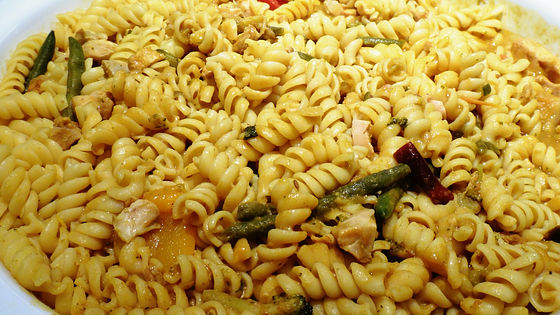 "Tuna & Mayonnaise Finger Sandwich". Since I had "finger cookie" before, it was a bit scary but it is a very small small sandwich.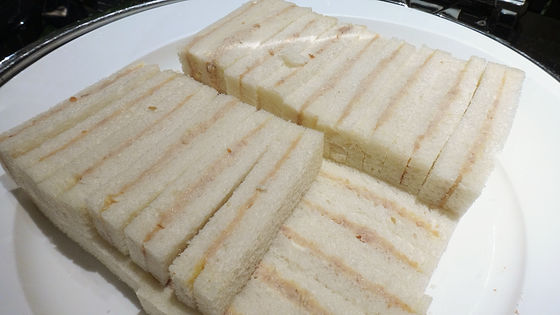 "Turkey & Pastrami Baguette Sandwich"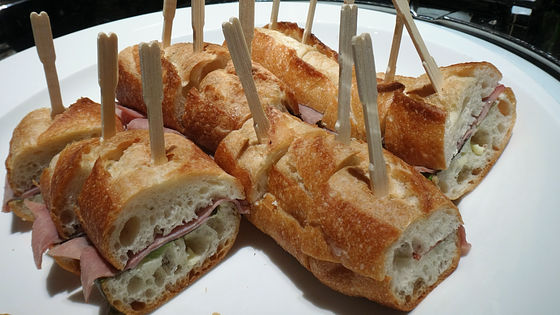 "Mini hamburger"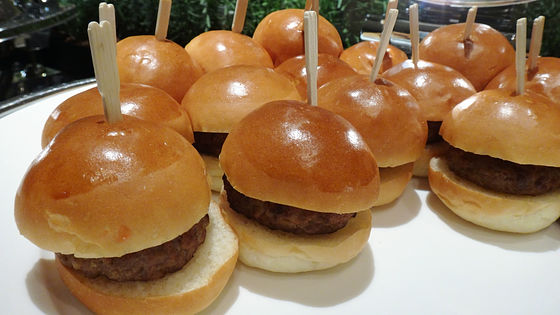 And the daily soup.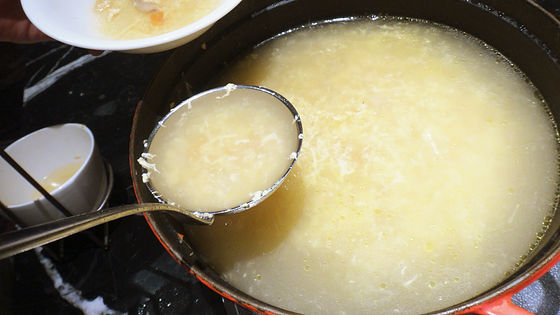 The price is 3600 yen per person tax. This time two people, including service charge and consumption tax was 8710 yen.

In general, with regard to taste, the feeling was not wiped out, "One further step ......" that there was also a part sacrificed by matching to the motif, but the appearance is very pretty and eyes that have survived the grotesque Because there was something to draw, "To go looking forward to various tastes of dessert" rather than to upload photos to SNS, to talk about "cute" "grotesque" while poking the eyeballs with everyone I felt it was perfect.