"Android 7.0 Nougat" does not support Nexus 5 and Nexus 7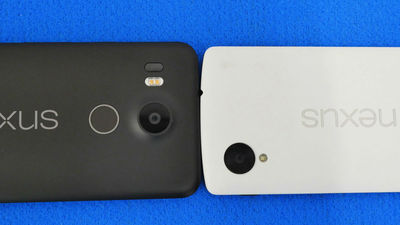 Google officially released the latest major update "Android 7.0 (Nougat / Nougat)" for Nexus devices, but "Nexus 5"When"Nexus 7(2013) "was not included.

Android Nougat drops support for Nexus 5 and 2013 Nexus 7 | Ars Technica
http://arstechnica.com/gadgets/2016/08/android-nougat-drops-support-for-nexus-5-and-2013-nexus-7/

Android 7.0 Nougat with more than 250 updatesWill be available over the Internet from the corresponding Nexus terminal over the weeks from August 23, 2016. Supported models are as follows.
·Nexus 6
·Nexus 5X
·Nexus 6P
·Nexus 9
·Nexus Player
·Pixel C
·Android One(General Mobile 4G)

Google on Android to Nexus devicesDelivery of version up Warranty periodFor at least 2 years since the device was sold at the Google store. " Since Nexus 5 has been guaranteed to be upgraded until October 2015 and Nexus 7 by July 2015, it seems that Android Nougat will not be offered. Since the monthly security patch provision is "longer than 3 years from the start of terminal availability" or "longer than 18 months from the time the terminal was last sold in the Google Store", neither We can continue to provide security patches for a while.

Meanwhile, on iOS, which is a competitor of Android, "iOS 10" to be the next latest version is expected to be applied to iPhone 5 or later released on September 21, 2012. Since the version upgrade warranty period of Android is considerably shorter than iOS, it seems better to purchase it in consideration of the time when guarantee of version up is also considered at the time of replacement. Nexus 5X, which is approximately the same size as Nexus 5, is guaranteed until September 2017, so you can also receive major updates next year. A new tablet of the same size as Nexus 7 has not appeared yet.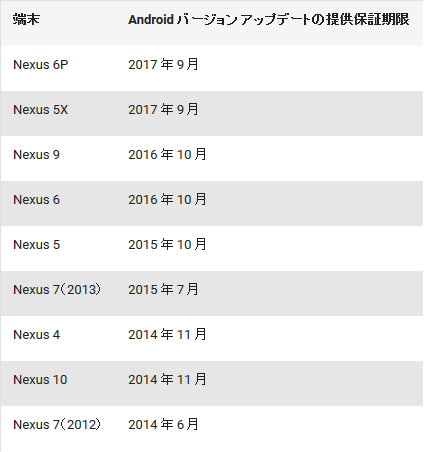 Note that Ars Technica shows that there is a method to unlock the boot loader and introduce custom ROM, but be careful as it will lose manufacturer's compensation.